Canvas Cabin Tents: A Guide
Elk Mountain Tents is a company that specializes in creating high-quality canvas tents for outdoors enthusiasts. Their canvas cabin tents are one of their most popular products, providing a comfortable and durable shelter for camping trips, outdoor events, and more. In this article, we will look at what a cabin tent is, how you set them up, how you take them down, and then have a little FAQ.
What is a Cabin Tent?
Believe it or not, "cabin tent" is not actually an official term and can be applied to a variety of tents. That said, a cabin tent is any tent that has straight or mostly straight vertical walls and high ceiling. For this reason, it's possible to buy an incredibly cheap nylon tent that is also a cabin tent simply because it has verticle side walls and a high ceiling.
Elk Mountain Tents sells wall tents and bell tents. Wall tents are cabin tents but are always made of canvas and always have a boxy shape whereas nylon cabin tents may be bowed. For the rest of this article, we will be talking about canvas cabin tents.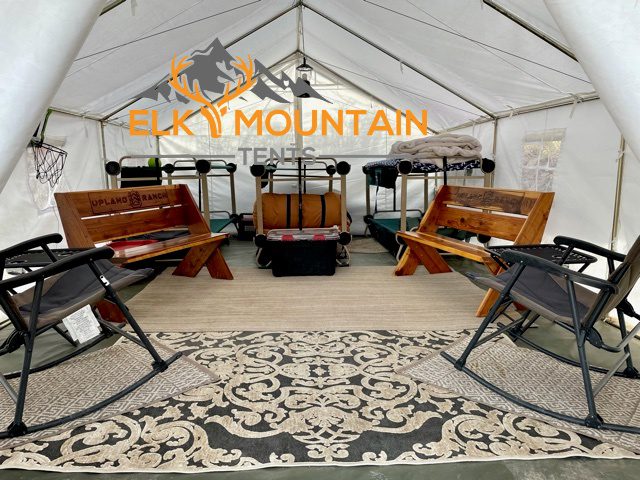 Setting Up a Canvas Cabin Tent
Step 1: The first step in setting up your Canvas Cabin Tent is to unpack it. Lay out all the pieces and make sure you have everything you need before you start.
Step 2: (optional)Lay a ground tarp in the area where you want to set up your tent. Make sure the tarp is clean and free of any sharp objects that could damage the tent. If you purchased your canvas cabin tent from Elk Mountain Tents, you may optionally purchase a tie-in floor to use instead of a ground tarp. Additionally, other companies may include a sewn-in floor (but we recommend avoiding these).
Step 3: Assemble the tent poles according to the instructions provided. For a canvas tent, this will mean assembling a frame.
Step 4: Pull your canvas tent over the top of the frame. If you have a sewn-in floor, you'll actually have to assemble the entire frame from within your tent, hence our not recommending it!
Step 5: Tie your tent in place. There are ties on the tent for you to tie it to the frame.
Step 6: Secure the tent by staking it down using the provided stakes. Hammer the stakes into the ground at a 45-degree angle, making sure they are fully inserted.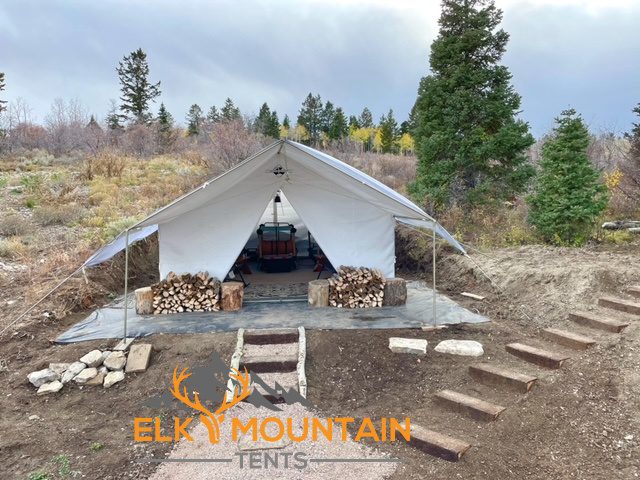 Taking Down the Canvas Cabins Tent
Just follow the above steps but go in reverse!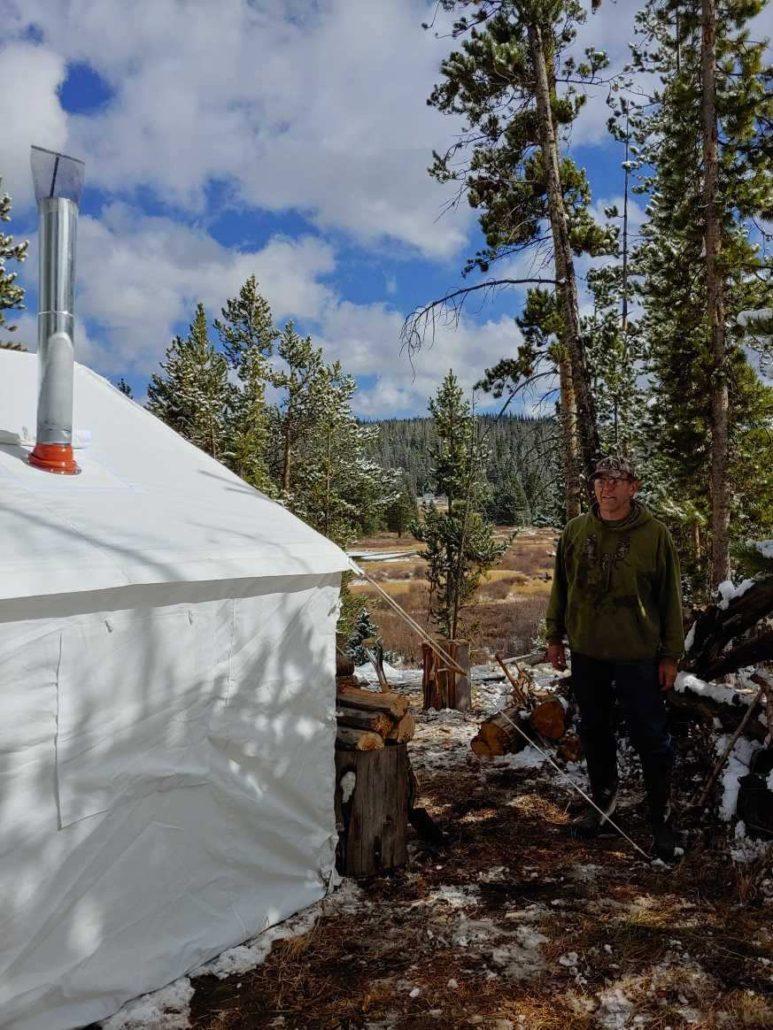 FAQs
Q: How many people can fit in a canvas cabin tent?
A: A cabins tent can comfortably sleep three to ten people depending on the size of tent you get and the amount of gear you bring.
Q: Are the canvas tents sold by Elk Mountain Tents waterproof?
A: Yes, the cabins tents are made from a high-quality, waterproof canvas material that will keep you dry in even the heaviest rain. That said, we still recommend a reain fly for added protection and to ensure that your tent will last for as many years as possible.
Q: How long does it take to set up a canvas cabin tent?
A: The amount of time it takes to set up the Canvas Cabins Tent depends on your experience level and the number of people helping you. If it is your first time, we recommend that you plan for an hour. With experience, they can be assembled in as little as 20 minutes.
Q: Can a canvas cabin tent be used in all seasons?
A: That depends on who makes your tent, but yes, the Elk Mountain Tents' cabin tents are all suited for four seasons. The thick canvas material provides insulation during cold weather, while the mesh windows and doors allow for ventilation during hot weather.
Q: How do I clean a canvas cabins tent?
A: To clean a canvas cabin tent, use a mild soap and water solution to scrub the tent. Rinse thoroughly and allow the tent to air dry completely before storing it.
Q: Can I use a stove or heater inside a canvas cabin tent?
A: Yes, a canvas cabin tent is designed to be used with a stove or heater. All models sold by Elk Mountain Tents come with a stove jack. However, you must take proper safety precautions to prevent fires or carbon monoxide poisoning. Make sure to use a stove or heater that is rated for indoor use and always ventilate the tent properly. Additionally, you will want to either treat the tent itself or purchase a heat shield.
Conclusion
The canvas cabin tents from Elk Mountain Tents offer a high-quality and durable shelter that is perfect for outdoors enthusiasts. It is a great option for camping trips, outdoor events, and more.
https://elkmountaintents.com/wp-content/uploads/2023/03/3-1.jpg
1080
1920
Jason Little
https://elkmountaintents.com/wp-content/uploads/2019/09/ELK-new-300x128.png
Jason Little
2023-06-17 14:25:00
2023-07-31 08:49:32
Canvas Cabin Tents: A Guide