https://elkmountaintents.com/wp-content/uploads/2020/06/camping-1626412_1280.jpg
882
1280
Joshua Matson
https://elkmountaintents.com/wp-content/uploads/2019/09/ELK-new-300x128.png
Joshua Matson
2020-06-30 13:27:00
2023-03-27 04:49:13
Freestanding Tents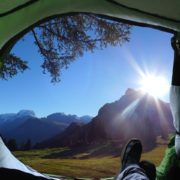 Inflatable Tents
No matter what the product is, there are always innovators coming up with new ways to improve them. Tents are no different! There is no shortage of excellent innovations happening every year with tentmaking, whether it involves making them more durable, more spacious, lighter, or even easier to set up and takedown. There are plenty of great tents on the market that are made to be set up without using any poles, removing a lot of heartaches that often comes from trying to pitch a tent. These tents can be set up and taken down instantly, and usually, you only need one person to do it!
Some of the best tents without poles come in the form of inflatable tents. These have all kinds of advantages for them. While inflatable tents have been around for a long time, only in recent years have they become a viable alternative to your typical camping tent. These tents essentially replace fiberglass and metal poles with inflatable tubes, and they can typically be set up in just a few minutes by one person. All you must do is stake the base down, inflate it, and then secure the guy lines with pegs. Simply reverse this process to take the tent down.
---
Inflatable Tent Concerns
A common worry with inflatable tents is that they won't hold up well against wind, but you'll be pleased to find that these tents can withstand a surprising amount of wind. Though the tubes bend just like any other tent pole would, they instantly snap back into place, so the wind can't cause any permanent damage as it could on tents that do have poles. On top of this, the material the tents are made from is durable enough to withstand strong weather, so the tearing that can happen with regular use of poled tents is not an issue with these.
One of the things that makes newer inflatable tents much better than previous models is that they include a pressure release valve in case it gets too hot. In older inflatable tents, the heat would expand and have nowhere to go, so if it got too hot, the tubes would burst.
Inflatable tents are remarkably easy to transport from place to place since they don't have any poles to worry about. While the material itself is often a bit heavier than others, the lack of poles makes them easy to stuff wherever they need to go, so you don't need to worry as much about making room for them in your car or backpack.
Though it is low, there is a possibility that inflatable tents can puncture during your trip, so it is highly recommended that you pack a repair kit with your camping gear. Luckily, they are made to be quite simple to patch up.
A great inflatable option for backpackers is the Nemo Morpho, which weighs less than 5 lbs. and can fit two people inside. It takes advantage of not having poles by creating more room inside for people as well as a large vestibule. It is also made to be especially easy to pack uptight and fit inside of a backpack, which is extremely handy when you are hiking and need as much room as possible in your backpack for your other gear.
Though it is a bit heavier at 5.5 lbs., the Heimplanet Fistral is another good option to take backpacking, and it can fit 1 or 2 people. It has two entrances to make it easy to get in and out and it has two vestibules for convenient storage space. This makes it an especially good option if two people are going to stay inside.
Aside from trekking, there are just as many great inflatable tents to use on a fun group outing. One of the best (and least expensive) of these is the Kelty Airlift. It can fit 4 people inside (or 6 if you purchase the larger version) and it weighs less than 20 lbs. The tent includes a very efficient dual-action pump, and it can be set up in under a minute!
---
Durable Tents
If you are looking for a strong, durable tent to take a group of 6 camping, you might want to look into buying the Vango Odyssey Air 600. Though it is a bit heavier, it can withstand a lot more than your average tent. The tough polyester flysheet is highly waterproof, so the tent is quite safe to use during questionable weather. It has plenty of room to fit 6 people inside and even includes a porch to relax on when the weather is nice. On top of all that, it only takes 8 minutes to set up, which is excellent for its size and durability.
In addition to having a great inflatable backpacking tent, Heimplanet has several options for inflatable group tents. One of these is the Heimplanet Nias, a tunnel-shaped tent that can fit 4-6 people inside. The tent's shape gives it versatility and stability. It has two separate cabins to sleep in that can be removed, a large vestibule, and two entrances into the tent with ventilation in the center. There is plenty of room to store gear inside, so if you plan on having a lot of things with you while you are camping, this is certainly a great option to look at.
Another great tent from Heimplanet is the Heimplanet Cave. This tent has a unique look to it that would be difficult to set up with poles, but luckily with the inflatable beams, you don't have the same hassle. The unique design gives the tent added strength and stability. Even though the beams cross over each other multiple times, the whole tent inflates from just one valve, making it much easier than it looks to pitch. The tent sections itself off after it is inflated, so if one beam were to puncture it would not bring the whole tent down. You'll find that this is one of the nicest and most well-crafted 2-3 person tents on the market, and it weighs just over 10 lbs.
There are plenty of other popular 4-person options, including the Quechua Air Seconds 4.1, which is made of polyester and weighs 27 lbs.
One of the largest inflatable tents available is the Wenzel Vortex, which can fit 8 people inside with ease (there are also 4- and 6-person options). For how large it is, it is one of the least expensive tents you can buy. It is built for families or small groups of adults. Either way, you are sure to enjoy its simplicity and durability.
The Outdoor Revolution Ozone 6.0XTR Vario is another amazing 6-person inflatable tent. It is extremely versatile; not only can it split into two separate rooms, but the large porch area can also split up into an inside vestibule and an outdoor porch. Though it is heavy, it can set up in less than 5-minutes, making it one of the nicest tents to take with you on a group camping trip if you want to just set it up quickly and start having fun!
There is no shortage of great 6-person tents that you can find, including the OLPRO Martley Breeze 6 Berth inflatable tent, which is made from waterproof material and only takes 10 minutes to set up, the Moose Outdoors 6 person inflatable tent which is made from waterproof polyester material and takes 7 minutes to set up, and the Coleman Fastpitch Air Valdes which is a tunnel-style tent made out of a coated polyester material.
One great, inflatable option for those who have a campervan is the Gybe Bus Tent. It is much different than the other tents described herein that it is an awning, but it adds a lot of comfortable extra space for your camping adventure. If you are looking for a simple way to enhance your camping experience with your van, this is absolutely the way to go!
Before buying an inflatable tent, be aware that there are some downsides. One of these is the weight. While some smaller tents are made to be lighter, inflatable tents are generally heavier than poled tents that are the same size, because the material needs to be much stronger in an inflatable tent. The larger family-sized tents weigh much more than their poled counterparts. Inflatable tents are also usually a lot more expensive than most other tents on the market.
There are a lot of amazing tents for all kinds of purposes on the market, and the inflatable ones are a great way to go. Whether you are looking for something light and compact to take backpacking, something simple for a casual outing, or a large tent that you don't have to spend hours pitching, you are sure to find some strong, durable, and attractive options that are sure to satisfy your needs and last you a long time. Look at all the available options! These are just a few that you might enjoy but find one for yourself and have an amazing time camping!
Sources:
https://elkmountaintents.com/wp-content/uploads/2020/06/camp-2445212_1280.jpg
960
1280
Joshua Matson
https://elkmountaintents.com/wp-content/uploads/2019/09/ELK-new-300x128.png
Joshua Matson
2020-06-24 13:26:03
2023-04-15 14:05:09
Inflatable Tents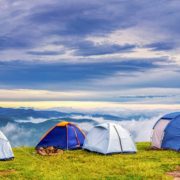 Pop-Up Tents
Tents not only come in all different shapes, sizes, and designs but also with various technical things that make them great. You can find tents that stand up without needing to be staked down, tents that inflate rather than use metal poles, and even tents that just pop right up as soon as they are taken out of the bag. These "pop-up tents" are awesome for those whose least favorite part of camping is pitching the tent. They set themselves up instantly, so you can get right to the fun stuff as soon as you reach your camping destination. No hassle and no hardship involved! There are many high-quality pop-up tents on the market, and here are some of the best and most popular.
---
One to Two Person Tents
Whether you are looking for something small for one or two people to take on a trip or something larger intended for a group gathering, there are excellent pop-up options available to you. One of the best two-person options is the Pinnacle Camping Tent, which has a simple yet sturdy design. The tent has excellent ventilation throughout, as well as a good-sized door built-in, fabric windows, and mesh walls to allow air to pass through. The tent works best for quick day trips (nothing too fancy) where you know the weather will be good. It does include 4 guy lines that help it maintain stability, but the tent itself isn't built to handle rough weather. It is a great option for a cool shelter to hide out from the sun and keep bugs outside. You can purchase it online for about $150, so it is a cheap option when it comes to pop-up tents.
Another great two-person pop-up tent comes from Always Outside. It is well-regarded for its water resistance, so if you are anticipating light rain during your campouts, this is a great option to look into (though it isn't ideal for heavier rain or more extreme conditions). The tent should also be able to handle mild winds since the 4 guy lines included help it stay rigid and upright. It is also easy to transport from place to place since it is very lightweight and compact. The design of the tent allows it to be set up in seconds and includes a large door, bug-proof mesh, and a mesh window for ventilation. Overall, it is a nice convenient option for a couple of people to stay shaded from the sun and keep insects from bothering you.
The Coleman 2-person tent is one of the most durable small pop-up tents that you can find, and it can set itself up in less than a minute. For how strong the material it is, the tent is also very lightweight, allowing for almost effortless transportation. It has a removable top, giving you a spot to look at the stars or better keep air circulating throughout the tent. The rainfly can change positions, so you can find what position works best at your campsite for your tent to be protected while staying ventilated. There are storage pockets inside to help keep track of your gear as well. The Coleman can handle rougher weather than other pop-up tents, with a weather-resistant zipper cuff and reinforced seams. It can easily fold down flat, so storage space is barely an issue.
---
Three to Four Person Tents
There are just as many fantastic options when it comes to tents for small groups of 3-4 people. The TSWA pops up as soon as you take it out of the package, and it is easy to get in and out of because of its two entrances. There are convenient interior pockets to easily keep track of your things and avoid having clutter all over the floor. It does include mesh windows, which will keep insects out while helping the tent stay nice and cool. The material the tent is made of is not only very light (under 4 lbs.) but is resistant to both water and UV rays, so it should be able to last a long time as well as handle whatever weather the summer might throw at you. The tent can comfortably fit 3 adults inside.
The Toogh 3-season Sundome is another great option to look into if you need a strong 3-person tent. While it won't do the best during the winter, just about any other time of year the Sundome should be durable enough to handle the great outdoors, with a stable design, a rainfly, and waterproof seams. The frame is made from a system of hinged poles, making it different from other pop-up tents, but it still sets up in less than a minute without any hassle. There are two large doors as well as a mesh window, keeping the tent especially well-ventilated. Available for just $90, this tent is a steal for those wanting something durable to take on casual campouts.
The pop-up tent from Bookishbunny Outdoor is a great 3-person option for camping year-round. It has a very distinct circular design when it is packaged, which allows it to simply spring up once its opened and fold back down just as easily. This also makes it simple to transport, especially considering it only weighs a little over 5 lbs. Both the base and the outer shell are made of waterproof material, and the tent design has an excellent ventilation system, making the tent convenient and comfortable during any season.
The Quechua 2 Second waterproof pop-up tent is quite a luxurious option for 3 people to enjoy. There is a blackout coating on the tent that keeps the inside dark and cool, which is nice to have on a hot summer day and can be especially nice if you plan on sleeping in, as the sun won't wake you up. It is highly waterproof, and it is built to resist heavy winds, so you don't need to worry too much about the weather ruining your campout. This tent should do just fine during the winter. There is also ample storage space in the pockets inside, so you can keep things tidy. Available for just over $200, there are plenty of great advantages to this tent that makes it more than worth the price.
The FiveJoy Instant Pop-Up tent is just as quick to set up as its name suggests. It only takes seconds to set up and to fold down, making it an amazing option for groups of 3 or 4 to go camping in. The material the tent is made of is some of the highest-quality waterproof material you can find, so it is ideal for any season of the year. It is also one of the most durable pop-up tents on the market, which has led to it being a popular choice for hunters. If you happen to be looking for something convenient to go for a hunting trip in, this is the tent to take with you. There is also a large vestibule and plenty of storage pockets in the tent, enough that all the gear you bring with you hunting can easily be kept inside. It has plenty of floor and ceiling space for 4 people to keep comfortable, and it will be sure to be a favorite for years to come.
---
Six+ Person Tents
You will be pleased to learn that there are great pop-up tent options for larger groups as well. The Wnnideo instant pop-up tent has plenty of room inside to accommodate 6 people. It is a great tent to take on a casual campout as well as for a large group hunting trip. It is made of highly waterproof material (both the outer shell and inner polyester) and has 6 mesh panels to make the tent breathable while keeping out insects. It only weighs 9 lbs., which is impressive considering its size and quality, and like other pop-up tents, it is easy to set up and takedown.
Another fantastic 6-person tent is the Coleman Instant Cabin, which capitalizes on both floor and vertical space, offering more than enough room for the whole group to be comfortable. The frame has a tubular design that allows it to set up in 60 seconds. The tent has a center height of 6 feet and a mostly flat ceiling across, so most people can stand up inside quite comfortably as well. It is built to handle heavy rain, so don't worry about getting wet during unexpected rainfall. Available for less than $200, you would be hard-pressed to find a better 6-person pop-up tent for this good of a price.
No matter what your needs are, whether you are going for a casual summer campout or a rough hunting trip in the snow, no matter how many people you will have with you, you are guaranteed to find an excellent pop-up tent to suit your needs. No more annoying tangling of poles and fumbling through instructions! Just quickly throw the tent up and start doing what you went out in the great outdoors to do!
Find the tent that will best suit you in your situation and you are all set and ready to adventure!
Sources:
https://elkmountaintents.com/wp-content/uploads/2020/06/camping-3893587_1280.jpg
718
1280
Joshua Matson
https://elkmountaintents.com/wp-content/uploads/2019/09/ELK-new-300x128.png
Joshua Matson
2020-06-18 19:09:13
2023-04-09 15:13:28
Pop-Up Tents