Freestanding Tents
There are so many great options for tents, especially nowadays with all the innovations there are in tent-making. One of the most common gripes with tents is that with all the poles they can take a long time and a lot of effort to set up and take down, on top of having to tie down stakes or guy lines. Luckily, you can find some great tents with poles that can hold the tent up on their own. None of the stress or hassle that usually comes from setting up tents will be a problem with these. They come in all different designs and sizes, so you are sure to find one of these great tents to suit your needs.
If you enjoy backpacking, chances are that you don't want a tent that is difficult to pitch since you will have to set it up and take it down multiple times during your adventure. Thankfully, there are many excellent freestanding backpacking tents on the market.
---
Lightweight Tents
One of the most popular freestanding tents available is the Big Agnes FlyCreek HV. It is referred to as an "ultralight" tent because it removes weight wherever possible. Coming in at only 2 lbs. 1 oz., this tent is made to be as compact and easy to carry as possible while you are trekking. The walls are designed to capitalize on vertical space. Because it is freestanding, set up is quite easy, with poles that are connected and can conveniently fold into a 10-inch bundle. It does come with a few guy lines for added stability, but it doesn't need to be staked down. It has a remarkably large front vestibule, giving it a lot of storage space for a backpacking tent. The one disadvantage with this tent is that the footbed must be staked out, so it technically isn't entirely freestanding. It is a great option if you are looking for a more spacious option for a 1-2-person tent.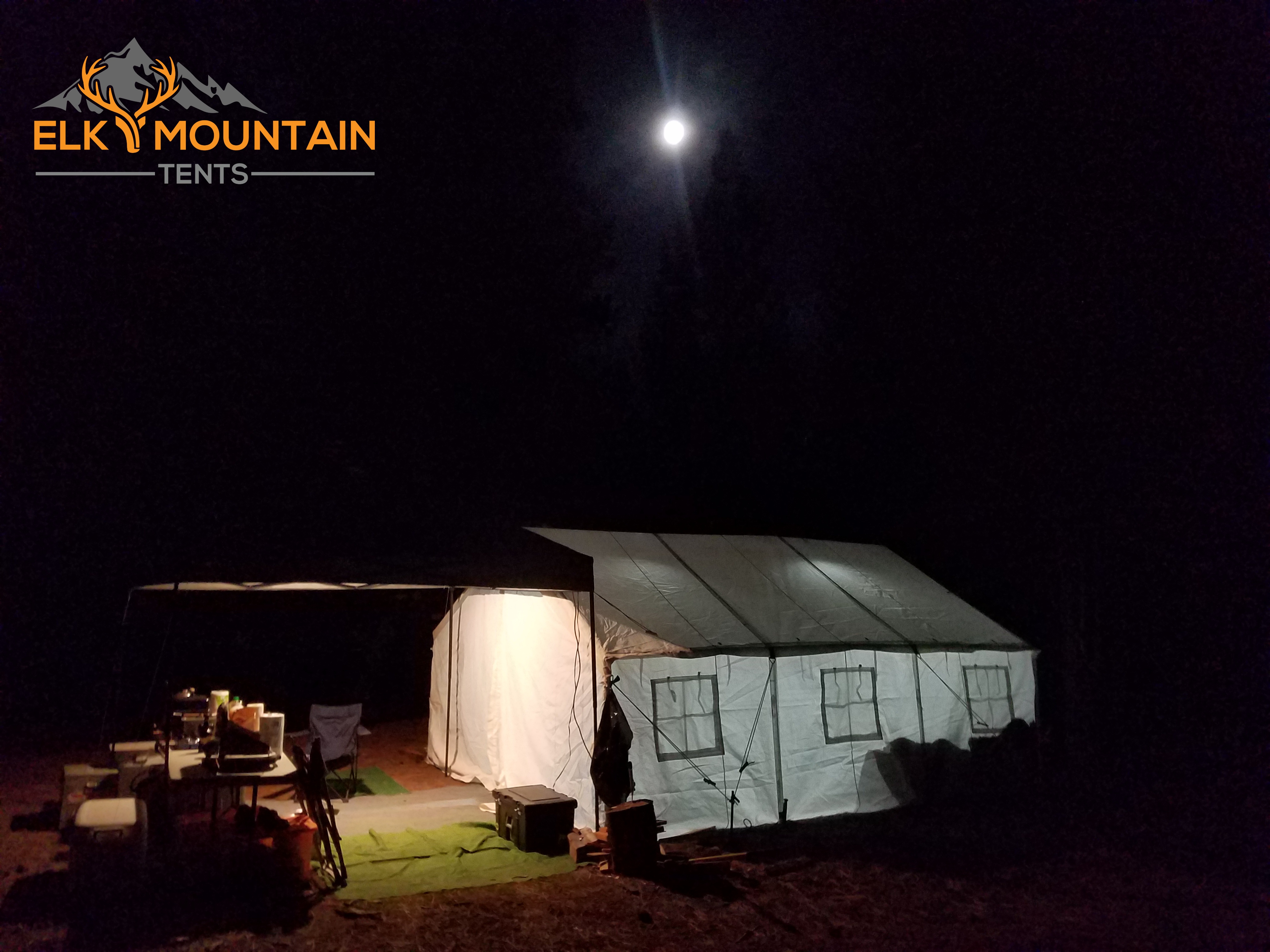 An even lighter freestanding backpacking tent is the NEMO Hornet Elite, a 1-2-person tent that weighs 1 lb. 14 oz. One big advantage of this option is that it has side doors which make it much easier to get in and out of rather than crawling through the front entrance. It is also a great option if you are looking for something weather-resistant, as the rainfly almost reaches the ground. The vestibule is a lot tighter than on other backpacking tents, so you won't have a ton of room for storage, something you will need to keep in mind before heading on your trip.
The Mountain Hardwear Ghost (available as a 1- or 2-person tent) has its unique advantages. The tent is just over 2 lbs., easing the burden of all the things you need to carry on a backpacking adventure. Everything about the Ghost is freestanding, making the setup very simple and convenient. It is double walled which makes it much more breathable as well. The walls are made of nylon and mesh, allowing for protection just as much as breathability. It does include a minimal amount of guy lines that help the tent have increased stability. It is a bit smaller and narrower than many other freestanding tents and has a small vestibule (your pack should fit inside, but it will be snug), but it is compact, which does give you increased storage space in your backpack when you are on the move.
The Marmot Force is a bit heavier at 2 lb. 14 oz., but the extra weight is certainly worth it considering it is one of the highest quality tents of its kind. It is double-walled, it has side doors for easy entrance, amazing ventilation, and is made to be tough, durable, and well-insulated, lasting you a long time and getting you through potential rough weather that could come your way. This is what adds a bit more weight, but it is up to you whether a little bit of weight can be sacrificed for durability. For its quality, it is also one of the cheapest options for freestanding backpacking tents, as you can purchase it for just over $200.
The Slingfin Portal 2 is in the same arena as the Marmot Force in terms of weight, weighing in at 2 lb. 13 oz., but it is made for those who want to relax in luxury on their backpacking trip. It has two very generously sized side doors, it has double walls made of durable yet breathable material, and of course, it is 100% freestanding. It capitalizes on space wherever possible, with a very high ceiling and pockets all over the inside to store your gear. The rainfly can attach to the poles, giving it extra security in high winds, and you can attach trekking poles or use the internal guy line to keep the tent even more stable. It is a bit more expensive, but it is a 4-season tent, so if you want a freestanding backpacking tent that you can use any time of year, this is the way to go.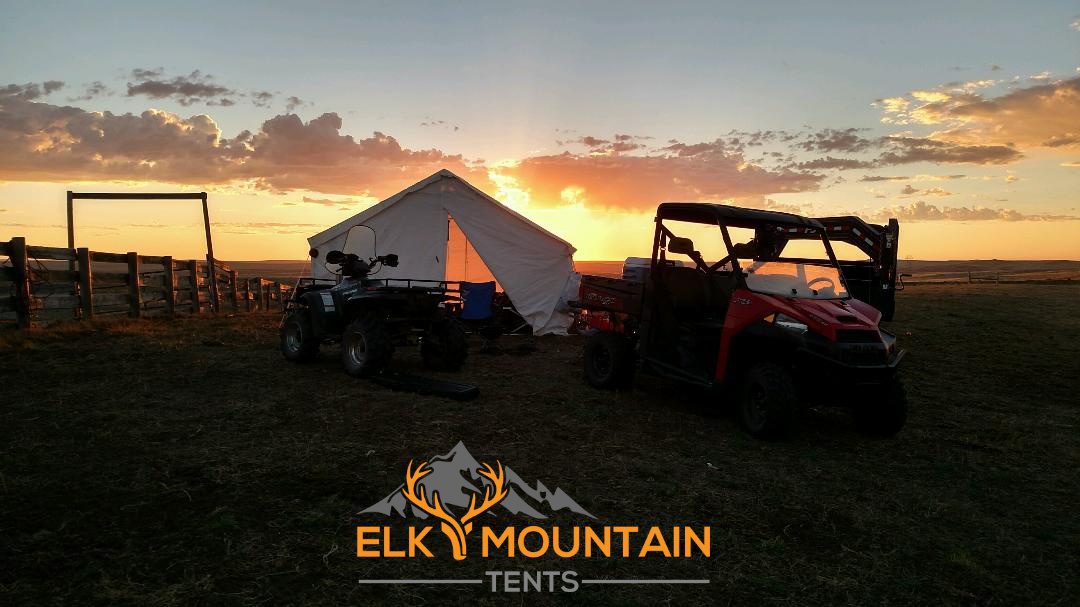 ---
Large Group Tents
If you are looking for freestanding tents that are better suited for fun group campouts, you will find plenty of great options in that category as well.
Kelty's Salida Freestanding tent can fit 4 people inside, so it is a great option if you are taking small groups camping and are looking for something simple to set up. The tent has all kinds of conveniences, including a large door to make it easy to get in and out of, as well as a mesh covering to keep out insects. It has pockets and extra space on the inside to add needed storage, and it has reinforced seams to prevent water from leaking inside as well as a full-coverage rainfly. It is designed to be one of the easiest freestanding tents to set up, with color-coded construction and very light material and poles. It is also available as a 1- or 2-person tent, so it isn't a bad option for backpackers either.
Bravindew's Instant Pop-Up Freestanding Tent is just as good as it sounds. Not only is it completely freestanding, but it also just pops right up when you take it out of the package, no setup required! The tent includes two mesh windows that provide excellent ventilation and can be covered by a nylon flap. There are a hang loop and plenty of pockets on the inside to offer needed storage space. The tent is designed to be waterproof, and the dome design allows you to simply turn the windows into a rainfly. The tent is made to be as spacious as possible, and one could quite easily fit 2 or more people inside.
If you need something to suit a larger group, you'll find that there are even some amazing freestanding options for those. One of these is the Winterial 8-person Teepee. This teepee can be purchased for around $200, can fit 6-8 people inside easily, and is completely freestanding. It is made to be very simple and convenient to set up so that you and your group can get the tent pitched quickly and immediately start having fun! The 4-step process usually takes less than 5 minutes, and takedown is just as simple. For how many people it can hold, it is also remarkably lightweight (only 16 lbs.), so it's a good option to have if you must hike to your camping spot. The tent also includes a high-quality rainfly that can be very helpful during rough weather.
The Blue Ridge 7-person tent can be divided into 2 rooms, which is always a great feature to have when camping with a group. Available for a little over $150, this tent also gives you a bang for your buck! It is a well-ventilated option as well with 3 windows and a mesh roof. The large side door makes it very easy to enter and exit and the welded floor keeps any leakage from entering in and should keep sturdy for years. It includes a footprint as well as a seam-sealed rainfly, and it weighs less than 20 lbs.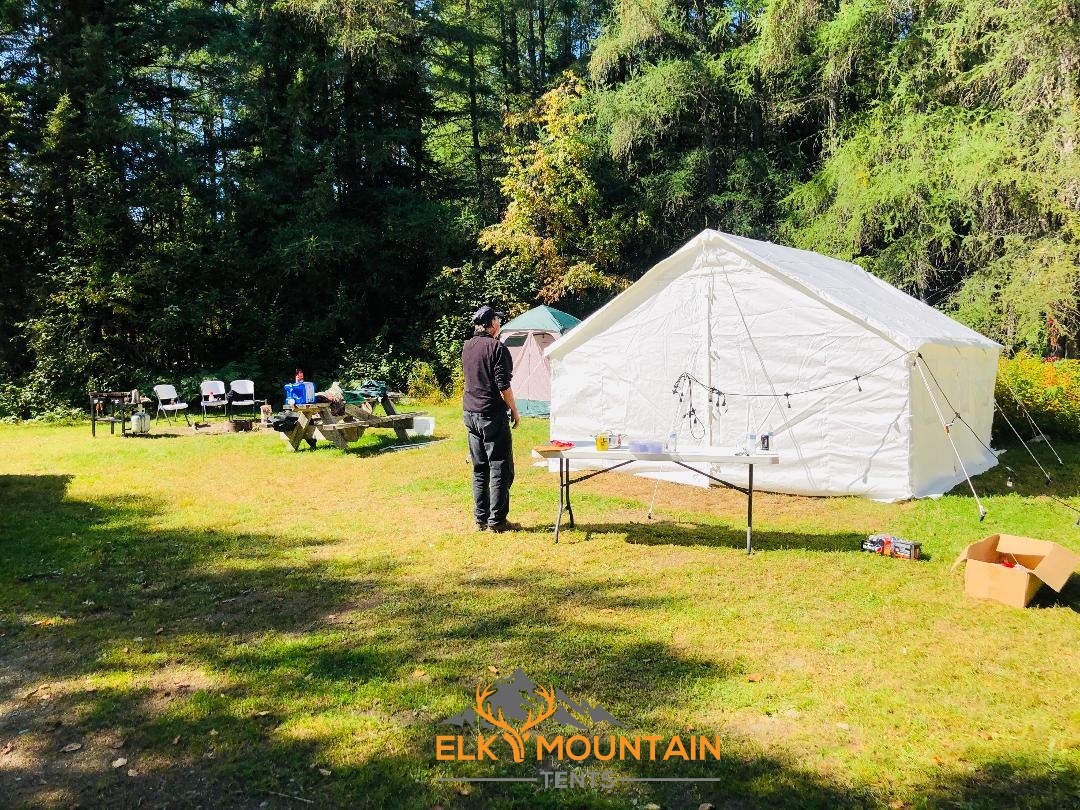 For an even larger group, you may want to consider buying the Great Basin 3-Room 10-person tent, which is also available for a little over $200. This is a very durable option, as the seams are reinforced to keep out water and add strength. It is designed to be very easy to connect the poles to the body of the tent, adding to the ease of pitching. While it is completely freestanding, it does include guy lines to help with stability during potentially high winds. The dome design allows for plenty of headroom, and with dividers to separate the tent into 3 rooms, it is perfect for those wanting some privacy. It also includes a footprint and a rainfly.
There are so many excellent freestanding tent options on the market, so keeping your tent stable no longer has to be one of the hassles that come from camping. Look around and you are sure to find the right one for you!
Elk Mountain Tents specializes is heavy-duty canvas tents made from a polyester canvas that is stronger than cotton canvas and requires no expensives UV, rain, or mold treatments. Consider these larger, stronger tents if you plan on staying in one place for a while or need something that can handle all four seasons and wood stove.
Sources:
https://www.greenbelly.co/pages/best-ultralight-backpacking-tents
https://www.globosurfer.com/best-freestanding-tents/
https://www.wayfair.com/outdoor/pdp/winterial-teepee-8-person-tent-wntl1067.html
https://www.wayfair.com/outdoor/pdp/wenzel-great-basin-3-room-10-person-tent-wbo1063.html
https://www.wayfair.com/outdoor/pdp/wenzel-blue-ridge-2-room-7-person-tent-wbo1064.html