Cheap Tents for Sale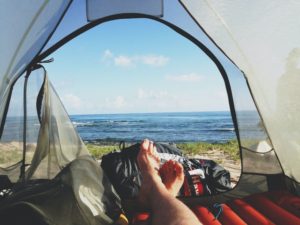 So, you are looking for a new tent to take on camping adventures but don't want to break the bank? Lucky for you, with the thousands of different tents on the market, you will be sure to find one that is not only inexpensive but also high-quality. You do not need to spend thousands of dollars on a nice tent that will keep you comfortable for many years to come. Listed here are just a few of the many examples of affordable tents that are quite durable for their price.
Elk Mountain Tents For Sale
Elk Mountain Tents has some of the best options for canvas wall tents and bell tents that you can find, and they are quite reasonably priced, especially compared to many other tents of similar design and quality. Elk Mountain's 13 ft. x 13 ft. canvas wall tent can be purchased for as little as $795, and the 13 ft. diameter Yukon bell tent for as little as $600. Both tents are made of a unique polyester canvas material that has many of the advantages of the traditional cotton canvas while managing to avoid many of the disadvantages. The material is lighter, more durable, and much stronger than cotton canvas even though it has the same breathability. It should last you a lot longer as well, as it is more resistant to rainfall and UV rays and will not grow mold or mildew like cotton will. The fabric is naturally waterproof and has sealed seams, so there should be no worry that water will leak inside, even without a rainfly. Additionally, it does not absorb water as cotton does. The material is also reinforced wherever it comes into contact with the poles, which resolves the problem of poles tearing through the material after much use. Though it is polyester, it is as breathable as cotton, so you will not have to worry about condensation issues. Both the wall tent and the Yukon bell tent come with a stove jack and cover, allowing for convenient placement of a wood stove inside if desired. The jack comes with a 4 in., 5 in., and 6 in., circle sewn in, allowing you to cut it to the correct size once you know the size of the pipe on the stove you are using.
The Elk Mountain 13 x 13 Canvas wall tent has 4 windows (6 for the larger sizes), two on each side of the tent (each with a screen), that can be rolled up and tied in place or be Velcroed shut. There are 6 in. of extra material at the bottom of each wall., forming a sod cloth that prevents water from getting in at the bottom of the tent. It also has openings in the ridges at either side of the tent that can be conveniently opened and closed with a pull string, as well as being able to Velcro shut. The main corners of the tent can also Velcro and tie shut, solving the problem many similar tents have of poles ripping through the material. The sidewalls are 5 ft. high, which offers plenty of room to stand up and move around (one of the best things about wall tents). The roof of the tent extends beyond the edge of the wall to create eaves. This prevents water from running down the walls. The tent has a zippered door in the front and back of the tent, both of which include storm buckles for extra security.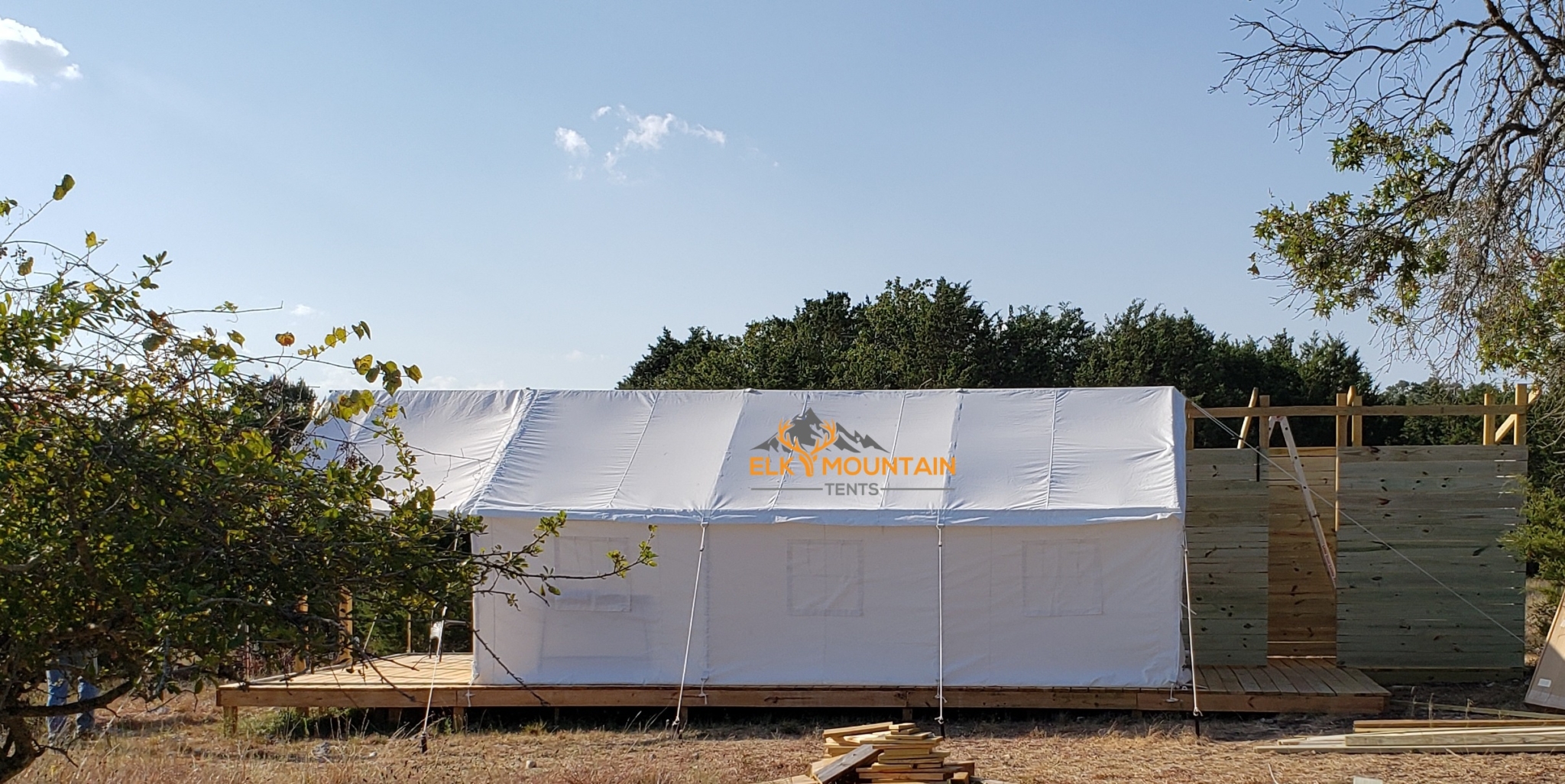 The Yukon bell tent is the ideal tent to purchase if you want to go glamping on a budget. Glampers everywhere enjoy the comfort and luxury that come from bell tents, as they look nice, offer plenty of room, can keep warm with a wood stove, and essentially act as portable yurts. Elk Mountain's bell tent has 4 screened windows and 4 screened air vents at the peak, allowing for plenty of airflow. The floor can zip in and out of the tent, and the 3 ft. sidewalls can be rolled up, allowing the tent to be converted into an awning to relax under and enjoy the outdoors in the cool shade. The 13 ft. diameter tent has 133 sq. ft. of floor space and the 8 ft. pole in the center allows plenty of room to stand up. All of this space makes the Yukon bell tent perfect for glamping, with space for a nice bed, all of your gear and food, and a wood stove to keep you warm and cozy during cold nights. The material the tent is made of makes it much lighter than many similar tents as well, weighing just 50 lbs.
You likely have seen large group or family-sized camping tents that cost a ridiculously large amount of money. Luckily, if you look around a bit more you will find that there is a surprising amount of cheap family-sized tents on the market, so if you want to take a large group with you on a camping trip, you do not need to worry about spending lots of money. One high-quality option is the Coleman 8-person Red Canyon Tent. It can comfortably fit 4 or 5 people with all the space you would need for gear and other things, but it can fit up to 8 people if so desired. It has a 72-inch center height and measures 17 x 10 ft., offering plenty of room to stand up and move around. It also comes with room dividers to divide the tent into 3 separate rooms for privacy. The material has welded and reinforced seams that keep you dry when the rain starts pouring outside. Set up only takes a few minutes and the tent is easy to set up and take down with separate bags for the tent, poles, and stakes. The tent has exceptional ventilation, using Variflo adjustable venting system. The best part is that it only costs $140. You would be hard-pressed to find a better price for a family-sized tent.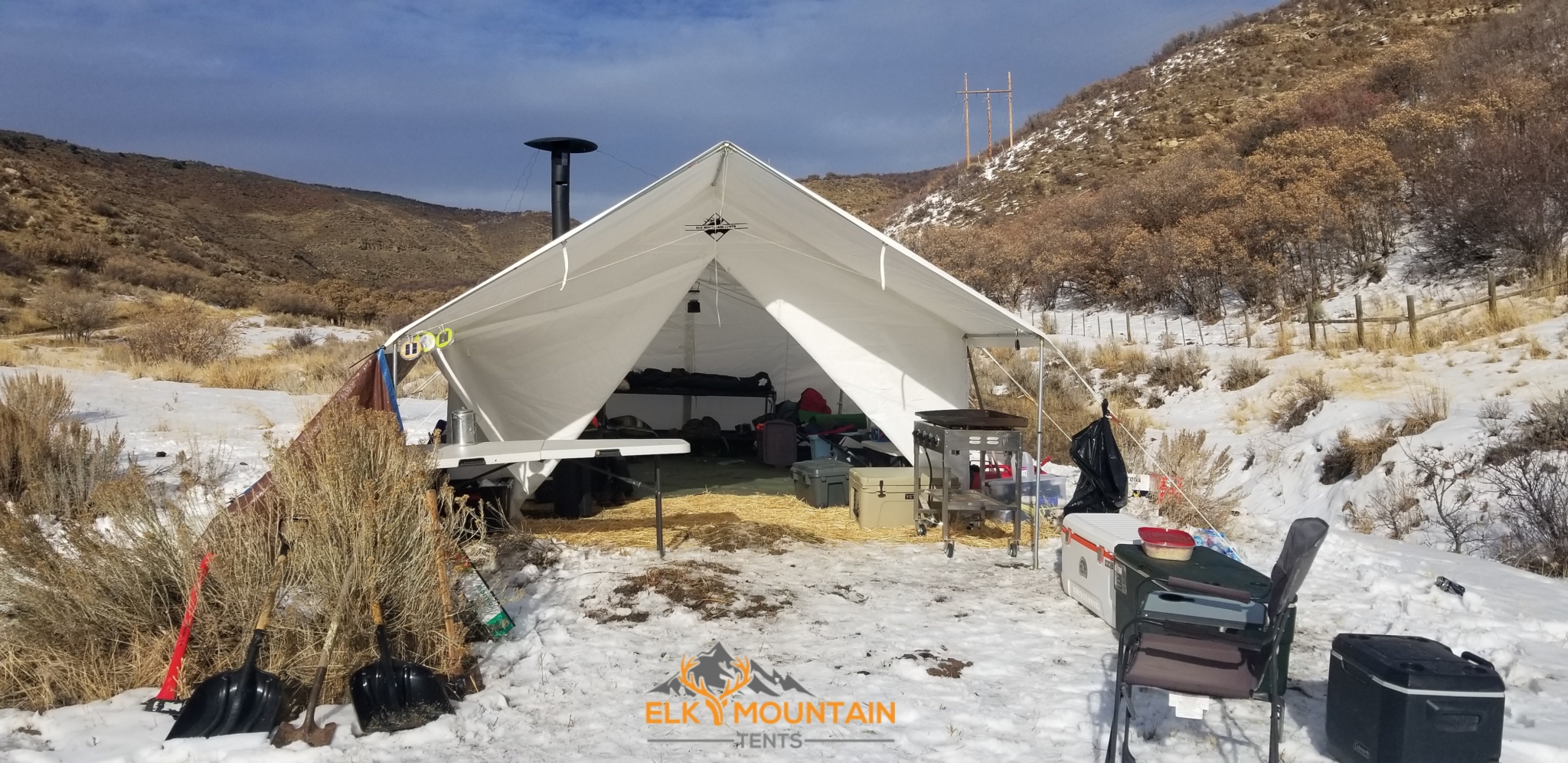 Maybe you are looking for a compact tent to take on a backpacking trip. These lightweight but sturdy tents often cost a lot of money, but some great cheaper options are sure to last you a long time as well. One great option is the Wenzel Ridgeline, which only costs $60. For this small price, you can have an excellent backpacking experience as it can fold up small and compact and weighs just over 7 lbs. When backpacking, you are likely to come across rain, but luckily the weather-resistant polyester fabric is excellent for keeping you dry during wet weather. The shock-corded fiberglass frame makes setup quite simple, and two windows and roof vents keep a good amount of airflow going through the tent.
One often expensive outdoor activity is car camping in a rooftop tent. Even these tents have some quite nice and surprisingly cheap options. The NAPIER Backroadz Truck Tent is one of these. This tent can easily be assembled in the back of an open-bed pickup, which gives plenty of room for 2 people to sleep comfortably. The 4 shock-corded fiberglass poles allow for amazingly easy setup and takedown, and there is 5.5 ft. of headroom, a good amount for a rooftop tent of its price. The full-coverage rainfly also provides ample protection from rainfall and rough weather. The best part is that the whole thing is available for just $165.
If you just need some convenient shade to rest or eat under during a camping trip or barbecue, you will be pleased to find that there are some excellent and inexpensive options for canopies to purchase. By purchasing a replacement canopy, you can attach it to an existing canopy frame rather than shelling out money for a whole new frame. The Trademark Innovations Square Replacement Canopy Gazebo is an 8 ft. x 8 ft. square that offers plenty of protection and shade for a large group of people. It is made out of extremely strong and waterproof 210D oxford coated material, so it is sure to last you quite a long time. The material will fit any of Trademark Innovations 10 ft. canopy frames with slant legs, and only costs $30. If you are looking for a different size, some other cheap canopy tents to look into are the Abba Patio Slant Leg Instant Pop-Up (9 ft. x 9 ft., $70), the Quik Shade Expedition Instant Canopy (10 ft. x 10 ft., $80, or 12 ft. x 12 ft., $100) and the Outsunny Easy Pop-Up Canopy (10 ft. x 20 ft., $120).
You do not need to go out and spend a lot of money to have an enjoyable time camping. Get creative, and look around, you are sure to find a high-quality tent in your price range that will last you for years to come. Whether you are looking for a luxurious tent to take glamping, a lightweight backpacking tent that you can easily hike around with, a family-sized tent for inexpensive group outings, or a simple canopy to give you some shade while you enjoy a meal, you will be pleased to find how affordable many of these options are!
Sources: