Glamping Gear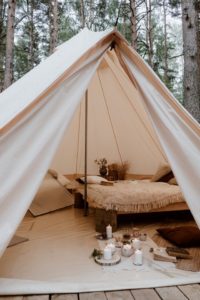 Glamping is one of the most relaxing and rewarding things you can do in the great outdoors. However, to have a supremely comfortable and memorable glamping experience, you need to be properly prepared. The key to any great camping trip is having the right gear, and glamping is no different. A large part of your glamping prep should be spent on figuring out just what gear you will need to maximize comfort and enjoyment. Listed here is much of the gear that you will want (and often need) to have with you on your trip.
The first piece of gear on the list is an obvious one: A proper glamping tent. To have a true glamping experience, your trip needs to stand out from the regular campouts that you might go on. For this to work, any old tent will not do the trick. Luckily, there are plenty of amazing and comfortable tents on the market that are perfect for glamping, and you do not necessarily need to break the bank to find a high-quality option. Many glampers enjoy taking a canvas bell tent with them. These are essentially yurts, but much more versatile and can be moved from place to place. They offer plenty of floor space for several people to sleep inside comfortably, and have a high ceiling in the middle, providing ample room to stand up straight.
There are many fantastic models of canvas bell tents available, and one of the best is the Yukon Bell Tent from Elk Mountain Tents. What makes this tent stand out from other canvas options is the material it is made of. The canvas in these tents is made out of polyester, which gives it plenty of advantages over the traditional cotton canvas. Polyester canvas is lighter, more waterproof, more resistant to UV rays, has a much higher break and tear strength, and requires no mold treatments since polyester canvas is incapable of rotting. The material should also last you a lot longer than other canvas material, as it will not absorb water or shrink. These tents can be used at any time of year, as the material will hold up even during the toughest weather. During summer glamping when it gets hot, you will also find that the Yukon is exceptionally well-ventilated, with 4 screened windows and 4 screened air vents at the tent's peak. The floor can zip in and out of the tent, which gives you the option to roll up the sides to give yourself a nice awning to enjoy the great outdoors under. The 13 ft. diameter option is available for about $600, while the 16 ft. is $750.
An essential part of any glamping trip is staying warm during the cold nights (and cold days if you are winter glamping). The best way to do this is with a wood stove. Luckily, most canvas bell tents have a built-in stove jack, offering a convenient place to safely feed the stovepipe out of the tent. With a wood stove, the nights will be warm and cozy, and your tent will feel all the more inviting and luxurious. Wood stoves also provide a great way to boil water and cook warm food. There are plenty of excellent options out there for wood stoves, some heavy-duty and able to last a long time, and others conveniently light and easy to travel around with. Shop around and you are sure to find the right one for your needs. One great option is the Heavy-Duty Cylinder Stove available from Elk Mountain's website. It has a wide, flat surface for boiling water, and it is easy to transport with legs that conveniently nest inside the body of the stove. As a bonus, when you order the stove from Elk Mountain Tents, there is no additional cost for shipping.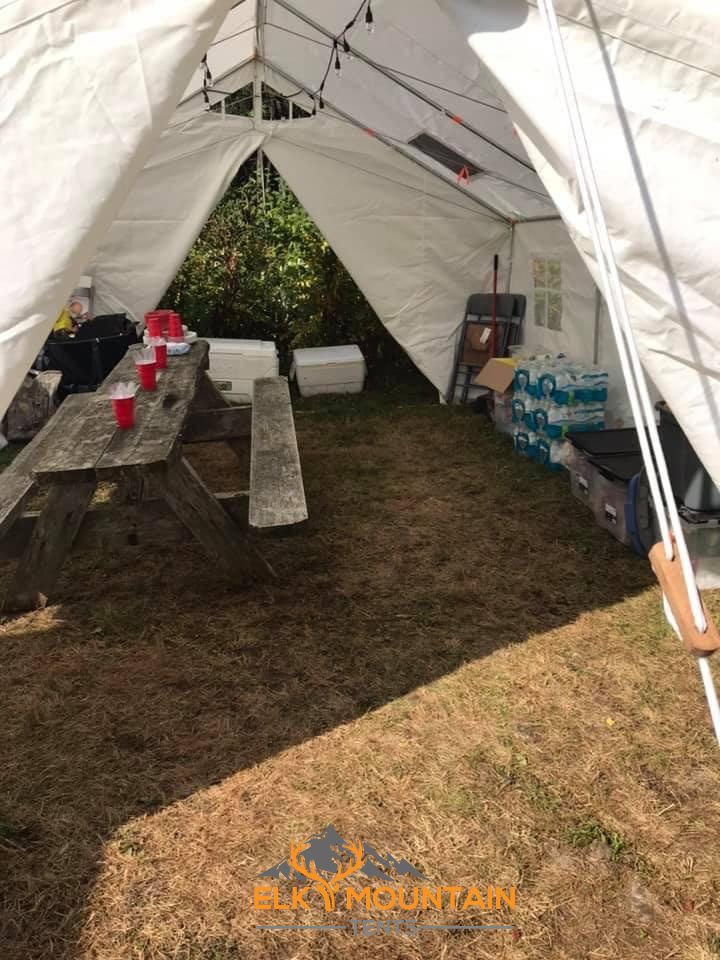 While staying warm is important during the chilly nights, you may be looking for a way to keep cool during the hot summer days. All kinds of portable air conditioning units available are perfect for glamping (and investing in one of these is sure to make a difference when you need to rest after an afternoon in the beating sun). Prices can range from about $100-$600 for a high-quality option, and many of them are quite compact and light, so they should not add any extra hassle. If you are planning on glamping during the summer, you may find that shelling out a bit of money for one of these is well worth it.
Glamping Hygiene
---
People tend to feel more relaxed when they are clean, but it is hard to keep yourself clean while out in the wilderness. Luckily, there are some great options on the market for portable heated showers, which allow you to bathe yourself in warm water. All you need to power one of these up is a propane cylinder and 6 D cell batteries. You will find all kinds of different heated showers online with varying differences. One of the best places to go to find what you are looking for is the Mr. Heater website, which provides several different heated shower options varying from around $200-500. Take a look and you should find the right one for you. There is nothing like being able to cozy up in bed after getting nice and clean!
One of the most relaxing ways to enjoy the great outdoors while you are on a glamping trip is by taking a kayak down the river. Unfortunately, hauling large kayaks from place to place can be a bit of a pain. Avoid this issue by purchasing a couple of K-Pak foldable kayaks from Folding Boat Co. These kayaks are quite easy to transport, weighing just 21 lbs. and able to fold down small enough to fit in a backpack.  At $645, they are around the same price as many top-of-the-line kayaks on the market. They take only minutes to assemble and are remarkably durable, so they are sure to last you a long time.
Oftentimes while camping out, you may keep your devices off and in the car for much of the time, only using them for emergencies. With glamping, however, you might keep yourself more connected to the world than that. Luckily, portable charging stations are becoming more and more common, as well as more compact and easier to carry. You won't even have to spend much money on one or a couple of these, and they should hold enough power to last you your whole trip. Having these with you can turn out to make all the difference in keeping yourself comfortable and relaxed, so you might consider making this small investment.
A simple air mattress is a luxury to have when on a typical camping trip, but you probably want something a little softer and more comfortable when you are trying to treat yourself on a glamping adventure. There are a few options. One is to have a plush mattress or cot as the base of your bed, with an insulating layer on top. You should cover this with the softest sheets you have and surround yourself with as many pillows as you want. Another way to keep nice and cozy is by bringing along a raised pillowtop air mattress. With a 4-layer construction, these air mattresses will feel very much like the soft bed you have at home. The design keeps you 24 inches off the ground, making it much easier to get in and out of bed than a typical air mattress will. It has a built-in pump, allowing it to inflate quickly and easily. Other luxuries of this mattress include its ability to adjust firmness at the push of a button and a pillow top surface that will last a long time since it is treated with antimicrobials, which keep odors, mold, and mildew from growing.
You may want to relax or have some fun by listening to music during your trip. Don't settle for your little phone speaker while camping, bring along a high-quality Bluetooth speaker to enjoy your tunes at a proper volume! There are many excellent options out there, and one of the best to have with you in the great outdoors is the Bose Soundlink Revolve+. What makes this such an excellent speaker to use outside (besides fantastic sound quality in every direction) is its durability and resistance to water, meaning it will not be a huge deal if it's out during rough weather or a little bit of rain.
Hopefully, you now have a better idea of what direction you should take and what things you should consider bringing when preparing for your perfect glamping adventure. There are plenty of awesome bits of gear to bring, and these are just a few that could help you to enjoy yourself more and feel more relaxed. Remember, though, that glamping is all about you, so the most important thing is to bring the things that you know will bring you comfort! Make a list of all the gear that you know you will want and/or need to have and find a way to make it work. Have a great time glamping!
Sources:
https://www.familyhandyman.com/smart-homeowner/32-items-for-awesome-glamping/