Best Budget Glamping Tents in 2023
Glamor camping, or "glamping," is one of the best and most relaxing ways to enjoy the great outdoors. With new tents being designed and manufactured all the time, and with tent companies constantly coming up with innovative ways to make you comfortable, there has never been a better time to get into glamping. Thanks to these innovations, you can find excellent and comfortable glamping tents that won't break the bank. No need to spend thousands of dollars! If you know where to look, you are sure to find the perfect shelter to relax without spending too much money. Here is a list of some of the best budget glamping options out there.
Yukon Bell Tent
Canvas bell tents are the most popular glamping option on the market, and for good reason! The tipi-style design but with side walls offers plenty of room to move around, stretch, and sleep comfortably. One of the best of these is the Yukon Bell Tent from Elk Mountain Tents. What makes the Yukon unique from other bell tents is its polyester canvas material, which combines many of the best qualities of both cotton and polyester. It has the breathability and insulation qualities of cotton, making it a comfortable place to stay during the summer or winter. However, the material has a higher break and tear strength than cotton, and is more resistant to ultraviolet rays, water, mold, and mildew, increasing the value of the tent since it will last you for many years. It is also significantly lighter than cotton canvas, making it easier to lug around.
Other features of the tent include a floor that can zip in and out, allowing you to roll up the walls and turn the tent into a shaded area to enjoy nature all around you and 4 screened windows and 4 screened air vents that provide plenty of ventilation. The zippered door is 5 ft. high, and the sidewalls are 3 ft. high. With a peak height of 8-11.5 ft. (depending on the tent size you buy), there is plenty of room to stand up, walk around, and change clothes in the tent, as well as fitting a comfortable queen-size bed inside. Like many bell tents, the Yukon includes a stove jack, allowing you to bring a wood stove along to keep warm at night and during the colder months of the year. The jack can be cut to 4, 5, or 6 inches in diameter, so it can fit whatever stove pipe you end up using. Having a wood stove is one of the best ways to glamp, as it not only keeps you from getting cold and uncomfortable, but it also allows you to heat water and cook in your tent, enjoying luxury meals in comfort even if the weather outside gets rough.
There are 3 sizes available for the Yukon: 13 ft., 16 ft., and 20 ft. diameter. The price of the tent ranges from $745-$995. That may seem like a lot for it to be considered a budget glamping tent, but you'd be hard-pressed to find a better bang for your buck since many cotton canvas bell tents run over $1000, and this option is durable enough to last you for likely the rest of your life, so you might consider it a long-term investment.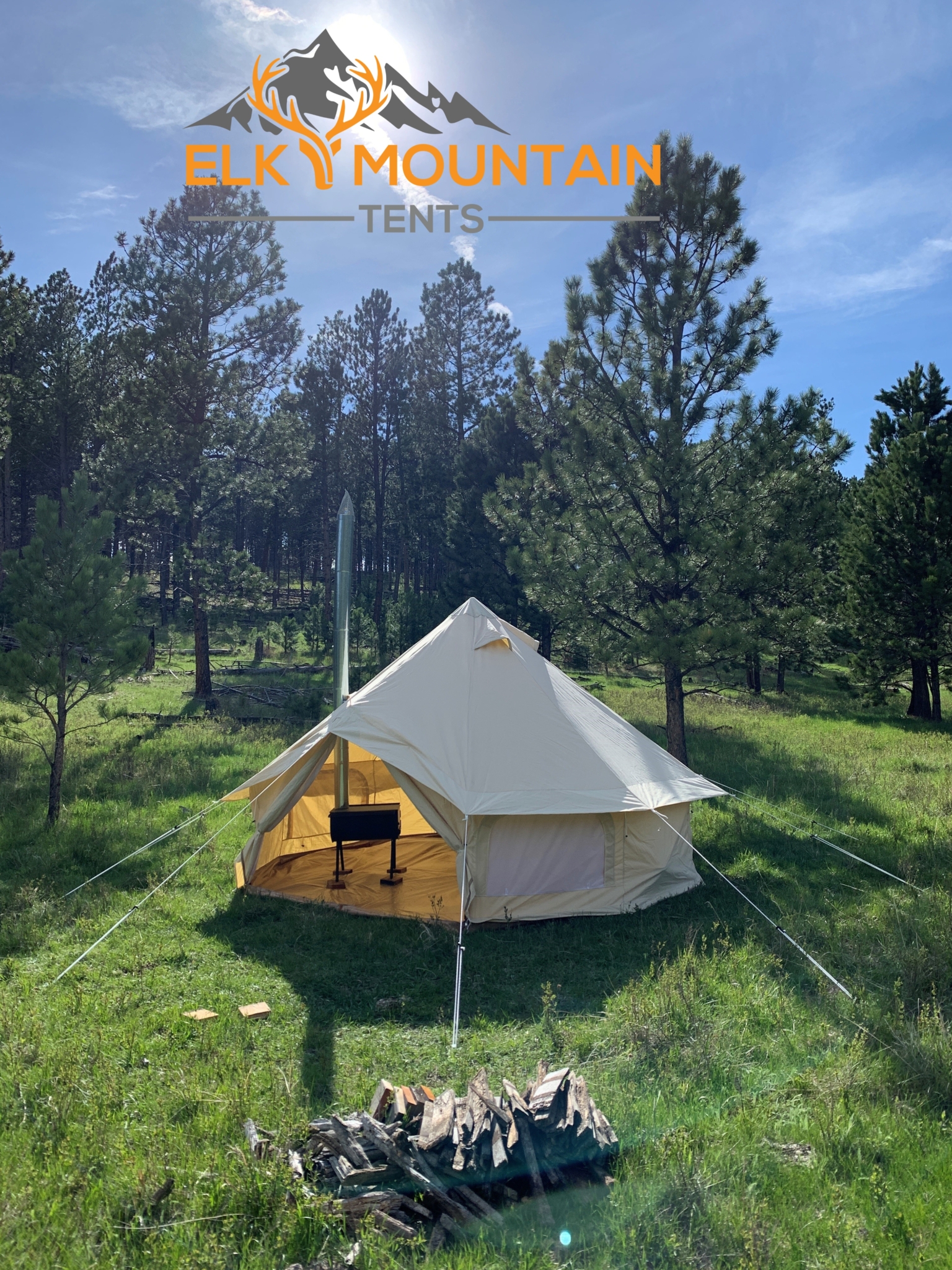 Also available from Elk Mountain Tents' website is their canvas wall tent, made of the same unique polyester canvas material as the Yukon, again with a stove jack included. These wall tents are versatile enough to use for winter camping, hunting, or glamping, and they are worth looking into as well if you want something durable and long-lasting that you can use for a variety of purposes. This is available in 3 sizes as well: 13 x 13 ft., 13 x 16 ft., and 13 x 20 ft. The standard model ranges in price from $795-$1045, with other options available if you want to add an awning or a zippered screen door.
Big Angus Bunk House
Another great inexpensive glamping option is the Big Agnes Bunk House 4-Person Tent. While not as large as a bell tent, the vertical sidewalls allow for a remarkably spacious interior. It has a ceiling height of 81 in., plenty of room for even the tallest glampers to stand up straight. The design of the tent allows it to pack down small enough to fit in your car, giving you extra space to pack all of the other glamping items you will need. You won't need to worry about bad weather ruining your glamping vacation, thanks to the storm-resistant build of this shelter, provided by waterproof floors and rainfly, strong aluminum poles, tough guy lines, and double walls. On the inside of the tent, you will find all kinds of glamping amenities, including 8 pockets to store things and keep organized, a fold-out mat, and a vestibule for additional storage. The best part of this comfortable and durable tent option is that it only costs $480, a great shelter for any budget glamper.
NEMO Wagontop
The NEMO Wagontop 6P Group Camping Tent is one of the most versatile tents out there. It makes for a great glamping shelter thanks to its spacious interior, with vertical sidewalls and enough room to stand up and stretch. Each wall has a large screen window, which not only provides a great view of the outdoors from all angles but also offers excellent ventilation. The sizable vestibule can store your gear and keep bad weather out, and it can be detached when not in use. The single-wall construction offers protection from the weather without needing a rainfly, and it makes setup quick and simple. The frame of the tent is made up of just 2 hubbed poles that can be popped into place instantly. If you need to hike for a while to get to your perfect glamping spot, this is one of the best tents to have, since it is extremely light and packs down small. If tent transportation and setup are pains you wish to avoid when glamping, few shelters will better suit your needs than the NEMO Wagontop—and for $750, you get a bang for your buck.
Ozark Trail 20-Person Tent
While it isn't as sturdy or as full of bells and whistles as other glamping tents, it is hard to beat the Ozark Trail 20-Person 4-Room Tent when it comes to size. This is the perfect option for family glamping trips, thanks to its space and room dividers. Thanks to this, you can have 3 separate bedrooms, each with a queen-sized mattress, as well as a lounge area, or you can keep one of the rooms open to store all of your gear and other items. Each of the rooms has a separate entrance, offering you all the privacy you might want while on a relaxing glamping getaway. There is more than enough room to stand up and walk around inside the tent, while still having space left over for all your glamping items. While it isn't sturdy enough to handle winter weather, the Ozark Trail is more than capable of handling a bit of wind during the warmer months of the year. The tent can be purchased online for just $270, so you'd be hard-pressed to find a cheaper tent that can fit this many people.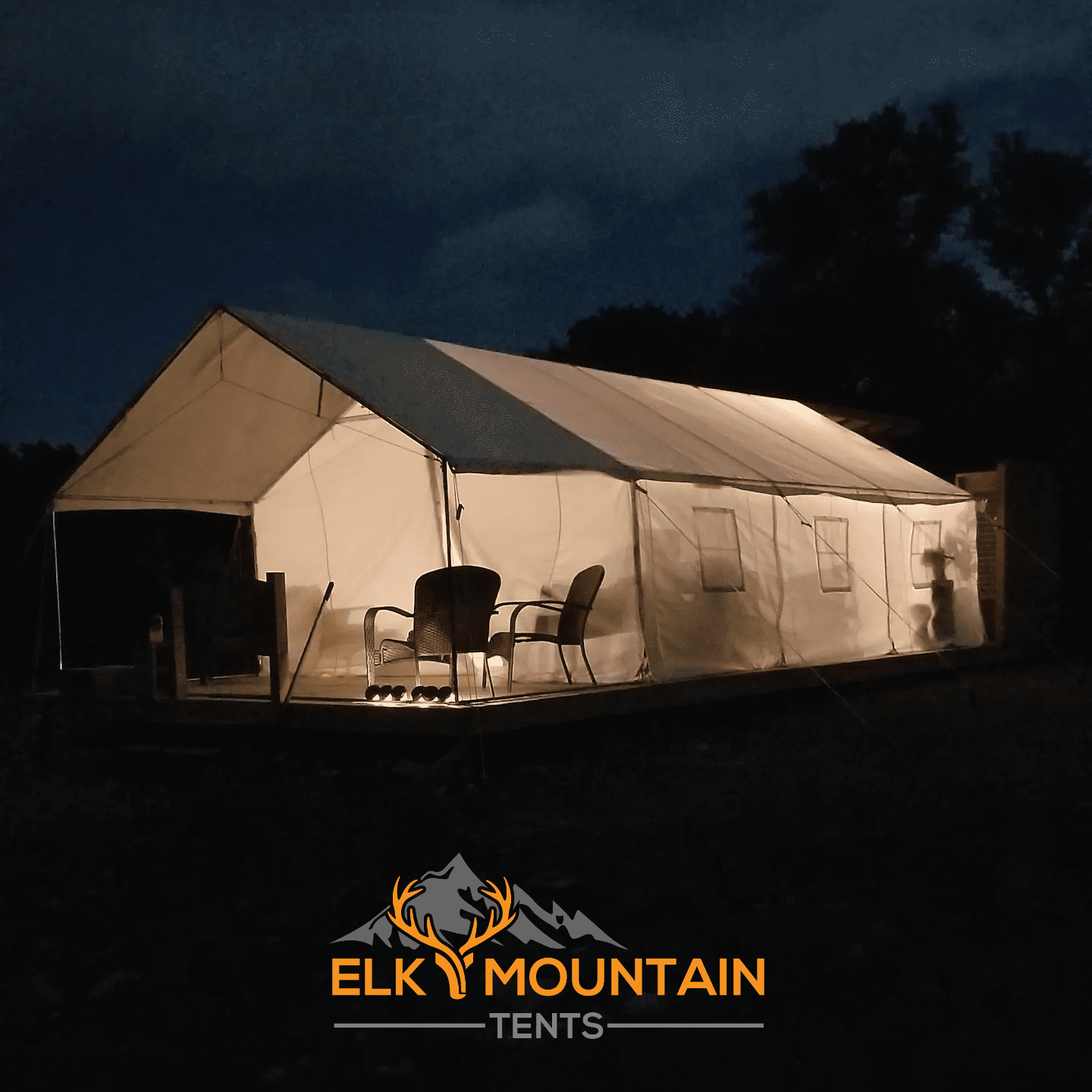 Winterial Teepee
Teepees are another popular design for glamping tents. They offer much of the space and comfort that bell tents do, and many of them aren't too expensive. One great example of a glamping teepee is the Winterial Teepee. This can be used for glamping even when the weather takes an unexpected turn, thanks to the durable 210T polyester material and included rain cap. This material is lightweight enough to make transportation and setup quite easy. All setup requires is staking down the outside and raising the middle with the center pole. Once set up it can comfortably fit 4-6 people inside, or a couple with a large air mattress and plenty of room for chairs, tables, and other glamping amenities. The built-in groundsheet is strong enough to keep water from leaking in at the bottom, so a bit of rain shouldn't give you much cause to worry. With windows around the shelter, you can always have a gorgeous view of the great outdoors and beautiful nature within. The traditional design and style of the teepee add to the magical experience as well, and you are sure to keep warm and comfortable inside while enjoying the company of your partner. It is available online for just $150.
There are so many great glamping tents out there, and you may not even have to pinch pennies to get your new glamping shelter. Glamping tents, like all other tents, come in a variety of shapes and sizes, and it is up to the individual what best suits their needs. Need a vacation or a break from the hustle and bustle of city life? Start your adventure today! Look around for yourself and find the right glamping tent to best suit your needs and enjoy a relaxing time in the great outdoors!
Sources:
https://www.bestproducts.com/fitness/equipment/g3197/glamping-luxury-tents/