Best Cotton Glamping Tents
There are all kinds of amazing fabrics for tents to be made from, all of which have advantages and disadvantages. Cotton is no exception.
Traditional campers often enjoy using a cotton tent since it is a natural fabric rather than a man-made material, and it is much closer in design and style to the kind of tents used hundreds of years ago. While cotton is a heavier and bulkier material than nylon, it tends to be more durable, long-lasting, and breathable. It also insulates much better than nylon, keeping the inside cooler during the summer and warmer during the winter. Cotton also absorbs water, preventing condensation issues from occurring. Since it is a natural material, it smells nice when new. These aren't all properties unique to cotton, per se, since many of these advantages can now be had with polyester canvas, but they are advantages nonetheless.
But there are disadvantages to cotton tents as well. They are very heavy and can be much more difficult and tedious to pitch. This bulkiness also means that you may not be able to fit the tent in the trunk of your car with your other gear, depending on its size, so keep that in mind when shopping. Cotton tents also take some prep before you take them out camping for the first time. More often than not you will need to run water over the material to weather it, shrinking the fabric to fill in holes and increase water resistance. However, while absorbing water is great when worried about condensation, it also means you will need to allow the tent to dry before putting it away after use, or else it can start to grow mold and mildew. Bacteria, mold, and microgranisms will eat away the natural fibers in the cotton. Lastly, cotton isn't usually popular for those on a budget, as it is more expensive than polyester or nylon.
Hopefully reading those pros and cons gave you a good idea of whether or not a cotton tent is the right option for you. If the pros outweigh the cons for you, read on and learn about some of the best cotton tents for glamping!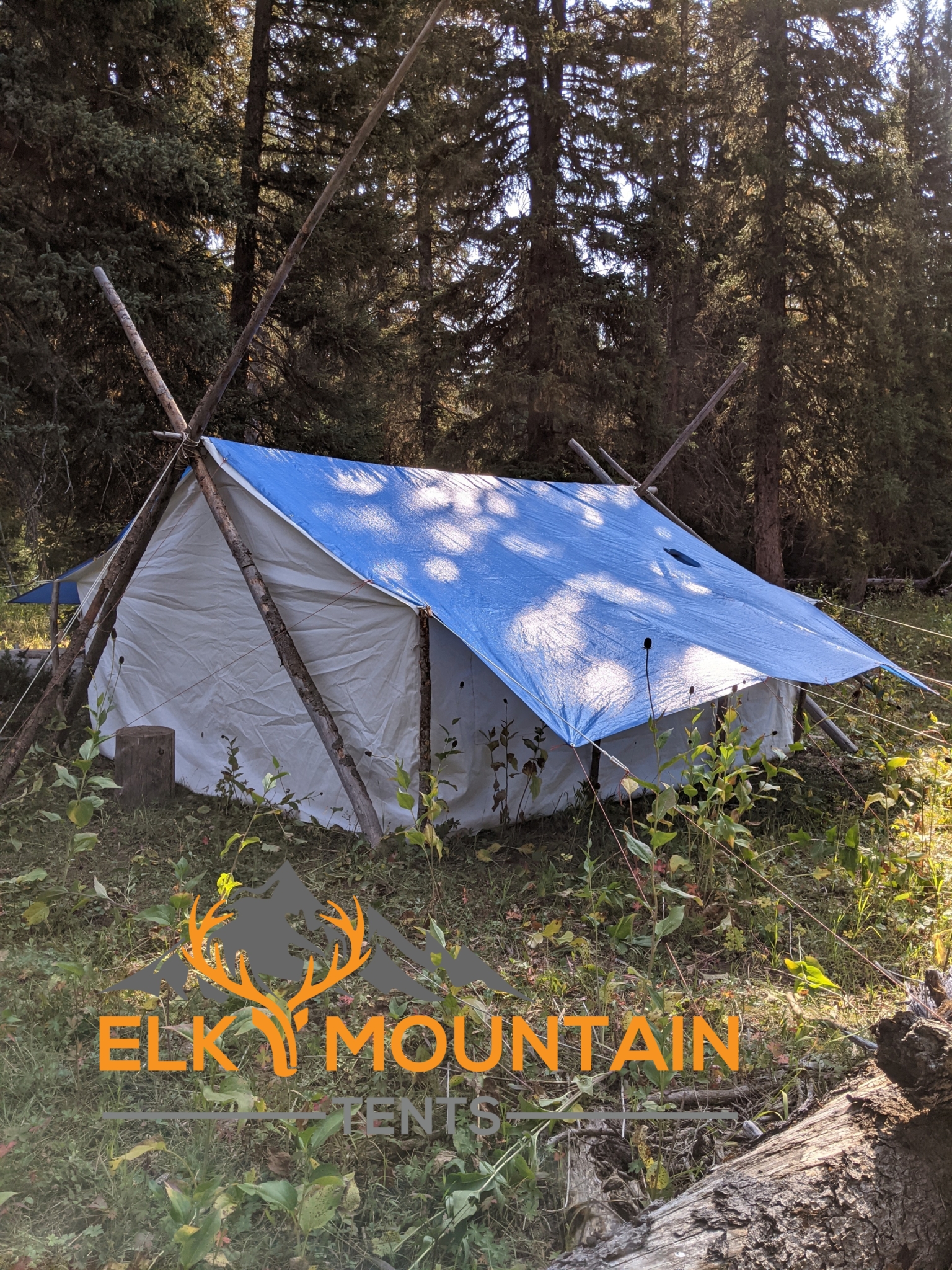 PlayDo 4-Season Bell Tent
One of the best cotton tents for glamping during any time of the year is the PlayDo 4-Season Bell Tent. This tent is designed and has been treated to withstand anything nature decides to throw its way. The fabric itself is not only durable and sturdy enough to hold up against the wind, but also fire-resistant and waterproof treated. The fire resistance comes in handy when you use the stove jack, which allows you to bring a wood stove in the tent to keep you warm during the night. It has a PVC floor as well that will keep water from leaking in at the bottom. All of these together result in excellent living conditions for your glamping adventure. It can be rainy and windy outside, and you can safely cook food in the warmth and comfort of your tent. There is plenty of airflow in the tent thanks to air vents in the roof and mesh windows, so if you are using the stove, it won't get too hot and stuffy inside. If the weather outside is nice enough, you can detach the walls of the tent from the floor and turn your shelter into a canopy under which you can enjoy nature while keeping out of the sun. Though it is relatively heavy at just under 80 lbs., it is designed for an easy and convenient setup. One person alone can do it in under 20 minutes. It is available online in a variety of sizes, ranging from 3m (9.8 ft.) in diameter ($470) to 7m (23 ft.) in diameter ($1000), so whether you are looking for a couple's getaway or a family vacation, you can find the right size to suit your glamping needs!
Lotus Belle Tent
One of the most elegant and aesthetically pleasing glamping tents on the market is the Lotus Belle Tent. As the name suggests, the tent looks much like a Lotus flower. Few other cotton canvas tents provide the class and beauty that this one does. It has a 13 ft. diameter interior and tall sidewalls, offering plenty of room to stand up and walk around as well as have a king-sized bed. It has an additional Velcro groundsheet and Velcro flaps, adding versatility to the tent in allowing breathability while keeping out insects. The door and windows have zippered mesh as well for this purpose. The cotton material in the Lotus Belle is of the highest quality out there. Heavy rainfall and strong winds won't be enough to knock this shelter down, so don't let unexpected weather get in the way of your fun glamping adventure. You can leave the tent standing for days and weeks on end without experiencing wear and tear, thanks to the tent's durability. While the tent is much more expensive than other glamping options, you may consider it a long-term investment because of how long it will last you. Besides its price, the other con to this model is that setup takes quite a while. If that doesn't bother you though and the price isn't an issue, you might want to take a look at one of the most beautiful bell-shaped glamping shelters out there. It is available in a variety of colors as well, so you can make it look like your favorite flower in front of a breathtaking natural backdrop.
Karma ZIG Bell Tent
Maybe part of the reason you would rather use cotton than a man-made material in your tent is to keep your shelter more eco-friendly. If this is the case, you should take a look at the Karma ZIG Bell Tent. This glamping haven is made from 100% organic, unbleached cotton canvas, which is durable and strong enough to use any time of year. It is designed to be resistant to mold and mildew, as well as waterproof and UV resistant, meaning you will likely be able to use this environmental-friendly option for glamping excursions for years. The seams of the tent are reinforced to provide extra strength in keeping water from leaking inside. There are plenty of other things that make this tent a worthy glamping option as well. It is designed to fold down small and compact enough to fit in your car, and it has spring-loaded poles that make pitching quick and easy. There are double doors on the ZIG, making it easy to move a large mattress and other glamping items in and out. The doors and windows have a mesh covering, so you can allow air to flow through the tent while keeping insects outside. It is heavier and more expensive than many other options, but it could be worth it if you want to stick with organic materials and reduce your carbon footprint. It is available in several different sizes, allowing you to get the size you need based on how much stuff you need with you and how many people you want to make room for. You can buy a 5-, 6-, 7-, or 8-meter diameter option, each of which has a double entrance, though there are smaller options available as well if you are okay with a smaller entrance and don't need a lot of room.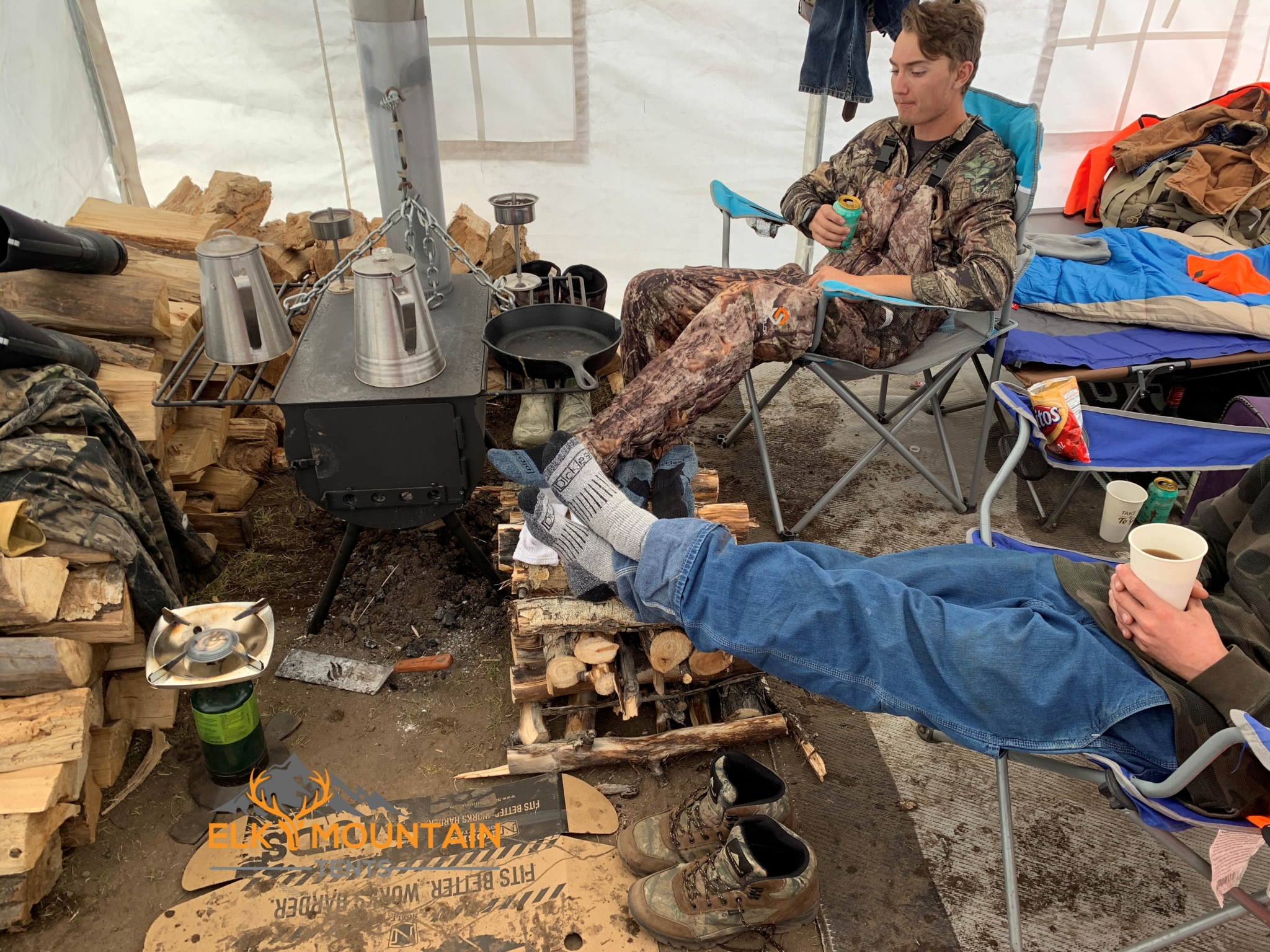 Yukon Bell Elk Mountain Tent
If you are still on the fence about whether or not the advantages of cotton outweigh the advantages of polyester, you might want to have a look at the Yukon Bell Tent from Elk Mountain Tents. Elk Mountain Tents uses a unique 100% polyester material in their canvas, that allows their tents to have many of the best qualities of both polyester and cotton. This fabric is a lot tougher and more durable than traditional cotton canvas, making the Yukon a great option if you are looking for a long-term investment. The material is also more resistant to water and ultraviolet rays as well as mold and mildew. It is lighter than cotton canvas as well, helping make setup much easier and less exhausting.
Elk Mountain has pulled out all the stops to allow for excellent airflow, thanks to 4 mesh air vents in the roof as well as 4 mesh-covered windows. Lastly, many of the best glamping tents have a stove jack, and the Yukon is no exception. Bring your wood stove along for the trip and allow yourself to relax in warmth, no matter how cold it gets outside. The tent is available in 3 different sizes: 13 ft., 16 ft., and 20 ft. in diameter. These range in price from $745-$995, making it a less expensive glamping tent compared to many others out there.
Hopefully, you have a better idea now of what your ideal glamping shelter should be. Whether you like all the advantages of cotton or prefer polyester, the right tent is out there waiting for you.
Sources:
https://www.bestproducts.com/fitness/equipment/g3197/glamping-luxury-tents/