Best Polyester Glamping Tents
There are so many excellent glamping tent options out there to choose from, each with unique qualities that make it ideal for relaxing in the great outdoors. Glamping tents can be made from many different materials, and the best material for you depends on your individual preferences.
Nylon is the cheapest, but it's also usually the weakest because it's typically made very thin. I would only recommend this for glamping if you anticipated replacing your tents each year.
Cotton canvas is for the traditionalist who wants the most rustic and natural appearance. The material is slightly softer to the touch. When treated for sun, rain, and mold, it is an solid option and can last for a long time. However, cotton canvas comes in a variety of weights per yard – 8 oz is too thin, 10 oz is average, 12 oz is industry standard for wall tents, and anything 14 oz and above is considered heavy-duty.
Polyester varies the most. That is to say that its quality depends on the manufacturing process. It can be as thin and weak as nylon or thicker and stronger than cotton canvas. Overall, though, it has several advantages over both nylon and cotton. Polyester is naturally waterproof and requires no mold treatments since it is a fully synthetic fabric. A good polyester canvas will also likely be slightly lighter and significantly stronger than cotton canvas. And modern advances in technology have allowed polyester canvas to become just as breathable as cotton canvas.
Elk Mountain Yukon Bell Tent
Elk Mountain Tents' Yukon Bell Tent is one of the best canvas glamping tents on the market, and while most canvas tents are made of cotton, this one uses a breathable polyester material, giving it many of the best attributes of both cotton and polyester. It is breathable and durable, which is common in canvas options, but it is also lighter than traditional cotton canvas (ideal for carrying into the backcountry) and can endure a lot more wear (thanks to a notably higher break and tear strength). It is more waterproof than cotton, repelling it rather than absorbing it and shrinking. This also prevents it from having mold and mildew problems. The material also holds up better against ultraviolet rays than cotton canvas does.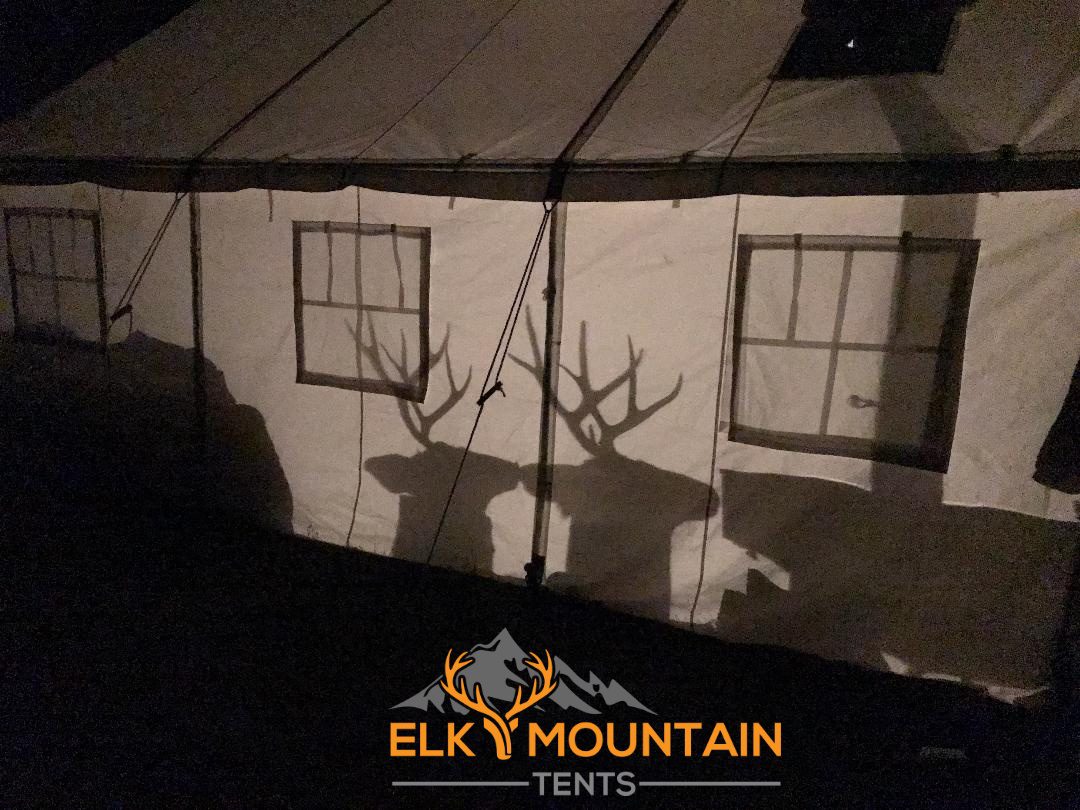 The tent's bell design is a popular one among glampers, with a center pole creating a tall roof and a circular frame making up the outer wall. This offers plenty of room for your queen bed and whatever other things you want to have with you while glamping. You can stand up straight inside to change clothes and move around. The PVC floor can be detached from the tent itself, allowing you to roll up the walls and turn the tent into a comfortable canopy when you want a shaded area to experience the fresh air. It also has 4 screened windows in addition to 4 screened air vents so you can allow air to flow through the tent while keeping insects outside (too many insects can quickly kill the mood of a glamping getaway). One of the main things that makes the Yukon such a great tent for glamping is its inclusion of a stove jack.
This allows you to keep a wood stove inside, keeping you warm and toasty during the cold, frigid nights of the great outdoors. This also gives you a way to heat water and even cook inside. The stove jack is uncut, allowing you to cut it to 4, 5, or 6 inches to fit the pipe of whatever wood stove you use.
The Yukon is available from Elk Mountain's website in 3 sizes: 13 ft. diameter (8 ft. peak height), 16 ft. diameter (10 ft. peak height), and 20 ft. diameter (11.5 ft. peak height), ranging in price from $745-$995.
Dancehl 4000 Pro Family Tent
Another bell tent you may want to check out is the DANCHEL 4000 Pro Family Tent. The material in this model is 300D ripstop Oxford fabric, which is extremely durable and waterproof (5000 mm waterproof rating in the floor and 3000 mm in the walls), so you don't need to worry about unexpected weather getting in the way of your glamping vacation. It has a capacity of 5-8 people, which is plenty of room for a couple to bring a large mattress and all the comforts they might need. It weighs around 25 lbs., which is much lighter than almost any other bell tent you could find, so if you need to hike for a while to reach your campsite, this is an excellent option to consider. The design allows for plenty of airflow, thanks to its 2 mesh windows and 3 ventilation panels, each with zippered covers, as well as 3 peak air vents to allow hot air to get out through the top. It has transparent windows that can be covered as well, offering a convenient view of the beautiful nature all around you, within the safety and comfort of your tent. You'll find that the DANCHEL Pro Family is significantly less expensive than other bell tents, and the setup is designed to be simple, only taking 10-20 minutes.
Grand Canyon Indiana Pyramid Tent
If you anticipate a lot of rain in your glamping location, you should check out the Grand Canyon Indiana Pyramid Tent. The 3000 mm polyester material and reinforced seams in this bell tent are sure to keep you safe and dry, no matter what expected or unexpected weather decides to show itself. The tent is lightweight enough for hiking and transporting from place to place, so if you see yourself needing to travel a while before setting up camp, this is a great model to go with. It can fit 8 people inside in addition to space for luggage and gear, giving you the proper amount of space needed for a glamping tent. With enough room for a king-sized bed and all of the homey touches you could want, this is a no-brainer for glamping. Available in grey or green, the tent has an appealing look in the great outdoors, blending into the mountains and forests all around. Though it isn't the most sturdy or durable during extremely heavy winds, its reasonable price makes it great for anyone glamping during the calm summer months.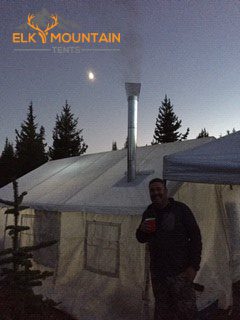 Tahoe Gear Bighorn Tent
Another great style of glamping tent is the teepee. One of the best teepees out there is the Tahoe Gear Bighorn Tent. With an official capacity of 12 people, you get a bang for your buck with this model. Whether you want to take the whole family glamping or want to have a spacious area to enjoy your couple's getaway, this is one of your best options. With a floor area of 18 x 18 ft., you can fit up to 4 queen-sized mattresses inside. It has a 9 ft. tall center pole, giving you enough room to stand up straight. The tent is quite sturdy, being built to withstand strong winds, so you can rest easy knowing that your tent isn't going to collapse if some heavy winds start coming your way. Though it doesn't have a mesh door, there is plenty of ventilation thanks to mesh roof panels and floor vents. 4 PVC windows can give you a great view of the outdoors while you are enjoying your luxurious vacation. You can find this option online at a very low price, so it is a great budget option for anyone looking for a teepee.
Coleman Octagon 98 8-Person Outdoor Tent
Stepping away from bell tents and teepees, The Coleman Octagon 98 8-person Outdoor Tent is another fantastic model for glamping, made from polyester taffeta 68D. It has a 50 sq. ft. floor area and a declared capacity of 8 people, so there is more than enough room for a queen-sized bed and other comforts and amenities to fit inside. It includes an optional room divider, so if you need a few minutes by yourself every once in a while, you can certainly have that. The rainfly extends the full length of the tent and has a gazebo-style design when zipped open, which allows the mesh windows to continue to ventilate and offers great views of the nature around you. On the inside of the tent, you will find cupholders and storage pockets, so you can be sure you won't spill anything inside or lose any of your smaller items.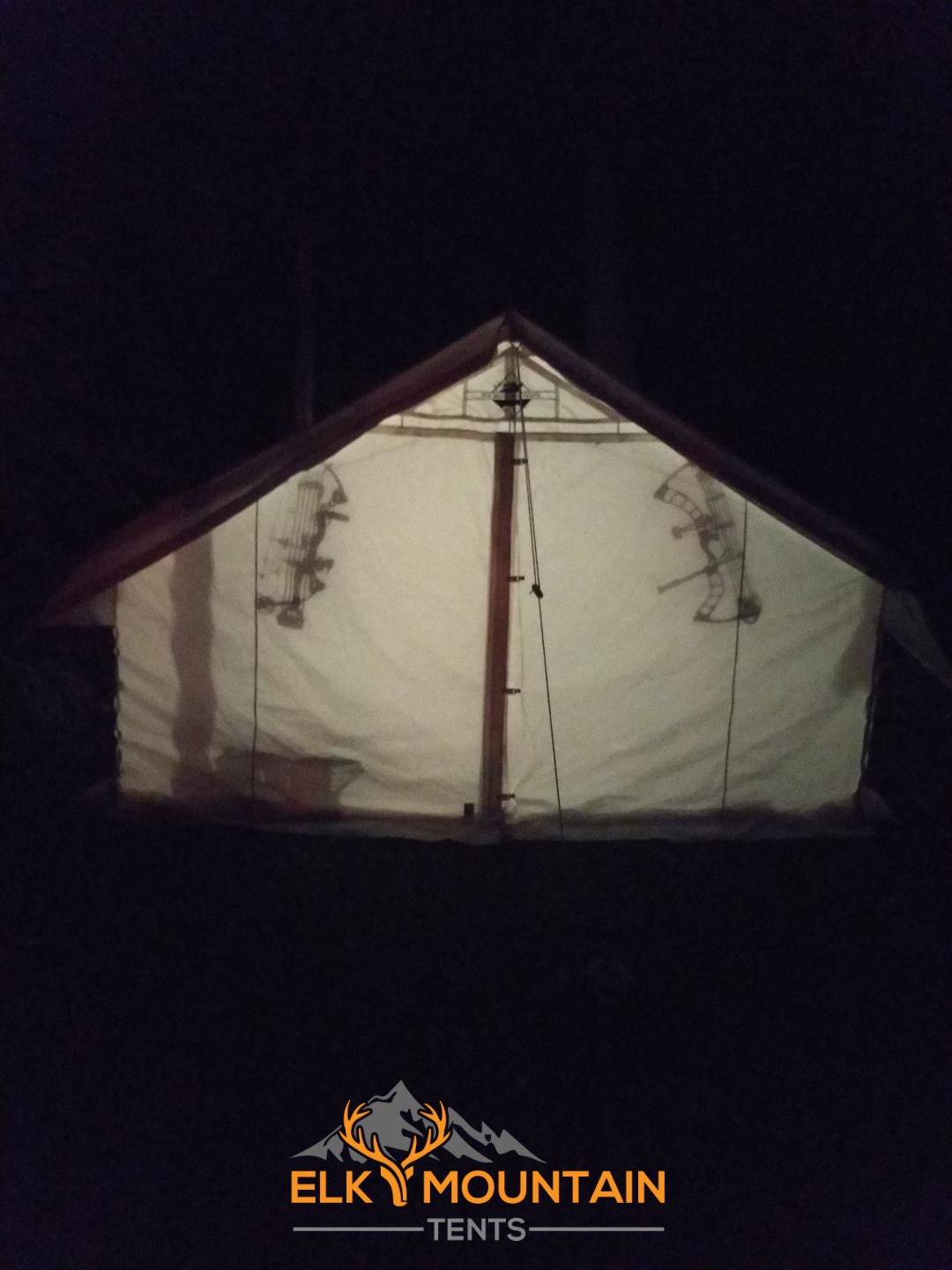 There are two doors in the tent, and one of them has a hinge, allowing it to open and close with ease. While this tent isn't recommended for 4-season camping, it is more than capable of handling a bit of rough weather that might come your way during the summer, including winds up to 35 mph. One person can set up this tent in just 15 minutes, so you don't have to waste time getting it set up and you can jump right into glamping! It is available online for around $250, making this a great glamping option for anyone on a budget! The pockets, cupholders, room divider, and hinged door are all convenient things to have if you decide to bring your kids camping as well.
These are all amazing glamping polyester-based glamping options to choose from. If you decide that polyester is the right tent material for you, the next step is to choose which model to go with. Whether you see yourself best enjoying a teepee or bell tent or something else entirely, the glamping world is your oyster! Get out there and relax in all the beauty that nature has to offer.
Sources:
https://www.getoutwiththekids.co.uk/family-tents/tent-fabrics-best/