Best Large Glamping Tents
Glamping, or glamour camping, can be one of the most luxurious and rewarding ways to spend your summer, and there is really no wrong way to do it! As long as you feel relaxed and comfortable, you are doing what is right for you. While some don't really need an extra-large tent for glamping, many glampers look for as much space as possible inside their tent, giving it a homey, welcoming feel. This can be for several different reasons. Maybe you want to take the whole family for a glamping trip, maybe you want to be able to store more inside, or maybe you just want more space to spread out and move around. Whatever it might be, you are sure to find at least one of the tents on this list to be just what you need if you are looking for a large tent to have the perfect glamping getaway!
Elk Mountain Yukon Bell Tent
Elk Mountain Tents' Yukon Bell Tent is one of the best canvas bell tents on the market, and by extension, one of the best glamping tents you can buy. It is available in 3 different sizes, with the largest being 20 ft. in diameter (304 sq. ft.), quite large enough to satisfy the needs of anyone looking for something roomy. If you aren't familiar with bell tents, they are much similar in design to yurts, but they are a lot easier to set up and move around. It has a center pole design to keep up the roof of the tent, and this size offers a center height of 11.5 ft., more than enough room for even the tallest campers to stand up straight, change clothes, and even do a bit of exercise if they so desire. The walls surrounding the tent are 3 ft. tall and the doorway is 5 ft. tall, so even at its shortest point, the tent isn't small.
The tent includes 4 screened windows, allowing you to get fresh air and ventilation without worrying about insects. Additional ventilation is provided by the 4 screened air vents at the top of the roof. The durable PVC floor can zip in and out of the tent, allowing you to roll up the sidewalls and enjoy the great outdoors under a nice canopy. As any great glamping tent should, this option does include a stove jack so that you can bring a wood stove along for the journey, keeping you warm and toasty on those cold nights and mornings. The jack can be cut to be 4, 5, or 6 inches in diameter, allowing you to cut it to fit the pipe of whatever stove you use.
One thing that makes the Yukon stand out from other bell tents is the unique polyester canvas material it is made from. This fabric has a much higher break and tear strength than traditional cotton canvas, allowing you to use this tent for glamping adventures for many years into the future without much wear and tear. It is also more resistant to ultraviolet rays and water and will not shrink over time. Plus, being a fully synthetic materials means it won't accumulate mold and mildew in the fibers when it gets wet even though the polyester has the same breathability as cotton canvas. Naturally, mold can grow on the surface of anything but you won't have to worry about it rotting away your tent.
If you need to carry your tent into the backcountry to find your perfect spot, you will be happy to note that this tent material is lighter than cotton as well. The 20 ft. diameter Yukon Bell Tent can be purchased from Elk Mountain's website for $995.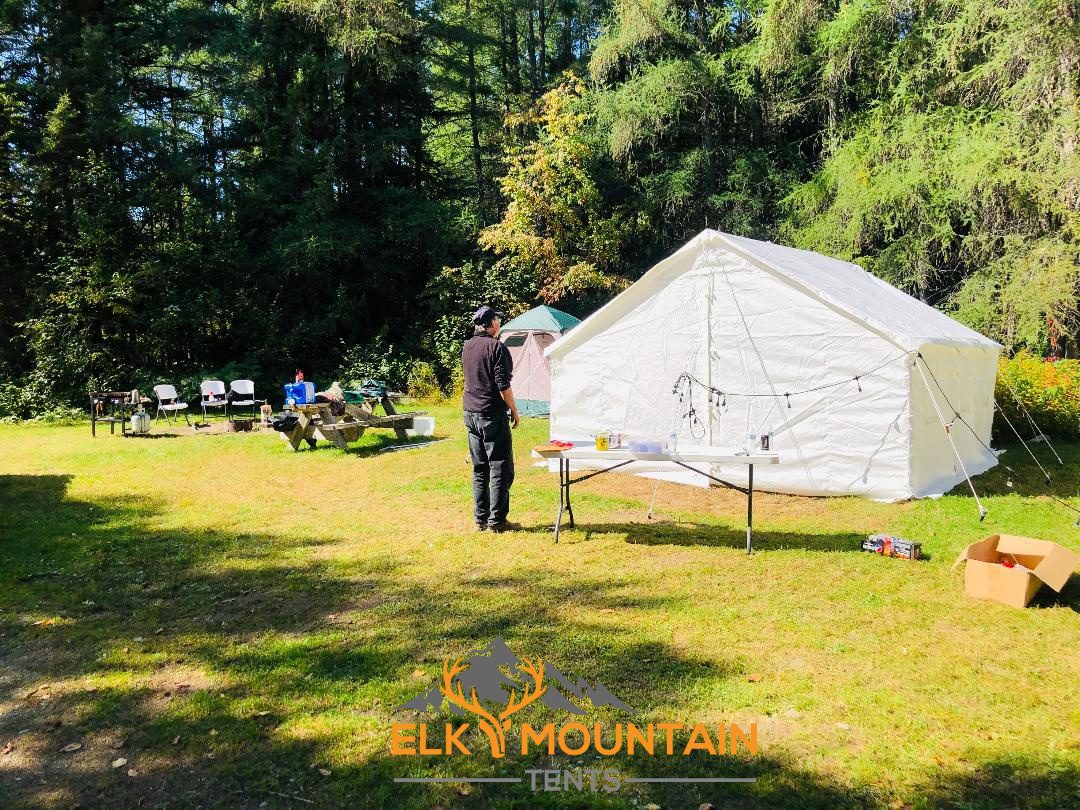 Lotus Belle Tent
One of the most popular glamping tents out there is the Lotus Belle tent. This tent takes the themes of glamour and camping and dials both to an 11! The design of the tent combines the great aspects of many other tents, with the center pole giving it a tall roof (just like in many other bell tents) and the sidewalls forming a spherical shape to allow more room to move around. This unique appearance is also built with stability in mind, so you can rest comfortably knowing that everything will hold up if the weather gets a little windy. It has a 20 ft. diameter, giving it about 400 sq. ft. of floor area, which should be plenty of room to keep all your other glamping essentials.
The canvas material making up the tent is waterproof, so unexpected rain won't have to ruin your getaway. Other amenities include canvas blinds over the large windows that can be rolled up or down. The large vents offer plenty of ventilation, and they (as well as the doors) are reinforced with mesh to keep insects out. This is a great option to go with if you want something nice to look at as well, thanks to having the outward appearance of a lotus flower. It is even available in a variety of colors if you want your glamping shelter to pop! Keep in mind though that it is one of the more expensive bell tents out there, at $3600, and is quite heavy (150 lbs.), but if you want a beautiful tent that provides the ultimate glamping experience, it might be worth it!
Cabela's Ultimate Alaknak Tent
If bell tents aren't your style, you may want to consider using a house tent for glamping. The Cabela's Ultimate Alaknak Tent is a durable and spacious option that can feel like a second home when it is all furnished. This 13 x 27 ft. beast has an official capacity of 11 people, which is more than enough room for a couple or small group to spread out and camp in comfort. Its 5 ft.-high sidewalls and 9.8 ft. center height make it ideal for walking around inside without hunching over. The Alaknak uses a waterproof polyester material but it is very different from the polyester canvas used by Elk Mountain Tents. The Alaknak has a more plastic-like feel to it and some have reported condensation issues. If you are thinking of finding a good all-seasons tent so you can take a vacation outdoors any time of year, this is a great option to go with.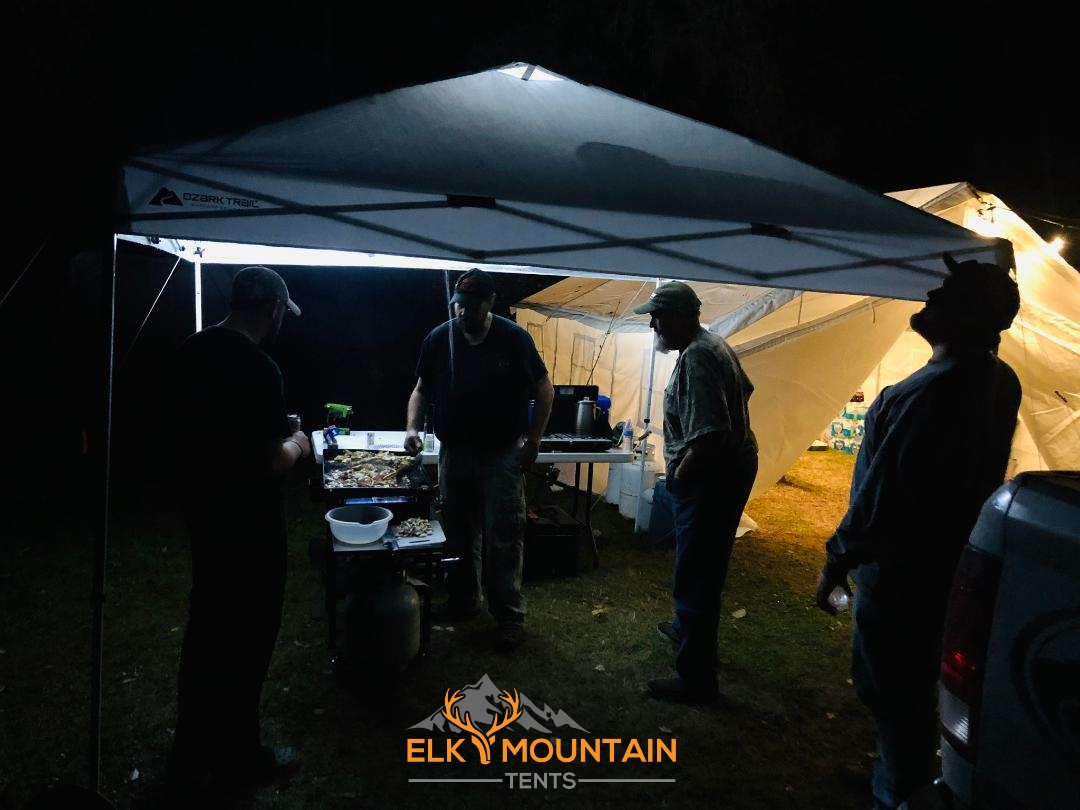 nother thing that makes this tent so great during any time of year is its inclusion of a zippered panel and stove jack, allowing you to bring your wood stove and keep yourself cozy and comfortable during any time of the year. Combine that with all the other glamping amenities you might need, and you will never want to leave your tent! The tent weighs 107 lbs., which isn't bad for its size, but you probably don't want to take it hiking if you need to traverse a bit to get to your campsite. It is available from Cabela's website for $1500.
14-Person Base Camp
The 14-Person Base Camp with 4 Rooms is an excellent choice if you enjoy your privacy, or even if you want different rooms dedicated to different activities. There is enough space in this tent that you can have a lounging area, two bedrooms, and a storage area, each with its own dividers! There are several entrances into the tent as well, so you can just go to your room from the outside without disturbing anyone else. Each room has windows as well, allowing you to enjoy the great outdoors and receive all the ventilation you need. Sometimes a true glamping experience means finding a few minutes to spend by yourself, and with the Base Camp, you can do that whenever you need! It is 20 x 20 ft. and 6.5 ft. tall, offering enough room for 5 queen air mattresses.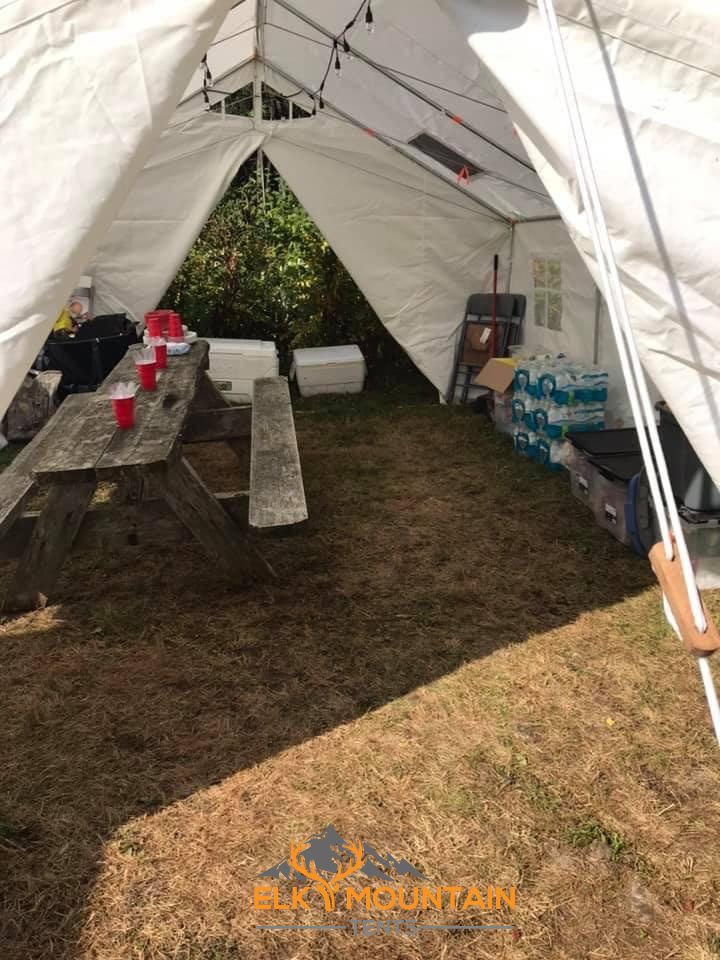 In addition to its size, it has plenty of other perks. It is much lighter than other large tents (weighing just 53 lbs.), so if you need to trek to your campsite, you won't have to worry about carrying too much weight. It is also quite easy to set up, and should only take a few minutes, so you can get right to glamping once you arrive at your destination. For only $237, few other tents will give you this kind of bang for your buck. The biggest drawback is that it isn't as sturdy or durable in rough weather. The nylon material doesn't have the best waterproofing, and it doesn't stand up as strong as many other tents do when the wind picks up. For summer weather glamping, however, this tent should do fine.
These are several of the best large glamping tents that are on the market. Each has its unique pros and cons, so it is up to you to decide which tent will best suit your glamping needs. Remember that glamping is all about YOU and what will make you happy and relaxed! Maybe you want the elegance and beauty of a bell tent, or maybe you are just looking for something that offers as much space as possible! Any of these tents can help you have the experiences of a lifetime, so buy the right one for you, and get out there and enjoy comfortable, luxurious glamping adventures for years to come!
Sources: