Best Luxury Camping Tents in 2023
With every year comes brand new options and all kinds of excellent innovations in tent design that make camping a more appealing and relaxing experience. There has never been a better time to get into luxury camping, or "glamping," as it is commonly known. You will be excited to see just how many great luxury camping tents there are on the market right now, and you are sure to find the perfect one to suit your needs. Listed here are some of the best luxury tents that you can find in 2023!
Yukon Bell Tent
Some of the most popular tents for glamping are bell tents. The design of these tents maximizes both floor space as well as ceiling height, giving you plenty of room to fit a comfortable bed inside and relax. One great bell option is the Yukon Bell Tent from Elk Mountain Tents.
The high-quality polyester canvas material that makes up this tent ensures that it will last you for years to come, so you can go on glamping adventures whenever your heart desires. The fabric is not only lighter than cotton, but it also has a higher break and tear strength and is just as breathable as cotton canvas. However, because the fabric is fully synthetic, you won't have to worry about your canvas rotting when it gets wet. It is naturally waterproof so you can feel safe using the Yukon Bell in the rain or snow, keeping it safe, warm, and dry inside. Also, polyester doesn't shrink like cotton will, and it holds up much better against ultraviolet rays.
The tent has all kinds of great features, including a stove jack that allows you to keep a wood stove inside, making it warm and toasty inside even when camping in the cold winter. The jack can be cut to 4, 5, or 6 inches in diameter, making sure that you will be able to use your stove no matter what size the pipe is. Other features include 4 screened windows and 4 screened vents, providing ample ventilation and airflow. It has 3 ft. sidewalls (with a varying peak height depending on the size you go with), a 5 ft. doorway, a zippered front door, and a floor that zips into the tent, allowing you to roll up the walls if you want a shaded place to enjoy the view of the outdoors. The 3 sizes available on Elk Mountain's website are 13 ft. diameter (pole height: 8 ft., cost: $695), 16 ft. diameter (pole height: 10 ft., cost: $795), and 20 ft. diameter (pole height: 11.5 ft., cost: $945).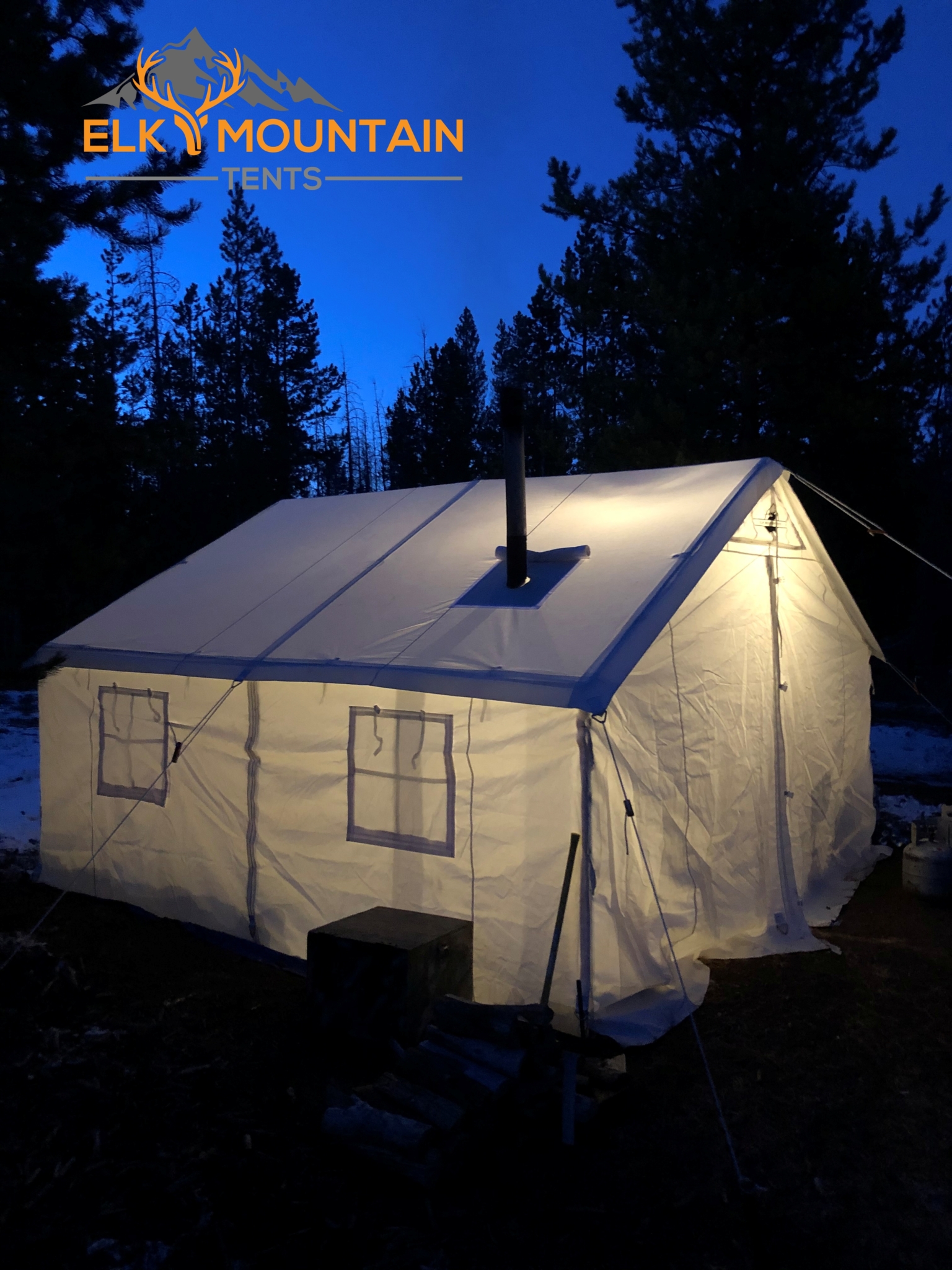 Lotus Bell Outback Deluxe
Another popular bell tent is the Lotus Belle 16 ft. Outback Deluxe, which is made to offer plenty of space for a comfortable night of rest for several people. The 16 x 16 ft. design can comfortably fit 6 twin beds inside, with room left over for your other amenities. It includes 2 mesh windows as well as 2 air vents to offer ventilation, a huge zippered front door (large enough to fit a queen mattress through), and stakes and ropes to tie the tent down in case it gets windy. The amount of interior space in the Lotus Belle is quite impressive, making it feel more like a yurt than a camping tent. It is a bit on the pricier side at $2800, but few tents offer as much luxury as this one.
Big Agnes Big House 4
If you are looking for a lower-budget option that can still offer you a great glamping experience, check out the Big Agnes Big House 4. It is small enough for easy transport, though it does have a 70-inch center height and vertical sidewalls, giving you plenty of room to stand up inside. The double-wall design of the tent offers a waterproof fly and floor, and it also includes strong aluminum poles and versatile guy lines, all making sure that the tent can hold up nicely even when the weather gets rough, something many vertical tents aren't able to do. It offers several nice amenities that are great for any glamping adventure, including a removable front vestibule, a foldout welcome mat, and 8 storage pockets inside. For just $379, this tent can give you a real bang for your buck and provide great times in the outdoors for a long time.
Heimplanet The Cave
One of the most unique tents on this list is the Heimplanet The Cave 3-Person Tent. As its name would suggest, this "cave" of a tent excellently blocks out the sun. If your idea of a luxurious glamping trip is being able to sleep in, you will love this option, as you can sleep in for hours without worrying about how bright it is getting outside. There is plenty of room for a couple to comfortably enjoy relaxing inside, with enough space for gear and other items, with tons of floor space and almost vertical sidewalls. Another luxury of this tent is its easy setup. Instead of worrying about poles, the Cave can be inflated in less than a minute with an attachable air pump. If your idea of relaxing is sleeping in and not having to spend time setting up your tent, this might be the option for you. It is available online for $769.
Nemo Wagontop 6P Group Tent
A sturdy minimalist glamping option is the Nemo Wagontop 6P Group Camping Tent. This tent offers just enough space to keep you comfortable and relaxed, without overdoing it. A couple would have more than enough room to put a bed inside and fit all of their other items as well. Each of the tent's walls includes a large screen window, making it great for enjoying the outdoors as well as providing airflow, all while keeping pesky insects from becoming a nuisance. The front vestibule is removable, but when it is attached it offers plenty of gear storage as well as weather protection. The single-wall design, as well as two pole structure of the tent, makes it quick and simple to set up. The high ceiling enables you to stand up tall inside (no need to hunch). This is also a great option for glamping if you want to save space in your vehicle or have to transport the tent for a while, as it is lightweight and compact.
Ozark Trail 14-Person Base Camp Tent
Some glampers like to have separate rooms in their tent, for organization as well as much-needed privacy. If this sounds like a luxury to you, you may want to take a look at the Ozark Trail 14-Person 4-Room Base Camp Tent. While it isn't as sturdy or elegant as many other tents on the list, few tents will provide you with more space. The 4 rooms offered in the tent make it a great choice for families or large groups to enjoy a relaxing getaway together. There is a room in the middle with 3 wings shooting off to the sides, each with its own entrance, offering even more privacy. While the tent probably won't hold up during the winter, it should be a nice option to have during the rest of the year, with plenty of doors and windows to provide ventilation when it gets too hot outside. Another thing that makes the Ozark Trail Base Camp stand out is its price. For just $249, you probably won't find a cheaper tent that has as much space as this one.
Timber Ridge 8-Man Log Cabin Tent
Some might argue that the ideal way to go glamping is by using a log cabin, but others would argue that sleeping in a cabin doesn't count as camping. The Timber Ridge 8-Man Log Cabin Tent is the middle-ground option between these two opinions. The Timber Ridge has the roomy and cozy design of an 8-person log cabin, with the bonus that you can take it wherever you would like. It has a large porch area so you can keep your gear and shoes separate from your sleeping quarters. This porch is even screened so you can relax and enjoy the breeze while avoiding insects. With the nearly vertical walls that you would expect from a log cabin and plenty of room for a queen-sized bed (or several smaller beds), you can have some of the best outdoor experiences of your life!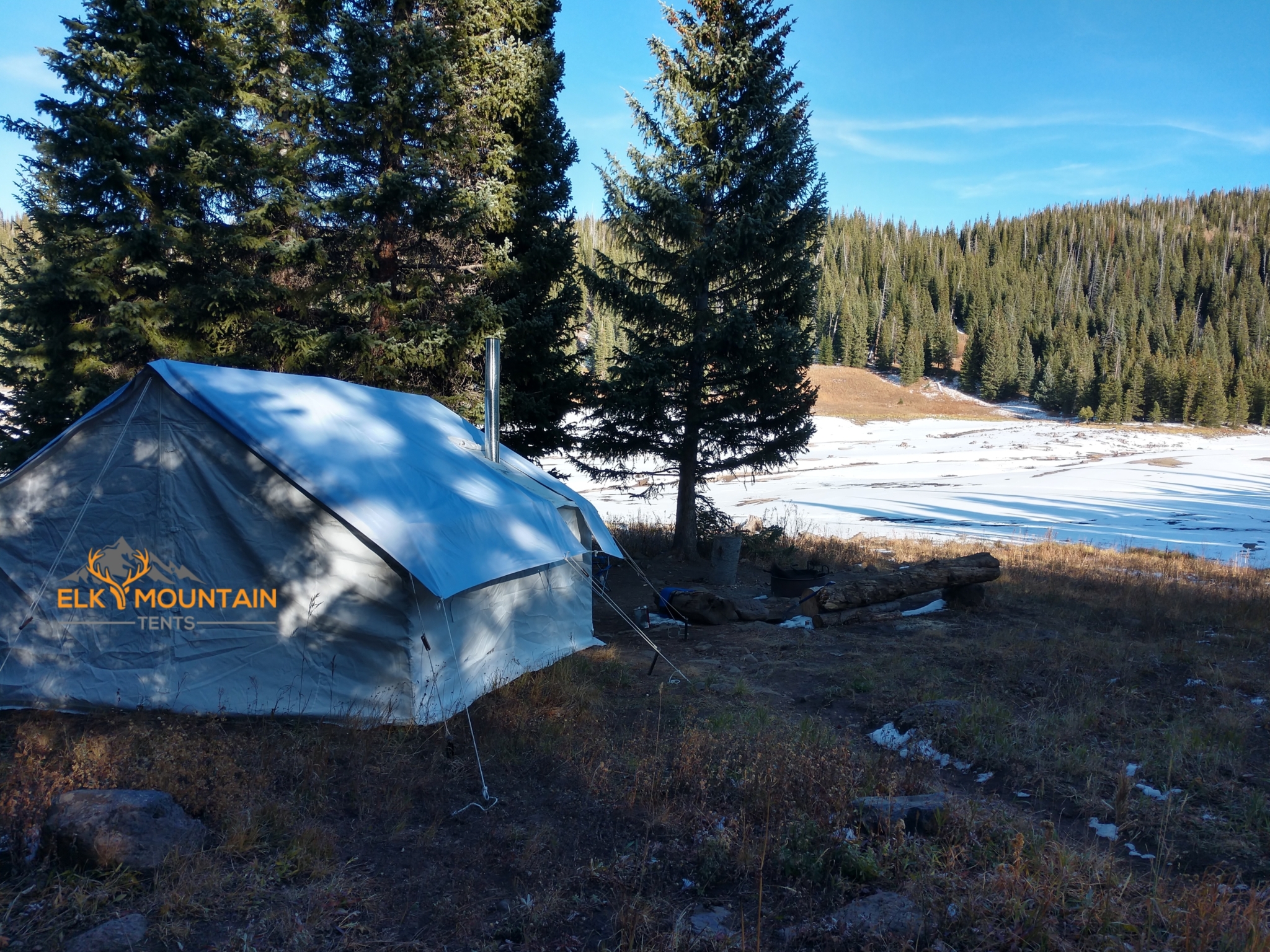 Canvas Camp Patrol Deluxe
Similar in design to a military canvas tent, the Canvas Camp Patrol Deluxe Tent is an A-Frame option that was built for relaxation. The cotton canvas material is breathable and waterproof, making it excellent for sunny and stormy weather alike. There is plenty of ventilation as well, thanks to its 4 doors, each with a built-in mesh window. The door zippers also go all the way to the ground, ensuring no insects find their way inside. While many canvas tents don't offer a built-in groundsheet, this one does, and it is quite sturdy. The tent can be purchased online for $749.
These are just several of the best luxury glamping tents on the market in 2023. If you want to get into glamping and spend more time making memories in the great outdoors, this list can hopefully help you get started. Get out there and enjoy your many camping adventures for years to come!
Sources:
https://www.bestproducts.com/fitness/equipment/g3197/glamping-luxury-tents/