Best Tents for Cot Camping
Who said camping has to be uncomfortable? Even if you are in the great outdoors "roughing it" in a tent, you can still have a good night's sleep so that you feel refreshed and ready to go hiking, hunting, or fishing when the morning hits. One of the best ways to make sure you sleep comfortably in a tent is by using a cot. While sleeping pads simply offer a bit of cushioning between you and the hard ground, cots keep you from even touching the ground, offering a softer and more comfortable night of rest. The only problem with cots is their size. Since they are raised off the ground, you need a tent with sufficient vertical space to sleep in a cot comfortably (you likely won't want to take your backpacking tent with you when you are cot camping). Listed here are some of the best tents on the market when it comes to comfortably fit a cot inside.
Elk Mountain Tents' Canvas Wall Tents
Because of the vertical design of wall tents, they are excellent for cot camping. With straight walls and a rectangular floor space, no space is wasted when you place your cot along a wall. You and a couple of others can rest well on your outdoor adventure. Some of the best canvas wall tents on the market are the ones made by Elk Mountain Tents. These tent models are built to withstand the roughest weather while offering as much interior space as possible.
Elk Mountain Tents' biggest advantage over its competitors is its unique canvas. They use 100% polyester canvas fabric exclusively. Polyester canvas is both lighter and stronger. As long as there are no cotton fibers woven in (cotton-poly blend), the material is naturally waterproof and incapable of rot. Of course, mold can grow on any surface but there's nothing there for the bacteria and microorganisms to eat. It's also better suited for UV rays and requires no sun, rain, or mold treatments. So if you are looking for a reliable tent to invest in for long-term use, these are some of the best options out there.
Part of the reason you likely want to use a cot for camping is to keep comfortable at night. This is especially vital during the winter when you want to keep off the cold ground as much as you can. Luckily, in addition to making room for cots, Elk Mountain's tents provide room and a jack for a wood stove, which can further aid you in keeping warm and comfortable at night. With a wood, stove you can also heat water to make cocoa or coffee, making your tent an all-around relaxing haven from the unforgiving winter weather.
It's hard to beat the one-two punch of a nice cot and a wood stove to keep things cozy! If you already have a wood stove, you can cut this stove jack to be 4, 5, or 6 inches in diameter, so you won't need to buy a whole new stove to fit this tent.
The tent material itself is also built to withstand snow, rough winds, rain, and even ultraviolet rays, and provides screen windows and vents for consistent airflow, so no matter what time of year you plan on going camping, you are sure to have a luxurious, enjoyable, and refreshing trip. Elk Mountain's canvas wall tents come in 3 sizes, 13 x 13, 13 x 16, and 13 x 20 ft., and they are available on their website starting at less than $800, with additional options that include a front screen door and/or an awning costing a little bit extra.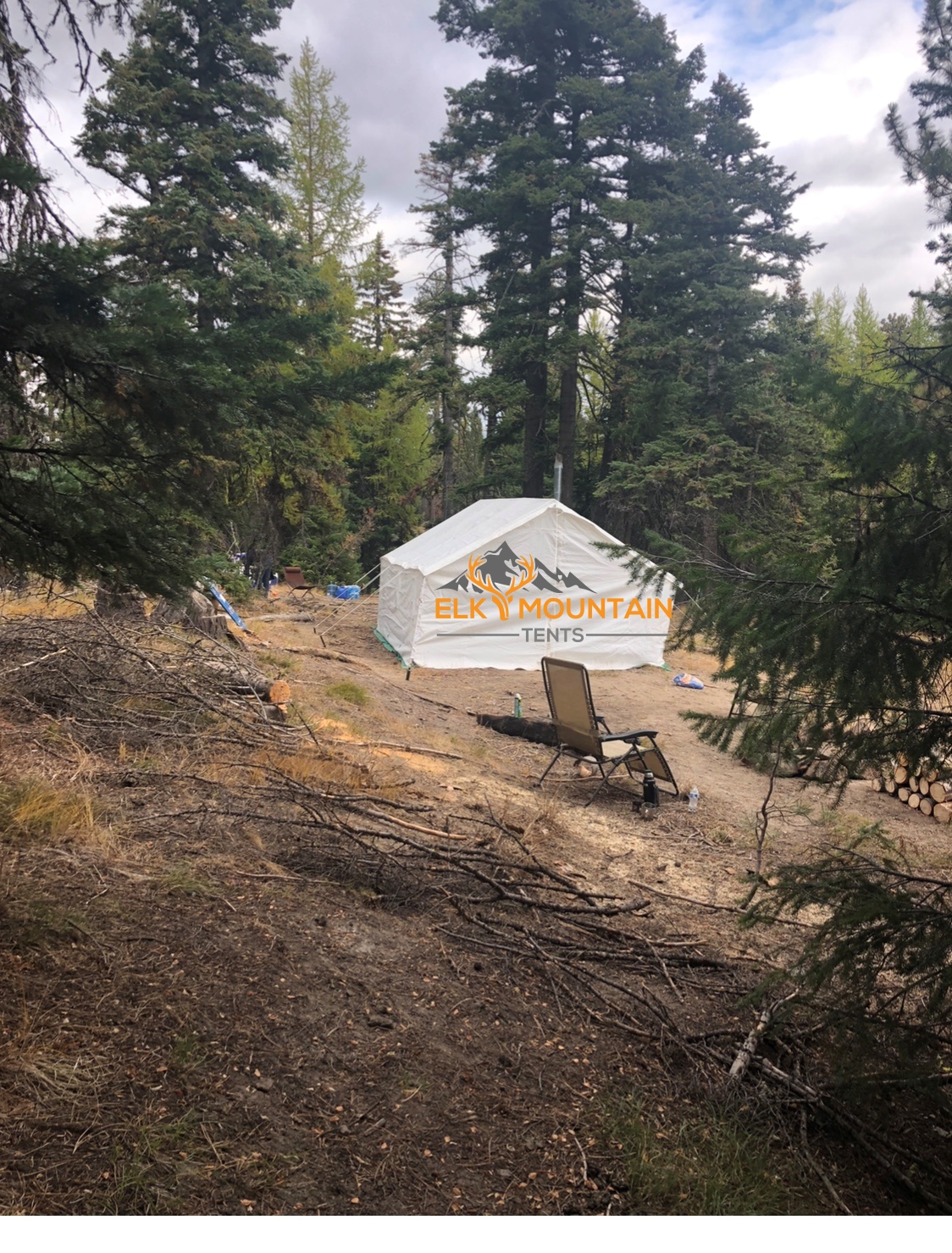 Yukon Bell Tents
Cots are also great to use for glamping trips. Some high-quality comfortable large cots will be perfect for your outdoor relaxation getaway. But to go glamping you need an excellent tent as well. Elk Mountain Tents also sells a great option in this department: the Yukon Bell Tent. This tent offers plenty of room for a few cots to fit inside with space left over for your gear and wood stove (like the wall tent, a stove jack is included) thanks to its tipi design that offers ample floor and ceiling room. It is made from the same fantastic material as their wall tents, making it great for glamping during any time of year, even in the cold winter (your cot and your stove are sure to keep you plenty warm). The 4 mesh windows and 4 air vents provide plenty of ventilation to help you feel comfortable inside, especially when it gets hot. With both this and the canvas wall tent, you don't have to worry about mildew or mold problems like you would with many cotton canvas options. The Yukon is available in 3 different sizes: 13 ft. diameter (133 sq. ft.; $695), 16 ft. diameter (201 sq. ft.; $795), and 20 ft. diameter (304 sq. ft.; $945).
Ozark Trail Dark Rest Instant Cabin Tent
The Ozark Trail 20 x 10 Dark Rest Instant Cabin Tent is technically a 12-person tent, but 4-5 cots are ideal if you want plenty of room to move around inside. In addition to being quite spacious, other great features of this tent include darkroom technology that blocks out the sun (perfect for extra sleep in the morning or a nap during the day), easy 2-minute set up and takedown (thanks to "instant" design and poles already built into the tent), removable ceiling panels for stargazing, and excellent ventilation (with windows and ground vents). In case you enjoy your privacy, the Dark Rest Instant Cabin also has removable dividers to split the tent into 3 rooms. There are several gear pockets inside as well, and even a port for electronic cables. In addition to plenty of floor space, it has vertical space as well, with a center height of 80 in. The rainfly has sealed seams and should keep you dry in most weather. Another great advantage of this tent is its price since it's available online for just $300.
Core Equipment 12-Person Tent
Another great instant cabin is the Core Equipment 18 x 10 12-person tent. Like the Ozark Trail, it can be set up in just 2 minutes, and it can comfortably fit several cots inside with room left over for your gear and other items. It can be separated into 3 rooms if you so desire, and it has a ceiling height of 84 in., so there is no need to worry about being pressed up against the ceiling while in your cot. You can easily get in and out without needing to hunch over. This tent is highly waterproof thanks to its polyurethane-coated material with reinforced seams. The ventilation can be adjusted (including ground vents), allowing you to keep warm during the winter and cooler during the summer. There are 4 inside pockets and an electrical port. You can buy this tent for $320 online.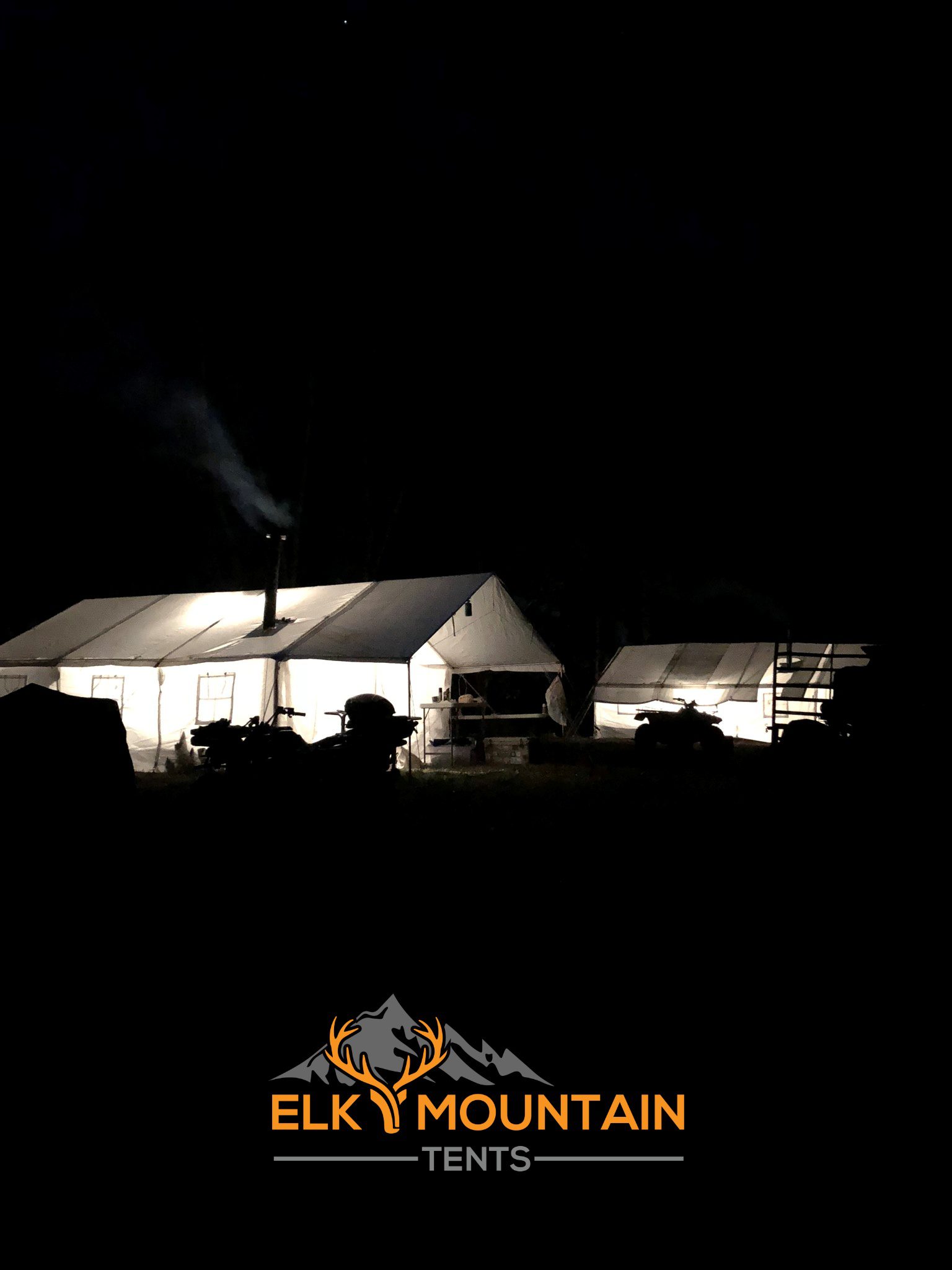 Ozark Trail 20-Person Tent
If you are looking for a tent made for an even larger group to comfortably set up their cots in, you should check out the Ozark Trail 25 x 21.5 20-person camping tent. This beast of a tent can easily fit 8 cots inside (potentially more!) with more than enough room left over to walk around and store gear. It isn't quite as easy to set up as the first Ozark Trail tent on this list, but 2 people should still be able to set it up in under 20 minutes. The Y-shaped design maximizes floor space wherever possible, so if you have a lot of people in your group and/or a lot of things to store, this is one of the best tents you can find. You will have plenty of airflow throughout the tent thanks to the mesh roof (and 8 mesh windows), and this can be covered by the rainfly in case the weather starts to get worse. Each "wing" of the tent can divide into its own room, each with its own door, allowing for maximum privacy. It has 2 gear hammocks, 4 large pockets, and a media pocket, so you won't have to worry about losing your valuables in the vast tent structure. It even has 4 additional pockets to store water bottles in and an electronic port. All this combined with a tall center height of 83 in. make this the perfect tent for you and a large group to enjoy a relaxing adventure, sleeping soundly in your cots. On top of that, you can find this model online for just $270.
Eureka Copper Canyon 12-Person Tent
While it doesn't offer quite as much floor space, the Eureka Copper Canyon 12-Person 14 x 12 Camping Tent is still a great option if you and a couple of others want a sturdy tent that you can comfortably set up a few cots inside of.  You can back cots up to the wall, thanks to the vertical wall structure. It has a center height of 7 ft., making it one of the best tents on the list for vertical space, and it will hold up excellently during rough weather. There is a room divider included and large D-shaped doors on either side, offering plenty of privacy as well. The bathtub-style floor helps ensure that water won't leak in through the bottom, and the 6 storage pockets and 2 gear lofts offer plenty of space to store valuables. It is on the more expensive side, at $950, but if you want something sturdy that will hold up during any time of year, it is well worth it.
There are plenty of great large tents that are perfect for cot camping, and these are just a few of the best on the market. Figure out which one best suits your needs, and enjoy a relaxing and fun time in the great outdoors!
Sources:
https://tentsntrees.com/best-large-camping-tents/