Best Tipis to Buy in 2023
The tipi (also spelled teepee) has been a popular outdoor structure for hundreds of years. Native Americans famously used tipis, building them by leaning wooden poles against each other, forming a cone shape, and covering them with sewn-together animal hides. These shelters worked so well that they are still widely used today. Many tent companies have created modern adaptations of the tipi, which are popular amongst campers and event planners alike, as these spacious structures are not only comfortable but versatile as well. They are popular to use any time of year, as they manage to allow cool air to flow through during the summer (thanks to the air vent in the top) and they can stand up strong and keep you warm during the winter. One of the best things about tipis is that you can comfortably stand up straight, thanks to the roof design. This makes getting dressed inside the tent much less of a hassle. With modern technology improving tent designs all the time, you may be surprised at how great some of the modern tipis are, managing to be durable, lightweight, and cost-effective. Take a look at some of the best tipis you can buy in 2023!
Wenzel Outdoors 11.5 x 10 ft. Shenanigan
Let's start with a smaller-sized option for those on a budget or those who only plan on camping with a couple of people. The Wenzel Outdoors 11.5 x 10 ft. Shenanigan is a 5-person tent, though it is perfect for 2 or 3 people if you plan on bringing gear and other items along with you. For a relatively low price compared to other tipis, the Wenzel is a fantastic option for those who are just getting into camping. It is quick and easy to set up and take down (thanks to only having 6 stakes) and has reinforced seals in the floor to make sure nothing gets in at the bottom. Since it is a smaller model, it only has one door, though it does come with a mesh screen to allow ventilation. There are 3 PVC windows, so you are sure to get plenty of light inside if you would like. The material has 2 vents in the bottom and 3 in the top, ensuring that you will get plenty of airflow, even with the door closed. The steel pole that is included has a telescopic design, so you can make the tent as tall or short as you want, up to 7.5 ft. tall. Though that is shorter than many larger tipis, it is still tall enough to stand up, stretch, and change clothes. Packed together, the tent only weighs 10.75 lbs., making it great for hiking or car camping. A nice bonus with this option is that there are 4 mesh pockets inside to keep your smaller items, making sure they don't get lost. While the tent can withstand a little bit of rain or light winds, it isn't classified as a 4-season tent and likely won't hold up well in heavy rain or snow. If you are a more casual camper and like to go outdoors during the nice summer months though, this shouldn't be a problem. With a price tag of just over $100, this is a great option if you are on a budget or want a small tent for hiking trips.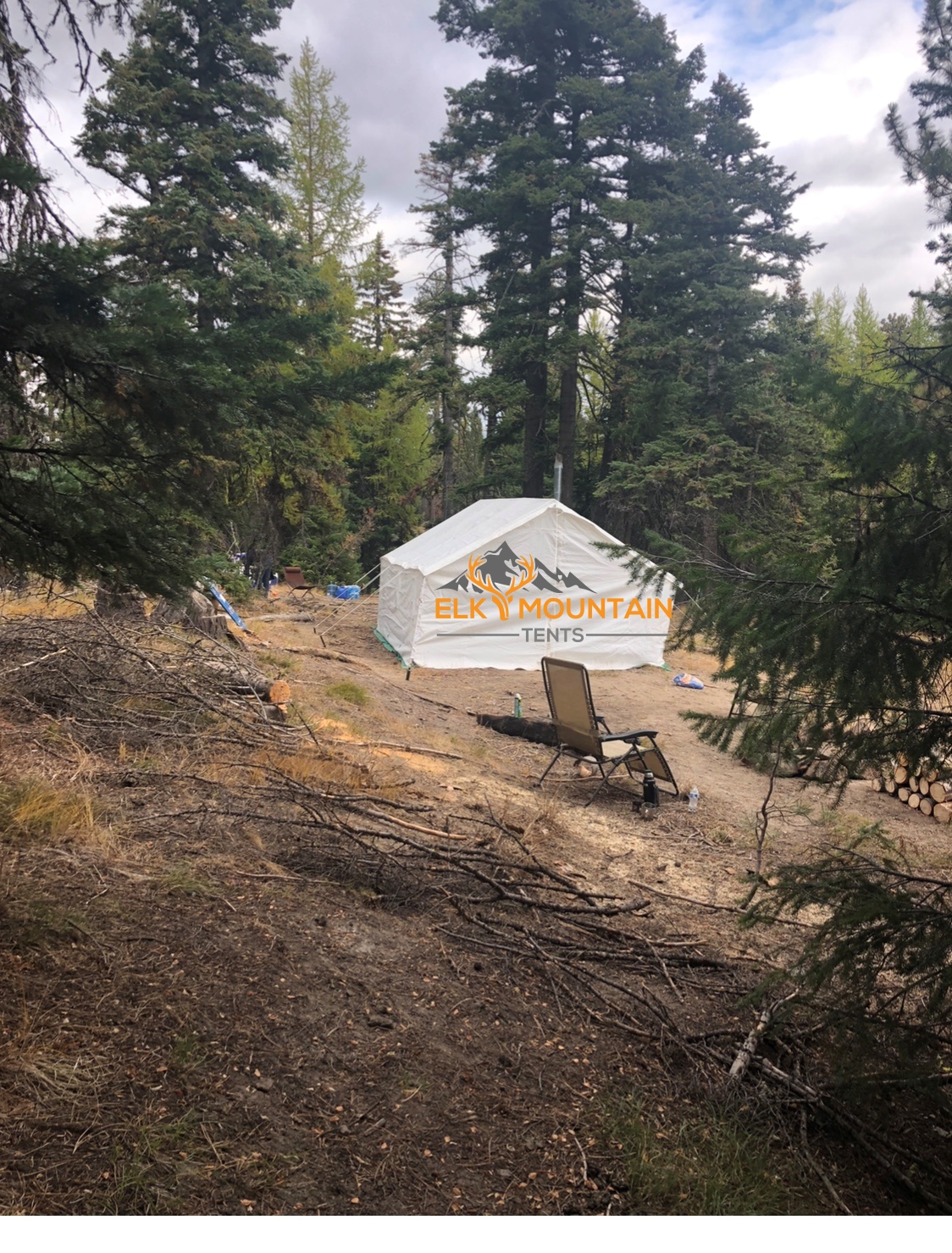 Tahoe Gear Bighorn XL 18 x 18 ft. Tipi
If you are looking for a family-sized tent, you should check out the Tahoe Gear Bighorn XL 18 x 18 ft. Tipi. From the outside, it has a minimalist appearance, but it has plenty of great features that you might not expect just from glancing at it. it is well-fortified against windy weather and has enough room for 12 people to sleep inside. It is a fantastic option for glamping for 2 people (with plenty of room for your other amenities) or a comfortable family/group camping trip. It has a center height of 9.75 ft., so even the tallest campers can stand up and move around inside. The tent is quite well-ventilated, thanks to not only the top vent but the 2 doors, 4 windows (PVC, can be closed from the inside), and 4 air vents. It includes a sewn-in floor, which will help keep water from leaking in at the bottom and insects from finding their way inside. The 1000 mm polyester material that makes up the tent itself is sure to keep out heavy rainstorms. It is strong against the wind as well, thanks to the durable steel center pole. Setup and takedown are quick and simple, so even less-experienced campers shouldn't have a problem. The biggest cons to this tent are that the door zippers don't extend all the way down and the doors don't have mesh, which can allow insects to find their way in. You can seal off this part of the door with tape to prevent this, but it is something to keep in mind before you purchase.
Winterial 12 x 12 ft
The Winterial 12 x 12 ft. is a great tipi to look at if you don't plan on taking a massive group with you and you want something that will endure the elements any season of the year. The Winterial can stand up against harsh winter storms, keeping you safe and comfortable inside. There is enough room inside the tent for 6-7 people to sleep, or about 4 if you want room for gear (especially winter gear). The built-in floor is reinforced at the seams to ensure that no water or insects break inside. There are 4 windows (solid, allow light inside) and 2 doors. The doors have mesh in case you need to let in cool air, and there are 4 air vents for the same reason. The center height of the tent is 8 ft., enough room to stand up and stretch if you need to. The central pole is made of aluminum rather than steel, so it is much lighter to carry, but it is thick and strong enough to handle bad weather and isn't likely to break or be knocked down. The 210T polyester of this tent is resistant to rips and tears, so it should last you a long time. The waterproof rating of the material is 1500 mm, which is enough to withstand heavy rain and snow. Don't worry about your tent being ruined if bad weather comes your way. This is what it was made for! You can rest easy no matter what it looks like outside. The one disadvantage of this tent is that there is no mesh covering for the top vent, leaving it open for insects. During the winter this won't be a problem, but for the summer months, you may want to sew in a mesh screen yourself.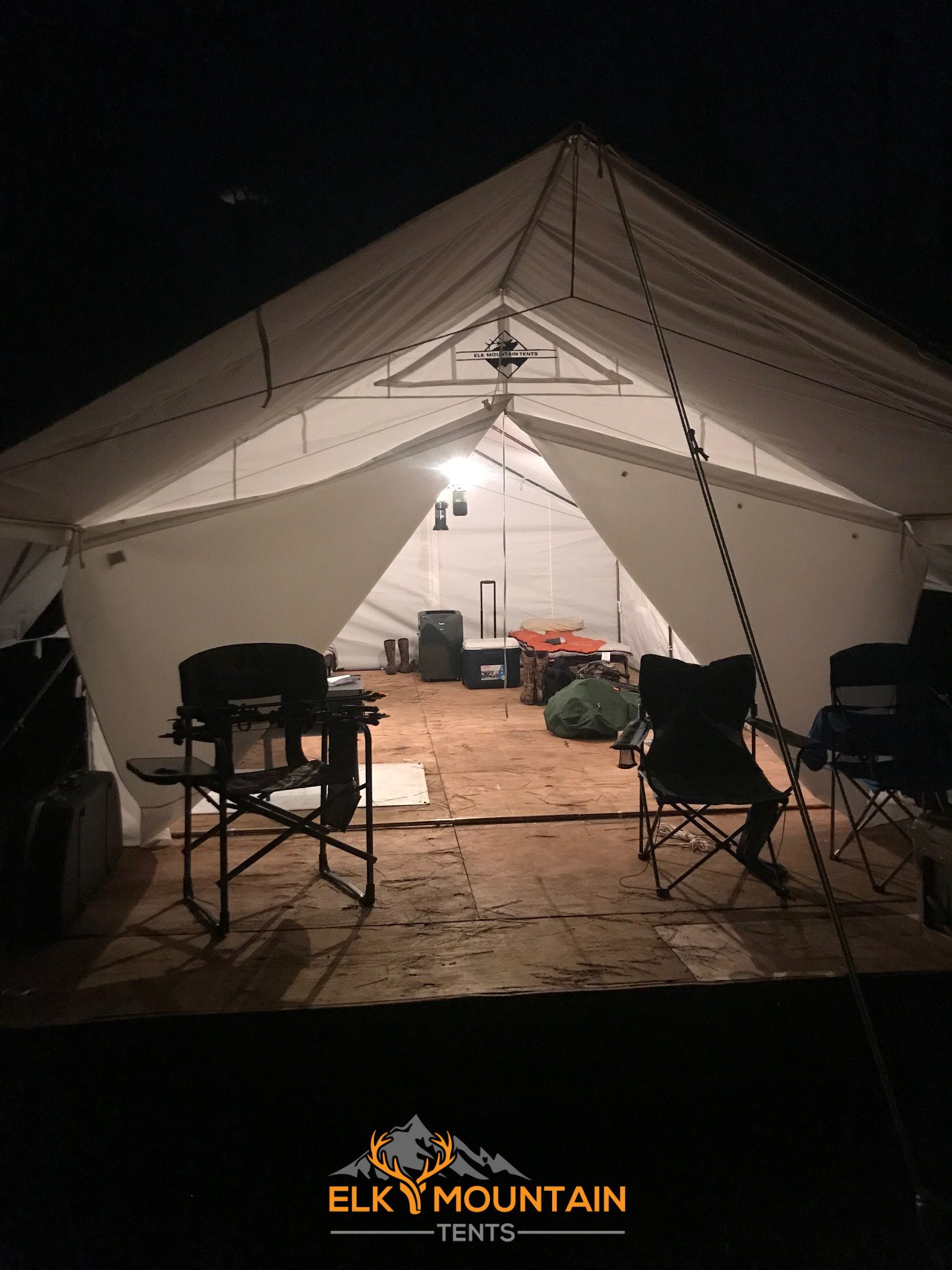 Safacus 12 x 12
If you want a tipi with more vibrant colors so you can spot it from far away much more easily, you may want to take a look at the Safacus 12 x 12, which comes in a bright blue color, a stark contrast to the toned-down colors of other tents on this list. It is a 6–7-person tent, so you can easily fit yourself and a small group with all your gear. It holds up well against heavy winds and bad weather and includes a sewn-in reinforced floor to ensure that water (or bugs) won't leak in. It has 2 zippered doors with a mesh screen to provide some cool airflow if it starts getting too hot inside. There are 4 additional air vents to help with this as well. The structure has 4 solid clear windows (PVC) to allow light to come in and covers to keep light out. The tent's peak is 8.4 ft. high, with a strong steel pole in the center to keep it from blowing over in heavy winds. The 190T polyester is not only strong enough to avoid rips and tears but also waterproof rated at 2000 mm, enough to keep you dry inside during heavy rainfall. The material and poles are also sturdy enough to withstand snow, making this tipi great for winter campouts. If you plan on hiking for a while to get to your camping spots, it will interest you to know that all of the materials of the tent when packed down weigh only 15 lbs. Few tipis give you the combination of being so light while also being durable in winter weather, making the Safacus one of the most versatile models out there.
Yukon Bell Tent by Elk Mountain Tents
The tents mentioned above are all great high-quality tents, though you may want to take a look at some other designs as well, such as bell tents. Bell tents are another popular kind of tent, and they are remarkably similar in design to a tipi, though they are held up by a large center pole rather than a structure of intersecting wall poles. Bell tents are beloved for glamping and luxury outdoor getaways.
One great bell tent on the market right now is the Yukon Bell Tent by Elk Mountain Tents. Available in 3 sizes on their website (13, 16, and 20 ft. diameter), these shelters are sure to hold up in rough weather, allowing you to go glamping no matter what it looks like outside. The Yukon includes a stove jack, so you can bring along a wood stove to keep you warm in the cold weather. The unique polyester canvas material in this tent is much longer-lasting than cotton canvas and much easier to maintain. Polyester is naturally waterproof, more resistant to UV light, and won't rot out like cotton canvas can. Plus, polyester canvas weighs less and has a higher break and tear strength compared to cotton canvas. With advances in modern technology, polyester canvas is now also just as breathable as cotton canvas. Prices for this tent range from $645-$995 depending on the size you choose. If this sounds like a great alternative to a tipi to you, check it out on Elk Mountain's website today!