Tent Tips for Enjoying Your Camping Trip
Camping in a tent is a fun way to be able to explore nature and a great way to spend quality time with your family. However, for your camping trip to be comfortable as well as fun a certain level of preparation needs to be done in advance. The area that you want to be the most comfortable is your tent. No matter how beautiful the vistas of nature may be, you won't be able to fully enjoy them if you are not well-rested. So let's explore some pretty simple tips to make your tent a comfortable place to be while camping.
Choose a Good Camping Spot
The first tip to make your tent comfortable is to choose a good camping spot. You want to ensure that your campsite isn't stony, sandy, or moist. Another thing you want to avoid is camping by natural water sources like rivers, ponds, or lakes. If you get caught in a storm they can easily flood and no matter how waterproof your tent is you will get water in there. You also want to avoid camping directly under a tree in case there is a thunder and lightning storm, or in case the tree has any widowmakers on it. A widowmaker is a detached or broken limb that is hanging freely off a tree. If one of these fell out of the tree it could either severely hurt or kill you.
It is easier than ever to find a good camping spot thanks to camping apps like Hipcamp and Dyrt. These camping apps give you a list of amenities a campsite provides, pictures of the campgrounds, and a list of things to do in the area. Planning to be at a good campground will help you find the right place to stake your tent.
Organization While Camping
The second tip in making your tent comfortable is keeping it organized. Since space is limited inside your tent you need to find ways to effectively store your gear. A cost-effective way to do this is getting hanging closet organizers like the kind your store shoes in. Or, if you don't want your things hanging around on the inside of your tent, you can buy inexpensive fabric collapsible storage bins and keep them stored under your cot. Either of these methods will keep your floor clear and easier to keep clean. A clean tent is infinitely more comfortable than a messy tent.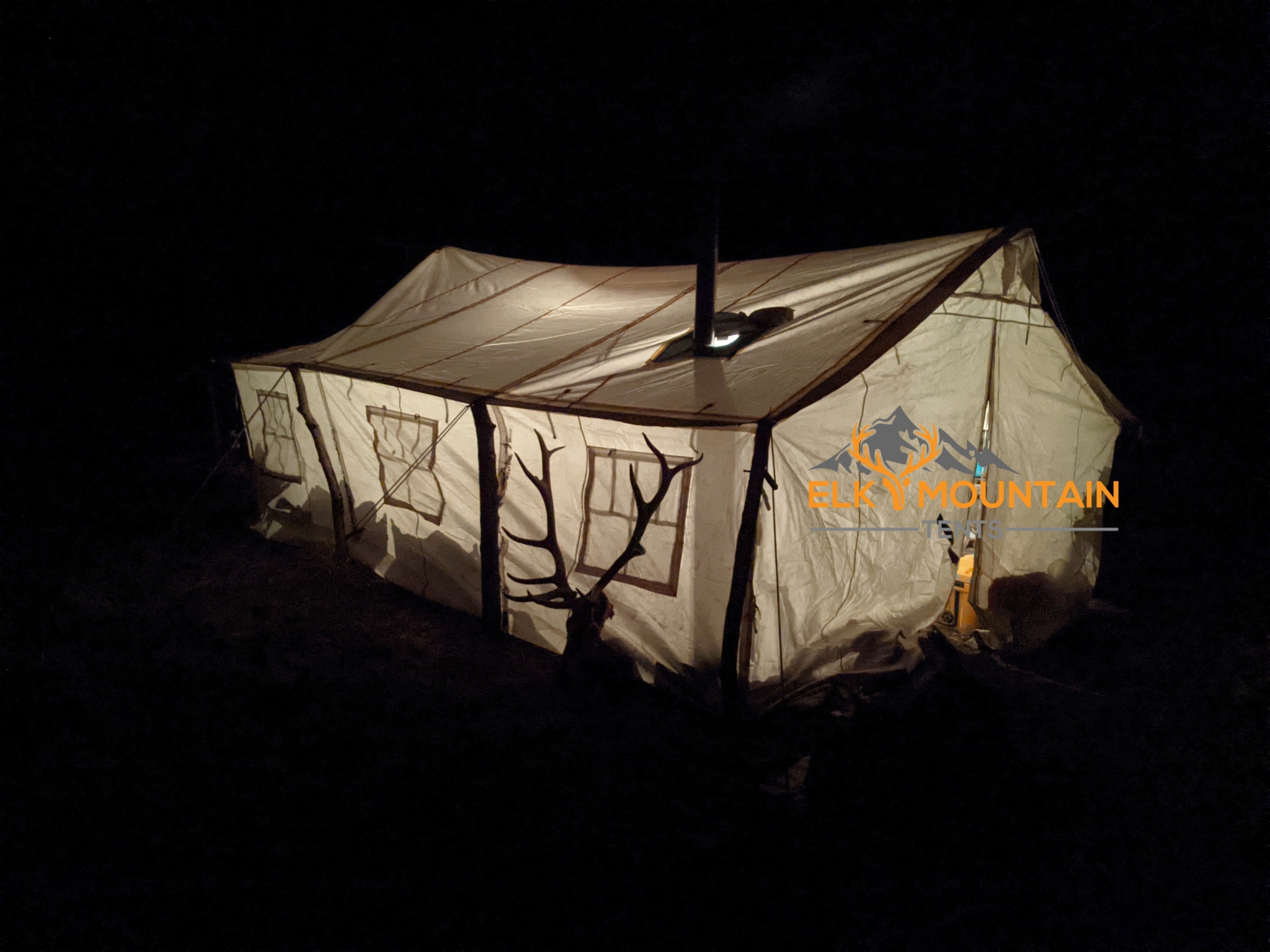 Light While Camping
The third tip in making your tent comfortable is having a good source of light both in and outside your tent. Unless you plan to go to bed with the sun you need some kind of lighting in your tent whether it is a string of fairy lights (this would require a generator), a headlamp, or an LED lantern. Lights just make any place both welcoming and cozy — not to mention safer. If you have small kids you know that without fail someone will always need to use the bathroom once it gets dark. A great and easy way to make going outside less intimidating for them is to get some cheap solar power lights that can be staked into the ground. You can make a clear path for you and your kids to the bathroom. Another thing about camping with kids is that many may have a hard time sleeping in complete darkness. An easy hack is to take a large water jug and wrap a headlamp on it (be sure the light is facing towards the water jug). This will create a light that is bright enough to give some illumination without keeping everyone up all night.
Sleeping Comfortably While Camping
The fourth tip in making your tent comfortable is having a good cozy place to sleep. Just because you are camping doesn't mean you have to sleep in a sleeping bag on the cold hard ground. Not everyone's idea of fun is roughing it while camping. Not only that, if you do sleep on the ground you will get cold a lot easier since the heat from your body will be leached by the cold ground. The best way to improve your sleeping arrangement is to get a cot. These will keep you off the hard ground and give you a good bit of support for your body so you don't wake up stiff and achy. (As you get older, the idea of trying to get off of the ground in the morning will become less and less appealing.)
A sturdy and affordable sleeping cot is the Coleman Trailhead two. It is considered a spacious cot but it is heavy since it is made out of steel. If you want to add some cushion to your cot get a camping sleeping pad. There are two main options closed-cell foam or an inflatable. Then to complete the comfort of your cot you will want to bring sheets, blankets, a duvet, and pillows. If it is going to be cold or you don't want to get your bedding dirty on your trip you can bring a camping quilt. This has a similar weight as a sleeping bag without having to sleep within the enclosed space of a sleeping bag. If you do not want to sleep on a cot then get some foam floor tiles like the kind used in children's room. It is an easy way to add some padding to your tent floor. It will also make a comfy area for your kids to play on the ground without getting dirty. This will make your tent so much cozier if you have a place you actually want to sleep.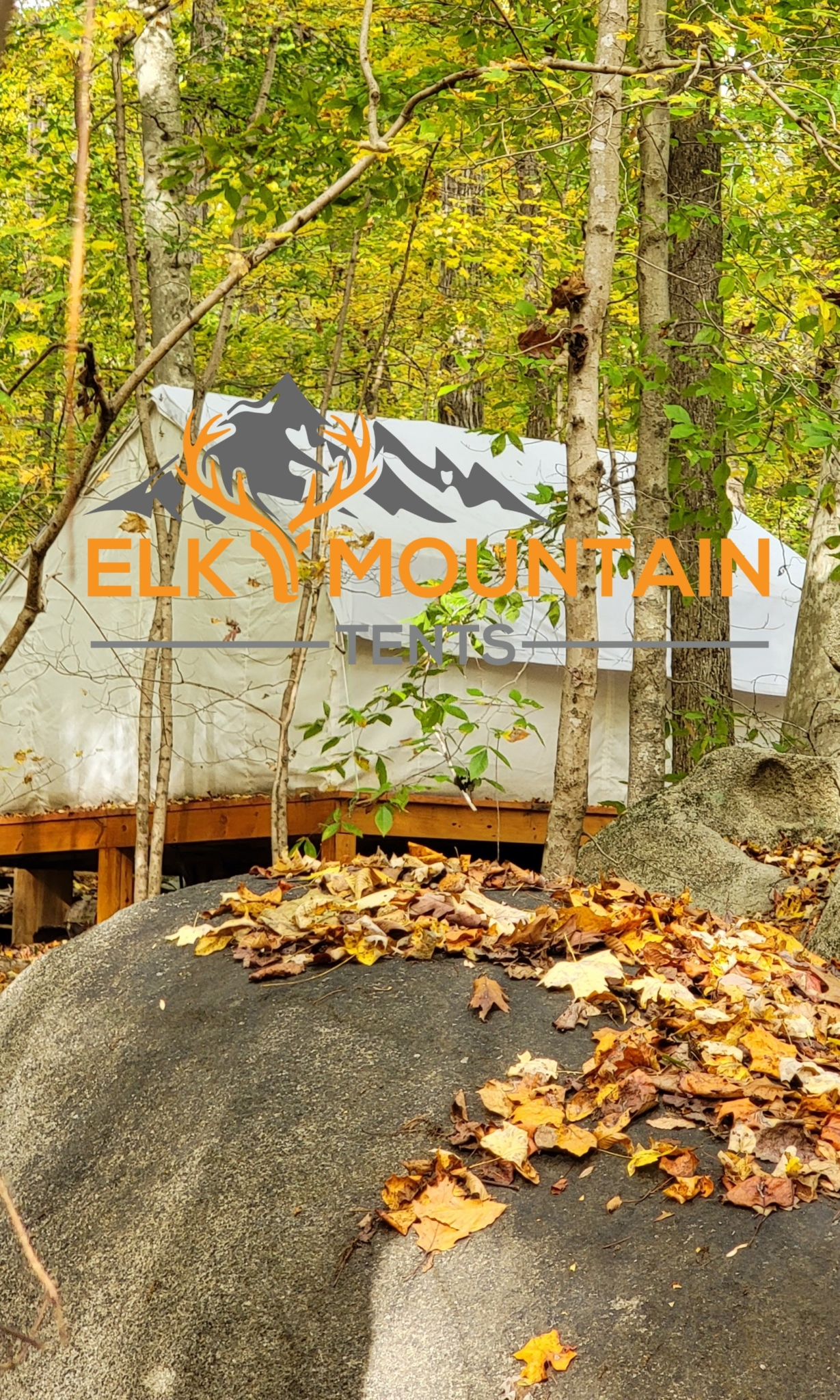 Climate Control While Camping
The fifth tip in making your tent comfortable is having a way to heat and cool your tent. A tent can become an uncomfortable place to be even if it has plenty of ventilation. An easy way to keep it cool is to bring a small portable fan that will keep cool air blowing on you. It is surprising how something as simple as a fan can keep you feeling comfortable even during the hottest of nights. If you plan to camp during the winter, then you need to have a tent heater. A great propane burning model is the Mr. Heater and it is sold by Elk Mountain Tents. It has a thermostat on it to make it easy for you to control the temperature inside your tent and it is mess-free. Or, if you have a stove jack in your tent and prefer a wood-burning stove, the Heavy Duty Cylinder Stove sold by Elk Mountain Tents is another great option. This stove will not only keep you warm but it has a drying rack on so you can easily dry your clothes if they get wet. You can also purchase a hot water tank that attaches to the side of the stove to give you hot water that you can clean with or cook with. Whatever weather you plan to camp in, being able to control the temperature in your tent will enhance your tent.
Camping Rugs
The sixth and final tip in making your tent comfortable is, having a camp rug outside your tent. Nothing makes a tent more uncomfortable than having dirty floors, especially if you are sleeping in sleeping bags on said tent floors. While it is good to sweep out your tent daily an easy way to minimize the amount of dirt that gets inside your tent is having a camp rug. It gives people a designated place to take off their shoes. If you desire you can have a basket to put shoes in so at night you don't have to leave your shoes outside in the elements or be taken by the local wildlife. If you invest in a camping rug, you can keep it out no matter the weather since a good one is waterproof. A rug is a very small but important way to enhance the comfort of your tent.
Camping should be both a fun and comfortable experience for you and your family. This can easily be done with just a little planning and getting some basic equipment, you can make your tent a place your family will want to gather together. Following some of these simple tips listed above will allow you to elevate your next camping trip; to begin planning your next camping trip without fear of it being too uncomfortable.
Sources:
https://www.campingforge.com/blog/how-to-make-your-tent-cozy/
https://www.popularmechanics.com/adventure/outdoor-gear/g36972256/camping-cots/