Yurts vs. Bell Tents: What's the Difference?
When it comes to enjoying the great outdoors in luxury, there are few better ways to experience it than bell tents and yurts. People often confuse the two of these excellent shelters, thinking they are the same thing, but they have some notable differences that set them apart from one another. If you want to be able to go on relaxing glamping getaways whenever you'd like, you are going to want to go with one of these options, but it is just a matter of preference and taste which one is better for you. This can be your guide to not only help you see how these two differ from one another and the pros and cons of each, but also to help you figure out which one is best suited for your needs. Since tipis bear a lot of similarities to both bell tents and yurts, some clarification on those is included as well.
Yurts have been around for thousands of years, and they originated in Asia. The walls are a wooden structure designed to offer support for the poles that make up the roof. Their ancient use in Central Asia required that they be relatively easy to set up, take down, and transport. Since they use a wooden frame, yurts are much sturdier than bell tents and can hold up well against heavy winds. Because of their wooden frames, however, they are heavy and could require hours to set up. If you don't mind taking a while to set up your shelter, knowing that the comfort you get from it will be well worth the time and effort, this might be the shelter for you!
One advantage of a yurt is its size. If you have a big group that you plan on going camping with, this may be the most comfortable and sensible option (and you will also have more people to help you get it set up). If you just enjoy having extra room to spread out and relax, it can be great for that as well. Yurts are also excellent for holding events such as receptions, as many can be connected and you can make the area as big as you need. As far as glamping goes, if you want to feel like you are in a cozy house in the wilderness, you won't find anything better than a yurt.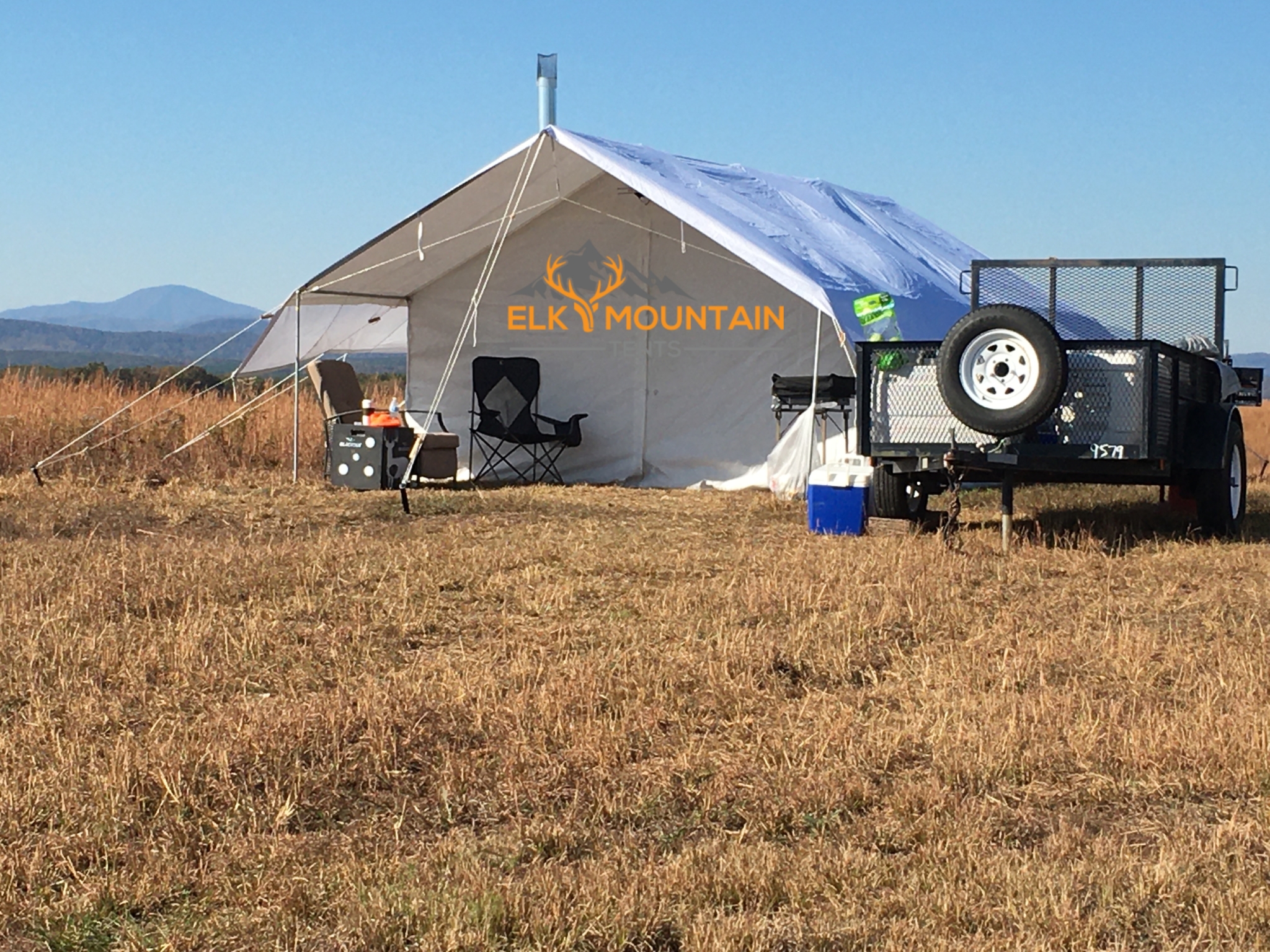 The idea for a bell tent originated from the design of a tipi, though instead of having several poles crossing in the center to make the structure, the roof is held up by just a single center pole. This makes it much easier to set up and take down than a yurt. This was what inspired the bell tent in the first place, as it was originally used for war and therefore required convenience and quickness. If you don't want to spend a lot of time setting up your campsite and want to dive right into a luxurious glamping getaway, a bell tent would be the ideal choice.
Bell tents are much more versatile than yurts, and they don't need as flat of ground to be set up on as yurts, making it much easier to find a good spot to set up camp. If you are using it for an event, this is a great option for those who don't have a lot of space, and it still looks elegant enough to use for a reception.
Similar to both bell tents and yurts are tipis. While the origins of the yurt can be traced back to Central Asia, the tipi was popularly used by Native Americans. While the bell tent design is based on that of a tipi, don't confuse the two, as they are quite different from one another. The bell tent utilizes a center pole to give it its structure, while a tipi is a simple cone shape created by poles crossing in the middle. What differentiates it from a yurt (besides its quicker setup) is that it does not have walls or a roof. Transportation is quite simple as well, which was what made the design so appealing to nomads a long time ago.
Tipis can be around the same size as bell tents, though with such a variety of options, they can be smaller or much larger. Tipis, like yurts, can be great event shelters, since you can connect several, making the reception area as large or small as you need.
Since yurts, bell tents, and tipis all have their own advantages and disadvantages when it comes to camping or event-hosting, the "best" one can only be decided by you and your individual needs. Make a pros and cons list of each, and you should hopefully be able to figure out which one suits you. At least now you know what makes each one unique!
Just as important as knowing the difference between each of these shelters is knowing which the best ones are to purchase. Here are some of the best bell tents, yurts, and tipis on the market right now:
One of the best tent options on Elk Mountain Tents' website is their Yukon Bell Tent, which is one of the best bell tents that you can buy that is both high in quality and low in price. One thing that makes the Yukon stand out from other bell tents is the unique polyester fabric that the canvas is made of. It is both stronger and lighter than cotton canvas, making it ideal if you need to carry it into the backcountry, and helping it last a lot longer since because polyester has a higher break and tear strength than cotton canvas. Other things that will make this tent last for many more years are its resistance to ultraviolet rays as well as rain and rough weather (not shrinking or absorbing water as cotton does). Lastly, advances in the canvas manufacturing process has allowed polyester canvas to become just as breathable as cotton canvas.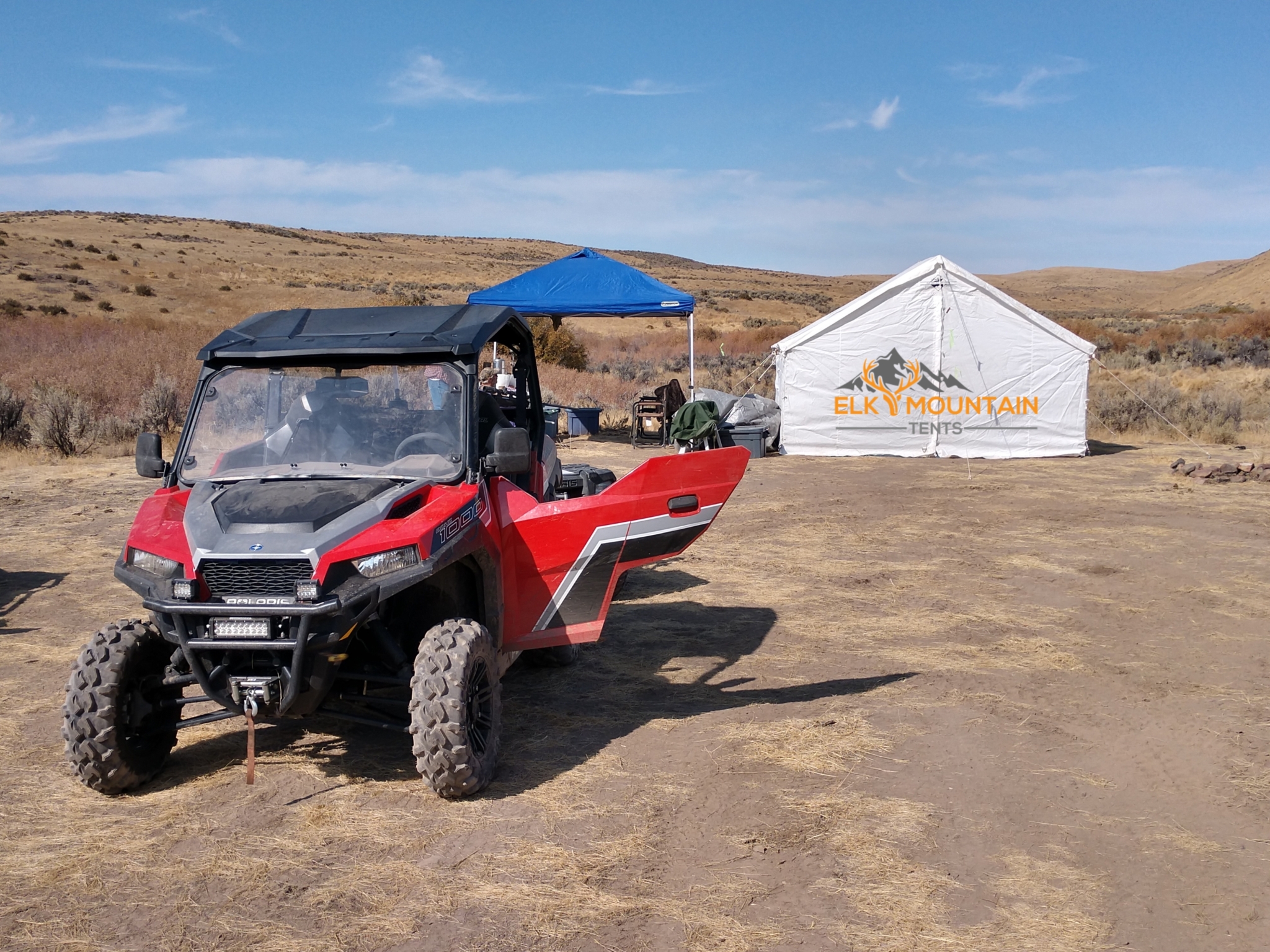 The tent's design is perfect for glamping and relaxing, with a floor that can unzip and sidewalls that can roll up, providing a nice canopy to enjoy nature, and plenty of space to stand up and walk around inside. This floor is made from PVC material that curves up the wall to ensure that no water gets in at the bottom. You can fit a queen-sized mattress inside for a truly luxurious experience, and you can even glamp during the winter thanks to a built-in stove jack which allows you to bring a wood stove to keep warm and toasty inside. The jack can be cut to 4, 5, or 6 inches, so you can fit whatever size stove pipe you have inside. Wood stoves are a MUST for glamping since you can use them to heat water and cook, all within the comfort of your tent. There are 4 ceiling vents and 4 windows on the tent, each with a mesh covering, to allow for proper airflow without needing to worry about insects making their way inside. The sidewalls of the tent are 3 ft. tall, and the A-frame door is 5 ft. tall. The Yukon Bell is available in 3 sizes: 13 ft. diameter (8 ft. center height, $745), 16 ft. diameter (10 ft. center height, $845), and 20 ft. diameter (11.5 ft. center height, $995).
Because Yurts require a decent amount of construction, they are usually purchased as yurt kits. These kits come with all the materials you need to properly build a yurt.
While some modern yurts include a fabric wall covering over the wood frame, The Yurt Cabin by Freedom Yurt Cabins takes a sturdier and more traditional approach to yurt design, resulting in one of the best yurt kits you can buy! Though completely solid walls may seem kind of intimidating, it is quite simple to set up and take down in a few hours. What makes the Yurt Cabin so great is that it will last you for many years to come. The walls are durable and won't wear over time like fabric will. Other amenities of this yurt model include glass windows, a built-in floor, and insulation.
One of the cheapest high-quality tipi options you can find is the Tahoe Gear XL 18 x 18 ft. This large tipi can comfortably fit 12 people inside, so if you are looking for a big family-sized option, this is certainly one you should consider. It is durable, able to withstand heavy wind and rain, and the setup is quite simple. It has plenty of ventilation options thanks to its 2 doors, 4 PVC windows, 4 air vents, and a roof vent. It is almost 10 ft. tall, so even the tallest campers can stand up inside.
Hopefully, you now have a better idea of what makes bell tents, yurts, and tipis different from one another, and which one is the ideal option for you. All 3 of these are great choices for an event, camping, or glamping shelters, and there are plenty of different designs to suit every need. Take a look around, you just might find your new go-to option for enjoying the great outdoors!
Sources: