Affordable Tents for Glamping
Glamping has become a more and more popular way for people to get out into the great outdoors. It shows people want to go camping without sacrificing a certain level of comfort. According to a report done by the Arizton Advisory & Intelligence, it predicts the market for glamping will reach one billion dollars in revenue by 2024 just in the United States. Seeing those kinds of numbers it may seem a little daunting to prepare to go glamping. But don't let that number keep you from your next glamping trip.
If you are trying to go glamping, then you need to prepare, and the biggest investment that needs to be made to enjoy a glamping trip is a tent.
If you have already begun to look at tents, then you know from your initial Google search how expensive a "luxurious" glamping tent can be. But not all tents, even glamping tents, are created equal. Just like anything you buy just because it looks nice does not mean it will last. Remember, people are trying to make money off of this highly lucrative type of camping. You don't need to buy a tent that is exclusively for glamping though. What you need is a high-quality tent that can fit the basic luxuries of life like a large bed, nightstand table, and a few chairs. So let's talk about what makes a high-quality tent.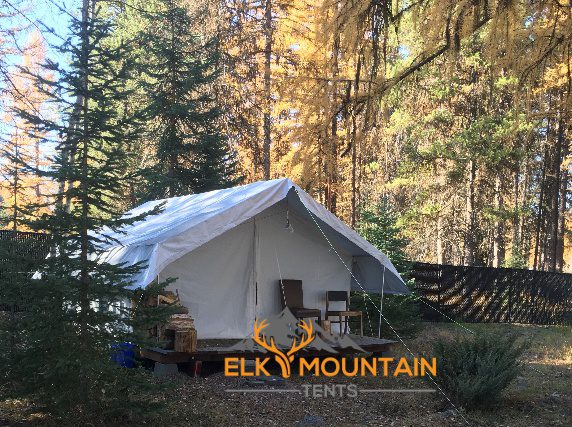 There are many types of high-quality tents on the market. The most popular types for glamping are bell tent, wall tent, tepee, yurt, or cabin-style tents. The tepee and yurt options are good but are more likely to cost a lot more compared to bell, wall, or cabin tent. So we will focus on these three options since glamping can and should be affordable.
High Capacity Tents
The first feature when looking at any of this kind of high-quality tent is its capacity. You want to be comfortable in your tent. One of the biggest differences between a regular old camping tent and a high-quality tent is size. You want to look at tents that can hold between 4-10 people. That way you not only have plenty of room to sleep but also room to freely move around your tent. Another thing to be considered when talking about space is having a good vertical height. If you have to slouch to walk around your tent that is not a good glamping tent.
Well-Constructed Tents
The next important feature is the actual components of the tents. The first component is the material of the tent. Some of the most common materials that are known to be durable are cotton , nylon, polyester, or some combination of the four. The material of the tent should also be waterproof and also be able to handle strong winds. It also needs to have some kind of flame protection if the tent has a stove jack opening in it. The second component is the heavy metal tent poles. These poles need to not only be able to hold up against wind and rain but can also support against a snow load. The final component is the thick guylines these are integral in ensuring your tent doesn't get blown away by the wind. These three components will ensure the tent is durable enough to be used year-round.
Ventilation
Another important feature in a high-quality tent is breathability. The reason most people don't spend a lot of time in their tent when they are awake is they can get extremely stuffy. A well-made tent will have not only at least one door and several windows that can be unzipped to allow air in. But the tent should also have several vents whether near the roof or floor of the tent. These vents will allow cool air in during the summer and warm out during the winter. This will make your tent not only comfortable to sleep in but a comfortable place to relax.
Ease of Set Up
The final feature of a high-quality tent is, the ease of setup. You don't want to spend hours trying to get a tent set up, but don't expect the tent will be set up in less than ten minutes either. Most high-quality tents will take some time to set up but they are not extremely complicated. Remember taking the time to properly set up your tent will ensure you won't face any surprises like your tent being blown away or water finding its way into your tent.
Now that you know what kind of features to look for in high-quality glamping tents let's look at some high-quality tents that will be ideal for your next glamping trip.
The first high-quality tent is the Elk Mountain Yukon Bell Tent. The bell tent is an incredibly popular style of tent for glamping, and for good reason. These tents are not only large and roomy, but are also incredibly resilient to the elements. Its center pole is made out of galvanized steel which will be able to withstand not only rain and wind, but if you want to go glamping in the winter it can even handle some snow. Part of the reason it is so strong is its frame design is similar to the yurt without the complex wooden lattice-work. This makes the frame is easy to set up and move around. What makes it more portable is the central pole can be broken down into three segments.
Not only does it have a sturdy design but it is made out of a breathable polyester 11-ounce canvas that can take a beating as well. This canvas has a breaking strength of 449 pounds (warp direction) and 382 pounds (fill direction) which is much stronger than traditional cotton canvas (12-ounce cotton canvas which has a breaking strength of 382 pounds (warp direction) and 241 pounds (fill direction)). This canvas is not only waterproof but is quite breathable so it can be used in any season.
To allow good air circulation it has four windows with mesh netting and four vents with mesh netting. Depending on the size of the tent this tent will cost you between $745.00-1095.00. This high quality is quite affordable compared to the many other four-season canvas tents out there.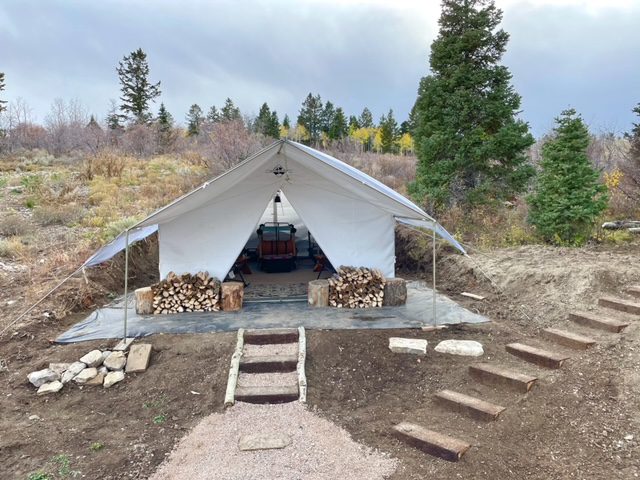 The next option is a cheaper option but it is not a four-season tent. It is the Coleman Octagon 98 8-Person Outdoor Tent. This is a very roomy tent with its measurements being 13 feet by 13 feet and its center height at 6 feet 10 inches. It has been noted, to feel like sleeping inside a gazebo. This tent's frame does have steel poles that have been tested to withstand winds up to 35 miles per hour. It also has color-coded poles to make setting up take just 15 minutes. This would make it ideal if you plan to go glamping with a family of young kids. The tent is made out of polyester taffeta which is not the best at keeping the cold out. It does come with a full rainfly which will give you extra protection from the rain. Having a full rainfly also allows you to crack the two windows. This will provide you with decent ventilation inside the tent. This affordable tent is listed at Walmart as $279.99. This tent is quite a steal but the biggest drawback is that you are limited to using it mostly in the summertime.
The final high-quality option is the Playdo 4 season Bell Tent. It is a four-season canvas bell tent, much like the Elk Mountain. This tent is quite roomy, with plenty of headspace to help you stay comfortable. The material of this tent is a cotton canvas which is quite durable but it also makes it very heavy. This tent comes in a variety of sizes so it can weigh between 42-132 pounds. So don't plan to haul this tent too far to get to your campsite. Since it is cotton the material has been treated to make it water-proof. This treatment will allow it to handle rain, snow and is even fire-resistant. The fire-resistant comes in handy since it has a stove jack which allows you to heat this tent with a stove if you want. Though if you do decide to put a stove in the tent, you will lose a good deal of space inside the tent. This tent does have excellent air circulation with mesh side windows and a top air vent. This tent comes in several sizes and ranges in price depending on size between $467.99- $729.99 on Amazon. While this tent has many good features it is one heavy tent and there are some complaints that the zippers are a little cheap.
Glamping is a fun and exciting way to explore nature without having to rough it. The beginning of comfort begins with purchasing a high-quality tent. Once you have found the perfect glamping tent for you, you will find your tent is your home away from home.
Sources:
/https://www.globosurfer.com/best-glamping-tents/
https://www.arizton.com/market-reports/united-states-glamping-market