Cold Weather Tents
Cold weather camping is not for the faint of heart and requires a certain level of experience in camping. If you tried without having been properly prepared or having done adequate research it could lead either to a very short camping trip, which is the best-case scenario, or worst-case scenario, hypothermia; which could lead to death. Therefore the most important decision when planning to go camping in cold weather is selecting the right tent for your trip. This is the place after enjoying a day out in frozen nature that will help you warm up and stay warm through the even colder nights. Nobody wants to try to sleep when they are cold and possibly wet. If you are new to cold weather camping, it is recommended to start cold weather camping in weather between 50-70 degrees and, when you feel experienced enough then you start camping in weather between 30-40 degrees.
A tent that will be used in cold weather needs to be able to handle not just the cold temperatures of winter but the possible stormy weather, high winds, snow and, frozen ground. In order to select the right tent to withstand these conditions, it is important to look at where you will be camping. There are two kinds of wintery weather you could be facing depending on the prevailing weather of your location. The first kind of winter weather is a dry and frozen tundra. This is where you will need a tent that will keep you warm and be able to properly stake even if the ground is frozen. If the biggest concern you will have is the cold temperatures. The general rule of thumb the smaller the tent the better since a small tent is a lot easier to keep warm than a bigger tent.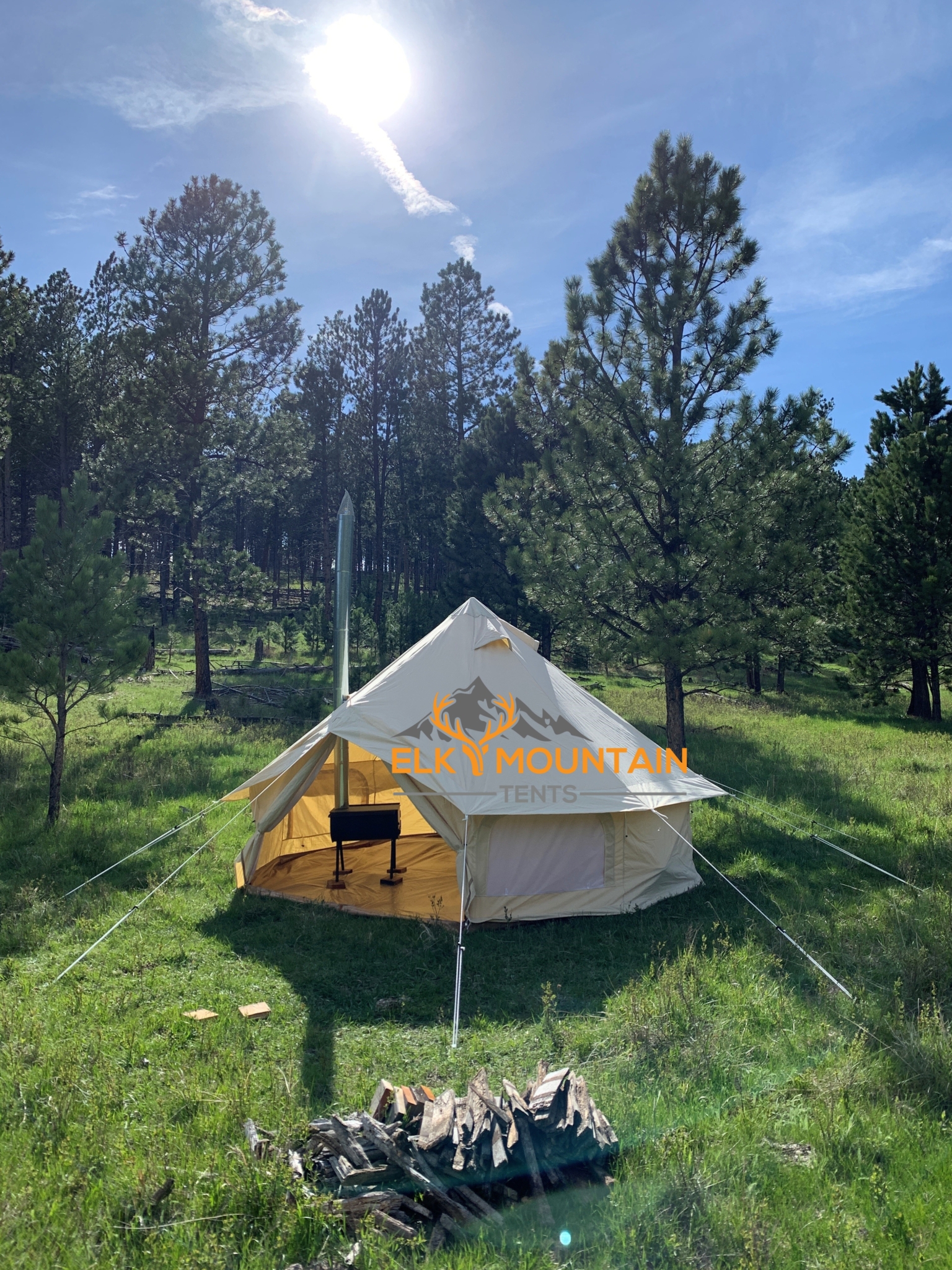 The second kind of winter weather is wet, windy, and snowy which you will usually find in forested areas. This is where you need a tent that is waterproof and will avoid condensation with proper ventilation. It will also need to be able to handle the heavy load of snow and can be staked into the ground to withstand the strong winds. If the biggest concern you will have is the moisture and strong winds then ensure your tent has plenty of metal stakes to keep it from being blown away. No one wants to chase after their tent especially through the snow. Another thing to ensure is that your tent will keep you warm but can be vented to avoid condensation buildup. You don't want your stuff especially your sleeping bag getting all wet due to condensation. The final thing to ensure is the poles are strong enough to withstand the wind and snow. The poles of your tents should either be aluminum, steel, or composite. If they are made of fiberglass, they will break, especially if the weather turns bad (generally, you won't find those in four-season tents).
The next aspect that needs to be properly considered when selecting a tent is the material of your tent. There are single and double wall designs. The difference between these two is pretty self-explanatory. The single wall is a tent made with one layer of material while a double wall is the tent is made of two layers of material. The single-wall design is lightweight and good if you are planning on hiking to your camping location. It is also very breathable but it tends to have problems with extreme weather and condensation. The double-wall design makes the tent heavier but provides a great deal of protection from the elements. This is more ideal if you plan to drive to your camping location. It is also important to look at the material of the tent. The general rule of thumb is the thicker the material the stronger it will be. The stronger it is the better it will be able to handle the cold weather.
The final aspect to be considered is the layout of the tent. To be able to pick the best layout for your tent you need to decide how many people will be camping with you and for how long. It is also important to consider with how many people how much gear you and your group be storing in the tent as well. You will want to avoid narrow and low tents as you and your group will not be very comfortable especially if you plan to spend a great deal of time together in the tent. It will also be more difficult to keep condensation from getting on your gear. If you put your stuff against the walls of your tent no matter how waterproof it will get wet. If the tent is too low you either spend a lot of time sitting in your tent or stooping. Another important aspect to be considered with the layout is storage. Do you plan to store your gear with you in the tent or store it outside in a vestibule-type area? If you plan to store within the tent, be sure it either has a lot of floor space or lots of handy pockets to keep your gear in.
Once all these things have been considered it is now time to start comparing the various tents that are out there for cold weather camping. The two tents that will be mentioned are larger since you probably won't be camping by yourself especially in cold weather.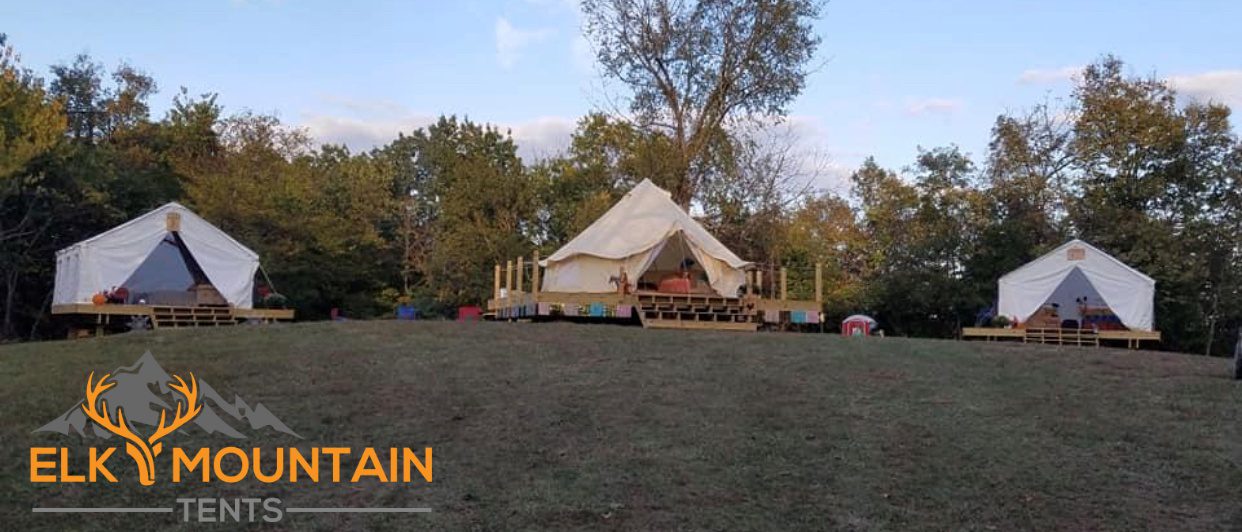 Elk Mountain Canvas Wall Tent
The first highly rated cold weather tent is the Elk Mountain Wall Tent. This tent is made of a breathable polyester 11-ounce canvas. It boasts a breaking strength of 449 pounds (warp direction) and 382 pounds (fill direction). Since it is made from polyester rather than traditional cotton you don't have to worry about mildew and mold as much since even though it can grow on any surface it won't be able to gobble up your tent because the fibers are fully synthetic.. This material is also lighter to make it easier to pack into the backcountry. Another great feature of this material is that it is waterproof and provides good protection from ultraviolet rays.
Since the material is so thick it can easily hold in the heat but to make this tent ideal for even the coldest of temperatures it has an uncut stove jack. This allows you to put any stove in the tent and you can cut the stove jack opening accordingly.
You also won't have to worry about condensation with this tent. Depending on the size of the tent it has 4-6 meshed windows that can be opened as well as two ridge openings that can be easily open and shut. All of these openings will allow enough airflow to help avoid condensation in this tent.
This tent also includes twelve eighteen-inch steel tent stakes which will help keep the tent from being blown away. This tent comes in three different sizes 13X13, 13X16 and, 13X20 so you can easily fit a family and gear in one of these tents. These tents will cost between $845.00-$1095.00 which may seem like a lot, but for all its advantages it is worth the investment.
Coleman Montana 8 person tent
The other highly rated cold weather tent is Coleman Montana 8 person tent. This tent is extremely lightweight for its size. This makes it easy to take into the backcountry. However, since it is made out of lightweight material it may not be ideal if you plan to camp somewhere that will be extremely windy. The tent material is waterproof and to help keep moisture away from the tent it does come with a door awning. It does get a little hot since the only ventilation in this tent comes from its windows. The measurements for this tent are 17X10. Which will give you plenty of room to sleep and store your gear. According to Amazon, this tent will cost $287.68 which is a good price for a family-size four-season tent. While it is more affordable it does have some drawbacks: such as, difficulty holding up against windy weather and heavy snowfall.
Cold weather camping can be an extremely fun way to spend your winter months. There is nothing like exploring the beauties of winter out in the wilderness. But, to go camping safely, you need to ensure that you are properly outfitted not only with warm clothing but a tent that will keep you safe and warm as well.
Sources:
https://survivingguide.com/extreme-weather-tents/
https://www.switchbacktravel.com/best-4-season-tents
https://thehikingadventure.com/best-winter-tents#Weather_Resistance
https://www.myopencountry.com/best-extreme-cold-weather-tents/