Tents that are Great in Snow
Camping during the winter is not something you can just do on the spur of the moment. You need to properly plan your trip and have the right gear to make it happen; especially if there is going to be snow. Camping during the snowy months can be a lot of fun, whether you want to go hunting, ice fishing, skiing, snowboarding, or just want to go somewhere. To make your camping trip a successful one, you need to get a tent that can handle not only the cold temperatures and high winds but also a tent that will be able to withstand heavy snow loads and white-out conditions. This kind of tent is called a winter tent.
A winter tent is different from a basic tent you would pick up at your local sports good store. They are also referred to as four-season tents which means these tents can be used any time of the year. Some of the features that separate a winter tent from a regular tent are stronger poles and tough durable fabric. Tents with these features tend to be heavier and more expensive. However, since these tents are so well made they won't have to be replaced as often as say a three-season tent. And if you find yourself caught in a winter storm you can confidently ride out a storm and safely rest in your tent. Peace of mind is worth the added cost, especially since the other option could be either hypothermia or death.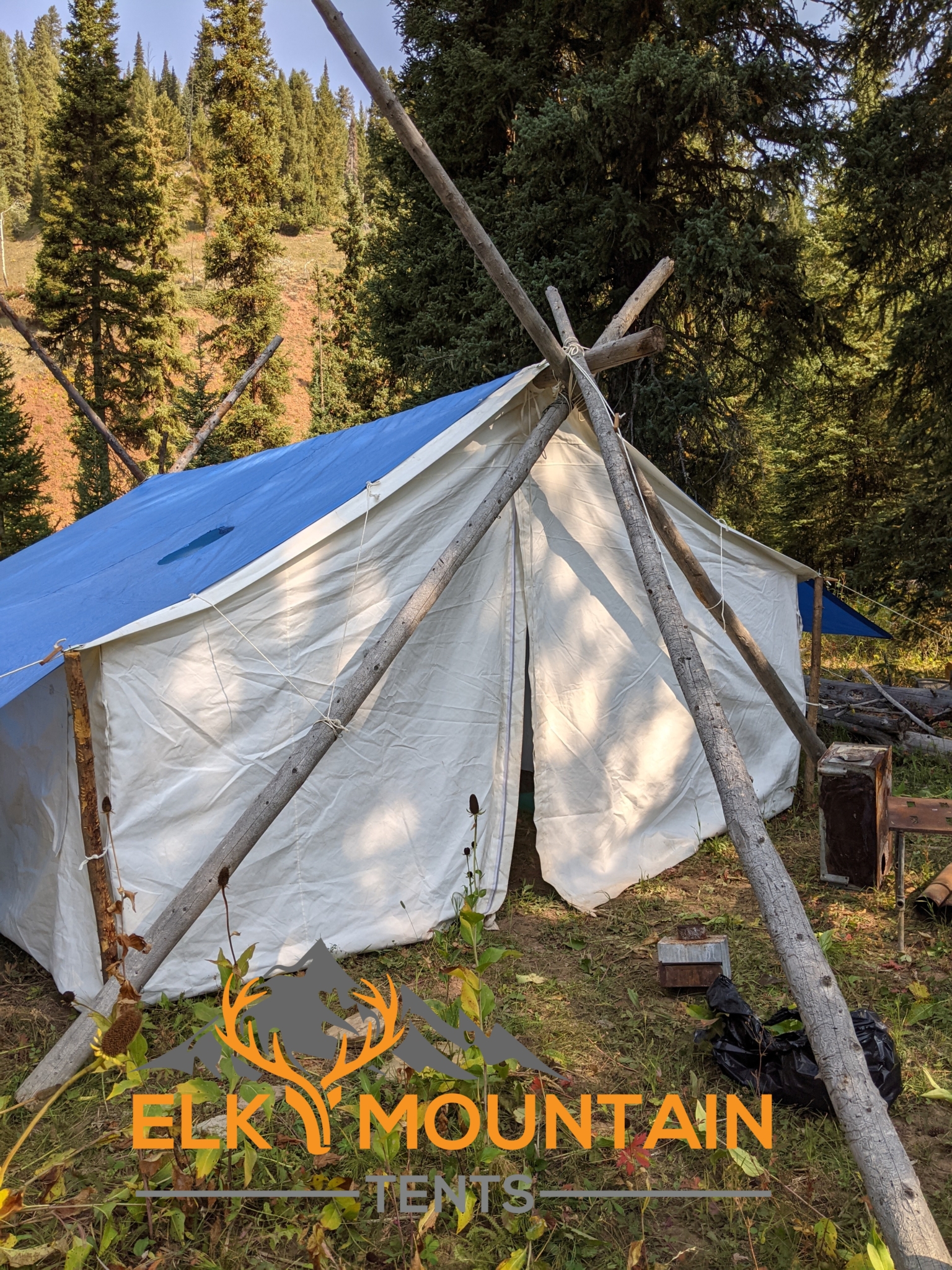 Now there are a great many winter tents on the market so there are important features that need to be considered if you plan to camp in the snow. The first being the most obvious is whether the tent material is waterproof or not.
When it comes to water we are not just talking about keeping the snow out of the tent, there is an even bigger problem: condensation. To avoid condensation forming in your tent it needs to have some kind of ventilation in it. This will allow air circulation to keep moisture from building up in your tent. Because no one wants to come back to their tent to find all their gear, especially their sleeping bag, soaking wet.
The second feature to be considered when looking at tents is the shape of the tent. Most tents you will see are dome-shaped which will do well for most winter camp trips. But if you want a tent that won't collect snow on its top then an A-frame tent would fit the bill. If you want a tent with large living quarters (since when you winter camp you tend to spend more time in your tent than you do in the summer) then you would want a tunnel tent. Finally, if you want a tent that will be able to handle high winds then you would want a geodesic-shaped tent. No one tent shape is superior to the other but if you do have a preference, it will help narrow down your options
The third feature to be considered when looking at tents is the tent overall layout. To begin to narrow down the many tent options out there you need to consider what kind of camping trip you are planning. You don't want to have a bunch of people and their gear crammed into a long narrow tent. That will not only be uncomfortable, but likely shorten the length of your trip. If you plan to camp in a tent for more than an overnight trip, then you will want a tent that will give you room not only to sleep and store your gear but also allow you to freely move around the tent without having to stoop over. An example would be if two people are going on a camping trip you would want to buy a three or four-person size tent.
Now you know the best features you want to find in your winter tent you can start looking around in earnest. Here are some highly-rated tents that are good for winter camping especially in the snow.
Elk Mountain Tents' Canvas Wall Tent
Canvas tents are overall, some of the best winter tents out there. One of the more highly rated canvas tents, is the Elk Mountain Wall Tent. This tent's canvas is better than a traditional cotton canvas for several reasons. The first being since it is made out of a breathable polyester it is lighter than traditional canvas. It is also waterproof while traditional canvas will absorb the water. Though to extend the life of your tent a rain fly is highly recommended. Since it is a polyester canvas you don't have to worry about mold and mildew which will extend the life of the tent. Of course, mold can grow on the surface of anything but it won't be able to live off of and destroy your tent since the fibers are fully synthetic. But perhaps the biggest selling point is that the 11-ounce canvas is tougher with a breaking strength of 449 pounds (warp direction) and 382 pounds (fill direction) while traditional 12-ounce canvas has a breaking strength of 382 (warp direction) and 241 (fill direction).
This tent is also well designed with plenty of ventilation with two ridge openings and six screened windows. This will help you avoid condensation especially if you decide to utilize the stove jack opening by using a stove to keep your tent warm.
While this tent does not come with a frame it does come with a 25 piece angle kit which allows you to build your customizable frame. It is recommended to use a 3/4″ EMT conduit when building your frame. Overall this tent comes in three different sizes (13X13, 13X16, and 13X20) which will allow plenty of room for you, your group, and your gear. The price tag for this tent can vary (especially if you want an awning) but the standard wall tent will cost in the range of $845.00-$1095.00.
Russian Bear Winter Tent
If you want to buy an oxford canvas tent that is rated for arctic living then a great option is the Russian Bear Winter Tent with stove. While this tent does have a very unusual design being shaped like an umbrella it is one sturdy tent. It is waterproof and all of its external seams are treated with sealing tape to ensure no moisture gets into this tent. It also comes with four windows which will help avoid condensation. One of the great features of this tent is that it is in an instant setup meaning one person could easily set up the tent. All you have to do with this tent is unroll it then spread it out from the inside then lock it in the center pole like you would an umbrella. Another great feature is that this particular tent comes with a stove, a stove jack, and heat resistant layer around the stove. While it is great that it comes with a stove, one of the downsides is the stove takes up a lot of space in the tent (depending on what size you get). So while you will be very warm and cozy in this tent you won't have a ton of room to move around. The other problem with this tent is that it is heavy. You cannot backpack in with this tent you have to use some kind of motorized vehicle whether an ATV or truck. This will limit where you can go in the tent. Overall a very nice tent but for all these great features it comes with a big price tag. The price tag for one of these tents on Amazon will range between $1449.00-3399.00.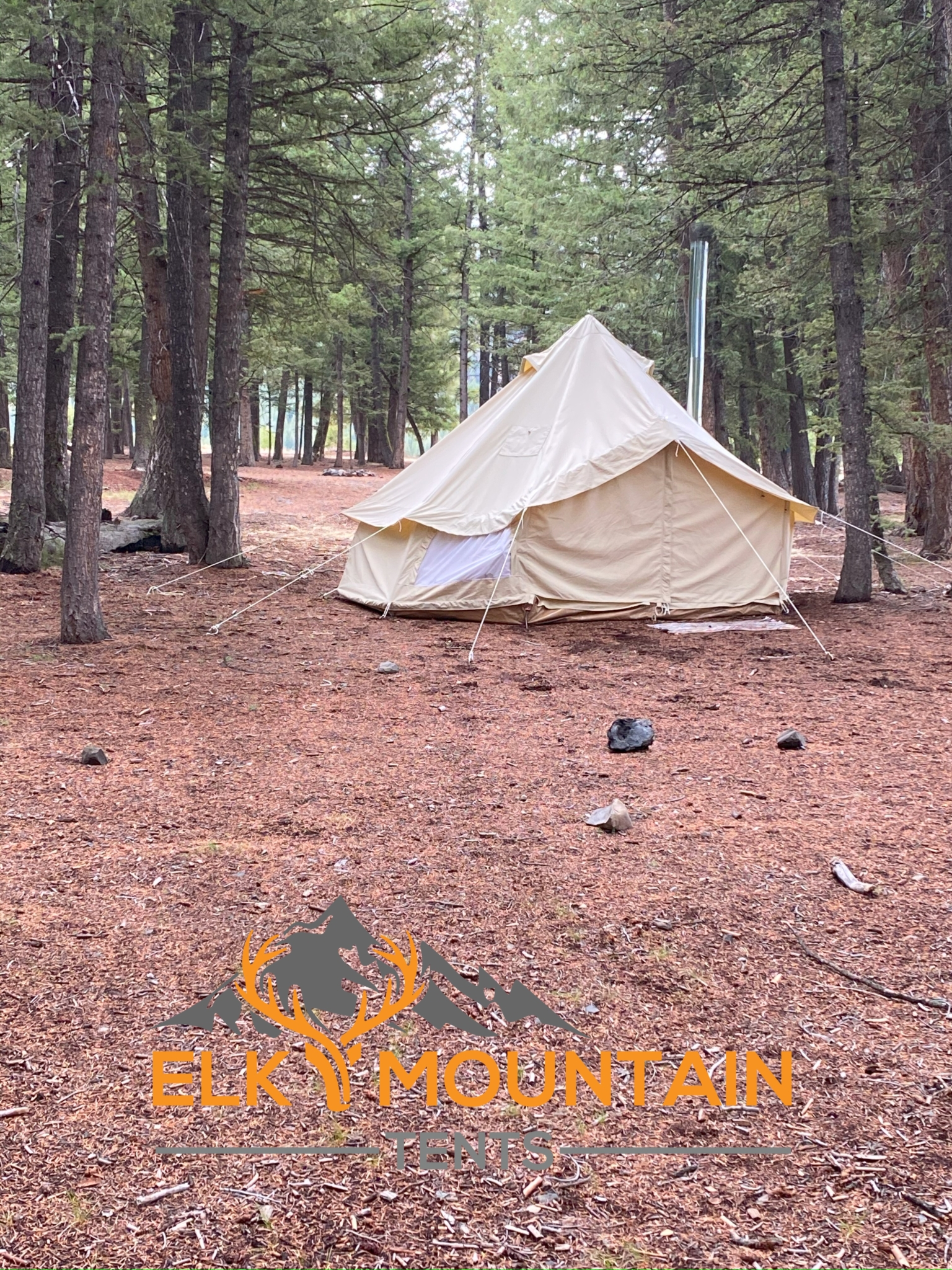 Big Agnes Mad House 8 Person Mountaineering Tent
A great family-friendly winter tent is the Big Agnes Mad House 8 Person Mountaineering Tent. This tent is a tunnel-shaped tent which means you will have plenty of floors and headspace for you and your family. It has a room divider so you can get some privacy if you desire. It does well in cold snowy weather due to its two-layer material structure. The inner tent is made out of taffeta and it has a full-coverage fly which is waterproof. This fly also provides two vestibules that can be used to store your gear. There is plenty of ventilation with six vents that can be open on both the inner tent and the fly. The only downside about this tent is the price is quite steep at $1199.95 on their website.
Now that you know how important having the right winter tent can be, you can properly plan your winter camping trip. Camping in the winter can and should be fun, especially if you want to enjoy all the exciting winter snow activities you can do.
Sources:
https://www.popularmechanics.com/adventure/outdoor-gear/a34775574/best-winter-tents/