House Tents/Glamping Tents
Whether you are looking for a luxurious and comfortable way to go glamping or a tent that you can live in for a while, you are going to want a large, high-quality tent that will last you a long time. Luckily there are hundreds of great options when it comes to glamping and house tents. You are sure to find something amazing to suit your needs and give you maximum comfort. Take a look at what is available and decide which tent will be the one to call home for years to come!
---
Elk Mountain Tents
Elk Mountain Tents has two excellent options when it comes to glamping. Both their Canvas Wall Tent and their Yukon Bell Tent are very high-quality and not too expensive. Prices for the wall tents range from $795-1245 and prices for the bell tents range from $600-750.
The canvas material that these tents are made of isn't like traditional cotton canvas but is polyester-based allowing it to be naturally waterproof and yet avoid condensation issues. Polyester can be just as breathable as cotton canvas; it just has to be manufactured correctly. The polyester canvas used is also much stronger and sturdier than cotton canvas, making it less likely to tear or break. This durability is increased by multi-layered canvas in the corners and wherever the material comes into contact with the poles.
Elk Mountain Tents are sure to last you a long time, as unlike most canvas tents, they are resistant to mold, rot, and mildew since polyester is a synthetic fiber that bigs and bacteria can't eat.
These tents are only made better by including a stove jack and room for a wood stove. Having a wood stove to heat your tent during the night and cook delicious gourmet food is one of the best ways to enjoy glamping.
The best part is, when you order one from Elk Mountain's website, it ships for free. All of Elk Mountain's tents feature large doors, so it won't be much of a hassle to get a mattress, chairs, a table, or whatever other furniture you would like inside. The tents have plenty of room for several people to lay down and stand up straight in and come in several different sizes. The wall tents are available in 13 x 13, 13 x 16, and 13 x 20 ft. sizes and the bell tents are available in 13 ft. diameter and 16 ft. diameter options.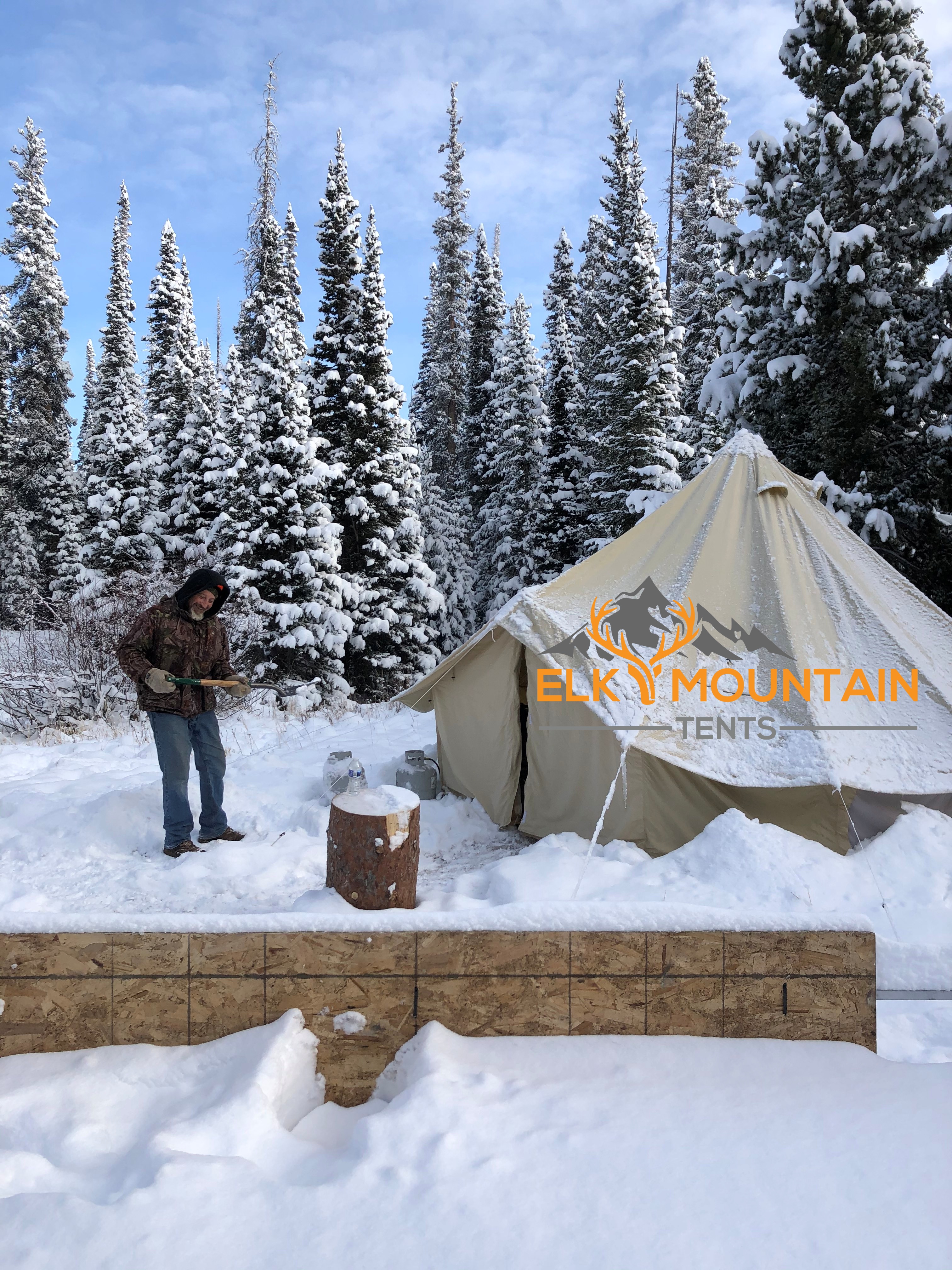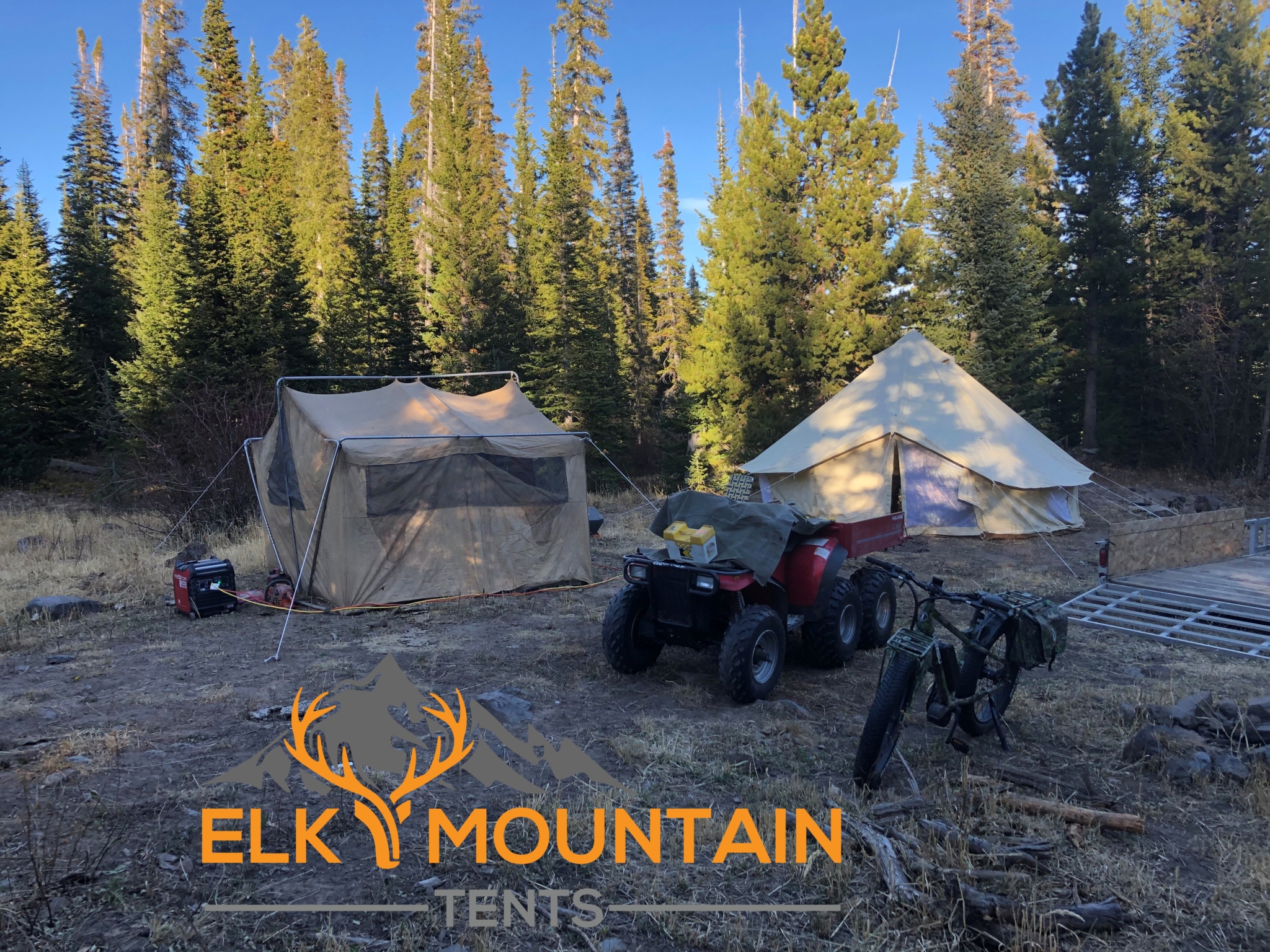 ---
Less Expensive Tents
Another less expensive option is the Nemo Wagontop. There's no fluff with this option. Every inch of the tent has a purpose and its design was extremely well-planned. All four walls include a large mesh screen window for constant airflow. Inside of the tent is a convenient removable vestibule that offers storage for your gear as well as protection from the weather. The ceiling of the tent is high enough for even the tallest campers to stand up straight in, and you will find that 2 or even 3 people can be very comfortable inside the tent. Setup is also simply designed to remove the frustrations that often come from trying to pitch a large tent. It has a single-walled construction (no rainfly required) and it has two central poles that pop the tent up with ease.
If you want a high-quality tent but don't want to break the bank, consider purchasing the Big Agnes Big House 6 Deluxe tent, which is available for $400. While it is a 6-person tent, for it to be ideal for glamping you may want to limit it to 2-4 people so you can have plenty of room for all the things you want to bring and you won't feel cramped. For how spacious it is, it is remarkably sturdy and sure to withstand many strong winds that might come your way, with strong aluminum poles, a waterproof floor, double-walled design with a reliable rainfly, and adjustable guy lines. With a ceiling height of 68 inches, there is a lot of room to move around comfortably and sit up straight in your bed. Other details that make this tent stand out among other tents its size are the fold-out welcome mat, front vestibule, and 12 interior pockets for convenient storage.
Though you'll find that it isn't quite as high-quality as a lot of other tents listed here, the Ozark Trail 14-person 4-room base camp tent is the thing to buy if you are all about space. This tent can divide into 4 separate rooms, all of which are large enough to fit several people inside. If you anticipate rough weather, this might be the tent to use, since there is enough room to stretch out and use different rooms inside for different purposes. Maybe you can have a dining room or a lounge room. There is plenty of space in the tent for whatever you want. Stay safe and dry inside without feeling cramped, glamping at its best! Another attractive aspect of this tent is its price, as it is available online for just $200. You'd be hard-pressed to find a tent as large as this one for cheaper than that.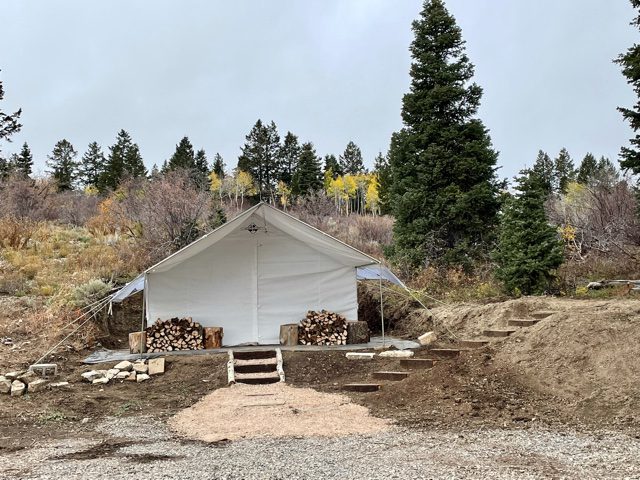 One fancy option is the Lotus Belle 16-foot Outback Deluxe Camping Tent. Just from looking at this tent, you can tell that it is intended for a more luxurious camping experience. It's 16 x 16 ft. size makes it perfect for a large group to go glamping in. There is enough room to fit 6 twin-sized mattresses inside. If you can easily feel cramped in a tent, this is certainly one of the best options to consider. There is plenty of ventilation in this tent, with two large mesh windows, two roof vents, and a massive zip-up front door. The large door also makes it easy to fit a queen-sized mattress inside if you want maximum comfort while you sleep. Though it is quite large, it is also made to be resistant to wind, with no shortage of outdoor tie-downs. Though it is definitely on the more expensive end when it comes to glamping tents at $2,700, if you want as much comfort as possible and plan on using it often, it is worth the investment!
A very unique design that offers an excellent night's sleep is The Cave from Heim planet. This is a 3-person tent (but maybe better limited to 2 for glamping purposes) and offers plenty of room with almost vertical walls and a very wide floor. The Cave is so named because the material it is made of is designed to keep light from creeping inside during the daytime. If you love the idea of sleeping in late during your glamping adventure, then this might be the tent for you! The other thing that makes The Cave ideal for glamping is that it sets itself up. No fumbling with poles required. Just take the tent out of the bag, attach the pump, and watch it inflate. The whole process takes less than a minute! You can purchase this tent online for around $750.
These are just a few great options of varying prices for tents that are perfect for glamping, or even living in if you so desire. Take a look at a few of these that pique your interest and continue investigating. Maybe you will find another hidden gem that would be perfect for your needs. The possibilities are truly endless, so check out the pros and cons of each tent you are interested in and weigh them to decide what the best option for you is. When you do this, you are bound to be satisfied with your decision. The point of glamping is personalizing to your comfort level, so do what makes you happy! Treat yourself!
Sources:
https://www.bestproducts.com/fitness/equipment/g3197/glamping-luxury-tents/?slide=3