DIY Glamping
So maybe you like getting out of the house and spending time outdoors, but you don't enjoy the hardships that come from chopping wood to build a fire and roughing cold nights on the hard ground in a sleeping bag. You are not alone. Glamping is a more luxurious way to camp that has become more and more popular in recent years. It is a combination of the words "glamor" and "camping," which probably gives you a good idea of what this type of camping is like. It is one of the best ways to experience the fun times that come with camping without worrying about all the hassles and heartaches that are also usually present. There are plenty of great ways to go glamping and a lot of fun things to do. Listed here are just a few ideas on how to have the best glamping experience possible!
With glamping becoming an increasingly popular trend, more and more places are popping up for you to have an unforgettable time doing it. There are rentals that you can book and there are even all-inclusive glamping getaways that you can invest in. These do have some excellent qualities to them. All you have to do is show up and have a good time. The all-inclusive options, in particular, are essentially glamping resorts! They will hook you up with all the amenities you can think of, and you just get to sit back, relax, and enjoy yourself!
---
Tents
While there are advantages that come from making a reservation, you might find that you can have just as much fun DIY glamping. There are so many excellent ways to do this, but you need to start by figuring out what tent to bring. You should bring something large where you aren't going to feel cramped. Two great options for this would be the canvas wall tent and canvas bell tent both available from Elk Mountain Tents. These tents are roomy, offering plenty of floor space and headspace. They are quite well ventilated, with breathable fabric and several windows. The canvas used by Elk Mountain Tents is superior to traditional cotton canvas. Polyester, when prepared correctly, is much stronger and more durable than traditional cotton canvas, so one of these tents is sure to last you for years to come, and can become your home away from home for all of your glamping getaways. Because it is polyester-based, these tents are quite waterproof, much more so than similar tents made of cotton. Another great advantage to these tents that makes them ideal for glamping is the stove jack included. This allows you to put a wood stove inside, with which you can keep warm during the cold nights and even cook some delicious meals, all within the comfort of your tent. As a bonus, when you order from Elk Mountain's website, the woodstove ships for free.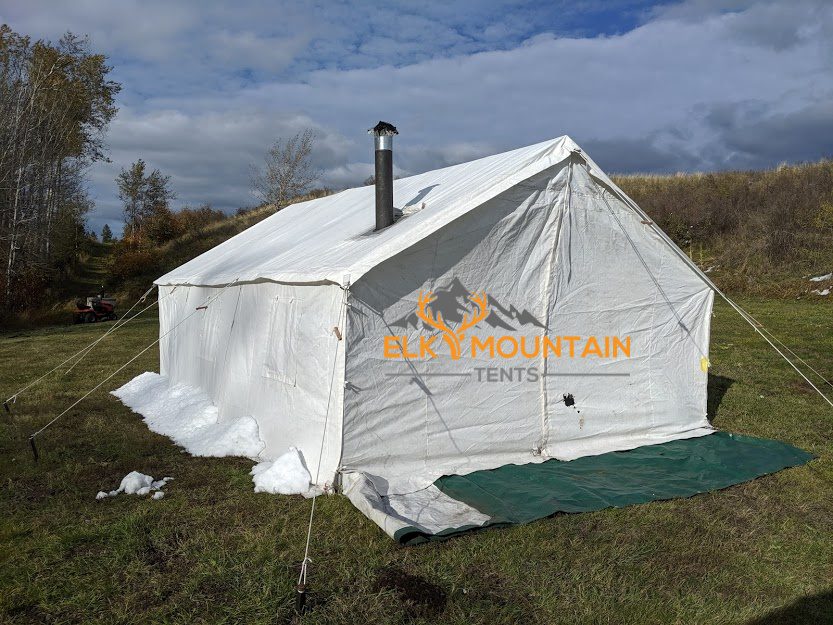 ---
Sleeping Arrangements
One important way to capture the feel of glamping is to bring a soft mattress with comfortable bedding. Sleeping bags and glamping don't go together all too well, so the number one thing you can do to make your camping experience stand out is to have a luxurious and inviting place to sleep when the day is done. Since it would be pretty difficult to bring a whole bed from home, you need to get creative. To feel relaxed, bring a large tent with more than enough room for everyone in your group. Use a very plush soft mattress or a cot as the base of your bed. On top of this put an insulating layer covered with the softest sheets you have. Lastly, you'll need a comforter and as many pillows as you need. With glamping, you are treating yourself, so don't feel like you need to be conservative with the number of pillows you take!
Staying with the theme of the sleeping area, after you have everything you need for a comfortable place to get a peaceful night's sleep, you need to gather all the things you will want to have in your bedroom. You may want to have a small rug at the foot of the bed, some slippers to step into in the morning (or for a late-night bathroom trip) and side tables where you can neatly set down your glasses, your phone, a book, or whatever other items you may have with you. If you want a place to nap during the day, you really can't get better than a nice hammock where you can enjoy the fresh air and the shade of the trees.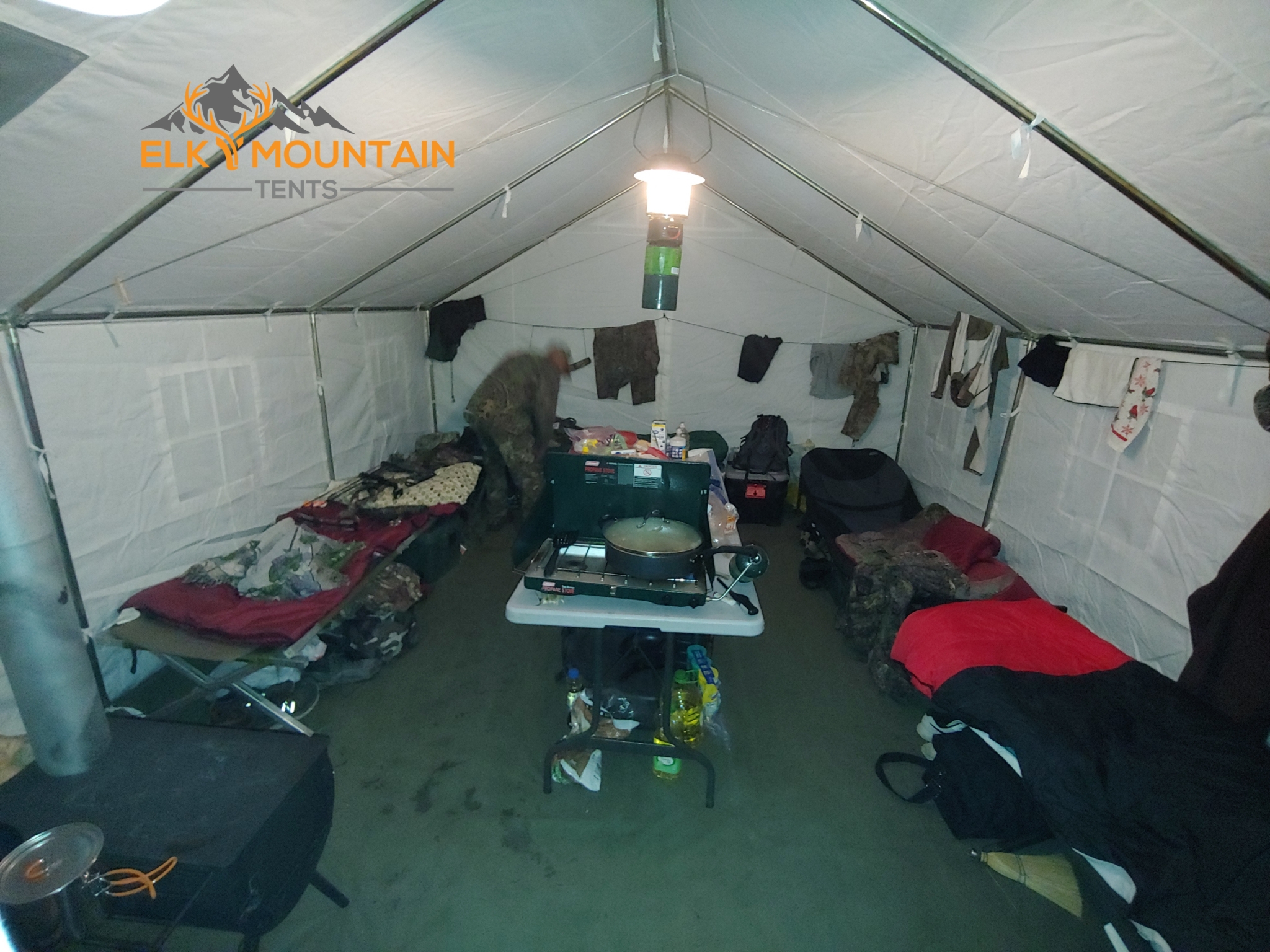 A hammock can also be a great piece of furniture to garnish your outdoor living room! There are a lot of amazing things you can find that will make the area outside of the tent just as nice and relaxing as the inside, ideally under the shade of the trees. There are seemingly hundreds of different camp chair styles available, so try to find the ones that sound most comfy to you. Perhaps you would like some nice cushioned chairs that can recline? Bring a good amount of small folding tables with you as well, enough that you won't need to set your food or drinks on the ground where they could easily be knocked over. On that note, if your chairs or tables have built-in cupholders in addition to being luxurious, it can make quite the difference.
To make your campsite feel like home, bring some decorations that help make the place more attractive and inviting. Having a neat little nook where you can put a small mirror goes a long way to accomplishing this. You can also bring a vase full of flowers, or even artwork that can bring the area to life. However, you may want to make sure you don't bring anything too fragile or valuable. Glamping isn't as fun if you are always worried about something being ruined!
---
Menu
One of the most important things to do to have the true glamping experience is to bring the things you need to make excellent gourmet meals. Bring a cooler (or two) full of ingredients to make your favorite dishes. Don't limit yourself to hot dogs and s' mores! Think of a meal you want to eat and do what you need to prepare that meal. The possibilities are endless! Bring some high-quality cookware, a multi-burner stove, and whatever delicious ingredients your heart desires. You have a lot of room to get creative with each of your meals, so go the extra mile!
If you have a group with you, one way you can have a great meal is to set up different labeled stations, where people can get the ingredients they want and eat their food the way they prefer. You can also set up a drink station, a snack station to frequent when you get hungry throughout the day, and a handwashing or sanitizing station. Maybe you can set up a convenient s' more making station in the evening that you can bring your toasted marshmallows to and neatly add whatever you would like, or a battery-powered station where you can charge electronic devices throughout the day. Set up stations for whatever you want! Think of whatever commodity you would like convenient access to, and make room for it.
Another great thing to bring to make your campsite livelier is lights. Bring along some LED lights, Christmas lights, or faux candles, and you can add warmth and character to your tent as well as your outdoor lounging area. A very simple thing you can do that goes a long way to enhance your glamping experience.
Don't forget, while you are on this trip, spare no expense to keep yourself and those with you entertained! There are plenty of great outdoor games you can play, whether you want to get creative and make your own or look for some to purchase (or maybe you already have some fun lawn games lying around!). Bring a soccer ball to kick around or a football to throw around. One relaxing night activity you can do is set up a projector and enjoy a movie under the stars! You know what keeps you entertained, so, just like when you prepare your meals if you have an activity you want to take part in, find a way to make it work!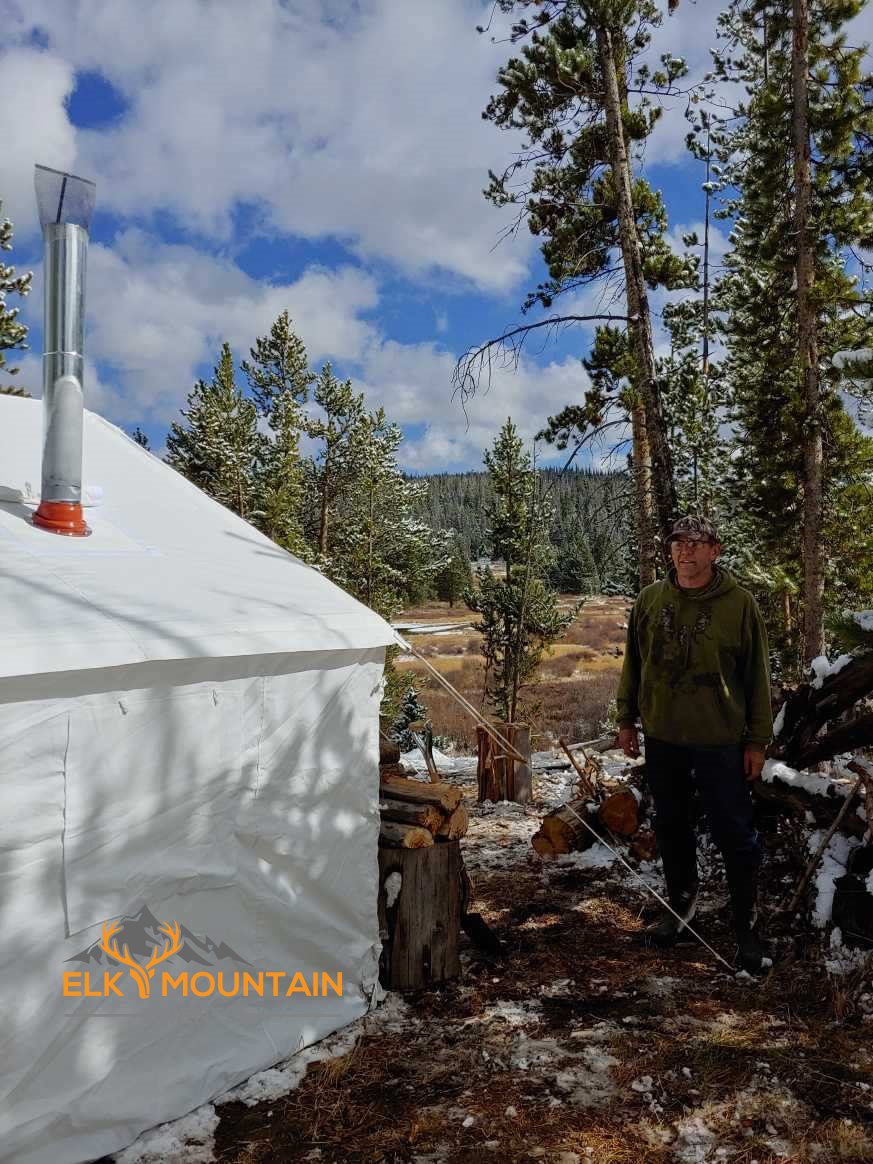 There are so many great things to do to truly change your camping experience and "glam it up" in whatever way you see fit. Bring a large tent, a soft mattress, a lot of ingredients to make delicious meals, plenty of entertainment, comfortable lounging chairs, lights, and decorations. Make it YOUR glamping experience. Personalize it to fit your comfort and entertainment level. If there is anything you come up with that you know will make it glamping to you, or if anything listed here isn't of particular importance to you, change it up! If you go glamping more than once, try different things each time to see what you enjoy the most!
Sources:
https://www.rei.com/blog/camp/glamping-101-how-to-go-from-camping-to-glamping