Stove Jacks in Bell Tents
If you are looking for the right tent for glamping, you have come to the right place! With the hundreds of different tent designs out there, it can be difficult to decide which ones are best for a relaxing outdoor getaway. Few options are better for glamping than bell tents. Bell tents are essentially like yurts, but less expensive and much easier and faster to set up. They are held up by a center pole, giving the structure a high ceiling, and supported by a circular outer wall, forming a "bell" shape. These tents are popular for glampers in large part because of the amount of space they provide, among other things like large doors, versatility, durability, and floors that can unzip, allowing the sidewalls to roll up and turn the tent into a nice, shaded canopy area. Another great advantage to many bell tents is their inclusion of a stove jack. This allows a wood stove to be used safely inside, with the stovepipe feeding through the stove jack and letting the smoke out through the roof of the tent. Wood stoves are fantastic for glamping since they can be used to keep warm during the night or the winter months, as well as provide a good place to heat water and even cook food, all within the comfort of your tent.
Yukon Bell Tent
One great option for a high-quality bell tent with a stove jack is the Yukon Bell Tent from Elk Mountain Tents. The unique polyester canvas material in the Yukon is strong and durable enough to allow you to use it for many years to come (much higher break and tear strength than traditional cotton canvas). Not only is it stronger, but it is lighter than cotton as well. It will last much longer than cotton, thanks to its increased resistance to water and ultraviolet rays (it also won't grow mold and mildew like cotton will). Lastly, even though the canvas is synthetic, this polyester offers the same breathability and insulatory properties as cotton canvas.
The PVC groundsheet is built to keep water from leaking in at the bottom. It is quite well-ventilated, thanks to the 4 screened windows and 4 screened air vents. The center pole is made from galvanized steel, and it can break into separate parts for easy transportation. Gaskets are included on the top and bottom of the pole to protect the canvas.
One of the best features of this tent is the stove jack, which can be cut to be 4, 5, or 6 inches. That way you can cut it to fit whatever stove you end up using, and if you already have a stove you won't need to buy a new one just to fit this. Additionally, you can purchase a second jack if you want to have an alternate place to put your stove.
Another attractive thing about the Yukon is its price. It comes in 3 sizes: 13 ft. diameter ($745, 8 ft. height, 50 lbs.), 16 ft. diameter ($845, 10 ft. height, 70 lbs.), and 20 ft. diameter ($995, 11.5 ft. height). Elk Mountain Tents offers fast delivery, with their packages anticipated to reach your address within 4 business days.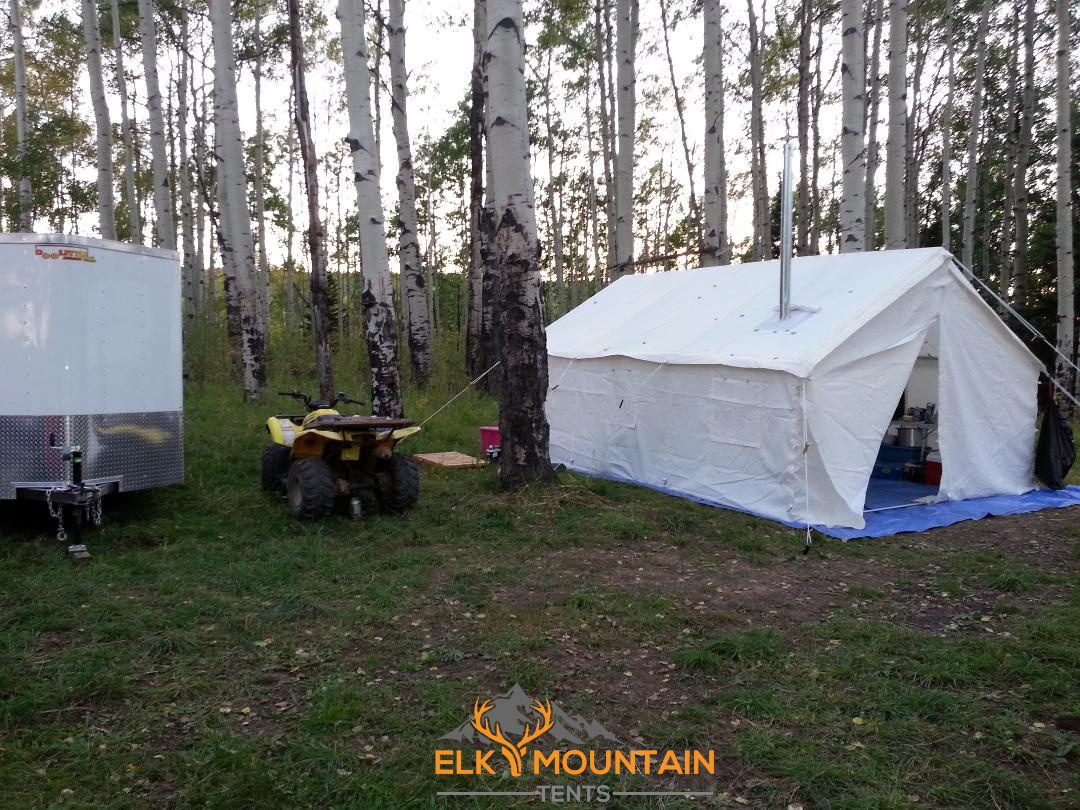 Additionally, you can purchase a floor mat from Elk Mountain's website, which you can place underneath the stove, protecting the floor from burning. It also has grommets so it can also be hung on the wall to prevent sparks from hitting the side of the tent. For extra protection, you can purchase two, keeping one on the wall and one on the floor. These are available for $45 each. If you are still looking for a wood stove to buy, you might want to consider the Alpine Heavy Duty Cylinder Stove, which you can purchase from Elk Mountain's website as well. One advantage to buying it from here is that it ships completely free! It is designed for carrying and convenience, as well as durability. The strong materials are sure to last a long time, and the legs can detach and be stored inside of the stove itself. Other amenities to this model include a wide drying rack and adjustable legs (in case you are camping on uneven ground). The pipe is 5 inches in diameter, a perfect fit for the tent's stove jack. It costs $260 on the website.
Danchel Cotton Bell Tent
Another bell tent that you can use a wood stove inside is the DANCHEL Cotton Bell Tent. The cotton in this tent is sturdy and made to last. It is designed to be simple enough for one person to set up with ease. The floor can unzip, allowing the tent to be turned into a canopy that you can enjoy nature under. The thick material the floor is made of is sure to keep water from leaking in at the bottom. It includes 4 mesh windows, allowing for airflow while keeping insects out. The 4 roof vents help even more with ventilation. The large door of the tent makes it easy to move a large mattress inside for glamping. These are all great qualities that you should look for in a bell tent, but what makes this tent stand out is that it includes 2 built-in stove jacks, allowing for some versatility in where you keep your stove. One of the jacks is on the roof while the other is lower down on the wall. No matter how you want to set things up in your tent, you can move the stove so that it can be out of the way while still keeping you warm and toasty. Since it is made from cotton, it is a bit heavier than Elk Mountain's bell tents at around 83 lbs., and it is available in two sizes: 13.3 ft. and 16.6 ft. diameter. It is safe to use during any season of the year thanks to the PVC floor, which helps with waterproofing.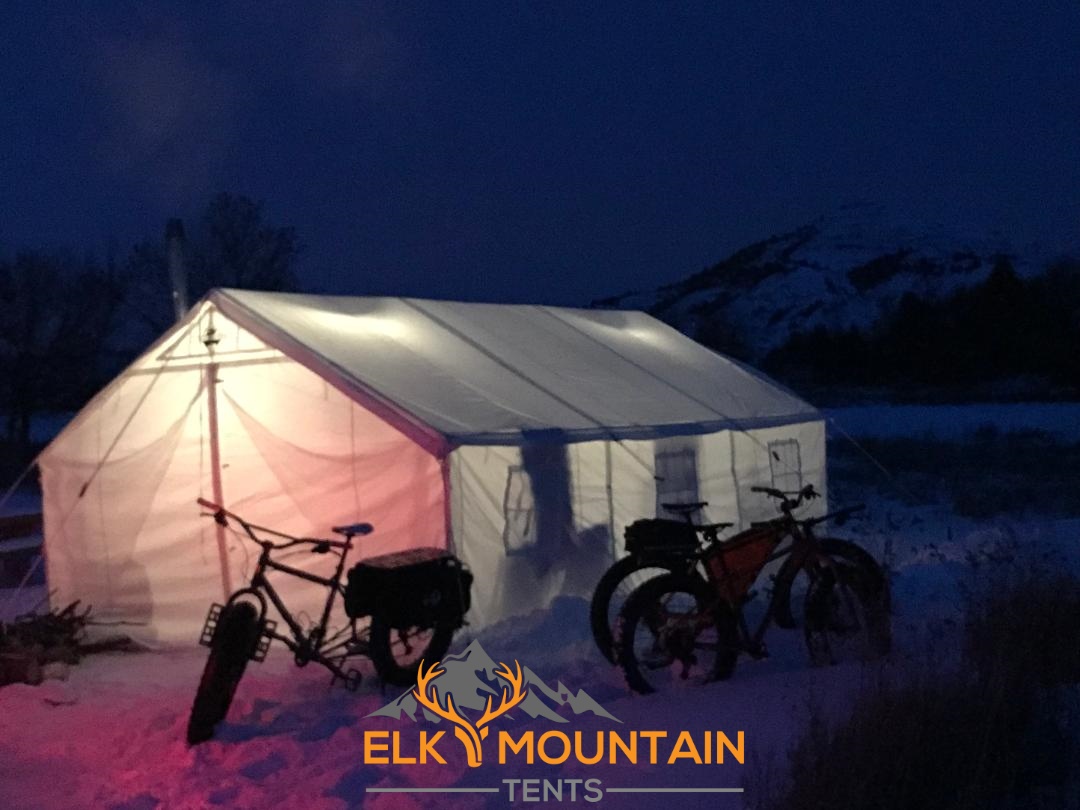 Playdo 4-Season Waterproof Cotton Canvas Bell Tent
The Playdo 4-Season Waterproof Cotton Canvas Family Bell Tent is another strong option, and it is quite versatile thanks to its availability in 4 different sizes: 9.8 ft., 13 ft., 16.4 ft., and 23 ft. diameter. Whether your group is small or large, there is a size to suit your needs. The 23 ft. diameter model has enough floor space inside to fit 3 queen-sized mattresses, enough for your whole family or group of friends to stay inside comfortably. The PVC floor and cotton are strong and heavy, and waterproof treated, so you can feel safe in even the most difficult winter weather. This along with reinforced seams make this tent completely waterproof. It keeps cool in the summer and keeps warm in the winter, thanks to its fantastic insulation. On the wall of the tent is a built-in stove jack (included in all sizes), so you can keep extra warm while it's snowing and blowing outside. The area around the jack is fire-resistant, helping ensure that the tent fabric doesn't burn or light on fire. If you aren't worried about the tent being too heavy and you want something that will truly endure all the elements, you may want to check this one out. It ranges in price online from around $470 (smallest size) to $1000 (largest size).
Robens Klondike Bell Tent
The Robens Klondike is a bell tent made from a polyester cotton blend. Being a blend tend means that the traditional cotton has many of the advantages that come with polyester such as being lighter than most cotton canvas tents, weighing in at just over 35 lbs. It has some great amenities for a wood stove. The stove jack is at the top of the tent, so the stove can stay close to the center and out of the way of the sleeping area. The floor can also unzip from the door to the center of the tent to allow the stove to sit on the ground, which is a great way to keep from burning the groundsheet. It is on the smaller end of bell tents, with an official capacity of 6 people.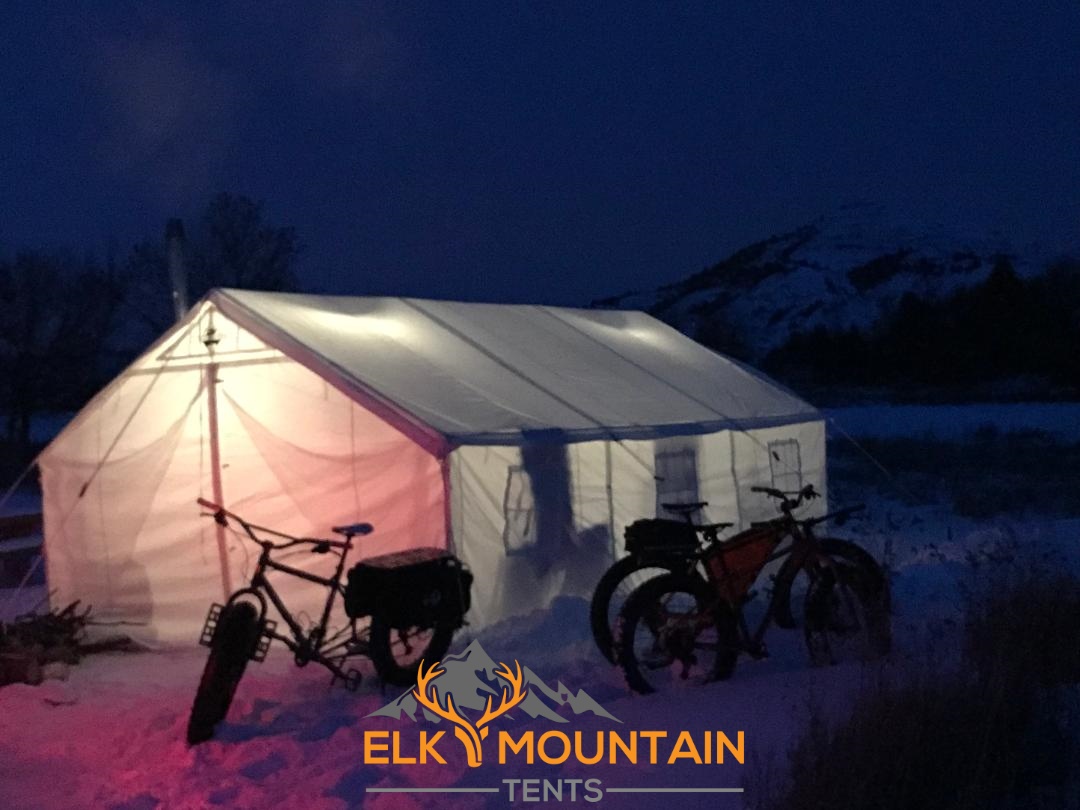 If you want to use it for glamping though, it may just be the right size for a couple to enjoy a getaway with plenty of room to keep the other things they would like to bring. There is also a 10-person option for those needing a bit more space. If you would like to use the tent as a canopy, the floor can be unzipped all the way and the walls can be rolled up. The tent is well-ventilated, thanks to 3 large canvas and mesh floor vents and 2 ceiling vents. The ceiling vents have a pulley system attached, so you can open and close them from the inside. It has a waterproof rating of 10000, so it is safe to use in most weather conditions. It also has a bathtub-style floor, which helps keep water from leaking in at the bottom.
These are some of the best bell tents with stove jacks on the market. If you want to get into glamping, you should definitely try out one of these! Have fun and relax in the great outdoors!
Sources: