The Best Hunting Tents for 2023
Hunting season is right around the corner, so now is the time to prepare! If you plan on going hunting this year, you need to be properly prepared and make sure you have everything you need to make this trip a successful and enjoyable one. One of the most important things to keep in mind is the shelter you will be staying in. If you are in the market for a new hunting tent, you've come to the right place! Listed here are some of the best hunting tents available in 2023!
Elk Mountain Tents Canvas Wall Tent
Elk Mountain Tents' Canvas Wall Tents are popular for all kinds of purposes, and hunting is no exception. These tents were designed, crafted, and manufactured by hunters, for hunters, so you know you are getting a quality product. The folks at Elk Mountain have spent plenty of time hunting and camping in the great outdoors, so they knew exactly what needed to be in their tents to provide the perfect hunting experience for their customers. If you are looking for a comfortable, practical, and spacious place to set up your base camp during your outdoor excursion, a wall tent is the way to go (especially if you are with a group).
One thing that makes Elk Mountain's tents stand out from other wall tents is the unique canvas material they use in all their tents. Unlike traditional canvas, which is made of cotton, Elk Mountain uses a 100% polyester fabric. This makes the tent a little lighter and substantially stronger than cotton canvas would, while keeping the breathability and durability of cotton. It is naturally waterproof and doesn't absorb water as cotton does, and because the material is fully synthetic, you won't have to worry about it rotting out from under you. It is also more resistant to ultraviolet rays, adding to the long-lastingness of the tent, allowing you to use it for your hunting trips for years and years.
Although the polyester is breathable, the tent is designed with maximum airflow in mind with 4-6 mesh windows built-in as well as openings in the ridges, helping the tent keep cool during the earlier part of hunting season when it is still hot outside.
If you are hunting during the colder part of the season, you'll be impressed at how well-insulated the tent is and grateful for the built-in stove jack. This hole can be cut to be 4, 5, or 6 inches in diameter, so it can fit whatever stove pipe you plan on using. Keeping a wood stove inside your tent will help you keep warm and comfortable while you are trying to sleep and will even give you a way to boil water for coffee or hot chocolate and even cook food.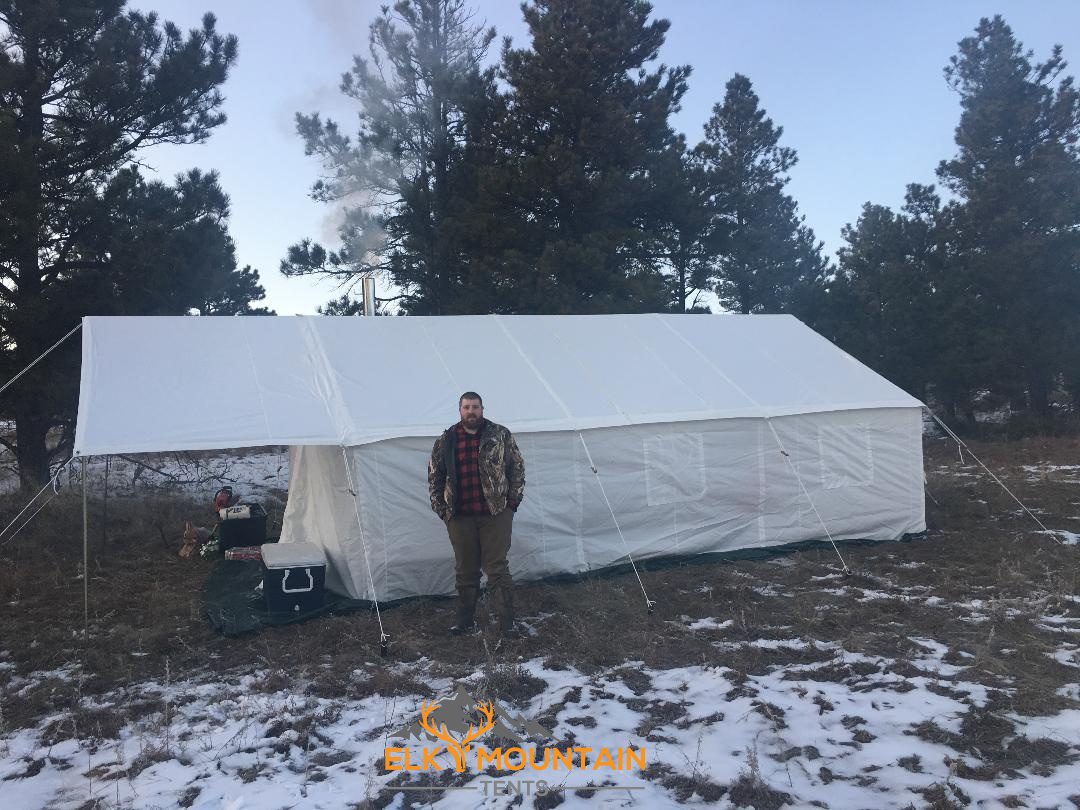 This model is available from Elk Mountain's website in 3 different sizes: 13 x 13 ft., 13 x 16 ft., and 13 x 20 ft. They range in price from $795-$1295 and can include additional amenities like an awning, a screen door, or even an extra stove jack. Canvas wall tents have been around for a long time and have always been popular among hunters, and for good reason. Thanks to modern technology allowing for superior materials in tentmaking, Elk Mountain Tents has some of the best hunting options in 2023.
Kodiak Canvas Flex-Bow Deluxe 6-Person Tent
Another group-sized option to look into is the Kodiak Canvas Flex-Bow Deluxe 6-Person tent. Made from breathable and waterproof 100% cotton duck canvas with a floor area of 10 x 10 ft., this tent is durable enough for any season and spacious enough for all your hunting gear. The floor is reinforced with 16 oz. vinyl, so you don't need to worry about water or dirt leaking in at the bottom. Thanks to a 78-inch ceiling, even the tallest members of your hunting party can stand up straight and move around comfortably inside. Ventilation in the Flex-Bow is excellent thanks to 4 large mesh windows as well as two sizeable D-shaped doors. Other features of the shelter include a customizable gear loft and an organization system, both of which are ideal for hunting. The unique design of the frame makes the tent easy for just one person to set up, so you can get it pitched quickly and get right into hunting without any delay. You can buy this tent online for $550, which is a good price considering the quantity of space and quality of both frame and material.
North Face Stormbreak 2
If you aren't planning on staying in one place during your hunting trip, you probably want a much lighter tent than the others that have been mentioned so far. The North Face Stormbreak 2 is a popular and high-quality option for any backpack hunter. It weighs less than 6 lbs. and can fit two people inside, with a floor area of 7 x 7 ft. It folds down neatly and can easily fit inside your backpack with your other gear. Once pitched, it has two large doors, making it easy to get in and out of as well as set all of your stuff inside. Its walls are 75-denier polyester taffeta with 40-denier polyester mesh windows for ventilation.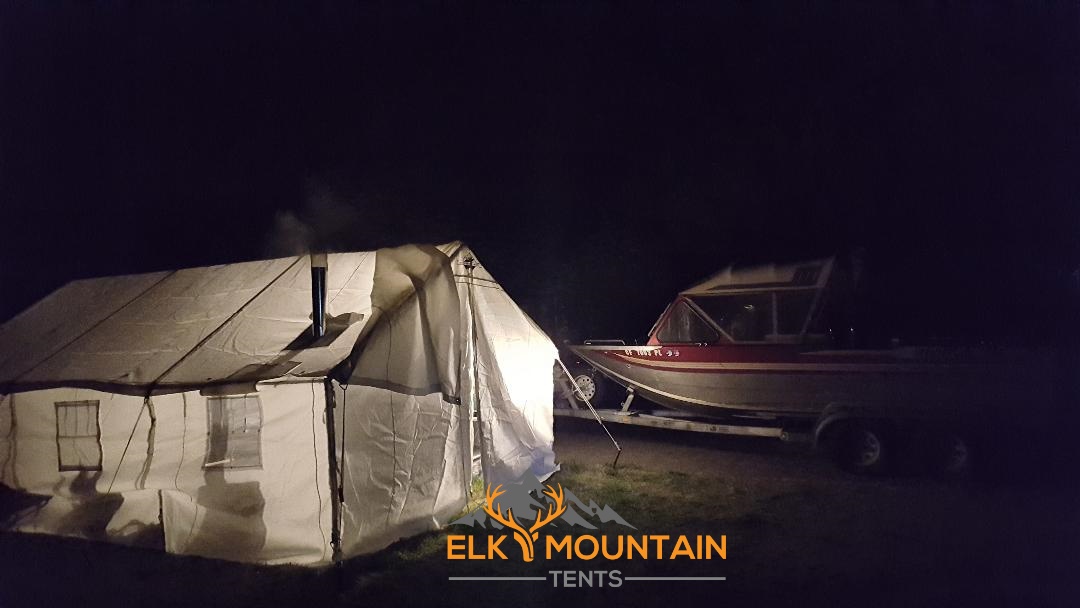 The rainfly has reinforced seams and is made of the same material as the tent body, coated in 1200mm polyurethane, ensuring that no unexpected rain and bad weather manages to break in. You can be sure that ground moisture won't find its way in either, as the 68-denier polyester floor is coated in 3000mm polyurethane and taped seams. The design is stable enough to provide excellent wind resistance. No matter what time of the season you go camping, the Stormbreak is a sturdy and reliable option to bring with you on your outdoor adventure, especially if you find yourself hiking from place to place. The North Face Stormbreak 2 is available for purchase online for $300.
Clostnature Lightweight Backpacking Tent
The Clostnature Lightweight Backpacking tent is another great travel shelter and is ideal for anyone shopping on a budget or hunting by themself. It weighs only 3.7 lbs. and packs down small and compact enough to fit inside your bag without taking up much space. When pitched, its dimensions are 7 ft. 3 in. x 2 ft. 8 in. x 3 ft., long enough for even taller hunters to lay down comfortably inside. It has a breathable, yet sturdy rainfly made of 210T polyester with a polyurethane rating of 5000. The aluminum poles are lightweight yet high enough quality to last a long time. Setup is quick and easy thanks to its simple two-pole structure and freestanding design. This enables one person to set it up in just a few minutes without needing to stake it down. It also has a spacious and protective vestibule for its size and weight, so you should be safe to use this tent during any part of hunting season. The Clostnature Lightweight Backpacking tent can be purchased online for just $80, an excellent bargain for any backpack hunter.
Coleman Sundome 6-Person Tent
If you are looking for something large enough to hold a few people as well as your gear but have a tight budget, the Coleman Sundome 6-Person Tent could be the right hunting shelter for you. It has a roomy interior, with a floor area of 10 x 10 ft., and the dome design gives you a high enough ceiling to sit up straight. Even though it is one of the cheaper tents on this list, it still has great waterproofing with 68-denier polyester mesh walls that utilize WeatherTec technology. The 1000D welded floor has reinforced seams, keeping any groundwater or rain from entering in at the bottom.
The quality of these materials is high enough that you can use this tent during any time of year, so even during the later part of hunting season when the weather gets tough, this shelter can still prove to be quite reliable. During the warmer part of hunting season, you will be satisfied with how well-ventilated the tent can keep, thanks to two large windows and a ground vent in addition to the D-shaped door. The tent comes with an awning over the door, so you can sit outside in the shade. Another nice feature of the Coleman Sundome is its inclusion of an electronics port, which allows you to feed an extension cord inside to charge your device while keeping insects from being able to get inside. The transportation and setup of the tent are intended to be quite simple, weighing just 16.6 lbs. (with the ability to carry it on your back) and having snag-free sleeves for the poles. This option is available online for just $110.
These are several of the newest, most advanced, and best tent models on the market for hunting in 2023. Whether you need a long-lasting shelter for your large hunting party, something sturdy that doesn't break the bank, or even a lightweight option for the more adventurous hunter, we've got you covered! Only you can know the right model for your hunting needs, so use this list as a guide to help you on your path. Start this hunting season off right! We wish you the best of luck and all the success in the world!
Sources:
https://www.riflescopelevel.com/best-hunting-tents/