The Two Best Bell Tents to Live in
Have you ever had the desire to take a break from society and go live in the great outdoors for a while? Taking a month or even a few months to separate oneself from the world by living in a tent isn't as uncommon a practice as you might think. With the various innovations in tent designs now, tent living can actually be something of a luxury, as long as you have everything you will need. Proper research and preparation to where you will be living, what gear you will need, health and safety precautions, etc. is essential for planning out your getaway. You need to set up camp somewhere that you can camp legally year-round, and ideally somewhere that isn't too far from civilization in case emergencies occur. You need to be comfortable as well, so make sure you bring all the things you will need to sleep and relax in addition to staying safe. Of utmost importance is the tent you will live in.
You probably don't want to spend the whole time living outside on the ground in a little one-person backpacking tent. You will only be making yourself miserable. To make your time living outdoors an unforgettable and worthwhile experience, you need a strong, durable, spacious tent. Bell tents are a fantastic option to live in and offer more comfort and luxury than any other tents out there. There's a reason bell tents are so popular for glamping, after all. You will have plenty of space inside to have a comfortable bed, as well as keep all of your gear. Take a look here to learn about some of the best bell tent options when it comes to outdoor living!
Elk Mountain Bell Tent
Elk Mountain Tents is beloved for its heavy-duty canvas tents, made of a unique polyester fabric that offers the same insulation and breathability as cotton canvas while adding several modern enhancements. The polyester tent fabric has a noticeably higher break and tear strength than cotton canvas, allowing it to endure rough weather and any other hazards that might attack it in nature. The material is also much lighter than cotton, so if your perfect living spot requires a bit of hiking, you would have a much better time transporting this tent than one made of cotton. It will last much longer than cotton as well since it won't shrink or absorb water like cotton canvas. Lastly, polyester is synthetic so it can't rot away from mold or mildew.
One of the best tents in their shop is the Yukon Bell Tent. This tent is built for comfort and it will last you for years to come, allowing you to continue living outside for as long as you want.
The PVC groundsheet is sure to keep any water from leaking in at the bottom, so you can take comfort in knowing that you and all your things will be able to keep dry, even during unexpected heavy rain.
It is a 4-season tent, so no matter what time of year you plan on packing up and heading out, you can count on the Yukon to get you through the nights. It is well-ventilated, thanks to screened air vents in the top of the tent as well as 4 screened windows. During nice days in the summer or spring, you can detach the groundsheet and roll up the walls to turn the tent into a canopy that you can relax under.
During the rough winters, you can bunker down and keep warm and cozy inside. The tent has a built-in stove jack, which is essential for tent living, always giving you a place to cook food and a way to keep warm, no matter what the conditions are like outside.
The Yukon is available in 3 sizes, so you can buy the right size depending on what your needs are and how much gear you have with you. The 13 ft. diameter option has a peak height of 8 ft., enough room to stand comfortably and change clothes inside, and can be purchased for $745 from Elk Mountain Tents' website. The 16 ft. diameter has a peak height of 10 ft. and costs $845. The 20 ft. diameter has a peak height of 11.5 ft. and costs $995. For long-term living, you will probably want a few other amenities that can be purchased from Elk Mountain's website.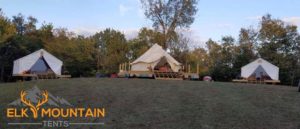 While the tent is waterproof on its own, it is still recommended to get a rainfly, which is available for all 3 tent sizes. You may also want to get a stove mat, which can be kept under the wood stove to ensure that it doesn't burn the groundsheet. This stove mat comes with grommets as well, which allow you to hang it on the wall, keeping embers from burning the side of the tent. If you don't already have a wood stove, one really solid option is the Alpine Heavy-Duty Cylinder Stove, which costs $260, and ships for no additional cost. This stove is built to be strong and durable enough to last many years, and it is easy to transport since the legs and other components can all be stored within the stove itself.
Danchel Cotton Bell Tent
Another popular bell tent is the DANCHEL Cotton Bell Tent. If you enjoy cotton canvas material in your tents, you should check this one out. It is sturdy, durable, and perfect for living in. It is a 4-season tent, so you could comfortably live in it all year round without experiencing much trouble. One great thing about this option is that it includes 2 stove jacks, one on the top of the roof as well as one in the middle. This offers plenty of versatility, allowing you to move your wood stove to a more convenient spot if you need to make changes or accommodations during your stay in the great outdoors.
The tent is designed to be set up and taken down by one person quickly and easily, so even if you are living by yourself, you will be able to pitch your new home without a problem. The floor of the tent is thick and strong, helping it last a long time. It is waterproof as well, so don't worry about water leaking in from the bottom. It can be unzipped and detached from the tent, which is nice to have when it is especially nice outside, and you want to be able to enjoy the outdoors a little more from a comfortable shaded area. You will have plenty of ventilation during the warmer months, thanks to 4 mesh windows (with panels to cover them up) as well as 4 air vents on the top of the tent. On top of that, the cotton used in this model is breathable. It is available in 4 different sizes online: 3, 4, 5, and 6 meters in diameter. Prices range from around $460-$900.
There are 4 air vents included as well. It is spacious enough for living inside of, with an official capacity of 8 people. If it's just you and one or two others living inside, that is plenty of room to have all your gear as well as a comfortable amount of space for sleeping. It does include a stove jack as well, which is vital for living in. You don't want to risk sleeping outside on many cold nights in a row where you could get sick, so be sure to bring a wood stove with you. This tent also includes 4 pockets inside, so you can have a place to keep your smaller items where they won't get lost. It is on the pricier side when it comes to bell tents, available online for $1450.
These are 3 of the best options out there when it comes to tents that you can live inside of. Bell tents offer so many great things, including high quality, durability, space, and warmth, which are all essential things to look for in buying a house tent. Find the right tent for you and get on out to the great outdoors and enjoy living in nature!
Sources: