Winter Glamping in a Bell Tent: What You Need
People often view glamping as a summer getaway, but why should it be limited to just one season of the year. You can have a nice, cozy, relaxing time in the great outdoors no matter what time of year it is, even in the middle of a cold, snowy winter! As long as you have the right tent and the right gear, you don't need to limit your luxurious glamping trips to the summer months. Here you can learn about all the things you need to have a fantastic winter outdoor vacation.
Glamping in the Elk Mountain Yukon Bell Tent
The most important thing you need for a cold weather glamping trip is the right tent. Luckily, many canvas bell tents are built to withstand wind and snow. One great option for a glamping tent is the Yukon Bell Tent from Elk Mountain Tents.
Its material is designed to be used during any season of the year. The fabric that makes up the Yukon is a unique polyester canvas material, that is much lighter and stronger than cotton canvas. This makes it much easier to lug around as needed in the backcountry. It has a much higher break and tear strength than cotton, so it will last much longer even when you are using it in extreme conditions. It is highly waterproof (not shrinking or absorbing water like cotton) and it doesn't necessarily require a rainfly. However, if the winter weather is particularly harsh, it is a good idea to have one just to be safe. Elk Mountain sells rainflies on their website that can be purchased along with the tent. It is also resistant to mold and mildew, which will often occur in cotton canvas tents when they get wet. To be more specific, mold can grow on any surface but there's nothing in the synthetic fibers for it to eat, so your tent is incapable of rotting!
Another thing that makes the Yukon great for winter use is the stove jack that is included in the tent's roof. This allows you to bring a wood stove along for the journey, which will keep you and your tent warm no matter what the weather outside looks like. For a true winter glamping experience, you need a way to stay warm, and there isn't anything better than a wood stove for that. The jack can be cut to be 4, 5, or 6 inches in diameter, so you can cut it to accommodate whatever stove you have. You can also use your stove to boil water or even cook a hot meal, all within the comfort of your tent. Additionally, Elk Mountain's website sells extra stove jacks if you would like an alternate place to keep your stove and a floor mat to keep the stove from burning the groundsheet (it also has grommets so it can be hung on the wall in case you want to keep embers from hitting it as well).
To help combat it getting too toasty in the tent, there are 4 large, screened windows and 4 air vents in the roof to provide ventilation. Just because it's a large tent doesn't mean you will have to be in the cold for a long time setting up the tent, as it is designed for even one person to set it up quickly and easily.
The Yukon is available in 3 sizes: 13 ft. diameter (8 ft. peak, 50 lbs., $745), 16 ft. diameter (10 ft. peak, 70 lbs., $845), and 20 ft. diameter (11.5 ft. peak, $995). Whatever size group you need and whatever number of amenities you need to bring, Elk Mountain has the glamping tent for you!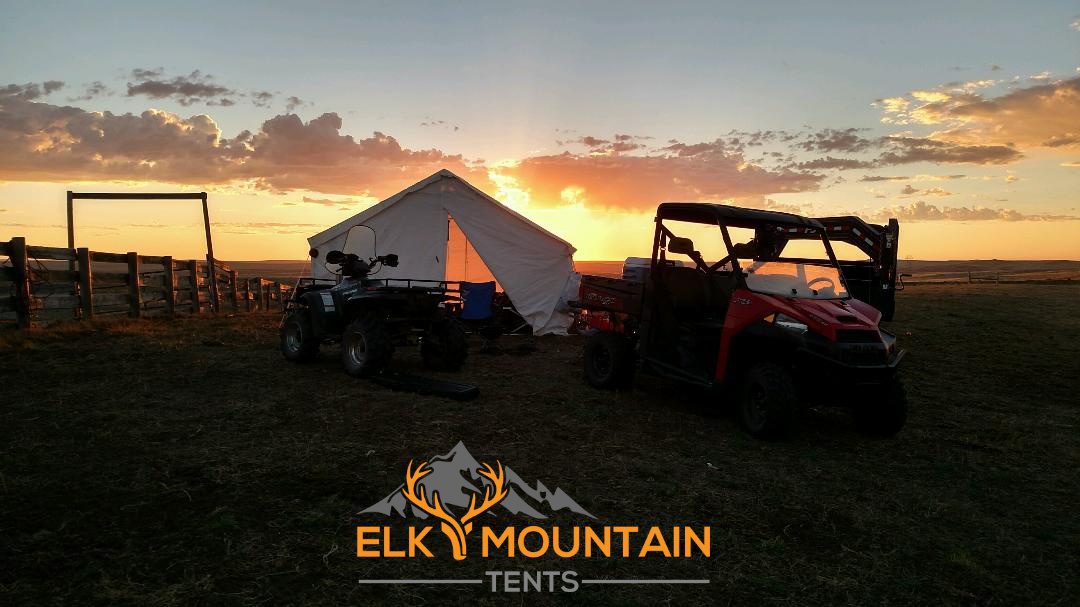 Woodburning Stoves for Glamping
There are a lot of excellent wood stoves on the market that will be perfect for your bell tent. One option is the Alpine Heavy Duty Cylinder Stove, which can be purchased from Elk Mountain Tents' website. It is a strong, durable stove with all kinds of great features. It has a wide shelf that doubles as a drying rack, a wire spark arrestor, and adjustable legs (in case you end up camping on uneven ground). The stovepipe is 5 inches in diameter, perfect for the Yukon's jack. It is easy and convenient to transport since all of the parts can be detached and stored inside of the stove itself. It has brackets to hold a water tank, so you can ensure that you have plenty of hot water (the hot water tank itself can also be purchased from the website). The stove costs $260, and, despite its size, ships for free.
Best Gear for Sleeping While Glamping
To have a real glamping experience, you will want to bring a soft, comfortable mattress to sleep on. However, you should also make sure your covers will keep you warm and cozy, especially in case the wood stove goes out during the night. One option is to bring lots and lots of blankets. Another idea is to get a heavy-duty winter sleeping bag. Ideally, you should get one rated at 20 degrees or lower. If you tend to sleep cold and want to do everything you can to stay warm, it might be worth it to invest in a bag rated at 0 degrees. Some great brands that have some of the warmest sleeping bags include Feathered Friends, Mountain Hardwear, and Western Mountaineering.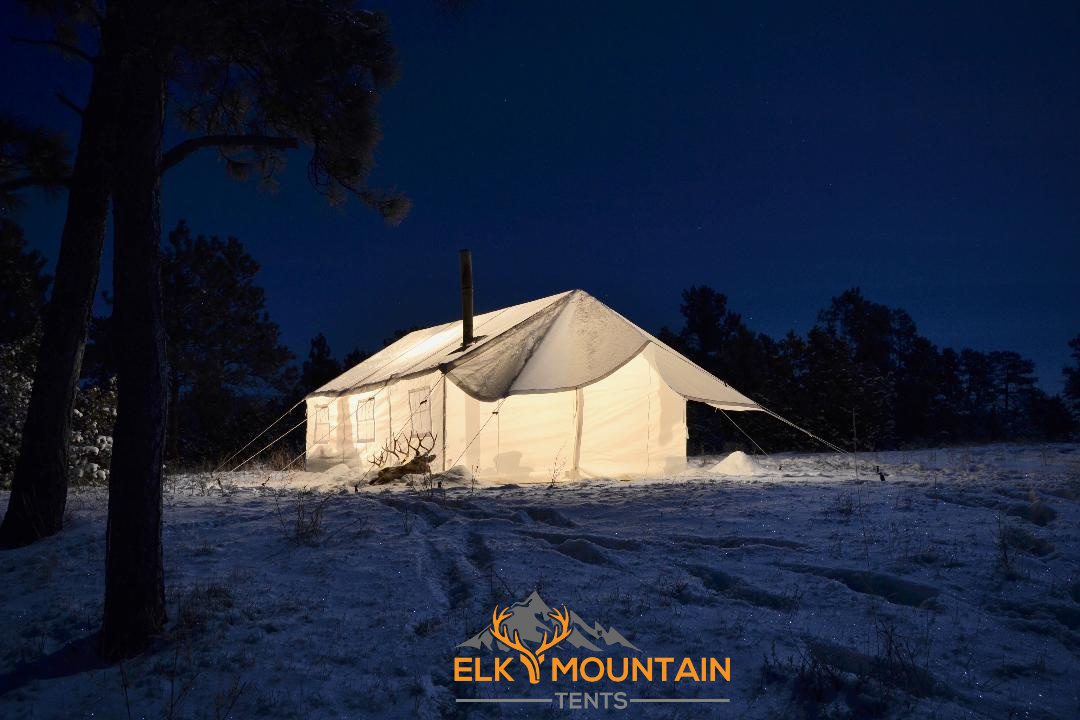 Lighting While Glamping
Since the sun isn't out for as long in the winter as it is in the summer, it is important to remember to bring a few sources of light with you on your glamping trips. There are more dark hours than light during that time of year, and you don't want to be caught out in the dark when nature calls. You may want to have a lantern or two as a light source inside of the tent, and when you go outside you probably want to have a flashlight or a headlamp with you. Don't forget to bring extra batteries for your light sources as well. Making sure you have plenty of light is essential to making sure your glamping vacation goes off without a hitch.
How to Stay Warm While Glamping
You probably aren't going to stay inside your tent the whole time you're glamping. Chances are that you want to experience the great outdoors and have some winter fun in the snow! You absolutely need to make sure you have the right gear to make the vacation enjoyable, though. Bring a warm jacket as well as a thick winter coat. A simple jacket might do you good as a single layer when you are sitting by the stove after coming in from the cold, but you need to have a heavy-duty coat when you step outside. There are some fantastic winter coats out there that are built to keep you as warm and toasty as if it were the middle of summer. For glamping purposes, it is worth it to treat yourself and invest in a high-quality coat or parka. In addition to that, you need to keep your head and ears warm. Bring a thick hat and a scarf to keep your head covered so that all the parts of your body can stay warm.
Another piece of clothing you will need is winter pants. You will be miserable if you get your jeans wet and have to let them dry by the stove, all while you feel wet and uncomfortable. That just ruins the glamping experience. Make sure you have ski pants or overalls; you will not regret it. Then by the time you step in from the cold and take off your winter clothes, you will be comfy and dry and ready to relax. If you want to splurge a little, you might find it to be well worth it to buy synthetic puffy trousers. There is no better way to keep your legs warm and dry!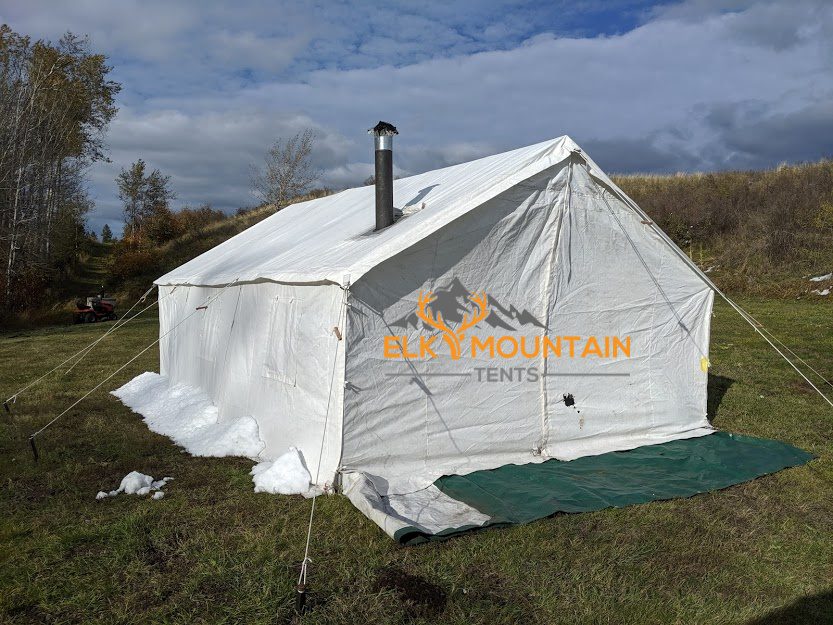 Heavy-duty ski gloves (fleece, wool, synthetic materials) are a must when you are out in the snow, and you may even want to bring some lighter gloves as well for when you need to use your fingers a bit more, such as for setting up the tent. You don't want to have to try that with ski gloves, and you probably don't want to do that with your bare hands either. They are a nice convenient thing to have that people don't often think of as a priority. Since we are talking about maximum comfort, however, they definitely need to be on the checklist!
Do not forget to bring warm socks and high-quality winter boots to keep your feet warm and dry. There are few things more annoying when camping in the winter than wet, cold feet. Bring several pairs of thick socks to wear both in and outside of the tent, and make sure your winter boots are on tight so that you won't risk snow falling into them while you are outside.
You should bring thermal underwear with you as well, not only for when you are outside, but for while you are sleeping as well. Wearing thermals under your clothes and wrapped up tight in a winter sleeping bag is the best way to stay warm during the night, especially if the stove isn't in use.
These are some of the most important things to have when glamping in the winter. The point of glamping is relaxation, so bring everything that you know will keep you comfortable and relaxed! Get out there and enjoy the great outdoors in luxury!
Sources: