Canvas Bell Tents
Trying to decide on a luxurious tent to buy? Maybe the perfect tent to take on a glamping trip? Luckily, there is a seemingly endless amount of great tent styles available, many of which are both high-quality and high comfort while still maintaining a sense of style. An excellent example of this is a canvas bell tent. As the name suggests, these tents take on the shape of a bell, including a round floor providing all the space you need for sleeping bags, gear, and maybe even a few chairs, and have a pole at the center offering plenty of vertical room (allowing you to stand up and even walk around inside). The bell shape of the roof also allows snow to just slide right off rather than piling up which is a great thing to consider if you want to go winter camping. These tents are essentially yurts (though a bit smaller) that you can transport from place to place. More often than not, canvas bell tents are easier to set up and take down than most other types of tents, another thing that makes them popular for glampers.
You may wonder, "Why is it so important to get a bell tent made of canvas?" The reason that most people buy canvas bell tents rather than tents made of other materials is largely for the comfort aspect. Canvas is much more breathable, preventing issues like condensation, it tends to last longer, it is typically more waterproof, and it can handle rougher weather than many other tents. These are all great qualities to have in a tent that you might use for glamping. When choosing a bell tent, look for one made of polyester canvas or a blend of cotton and polyester as these are superior options to nylon or 100% cotton.
What are some good bell tents to buy?
---
One great option when it comes to canvas bell tents is the Yukon Bell Tent available from Elk Mountain Tents. This tent comes in both 13 ft. diameter and 16 ft. diameter sizes. The 13 ft. option costs around $600, weighs 50 lbs. and has a peak of 8 ft., while the 16 ft. costs around $750, weighs 70 lbs. and has a peak of 10 ft. As with other bell tents, the Yukon offers tons of floor space, 133 sq. ft. or 201 sq. ft. depending on the size. The canvas material that the Yukon is made of is a unique 100% polyester canvas material, which offers many of the advantages of typical cotton canvas, such as breathability, but adds several modern conveniences that come with polyester. Polyester is naturally water-proof, so it does not require a rainfly when the weather outside gets rough. Cotton will grow mold and mildew after a while if not properly treated, but with Elk Mountain Tents' models, that will not be a problem because polyester is incapable or rotting.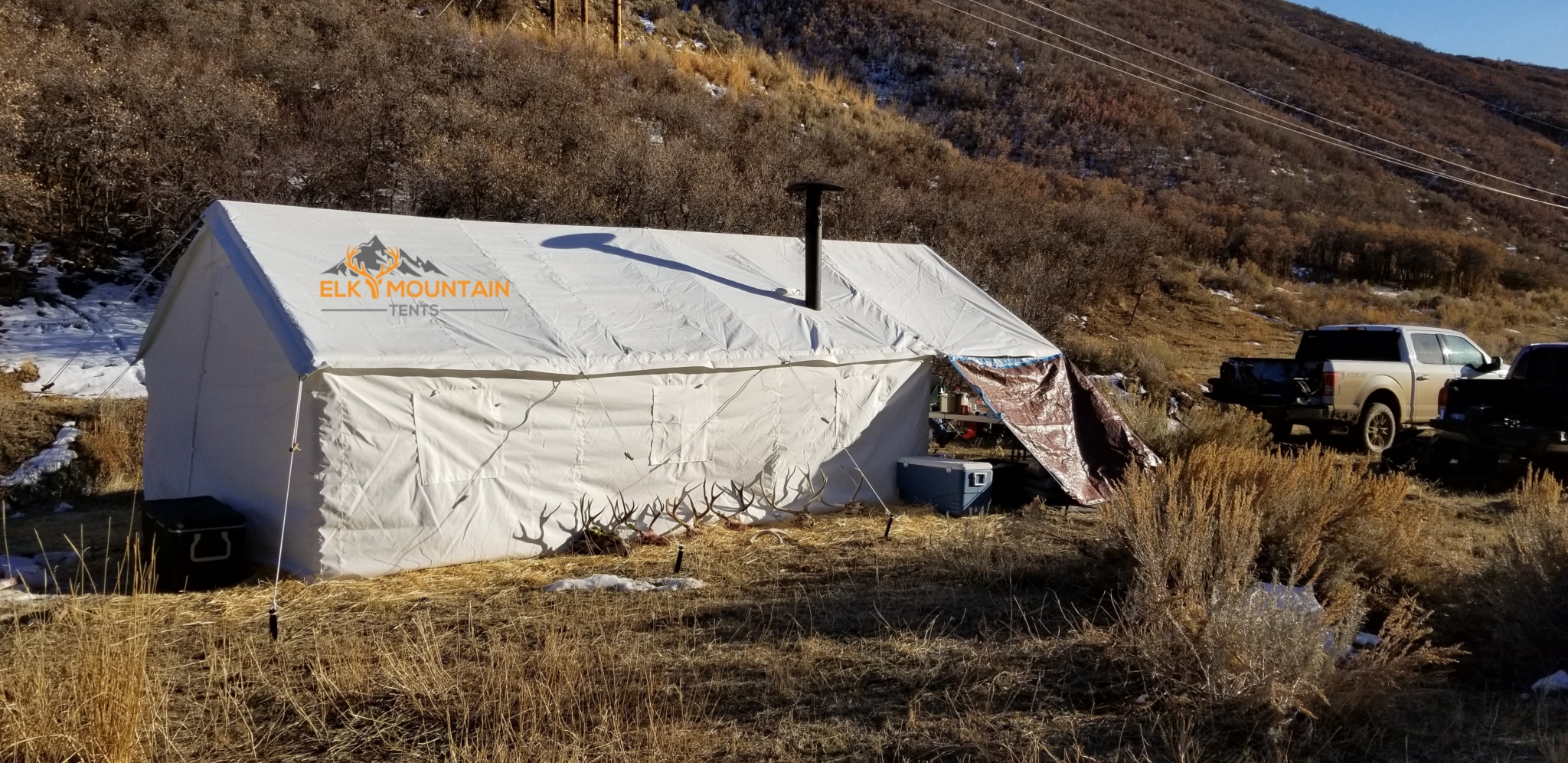 Other advantages the material has over traditional canvas material are that it has a much higher break and tear strength, it is lighter, and it will not shrink or absorb water.
These qualities all make the Yukon tent last a lot longer than other canvas options, as well as make maintenance and transport more convenient. Elk Mountain's bell tents have 4 screened windows and 4 screened peak air vents (all equipped with mosquito netting), a zipped-in floor, a zippered front door, sides that can be unzipped and tied up, a 5 ft. door, and 3 ft. sidewalls all the way around. In addition to zipping into the tent, the floor also curves up the wall to prevent water from coming in at the bottom. One of the greatest advantages of the Yukon Bell Tent is the built-in jack for a stovepipe to conveniently fit through (uncut so that you can adjust according to the diameter of your stovepipe). Having a wood stove inside your bell tent to keep you warm during the cold nights is one of the best ways to have a luxurious camping experience. You can also use it to heat water and food if you need. The complete tent package that you will get when you order includes the entire frame (including A-frame poles for the door and the center peak pole), ropes (11-13 and 1 extra-long), stakes (24-28), and a tent bag big enough to hold the tent and poles. As a bonus, if you decide to purchase a wood stove from Elk Mountain, it will ship for free!
Another high-quality tent you might consider is the DANCHEL Cotton Bell Tent with Two Stove Jacket. Available for about $560-660 (depending on the size), this tent will certainly give you a bang for your buck. As the name suggests, the tent does come with two stove jacks (one in the top and one in the wall), which allows you to have an air conditioning tube, solar power line, or power cords to be fed into the tent in addition to having your warm stove. The floor (made of PVC) can easily be zipped in and out of the tent. Its guy ropes are made of aluminum, while the center pole and the stakes are made of steel. The tent is popular for its versatility, as it is great for glamping in or it can be used as a home if so desired. It is great for use on the lawn, in the forest, or in the mountains. In addition to the standard 13 ft. and 16 ft. diameter options, you can also purchase it slightly smaller (10 ft. diameter, about $460) or slightly larger (20 ft. diameter, about $800).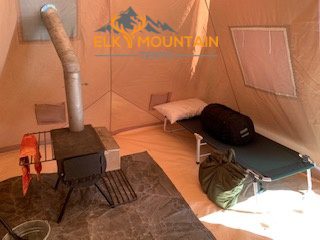 One popular and exceptionally durable cotton canvas tent is the Stout Bell Tent. The fabric is made to be waterproof as well as breathable, and it passes with flying colors in both categories. It does include a removable groundsheet as well as a stove jack in the roof (with a flap to cover it up when not in use), perfect for a cozy glamping adventure. The doors and windows have a mesh screen that keeps insects out while keeping the tent well-ventilated, a necessary quality to have in a tent when camping in the summer. The Stout Bell Tent is available in both single-walled and double-walled options. The double-walled option is a standout for summertime glampers, as its second wall is a mesh lining all around, giving you the option to roll up the outside wall and stay protected from insects while feeling the fresh air all around you. The tent is available for around $850-$1000, depending on the variant.
The PlayDo 4-Season Waterproof Cotton Canvas Bell Tent is a fantastic option for year-round camping. It has two stove jacks, one in the wall and one in the roof, as well as a strong, durable PVC floor. It does have roof vents and small windows in the back to keep it ventilated, but what stands out is the huge door. Not only does a large door like this one look nice, but it also offers easy access in and out as well as a pleasant view of the outdoors while you are cozy inside of your tent. Or if you can roll up the walls and turn the tent into a relaxing canopy to rest under during the day. No matter what time of the year you want to go camping, the PlayDo Canvas Bell Tent will be able to handle the great outdoors, with excellent waterproofing (with treated fabric and taped seams), strong, high-quality material, and plenty of room for just about any wood stove on the market, with options to keep it in the center of your tent or closer to the wall. It is available online for approximately $820.
The Psyclone Luxury Outdoor Cotton Canvas Tent is made from a cotton-polyester blend that is treated to be waterproof, offering some of the best quality tent material available. As a general rule, the more polyester in a canvas the better, so this is a good option. This makes it lighter and easier to dry than many other canvas tents. The PVC groundsheet is very sturdy and durable, so rest assured you will be kept safe from the elements. The tent is quite spacious and can easily fit 8-10 people inside. With how large the door is, there will not be any clamoring to squeeze inside as well. The seams and corners are all reinforced to make sure the tent will last you a long time. The large door, as well as 4 windows and 4 air vents, keep the air flowing through the tent comfortably. It costs about $760, a good price when you consider the material it is made from and the quality put into every aspect of the tent to maximize comfort.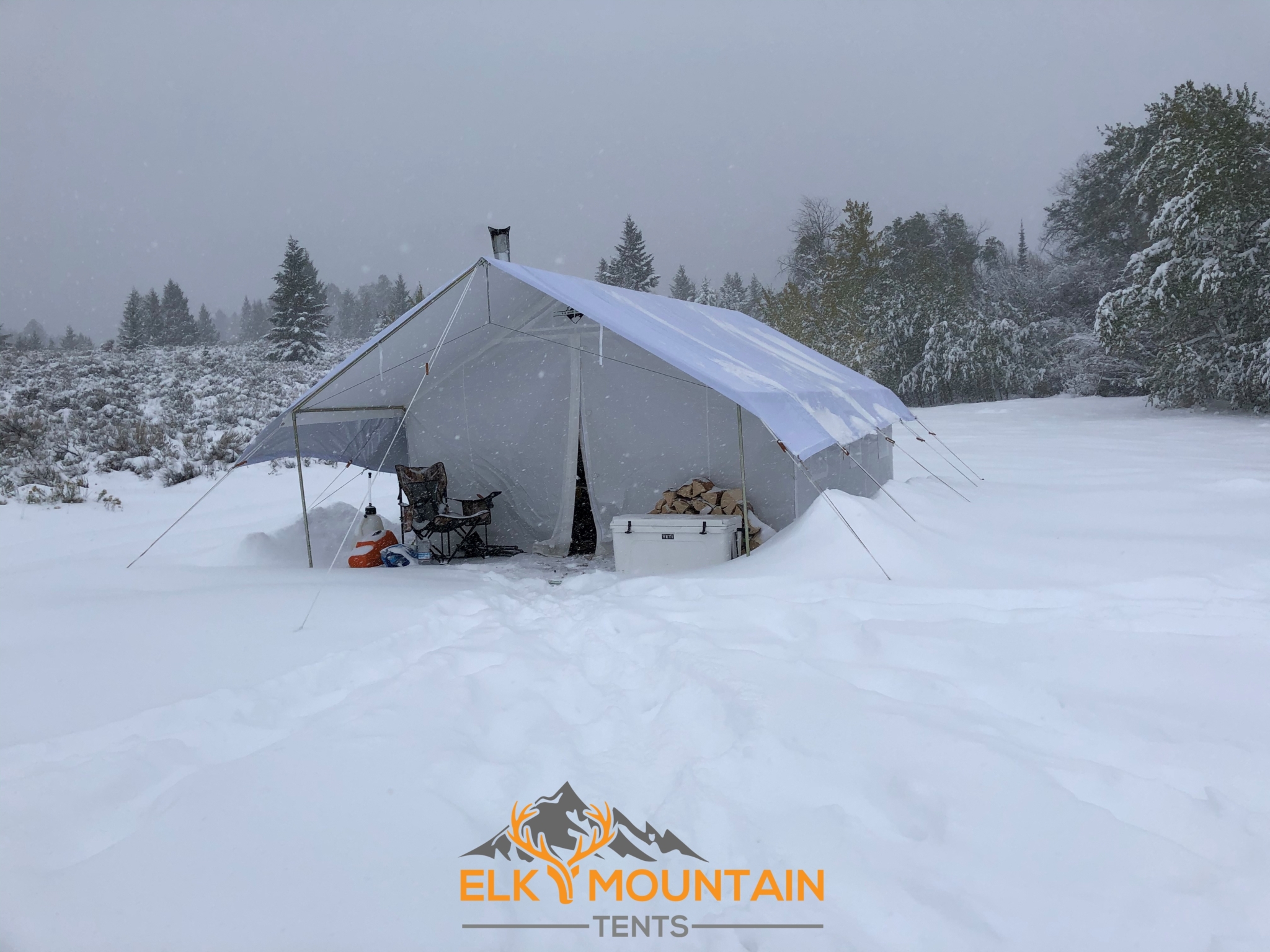 These are just a few of the greatest canvas bell tents available, and as you shop around, you will undoubtedly find many more great options. It is up to you which tent is right for you, so be sure to do your research and find the one that will offer you the most comfort for your glamping adventure! Get ready for a whole new camping experience when you buy what might be the comfiest and roomiest tent you have ever had. Get out there and enjoy the outdoors the right way!
Sources: