Small Tents for Outdoor Adventures
So, you see the great appeal of canvas tents but either don't want or don't feel the need to fork over the money for a large one? Luckily, there are a lot of excellent options out there for smaller, less expensive canvas tents that are just as high-quality but are better suited for 1-person use or a smaller gathering of 2-4.
There are a lot of reasons to choose cotton canvas tents or polyester canvas tents over those made of a thinner material like nylon. One of the biggest reasons is that they are extremely durable. A canvas tent will last you so much longer than many other tents and could be the tent you end up using for the rest of your life. The durability of this material means that it is strong enough to be used during any season of the year. These tents can usually handle tough weather, and they keep cool inside during the summer and retain heat during the winter. Canvas tents also often come with stove jacks, allowing you to put a wood stove inside, a life-changing thing to have during winter campouts. The heaviness of canvas means that it won't flap around in the wind, and the insulation will help it to stay extra quiet during the night. You will be pleased to find that canvas can also hold up against UV rays much better than nylon will. Canvas is also much more breathable than other material, allowing for much better ventilation and less worry about condensation issues.
Here are just a few great small canvas tents on the market that you might be interested in. There is quite a variety of high-quality canvas tents, so you are sure to find one of these to suit your needs.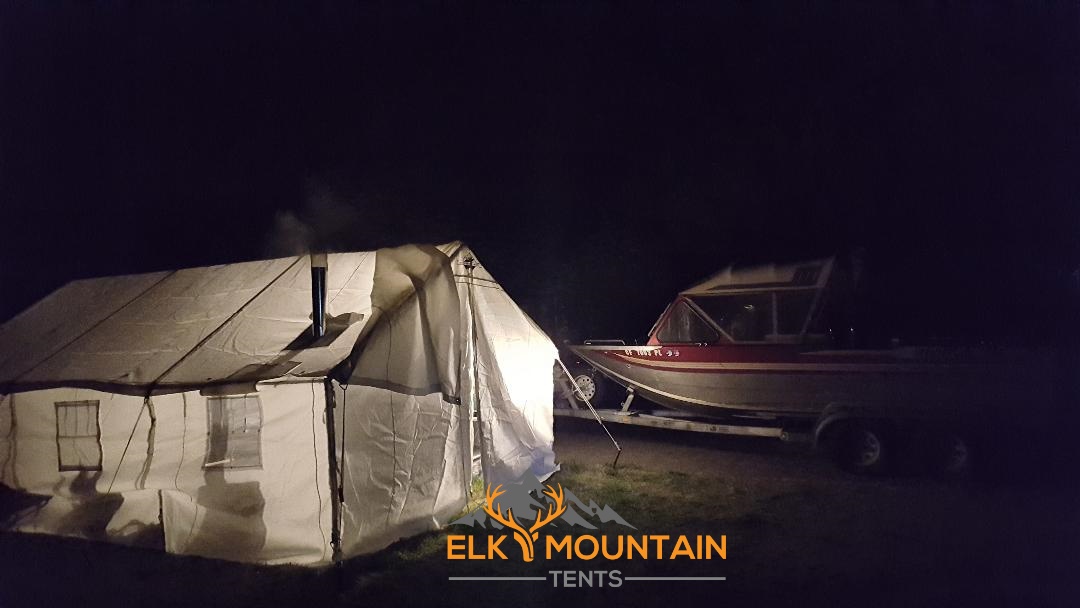 1 Person Tents
---
If you are in the market for a one-person tent to go enjoy the great outdoors in peace and tranquility on your own, you may want to look into the Kodiak 1-person Swag Tent. This high-quality canvas tent is a very spacious option for one person to have a comfortable camping trip. It is 6 ft. 8 in. long and it is about 3 ft. wide. The tent has excellent airflow and temperature control as well with zip-open windows on either end of the tent. The material is 100% Hydra-Shield cotton, which is praised for its excellent breathability as well as watertight protection, so you are sure to stay dry during unexpected rainfall. The top of the tent can unzip and roll back to convert it into a screen shelter, which is a great way to enjoy the nice weather and outdoors without worrying about insects. As a nice bonus, the Swag Tent comes with a 2-inch foam pad to give you some extra comfort. You can purchase the Kodiak 1-person Swag Tent online for around $230.
If you enjoy car camping, you may want to look into buying the Kodiak Canvas Truck Bed Tent. This is one of the best and highest-quality canvas options you can find when it comes to truck bed camping. It is made of Hydra-Shield 100% cotton canvas, which is extremely water-resistant, durable, and breathable. The design of the tent offers plenty of space inside, with a tunnel design and a 5 ft. high ceiling. It is also designed to have the tailgate down, providing extra space on the back of the pickup. It is also very well-ventilated with 5 windows, which also helps it to feel more open and spacious. One window faces the cab of the pickup, so you can conveniently get things from inside of the pickup as long as the rear window opens up. The large D-shaped door also provides great ventilation and allows for easy access in and out of the tent. The tent is designed to be used during all seasons, with a sturdy build with a ¾ in. steel tube frame that connects to clamp-on rails that conveniently and securely mount on the truck bed. This tent is compatible with many different pickup truck models, including the Ford F Series, Chevy Silverado, Dodge Ram, GMC Sierra, Toyota Tundra, and Nissan Titan. The Kodiak Canvas Truck Bed Tent can be purchased online for about $350.
An excellent tent well-suited for a small group is the Kodiak Flex-Bow Canvas Tent, which is available in 4-, 6-, and 8-person options, which (aside from height and size) are all practically the same design. Like many other Kodiak canvas tents, the Flex-Bow is made of the same kind of Hydra-Shield cotton material that is excellent for keeping you dry while maintaining breathability. The 4-person option is 9 ft. by 8 ft. and has a tall ceiling of 6 ft. 1 inch, offering plenty of room for a couple of people to move around and stand up straight, with extra space for gear. This tent is also a well-ventilated option, as it has 2 vent flaps that are perfect for controlling temperature and airflow. It has 4 windows as well as two large D-shaped doors, one in the front and one in the back, providing extra ventilation if desired as well as easy access in and out.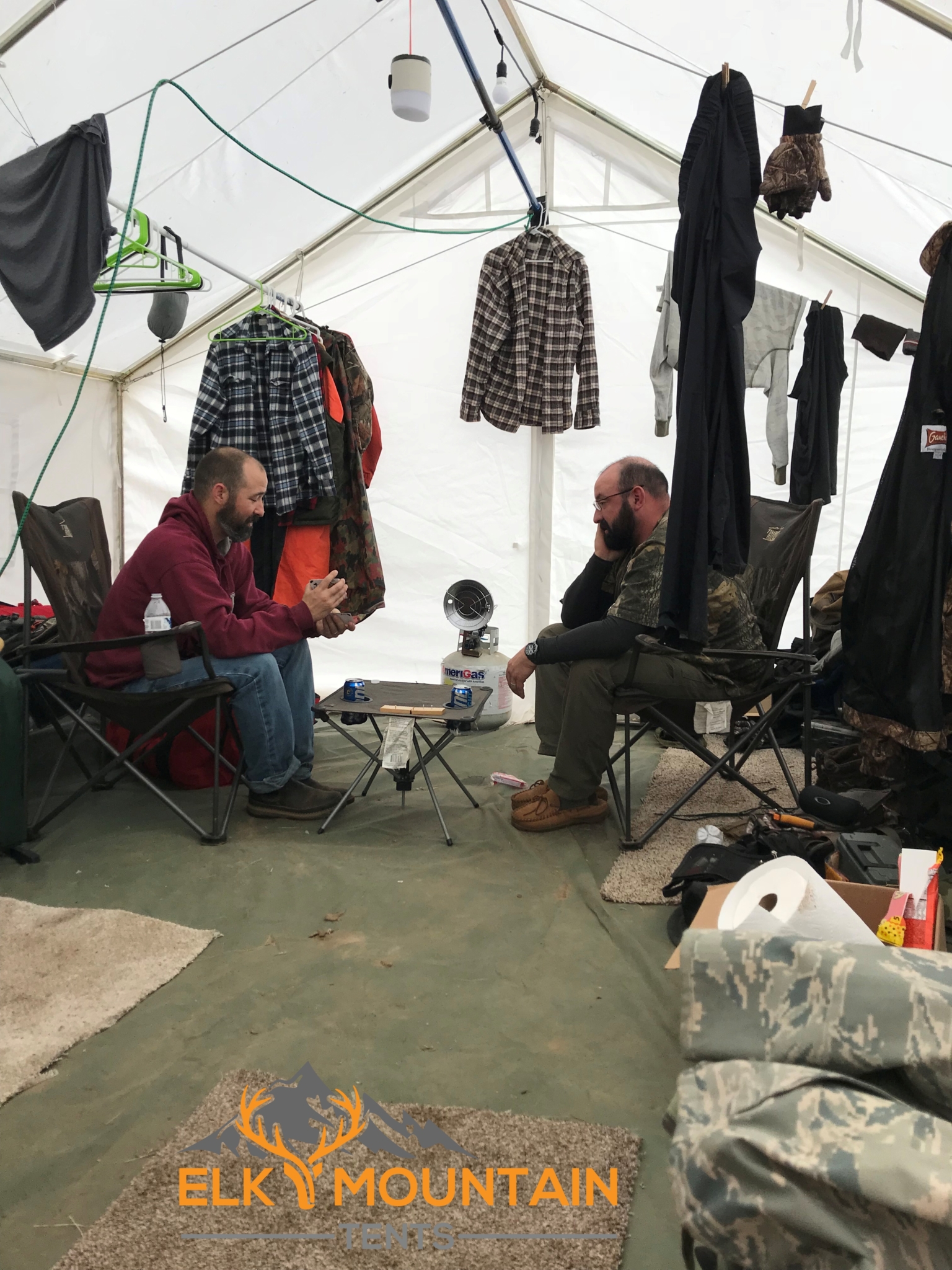 Bigger Tents
---
If you are looking for a more spacious option for a few people to be able to enjoy a lot of room as well as comfortably fit more amenities inside, Elk Mountain Tents' 13 x 13 Canvas Wall Tent can easily fit 3-4 people inside along with a wood stove, which makes this option perfect for a few people wanting to go for a winter camping trip. The tent includes a stove jack which can be cut to be 4, 5, or 6 inches, so it can be adjusted to best fit whatever wood stove you end up using.
All tent models fromElk Mountain Tents use a 100% polyester canvas material that has all of the great qualities of cotton canvas, including breathability, durability, and water resistance, but also plenty of extra advantages you get from man-made technology. This includes the material being much lighter for its strength, making he 11 oz polyester fabric closer in strength to a 14 oz cotton canvas than than the standard 10 or 12 oz cotton canvas. The material also won't grow mold and mildew like cotton canvas can do over the years. Of course mold can grow on any surface but it won't be able to eat the tent fibers. Luckily, it is just as well-insulated as cotton canvas, making Elk Mountain's canvas tent a great one to use any time of year, whether you need to keep warm or cool off. The 13 x 13 tent includes 4 windows and two large doors that offer plenty of necessary ventilation. The windows are reinforced with screens that keep insects from getting inside and they can be rolled and tied up or Velcroed down if necessary.
Additional ventilation is provided by openings at the front and back of the tent that can conveniently be opened and closed with a pull string and Velcro. There are an extra 6 inches of material at the bottom of the tent sealing it up and forming a sod cloth. The fabric can be further reduced from flapping in the wind by the pole ties included on the inside, which hold the canvas tight against the poles and help keep the frame in place. The roof of the tent extends beyond the walls, creating eaves that keep water from running down the side of the tent during wet weather. While canvas tents already do last a long time, these can survive even longer with reinforced material at the corners and everywhere that the canvas comes in contact with the tent and the 4 main corners can even Velcro and tie shut, which keeps the poles from tearing through the material. Elk Mountain's 11 oz canvas material is also notably stronger than typical cotton canvas, with a breaking strength of 382 lbs. (fill direction) and 449 lbs. (warp direction) and a tear strength of 40 lbs. (fill direction) and 67 lbs. (warp direction). Compare this to 12 oz cotton canvas, which has a breaking strength of 241 lbs. (fill direction) and 382 lbs. (warp direction) and a tear strength about half as strong as Elk Mountain's canvas. While a lot of cotton canvas absorbs water and shrinks, you won't find that problem here.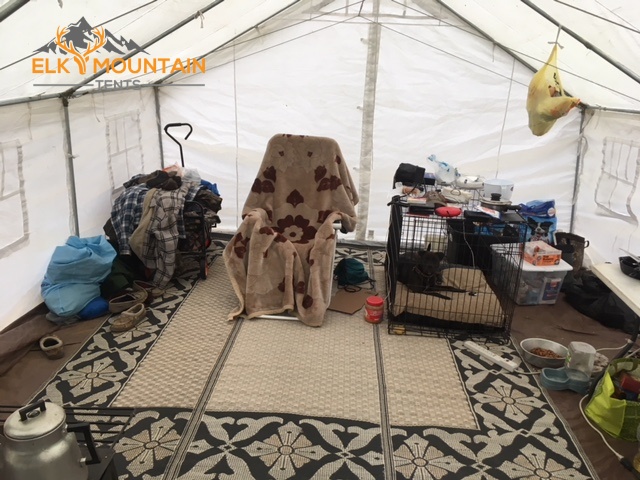 There are hundreds if not thousands of great tents on the market, of all shapes and sizes, made of all kinds of different materials. Canvas tends to be much better quality than most other tent material, so if you want a tent that will last you a long time and stay durable, canvas is the way to go. As you can see, there are even plenty of smaller options for canvas tents, even though a lot of the more advertised ones are the large group-sized tents. No matter what size your group is, whether you are looking for something high-quality to enjoy by yourself, or something a little larger than that to have a good winter campout with a few people along with some room for a wood stove, you are sure to find what you are looking for. Get the tent that is right for you!
Sources: