Best Family Canvas Tents
It is difficult to pick out a particular tent as being the "best on the market," since different tents serve widely different purposes, not to mention there are advantages and disadvantages to each type and model. For example, you probably don't want to take a one-person backpacking tent on a big family reunion trip. If you do happen to be looking for a high-quality tent that you and a large group can enjoy, you've come to the right place! Here you will find some excellent canvas tents that you and several others can comfortably and safely use at any time of year, whether it be on a hot summer day or in the middle of winter.
That versatility and durability to hold up against the windy, snowy, or scorching weather, and keep you comfortable while doing so, is what canvas tents excel the most at. Canvas fabrics, be they cotton or polyester, while heavier than nylon, are also much sturdier and will last you a lot longer. The material naturally endures sun and snow much better and for longer periods, and (maybe most importantly) it is much more breathable, allowing air to flow in and out comfortably without the inside turning into a sauna in the summer.
Elk Mountain Tents Canvas Tents
---
Elk Mountain Tents has several great options when it comes to family-sized tents. Their canvas wall tent comes in 3 sizes, 13 x 13 ft., 13 x 16 ft., and 13 x 20 ft., so no matter how big your group is, you'll be able to buy an Elk Mountain Tent for you all to keep comfortable. With a wood stove, the 13 x 13 can sleep 3-4 people (or 5-6 without a wood stove), the 13 x 16 can sleep 5-6 people (7-8 without stove), and the 13 x 20 can sleep 7-8 people (9-10 without stove).
There are a lot of things that make Elk Mountain's canvas wall tents some of the best canvas tents you will find. Every tent comes with 4-6 built-in windows that are all screened and reinforced, helping maintain airflow and ventilation throughout the tent while keeping insects outside during hot summer months. The windows can be rolled and tied open or sealed shut with Velcro. Another thing that stands out about these tents is their inclusion of a stove jack. This allows for you to safely use a wood stove to heat the tent (amazing for winter camping), as the stovepipe can feed out of the tent through the jack. The jack can be cut to be 4, 5, or 6 inches in diameter, so if you already have a wood stove, you will be able to make it fit the needs of your tent.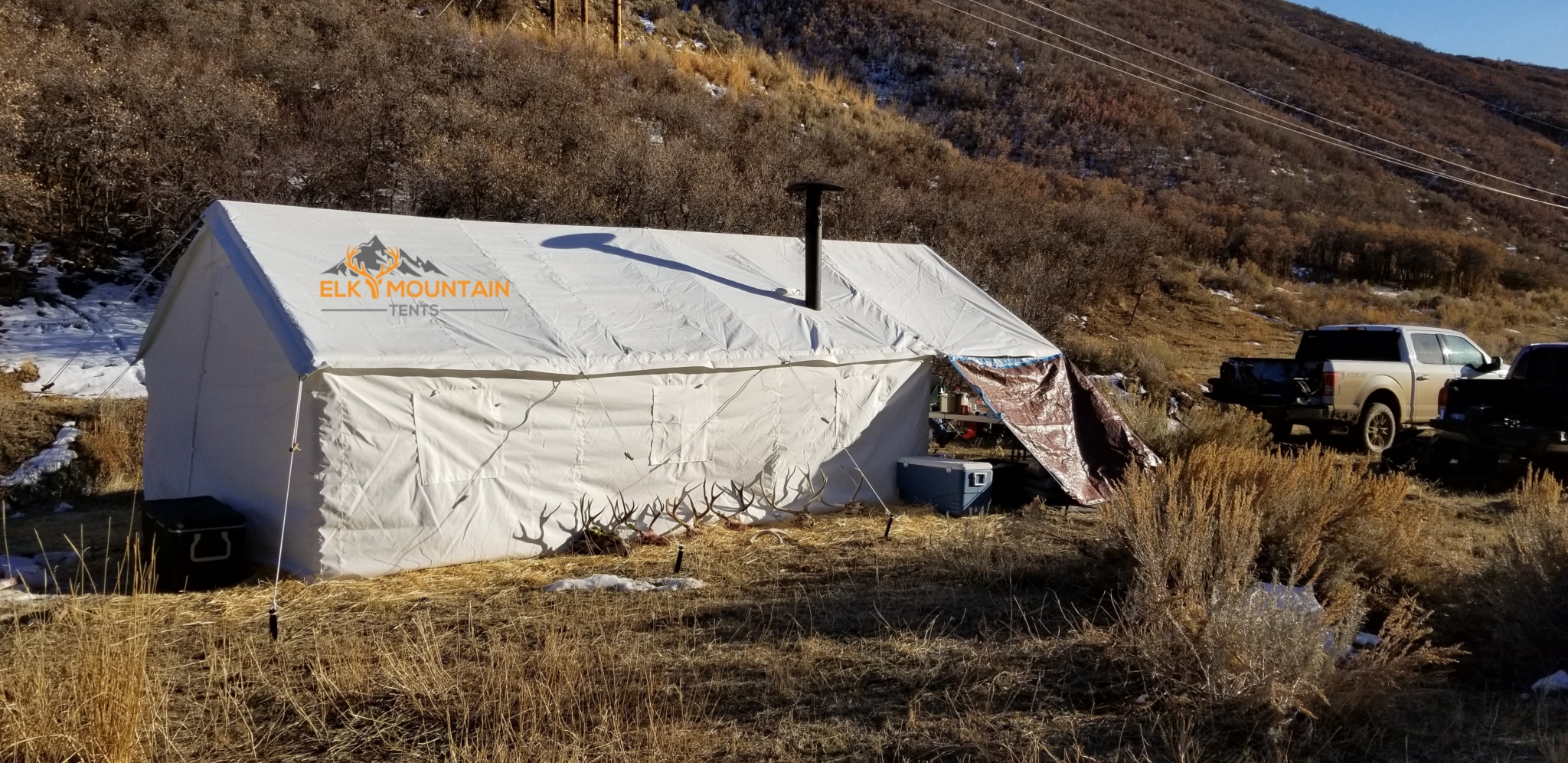 Elk Mountain's tents are also great to have if you are expecting heavy winds on your campouts. The tents include pole ties to hug the material to the frame, keeping the tent steady and stopping it from flapping in the wind. You can count on these tents when it gets rainy outside as well, thanks to extra material at the bottom creating a sod cloth, sealing the bottom of the tent, and keeping water from leaking inside. The roof creates eaves that prevent water from running down the walls. The canvas material itself is a unique woven materil. It is 100% polyester making it waterproof, resistant to UV rays, and incapable of rotting away since it is fully synthetic. Furthermore, it is a little bit lighter and a lot stronger than traditional cotton canvas. As a general rule, the more polyester in a canvas the better it is so long as the manufacturers have woven it count for breathability.
Elk Mountain Tents are exceptionally durable, even for canvas tents. The unique material has a much higher break and tear strength than typical cotton canvas, and it is reinforced wherever the fabric meets the poles to keep wear and tear from occurring, helping ensure that the tent will last you for years to come. Additionally, the four main corners Velcro and tie shut to further ensure that they won't tear. The fabric is very waterproof and much more resistant to ultraviolet rays than cotton canvas as well. These tents are available on Elk Mountain's website starting from $795.
Other Great Canvas Tents
---
The SpringBar Highline Canvas Tent is an excellent option if you are looking for a tent with lots of headspace. The 6-person option is 10 x 10 ft., with a center height of 6 ft. 6 in. SpringBar's tents are built to last you a lifetime as well, and you likely won't have to worry about ripping or tearing while you are out enjoying the great outdoors. The simple design of the tent makes setup quite easy and stable for a canvas tent of its size. One person alone could even set it up if needed. Though it doesn't have windows, it does have two large doors to give you a view of the great outdoors and offer decent airflow and ventilation. The material it is made of is some of the highest quality duck canvas that you can find, which offers a great balance of breathability while also keeping water from leaking inside. It is treated to be resistant to water and to avoid mildew from building up inside, minimizing the damage that could occur to the fabric. The tent can be purchased online in both 6- and 8-person sizes and is overall one of the best quality options out there if you want something guaranteed to last you for many years into the future.
If you enjoy heavy-duty camping in extreme weather conditions, you might want to check out the Alpha Kilo 4000 Outfitter Waterproof Tent. This tent fits 6 people, making it a great family-sized option. The canvas is built to be much heavier than the material in other tents, making sure that wind, rain, and snow won't be able to knock it down. The material combined with the double ceiling makes this model capable of withstanding winds up to 100 mph. The tent also has a 7 ft. high ceiling, so even the tallest campers in your group should be able to stand up comfortably. It also includes a gap that works great for feeding electrical cords in and out of the tent. The biggest drawback of this tent is that the heavy material can make it quite difficult to set up, so you should factor in whether you would rather have extreme durability or extreme convenience. If you do go with this tent you should try setting it up at your home first before taking it out into the wild, just to make sure you have a solid grasp on how to do it. You also likely don't want to hike this tent into the backcountry, as the sturdy material adds a lot of extra weight.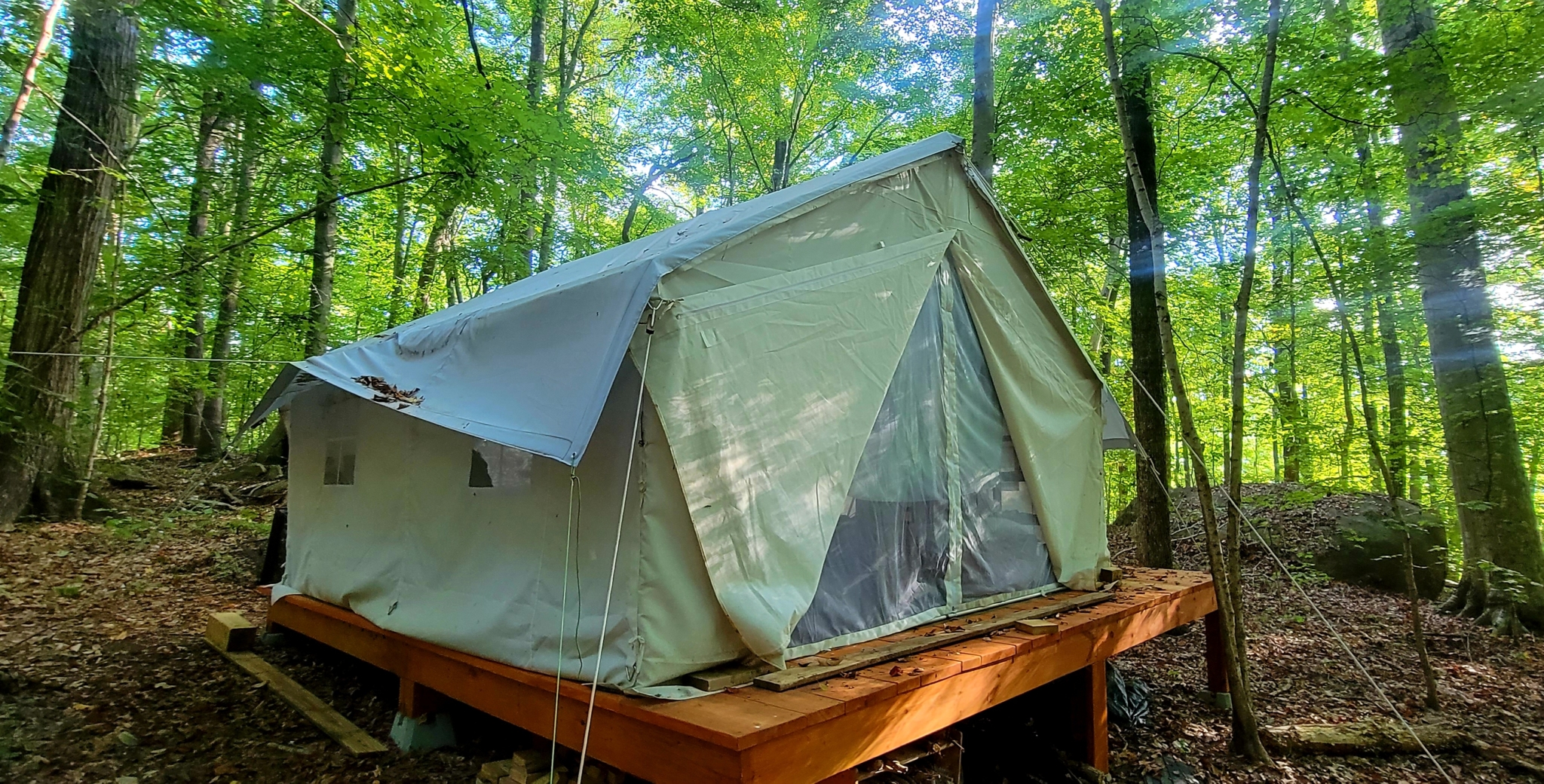 The Kodiak Flex-Bow tent is another popular canvas option that is quite similar to the SpringBar Highline but with a few notable differences. Similarities include its dimensions (10 x 10 ft., 6 ft. 6 in. ceiling, and 6 x 4 ft. awning covering the porch) and material (sturdy cotton duck canvas). Its minimalistic design also makes setup and takedown quite simple for even one person to do it alone. One of the biggest differences is the treatment given to the fabric on the Kodiak Flex-Bow. The material is coated with a silicone spray called Hydra-Shield that is designed to last, ensuring you won't ever have to treat your tent again. This is sure to keep you dry even in the rainiest weather and makes maintenance a much easier job. Keep in mind that Hydra-Shield is flammable, however, so don't start a fire too close to the tent. Another difference between the two tents is that it has doors on both sides, allowing for more ventilation and convenient exit and entrance. These doors create 4 large mesh windows to help maintain a comfortable airflow while keeping insects outside. Other noteworthy things about this model include a gear loft (including organizers) to help you make sure you don't lose any of your smaller important items like your wallet and cell phone and YKK zippers that are strong and durable enough that you will be able to rely on them for as long as you have the tent. You can buy the 6-person (10 x 10) option online for about $700, though there are more expensive options available for larger sizes. Overall, what makes the Flex-Bow so appealing is that it has all the durability and other advantages of a typical canvas tent while being much easier to maintain.
Canvas has been around longer than any other tent material, and there is a reason that it is still one of the most popular. Canvas tents last longer than any other, and they can withstand much harsher weather conditions. These are just four of the best options out there when it comes to family-sized tents that you can use year-round, and as you look a little further you are sure to find the right tent to suit your needs perfectly. If you want something strong and simple, you might want to check out the SpringBar or the Flex-Bow, while if you want something to make sure you will stay warm and cozy in even the coldest winter weather, you may want an Elk Mountain wall tent with a wood stove or the heavy-duty Alpha Kilo 4000 Outfitter.
Sources: https://wildernesstimes.com/best-canvas-tent/