Best Outfitter Tents
There are tons of amazing tents out there that can help you fulfill whatever outdoor needs you might have. If you want something heavy-duty that will keep you warm during the winter or a large, sturdy option to set up your base of operations while you are out hunting, you should consider getting an outfitter tent. Outfitter tents, also called wall tents, maximize indoor space with vertical walls and offer durable tent frames and strong fabric, making them perfect for any hardcore camper or hunter, or even a great option for those who simply want something roomy and comfortable to sleep in while on their trip. Here you can find a list of some of the absolute best outfitter/wall tents on the market right now.
Elk Mountain Tents is most well-known for their excellent-quality canvas wall tents, which are some of the cheapest you can find as well as some of the most durable. These are available in 3 sizes, 13 x 13 ft. (which sleeps 3-4 people with a wood stove inside), 13 x 16 ft. (5-6 people), and 13 x 20 ft. (7-8 people).
Each of Elk Mountain's wall tents includes 4-6 screened and reinforced windows (depending on the size), which can all be rolled and tied open. When you aren't using the windows, you can seal them shut with Velcro. Every aspect of these tents is designed to help you avoid inconveniences that can often occur while camping. These include a 6-inch sod cloth at the bottom to seal the tent and keep water from leaking inside, ties to help you keep the material firmly on the frame (keeping it from flapping in the wind), and ridge openings that can open by a pull string or Velcro shut (some bonus ventilation). Other conveniences include eaves to make water fall off the tent rather than run down the walls, and a reinforced layer of material wherever it meets the poles and Velcro at each of the 4 main corners, preventing tearing in the most common places where the canvas can begin to wear out over time. One of the greatest things about these tents is that they include a stove jack, allowing you to safely use a wood stove inside while giving the stove pipe a place to expel the smoke and fumes. This is an amazing feature if you want to stay warm during the heavy winter or when you experience possible freezing weather on a hunting trip. A wood stove can also be great for boiling water or even for cooking. The stove jack can be cut to 4, 5, or 6 inches in diameter, so if you have a wood stove you'd like to use already, you don't need to go out and find a new one to fit the tent.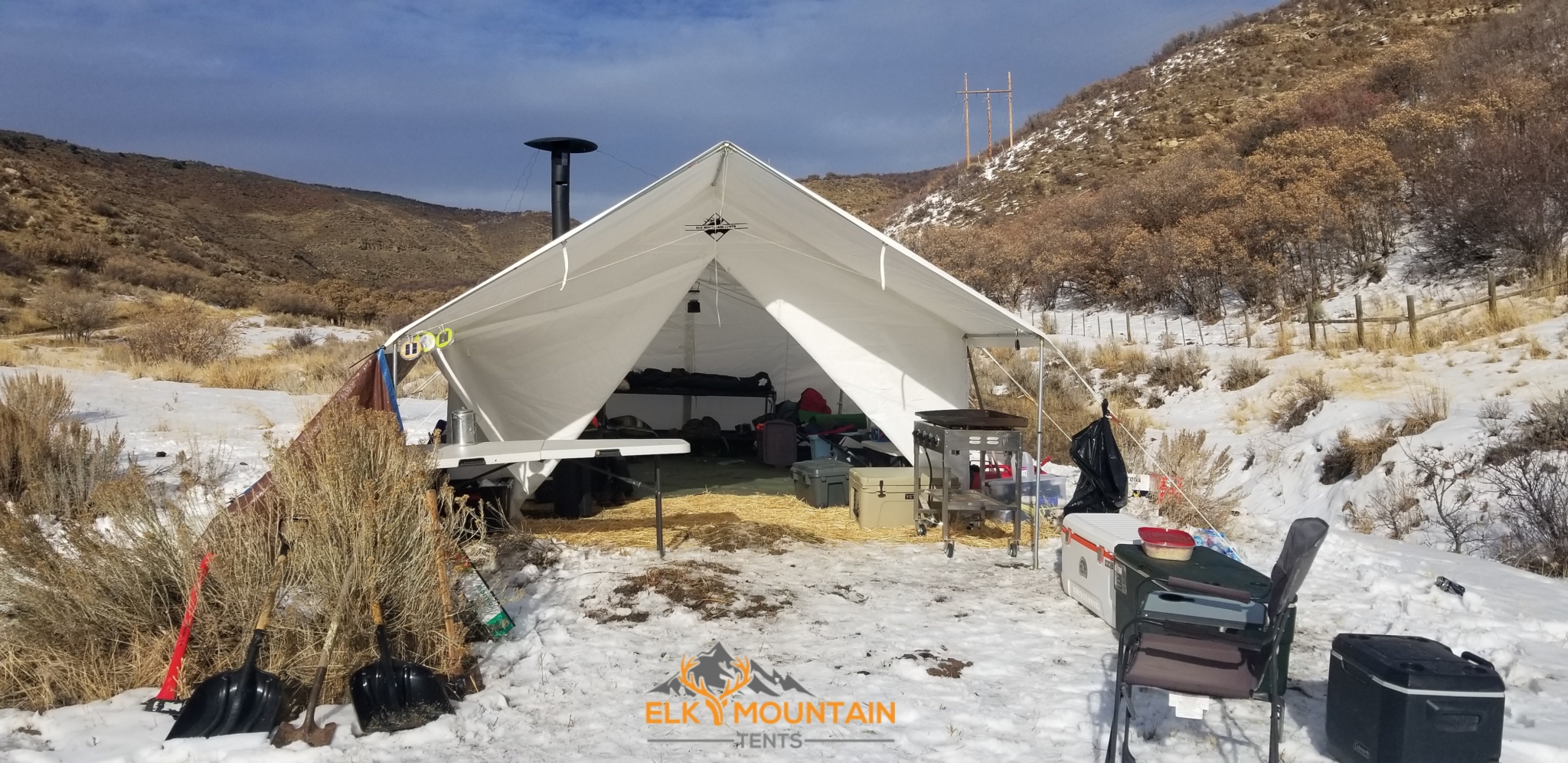 Another thing that makes Elk Mountain's tents so great is the canvas material itself, which is a unique polyester material (as opposed to the cotton used in most canvas), which offers all kinds of great advantages. Since it is still a canvas material, you won't experience the issues with condensation found in many other polyester tents. That is to say that the way the fibers are woven together in this polyester canvas gives it the same breathability as cotton canvas. And it's also much more durable than cotton canvas and has a breaking strength of 382 lbs. (fill direction) and 449 lbs. (warp direction), noticeably stronger than cotton. Its tear strength of 140 lbs. (fill direction) and 210 lbs. (warp direction) is approximately twice as strong as what you find in most cotton tents.
Other advantages over cotton include its resistance to mold and mildew, which is one of the biggest problems with cotton, higher resistance to ultraviolet rays, waterproof fabric, and sealed seams (it won't shrink or absorb water as cotton does), all of which make these tents last much longer than cotton canvas tents. The material used in these tents is also significantly lighter than cotton, making it much easier to pack into the backcountry (the 13 x 16 model only weighs 60 lbs.). These tents can be purchased from Elk Mountain Tents' website starting at $795, with other options for larger sizes and extra amenities like an awning and front screen door.
The Cabela's Instinct 10 x 10 is a popular outfitter tent on the market right now. As with many other products from Cabela's, the Instinct is optimized to make your hunting trip an enjoyable one, offering more than enough room for you, your group, and all your gear to stay safe and dry in unpredictable conditions. It is a sturdy option, with aluminum alloy poles, durable nylon material making up waterproof floors and walls rated at 3,000mm, and a waterproof fly rated at 1,500mm. The tent's frame has a vertical wall construction and a high roof, maximizing indoor space and making it ideal for sleeping on a bed or cot. It holds up remarkably well during high-wind conditions and even includes a snow skirt that provides a seal between the bottom of the tent and the outside world, making sure that any gear you have stored in the vestibule will stay dry even in the case of snowfall. On the inside of the tent, you will find hurricane straps that secure the tent to the frame and keep harsh winds from causing problems.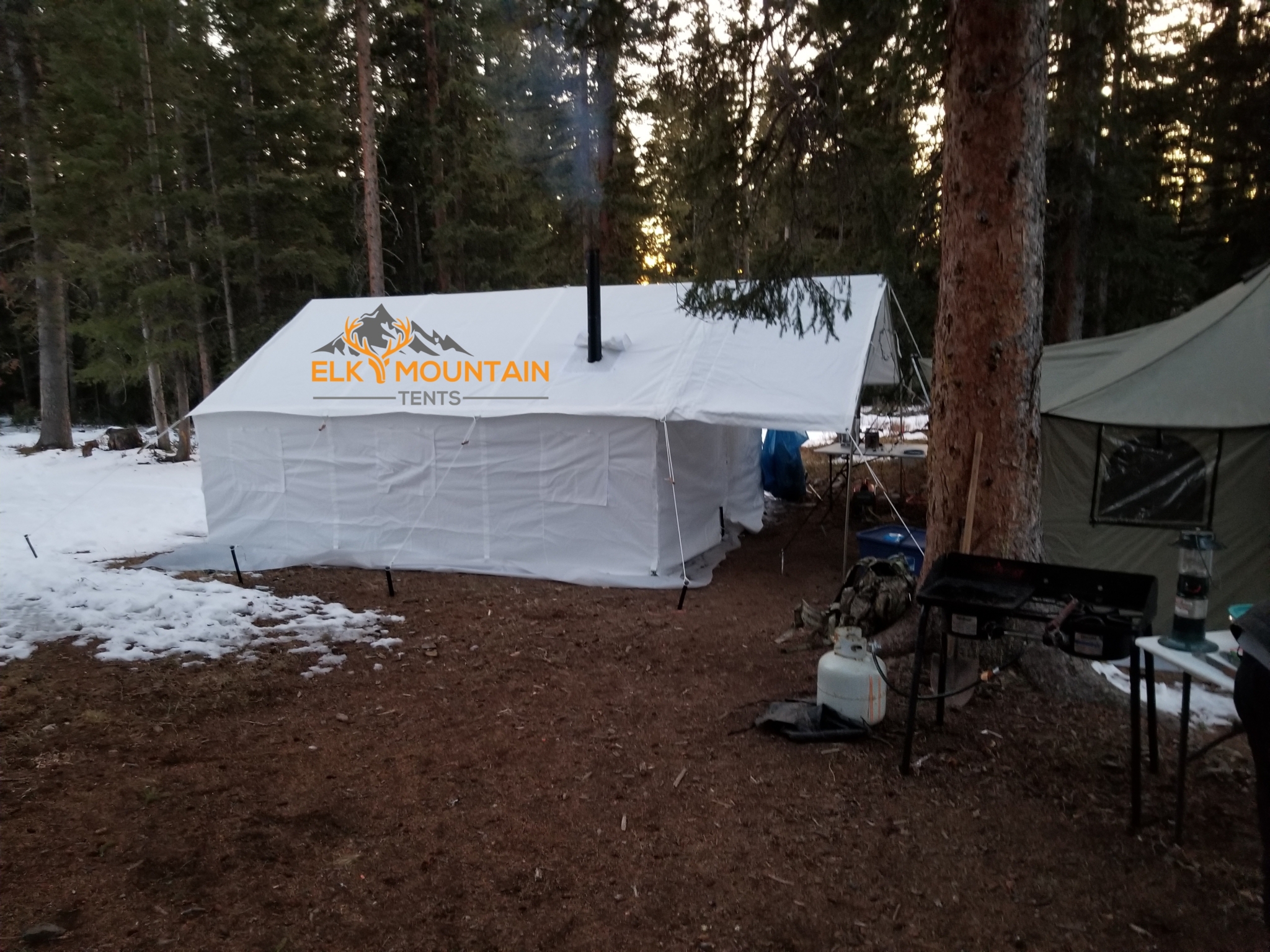 The DAC 17 aluminum poles absorb these winds as well, making sure the tent remains stable. Like the Elk Mountain Tent, the Instinct also features a stove jack so you can use a wood stove to help keep you warm and toasty during the winter. The pole bag can also be used as a floor mat to keep your stove off the ground and keep embers from damaging the tent floor. Getting in and out of the tent even with all your gear is easy thanks to the large D-shaped door built-in. Other things that make this one of the best outfitter tents out there are its inclusion of a mesh gear pocket with organizers, a carrying bag with easy-to-carry handles, guy lines, a repair kit for the occasional seam tear, and 2 polyurethane windows.
Another great tent from Cabela's is the Outback Lodge 8-person tent. This large 12 x 12 x 9 ft. model takes on a simple design that is quite easy to set up, thanks to a basic 3-step process. It has a sturdy structure with a steel center pole and fiberglass corner poles. The single-wall design of the tent includes built-in durability against strong stormy weather, so you can know that you are safe in your tent even if unexpected weather comes your way. The tent offers great ventilation thanks to a roof vent, mesh windows, and its large 70 in. high door, which also makes getting in and out of the tent easy, even with all your gear. The walls and floor are sturdy (75-denier taffeta for the walls and ceiling and 210-denier oxford for the floor) and offer a 1,500 mm waterproof rating. If you need a lot of space for your hunting or camping gear, or even just feel more comfortable having a lot more room, you should check out the Outback Lodge. It has 144 sq. ft. of floor space and a center height of 9 ft. (thanks to the center pole). Several convenient gear storage pockets inside, a built-in vestibule, and guy lines on the outside of the tent help it go the extra mile to make it one of the best outfitter tents you can find.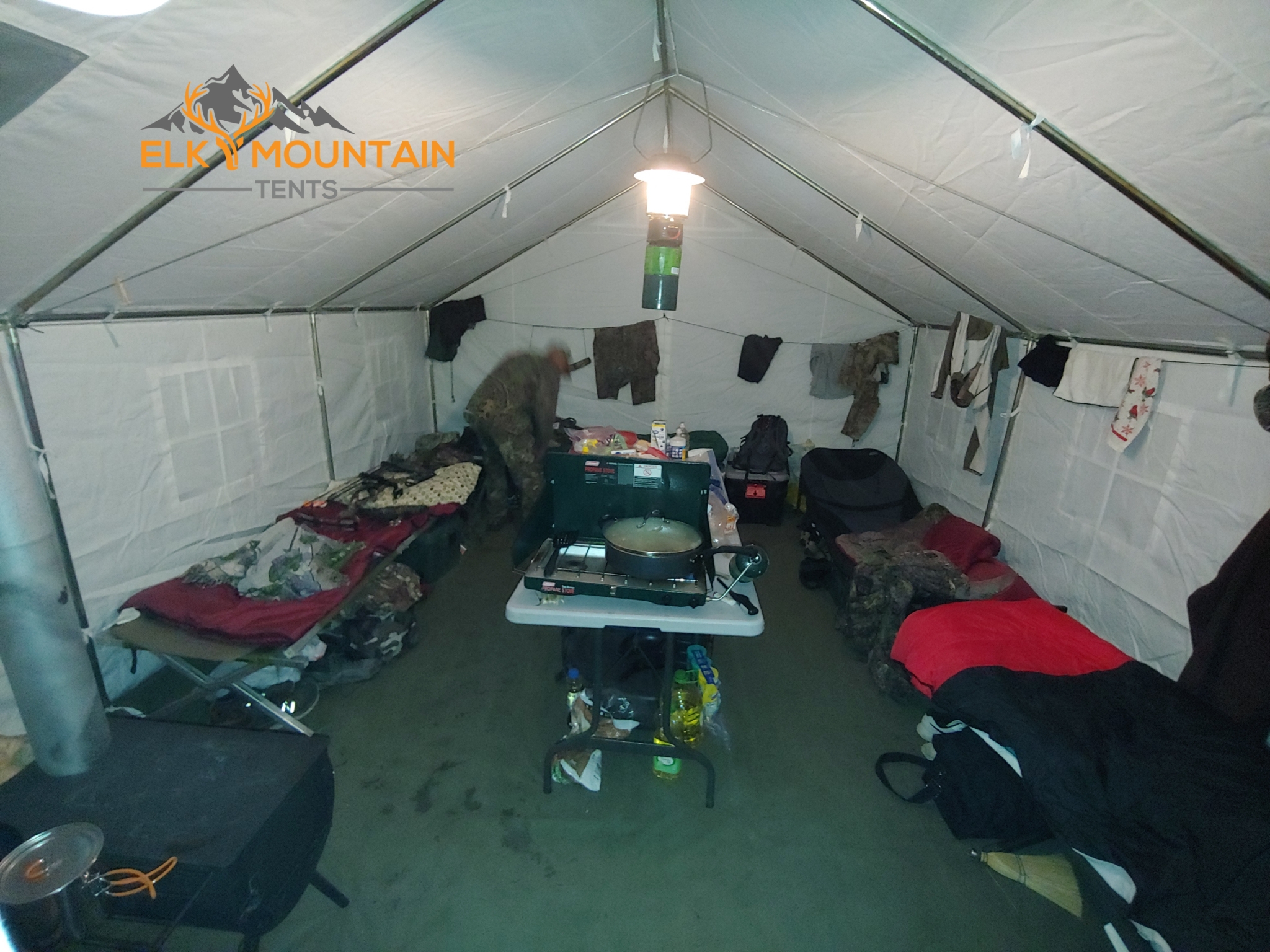 If you are looking for a more minimalist outfitter option, you should check out the Kodiak Canvas Deluxe Flex Bow 10 x 10 tent. The simple design and galvanized steel frame of the tent make setup easy enough that one person could do it alone if necessary while keeping sturdy and durable. It offers plenty of space to store your gear and with a ceiling height of 6 ft. 6 in. there is more than enough room to stand up and move around, and for 6 people to sleep inside comfortably. The material the tent is made from is high-quality cotton duck canvas, which is made with Hydra-Shield technology, helping everything inside stay dry against water while being breathable. This makes the Flex Bow a great tent to use no matter what the weather is like outside. Other features include a roll-out awning. Air can circulate easily throughout the tent thanks to 4 large mesh windows, double doors in the front, and a D-shaped door in the back. The vinyl floor is seamless, blocking any way for water to leak in, and is reinforced with polyester.
These are just several of the best outfitter/wall tents on the market right now, but the choice is yours what will suit you best in your journey into the great outdoors. An outfitter tent is a must-have for any hardcore camper or hunter, and you certainly won't regret putting that extra effort into a strong, durable tent that will hopefully last you a lifetime. Find the right tent for you and get outside, the wilderness awaits!
Sources: https://outdoorclip.com/the-12-best-outfitters-camp-outfitter-tents-reviews/