Why Canvas Tents?
Canvas is one of the most popular tent materials for good reason. It is much stronger, more durable, and longer-lasting than most other materials, and therefore the obvious option for 4-season campers or hunters. All materials have their advantages, and the advantages of canvas have been seen time and time again. The oldest tents we know of were made of canvas, and the fact that many still use that material today says quite a lot, considering the innovations in tent-making that are occurring all the time. It was the best then, and it's the best now!
While other materials might sound more appealing because they are lighter or less expensive, they won't last nearly as long or hold up during rough weather like canvas will. If you want something strong and reliable, canvas is the way to go. Canvas also holds up against ultraviolet rays a lot better than other tent materials, which is one of the main reasons it lasts longer. Another reason it will stand the test of time is that it is quite breathable and absorbs water, ensuring that you won't have issues with condensation, a problem that almost all tents have to deal with. Being able to avoid this will help you to rest much more comfortably.
Advantages of Canvas Tents
---
Though canvas is bulkier and heavier than other materials, this has its advantages. Lighter (and less insulated) materials often flap around in heavy winds and cause a lot of noise (making windy nights a nightmare when you are trying to sleep), but the weight and insulation of canvas keep this from happening, allowing you to get a quiet night's rest even if the weather outside doesn't want to allow that.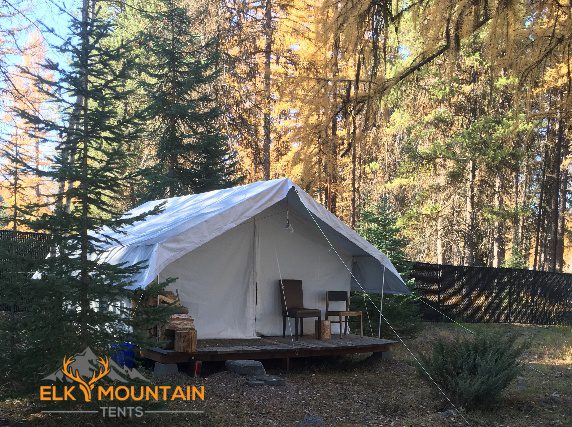 The insulation in canvas tents does much more than just keep it from making noise in the wind, however. It is no fun to lay down to rest for the night (or for an afternoon nap) in July to find it just as uncomfortably hot inside your tent as it is outside. On the flip side, it is never ideal to get in your tent on a freezing winter's night to find that your sleeping bag and all of your stuff has practically frozen as well. Perhaps the main reason canvas is used in the best 4-season tents is that the insulation manages to keep the temperature nice and cool during the summer and warm and inviting during the winter. Many canvas tents, particularly wall tents and bell tents, also have a stove jack included, allowing for you to bring a wood stove with you to help keep you even more warm and cozy during cold nights and mornings. Winter camping isn't the same without a wood stove!
While man-made materials need to be coated with polyurethane or something similar to make it sufficiently waterproof, canvas is naturally waterproof, which allows the tent to retain its breathability (To get the most out of canvas' waterproof capabilities, you may want to run water over it with a hose a couple of times before going camping to 'weather' your tent). The lack of coating also gives the tent a much fresher smell when it is new rather than the chemical smell that some tents have. As mentioned before, canvas absorbs water which prevents condensation issues, but be aware that this does require the tent to dry out before being put away. If you don't do this, mold or mildew could start to build up. (Some synthetic canvases, like in our tents are mold and mildew resistant).
Disadvantages of Canvas Tents
---
Just like any other material, canvas does have its disadvantages that you should be aware of before purchasing, though they are minor, and the pros far outweigh the cons of canvas. You probably already realized this, but canvas requires a good bit more maintenance than man-made materials, such as weathering it, allowing it to dry after rainfall, etc. However, if you are serious about camping, this shouldn't dissuade you, as a little extra work is well worth it to have ultimate comfort and protection in the great outdoors. As mentioned before, canvas is also the heaviest of the popular tent fabrics, which can make pitching more difficult and be bothersome if you need to trek to your camping spot. If you plan well and find the right camping spot though, you probably won't have to carry it too far (Obviously we wouldn't recommend taking a canvas tent backpacking). Lastly, while canvas is strong, it also isn't quite as flexible as other fabrics, and so a small tear can turn into a big one relatively easily if you aren't careful.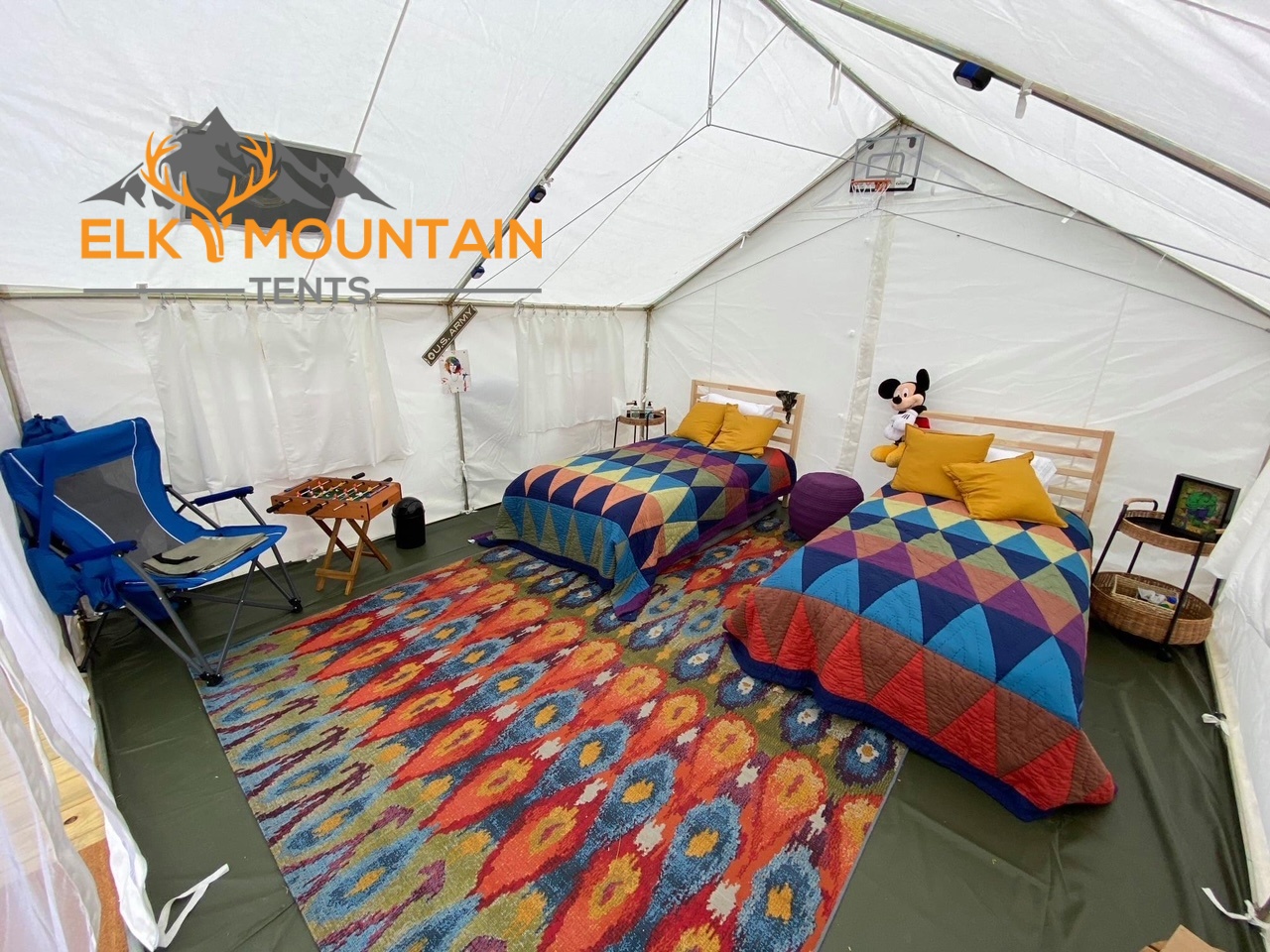 Now that you know all the advantages and disadvantages of canvas material, it is up to you to decide if the pros outweigh the cons and if a canvas tent is worth investing in. You'll find that just like with any other material, canvas tents come in all shapes and sizes, and some are of much higher quality than others. If you are looking for a heavy-duty canvas tent that isn't too expensive but is still high-quality and long-lasting, here are some great options to look into.
If you want to take a mid-to-large-sized group with you on your camping trips, you may want to have a look at Elk Mountain Tents. Elk Mountain has excellent options for wall tents as well as bell tents, all made from their unique polyester canvas material. While most canvas is made of cotton, Elk Mountain's canvas takes all the advantages of traditional canvas, including its excellent breathability, and removes several of the disadvantages.
Polyester canvas is significantly stronger. The 11 oz canvas at Elk Mountain Tents has a tear strength of 67 lbs. (warp direction) and 40 lbs. (fill direction) which is approximately double the strength of the material most canvas tent brands use. Its breaking strength is also notably different, as the 11 oz. material has a breaking strength of 449 lbs. (warp) and 382 lbs. (fill). Compare this to traditional 12 oz. canvas' strength of 382 lbs. (warp) and 210 lbs. (fill).
While canvas material already is sure to last you a long time, Elk Mountain's material is made to last even longer, as it is incapable of rotting. The fibers are fully synthetic so there is nothing that can be broken down by microorganisms, which is one of the biggest downsides of cotton canvas. This also means mold will be much less of a concern.
Polyester is also lighter than cotton, and therefore the 13 x 16 canvas tent from Elk Mountain only weighs 60 lbs., making it easier to pack around, set up, and move. This material is also even more resistant to harmful ultraviolet rays and won't shrink over time like cotton will.
Unlike cotton, polyester canvas doesn't absorb water (making it dry out much more easily), but still manages to maintain breathability and the fabric is naturally waterproof. It is further waterproofed by sealed and reinforced seams. The canvas is reinforced with an extra layer of material wherever it contacts the poles, further preventing possible ripping and tearing.
Elk Mountain's canvas tents come in a few options. Their canvas wall tents are available in three sizes: 13 x 13 (which sleeps 3-4 people with a wood stove inside and 5-6 without), 13 x 16 (5-6 with stove; 7-8 without), and 13 x 20 (7-8 with stove; 9-10 without). Each tent comes with a convenient stove jack that can make a difference in comfort, especially when camping in the winter. The hole for the stove jack can be cut to be 4, 5, or 6 inches large, so you can cut it to fit your wood stove. The 13 x 13 ft. tent includes 4 windows while the two larger sizes include 6. These windows are all screened and reinforced, to protect against insects while still allowing for more airflow in the tent. The windows can easily be tied open or Velcroed shut as well, allowing them to be sealed when you aren't using them. Elk Mountain's wall tents are available on our website starting from $795.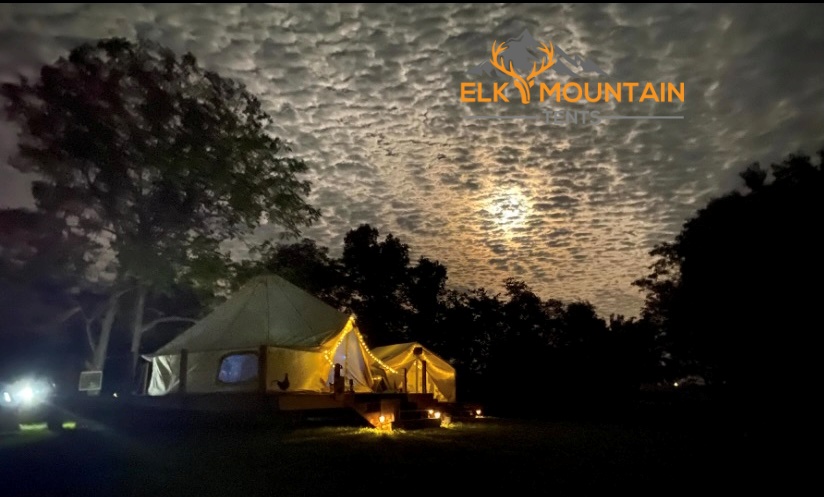 The other great canvas option from Elk Mountain Tents is their Yukon Bell Tent, which comes in two sizes: 13 ft. diameter and 16 ft. diameter. Both tents have 3 ft. high sidewalls (which can conveniently unzip and tie up), 4 screened windows, 4 screened air vents, a floor that can be zipped in and out, a zippered front door, and an uncut stove pipe jack (the same as the wall tents). The 13' diameter option has a center height of 8 ft and is available for $650 while the 16' diameter has a center height of 10 ft. and can be purchase for $750. Bell tents are an extremely nice option if you want to take a large group out camping or if you are looking for a relaxing glamping getaway.
Many things make canvas the best material for tents, but don't just take our word for it, try it out for yourself! Find the canvas tent that best suits you and have some of the best camping experiences of your life!