Heavy Duty Camping Tents
In looking for a new tent to buy, you are sure to come across all kinds of different options, varying in shapes, sizes, material, and even quality. If you want to be able to go camping during any season, and in any possible extreme weather, you need to make sure you have the right tent. This article will give you plenty of different heavy-duty tent options that are sure to suit your needs no matter what time of year it is, whether there is a risk of snowfall, heavy rain, or high winds.
One of the best reasons to have a heavy-duty tent is for a backpacking trip. You never know what kind of weather might occur while you are on one of these adventures, so you need to make sure you bring a tent that is both lightweight (to make it easier on your already heavy backpack load) and durable (in case of unexpected rainfall or heavy winds). If you are in the market for a backpacking tent, you might want to look into buying the ALPS Mountaineering Lynx 3-Season Tent. This is the perfect 1-person backpacking tent, with a 2-pole design that is quite simple to set up, and a freestanding frame, meaning you don't need to worry about staking the tent down to use it. The tent material is very lightweight (only 4 lbs. 1 oz.) and has adjustable fly buckles, making it more versatile than many other backpacking tents. The frame holds together quite well, which is impressive considering its simplicity, and it holds up great against rough weather. The tent is available for just under $100, giving you a real bang for your buck!
If you plan on going backpacking with more than one person, you may want to look at the TETON Sports Mountain Ultra 3-4 season tent, which is a perfect high-quality 2-person backpacking option. The tent is built to withstand most weather issues you may come across while in the great outdoors, as it is intended for use during any season out of the year. With reinforced and heat-taped seams and anchor points as well as lightweight yet strong aluminum poles, you will be pleased to see just how well it can hold up while keeping a couple of people safe and comfortable inside. Whether you are experiencing high winds, rain, or light snowfall, your tent should be able to stand strong enough for you to have a fun outdoor adventure. It only weighs 5.5 lbs., so don't worry about it adding too much to the weight you are carrying. You can find this tent online for about $150.
A couple of great larger options you may want to look into are the Yukon Bell Tent and Canvas Wall Tent from Elk Mountain Tents. The canvas material used by Elk Mountain is a unique polyester canvas that has many of the advantages of cotton canvas (including durability and breathability), but also many of the things that make polyester such a popular material (such as being stronger for its weight and not needing sun, rain, and mold treatments). Polyester canvas is also much stronger. The 11 oz polyester canvas used by Elk Mountain Tents has a tear strength of 67 lbs. (warp direction) and 40 lbs. (fill direction). This is almost double the tear strength of most cotton canvas. The 11 oz material also has a breaking strength of 449 lbs. (warp) and 382 lbs. (fill). Compare this to typical 12 oz canvas, which has a breaking strength of 382 lbs. (warp) and 241 lbs. (fill). Other ways this material makes for the perfect heavy-duty tent are that it won't grow mold and mildew like cotton often will, offering many more years of use that you wouldn't get from a cotton tent. The material is also much more resistant to ultraviolet rays and won't shrink as cotton does. Elk Mountain's tents are praised for their waterproofing, with naturally waterproof fabric (no need for a rainfly), and sealed seams keeping you completely dry on the inside of the tent, a necessity for any 4-season tent. Other aspects of the tent that help it endure heavy weather and last a long time are reinforced corners wherever the fabric meets the poles and Velcro and ties one each of the four main corners of the wall tent (preventing tearing). The wall tent also has 6 extra inches of material at the bottom of the tent, forming a sod cloth to provide an extra seal. The Yukon Bell Tent is available starting at $650 from Elk Mountain's website, with both 13 ft. and 16 ft. diameter options. The Canvas Wall Tent starts at $795 and comes in 13 x 13 ft., 13 x 16 ft., and 13 x 20 ft. options. Both of these tents are ideal if you plan on taking large groups on your camping adventures, as they can fit 6-10 people, depending on the size you purchase.
High-End and Heavy-Duty Tents
---
Another tent you may want to look at if you plan on having large group outings is the Barebones Living Outfitter Tent. This 4-season tent defines heavy-duty. The nylon-poly material it is made of is custom treated to protect against all the elements that could come your way. Specifically, this treatment makes the tent resistant to water, mildew, and fire. The material itself is also quite strong, being able to handle 90 mph winds as well as 1,000 lbs. of snow (with the included all-weather cover). The Barebones also towers over many other heavy-duty tents, at 9 ft. tall, with plenty of room to stand up and move around inside if you find yourself trapped in an unexpected storm. The tent can fit upwards of 8 people inside and it can be purchased for $2640.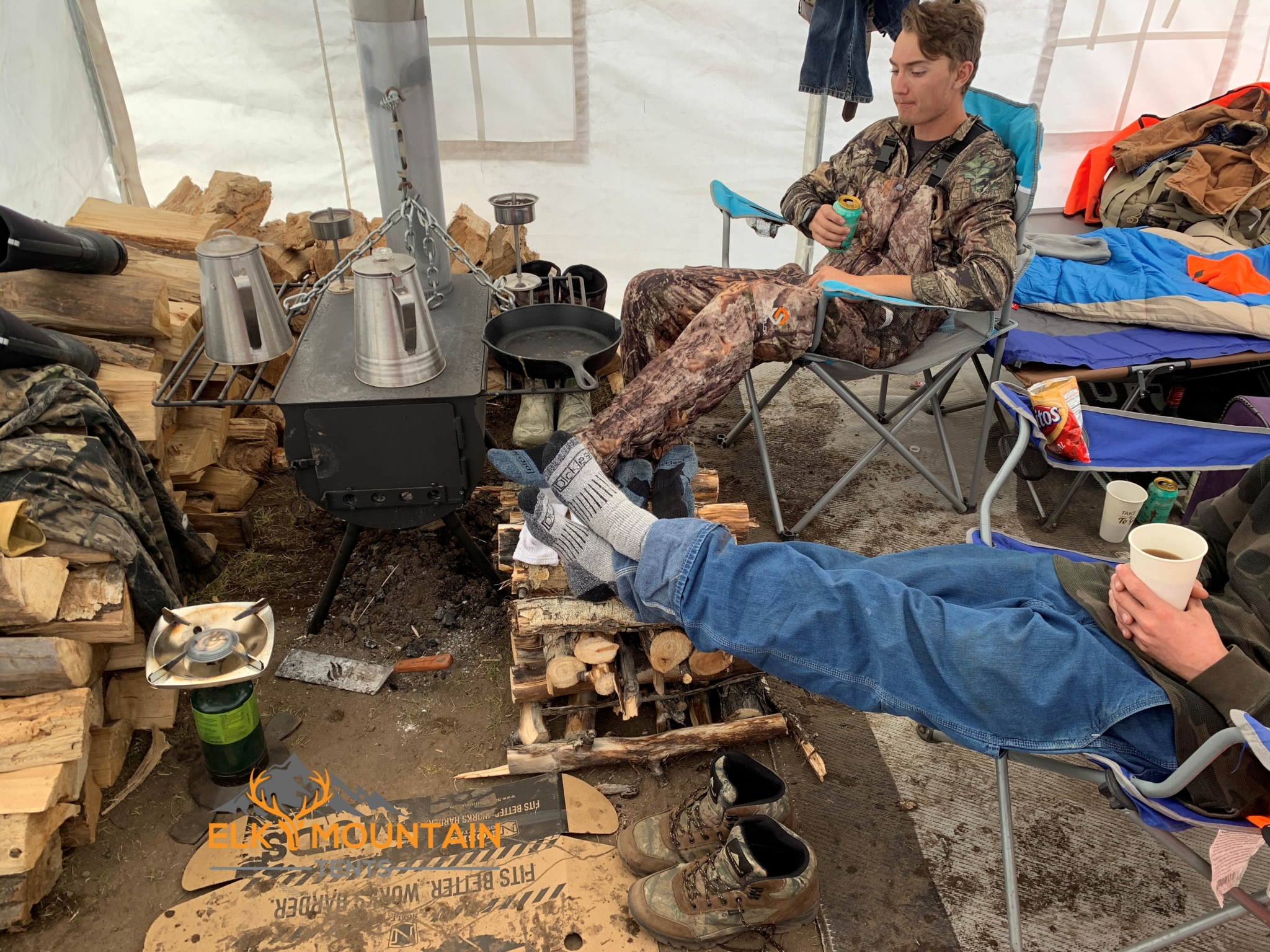 When it comes to heavy-duty group tents, few are tougher than the MSR H.U.B. Tent, which spares no expense when it comes to handling rough conditions. It can fit 7 people inside and has a 6.6 ft. ceiling, offering more than enough room to move around comfortably. The strong waterproof ripstop material and the sturdy, crisscrossed pole-structure are designed to withstand just about anything. Also, the tent is coated with polyurethane, adding to the tent's credibility as one of the best 4-season tents on the market. The two screened doors and clear closable side windows allow the tent to feel more open, which is ideal when you find yourself inside for an extended time during bad weather. The MSR H.U.B. can be purchased online for $5000.
One of the sturdiest family-sized tents on the market is the Heimplanet Maverick Tent. The structure of the tent is unique and extremely durable, with nylon, polyester, and thermoplastic polyurethane material. The inflatable frame is preassembled inside of the tent and is remarkably easy for one person to set up on their own, something that not many tents of its size can say. The inflatable design also makes it extremely light, while still being able to hold up against winds over 110 mph. The tent is also built to stand strong during any season of the year, so if sudden bad weather comes your way, you can stay safe and dry inside. The tent is available for $6500 and can fit 8 people inside.
If you want to take even larger groups with you on your extreme camping trip, look no further than the Mountain Hardwear Space Station Dome Tent, which can house 15 people. The tent is appropriately named because its sturdy dome-shaped construction really does give it the appearance of a space station (and seems as heavy-duty as one). The tent also makes for a good base camp, as its 284 sq. ft. footprint can fit more than 20 people standing inside. The cross-hatched frame and nylon taffeta material unite against any tough weather you can imagine. This sturdy dome tent can be found online for $5500.
One Last Budget Option for Heavy Duty Tents
---
A great option to look at if you plan on camping in a mid-sized group is the Kodiak Flex-bow Deluxe Tent made of Hydra-Shield cotton duck canvas. This tent can fit 6 people inside with ease, and the heavy-duty, high-quality material it is made from is intended to help you keep cool during the summer and warm during the winter. This cotton canvas is also praised for being extremely waterproof, breathable, and sturdy. It has a 6 ft. 6 high ceilings, so this might be the right tent for you if you are looking for something to stand up straight in. While many taller tents sacrifice stability for height, the Kodiak's sturdy construction will keep it in place during even the toughest weather. The tent's space and versatility make it a popular option for people going hunting or fishing, but you will be pleased to find that the tent is really perfect for any trip to the great outdoors. The tent can be purchased online for $550.
There are plenty of excellent heavy-duty tents on the market, and recent innovations have provided the world with some of the best ever. Whether you need something small and sturdy to take backpacking or something large enough to make a good base camp, there are so many excellent options to choose from that are sure to last you a long time, no matter what time of year or what conditions you might experience.
Sources:
https://hiconsumption.com/best-large-family-camping-tents/