The Best Large Canvas Tents in 2023
Are you looking to buy a new tent that you can use for family reunions or group hunting or camping trips? Thanks to new tent technology, there are some fantastic new options out there! The tents in this list are great to use any time of year, and they are built to last for years and years. While canvas tents are usually more expensive than other options, they can be used for a long time; not to mention they are much stronger, more durable, and resistant to rough weather. A canvas tent is an investment that is well worth it if you don't want to worry about buying another new tent in just a few years. Read on to learn about some of the best large canvas tents available in 2023!
Elk Mountain Canvas Wall Tent
Elk Mountain Tents' Canvas Wall Tent is available in 3 different sizes. The largest, which is 13 x 20 ft. can fit 7-10 people inside with plenty of room left over for gear and other things you might need, making it great for family camping, hunting trips, or anything in between! What makes it stand out from other canvas tents is the unique polyester canvas material it is made from. This fabric has many advantages over the typical cotton canvas, including that it is more resistant to water and ultraviolet rays. It doesn't absorb water the way cotton does, and the fibers are fully synthetic, so you won't have to worry about mold and mildew building up and eating the canvas, which helps the tent last much longer. The material is also lighter (much easier to carry) and stronger than cotton, with nearly twice as much break and tear strength. Adding to the shelter's long-lastingness is its reinforced material wherever it contacts the poles, keeping tearing from occurring in the areas that wear out more quickly.
The material is quite breathable, and there are 6 mesh windows and ridge openings in the roof that provide excellent ventilation.
The tent also includes a stove jack that can be cut to 4, 5, or 6 inches in diameter. This allows you to bring a wood stove along for your campout, and you can cut the hole to fit whatever size pipe your stove has. This makes it an ideal tent to have during the colder parts of the year, as it will keep you warm and toasty no matter how freezing it gets outside. You can also use the stove to heat water and even cook food. The base 13 x 20 tent model can be purchased on Elk Mountain's website for $1095, with options to add an awning and/or a front screen door for an additional cost.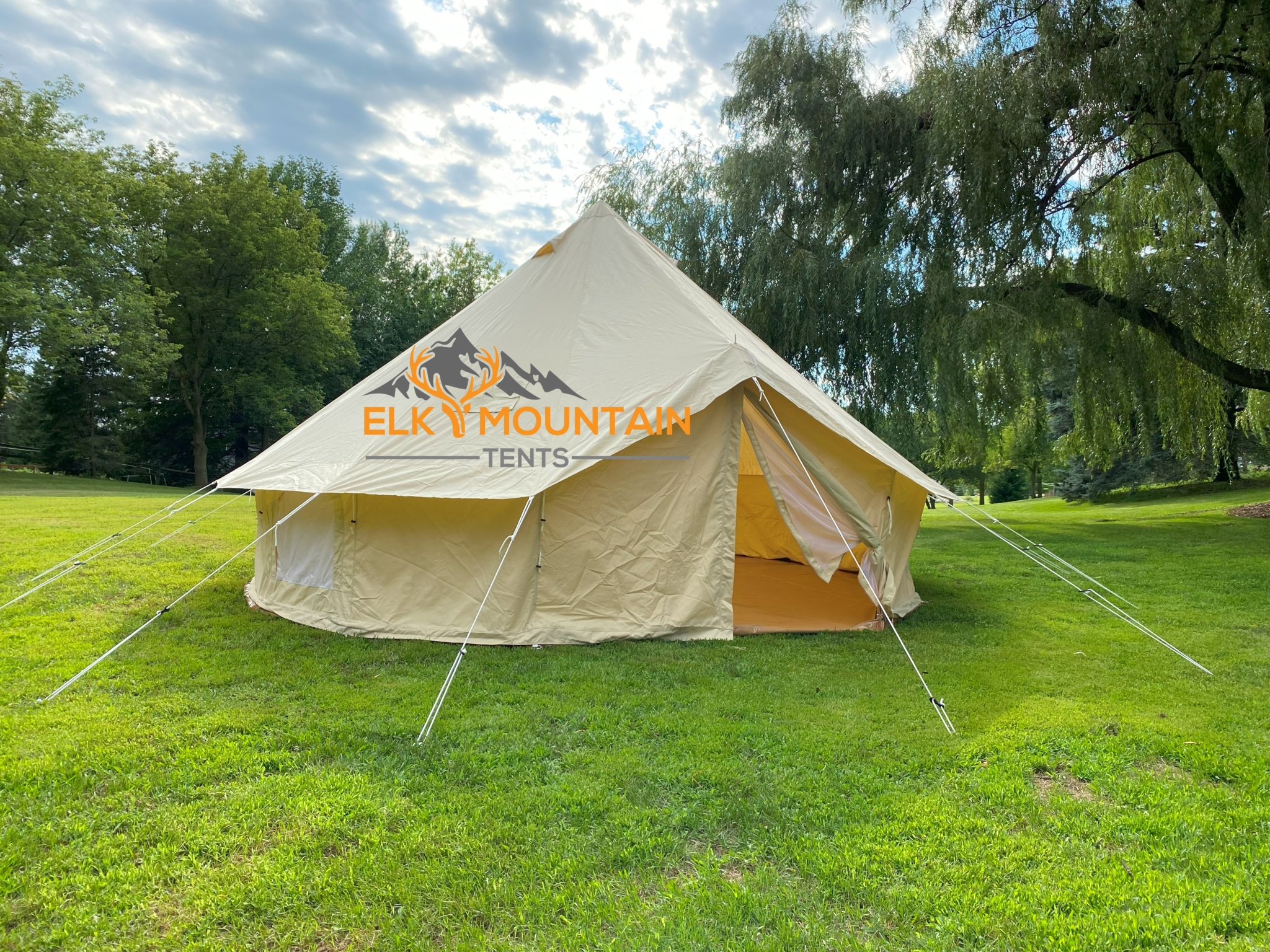 Elk Mountain Tents' Yukon Bell Tent
If you are looking for a more luxurious way to camp in a large tent, you may want to consider the Yukon Bell Tent from Elk Mountain Tents. Bell tents are popular for glamping, thanks to their elegant design, tall ceiling, and plenty of interior space. The 20' diameter Yukon has an 11.5-inch center height, a wall height of 3 ft., and a doorway height of 5 ft. It is made of the same durable polyester canvas that makes up Elk Mountain's wall tents, so you can count on this as a reliable glamping shelter for a lifetime! It includes a stove jack as well, allowing you to have a relaxing getaway even during the winter, so you don't have to let cabin fever bring you down! It is great for summer use as well, thanks to airflow offered from 4 air vents in the top of the tent as well as 4 mesh windows. The floor of the tent is made of strong, waterproof PVC material, which will keep water from leaking in at the bottom. It can also unzip from the rest of the tent, allowing you to roll up the walls and turn the tent into a comfortable canopy when the weather is particularly nice outside. This large tent can fit a couple of queen-sized mattresses inside with plenty of room left over for all the comforts and glamping gear you want to bring. Whether you are a longtime glamper or are just getting into luxury camping, you are sure to be satisfied with the Yukon Bell Tent. It is available from Elk Mountain's website for $995, with smaller sizes available as well.
TETON Sports Mesa 14 Canvas Tent
The TETON Sports Mesa 14 Canvas Tent is a solid option for family camping trips throughout the year. The canvas material is breathable and tough, with great waterproofing. There are mesh screens, integrated vents, and a high ceiling that help it feel spacious and provide proper air circulation. There is a sizeable awning over the door for comfortable lounging in the shade or out of the rain. There are extra-wide doors on both sides of the tent which make it easy to get in and out with all your gear. The zippers on the doors have a smooth system of opening and closing as well while keeping water from getting inside. What makes the Sports Mesa stand out against other family tents is that setup is quick and easy. All you need to do is push down the top bar, put the pins inside, and connect the poles. The carbon steel poles help it maintain durability even during bad weather. You can keep all your gear and other items organized with ease thanks to large and small gear pockets as well as overhead storage space. The shelter can fit up to 6 people inside with their gear, thanks to plenty of spots to store items besides on the floor. The TETON Sports Mesa costs $700 online.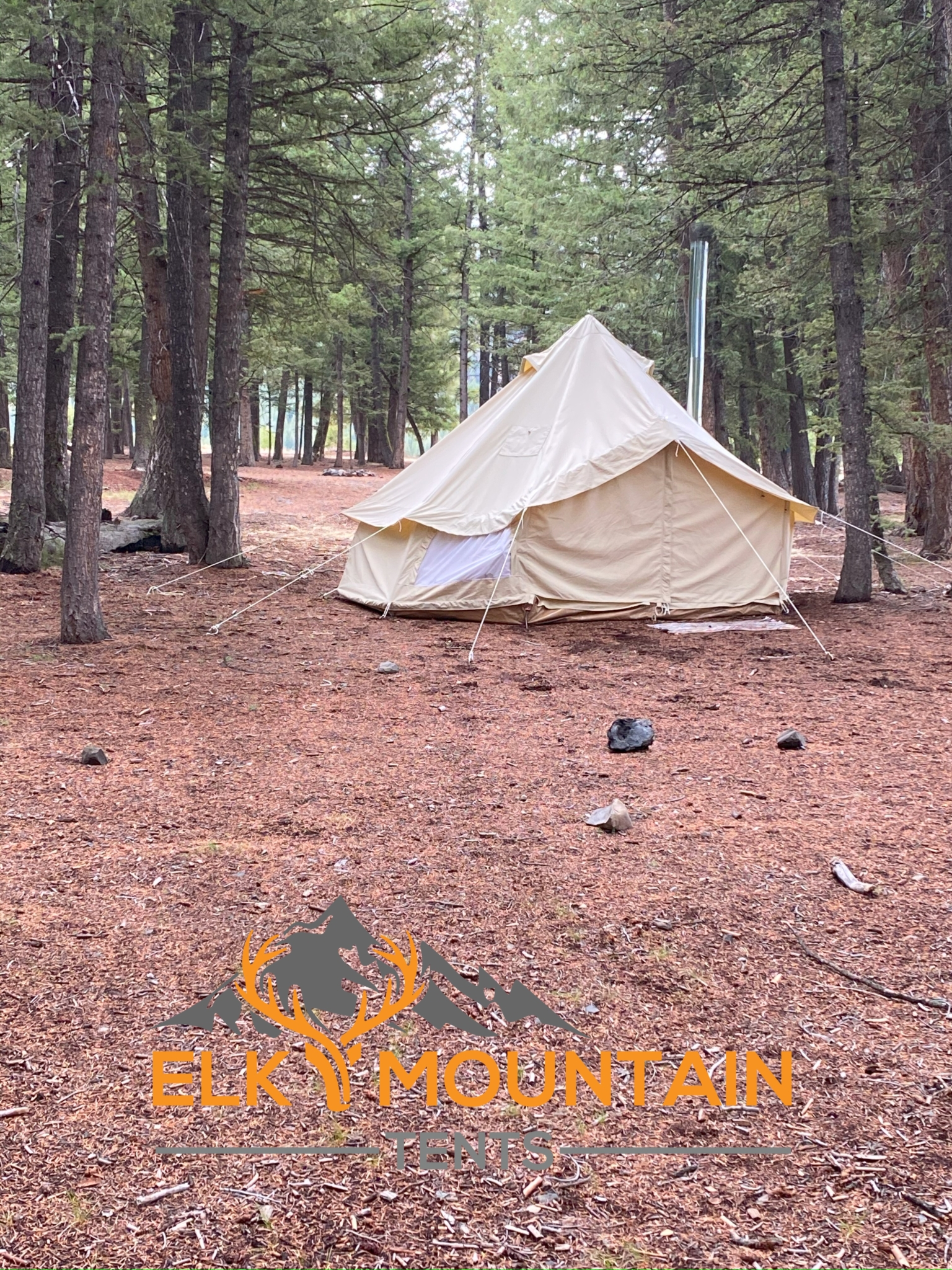 Whiteduck Prota Canvas Tent
The Whiteduck 10 x 14 Prota Canvas Tent An excellent tent for anyone who needs tons of space or has a large camping party. The material used in this tent is DynaDuck 10.10-ounce duck cotton canvas, which is crafted with mold-proofing and waterproofing in mind, and it has a finish to protect it from ultraviolet rays. The roof is highly UV-resistant, and it blocks out the sun from the inside, helping it stay cool when it gets hot outside. There is an awning included so you can have a shaded place to lounge outside. The seams in the fabric are all double-stitched and reinforced to keep them from tearing and to make sure no water leaks in. The two massive doors make it easy to get in and out, and those combine with the 6 large windows to provide great ventilation. There is a mesh layer in the doors and over the windows to keep insects from finding their way in. The zipper system to open the doors and windows is the strongest and sturdiest you can find, so you can take comfort knowing that they won't break off anytime soon or allow rain to leak through. Standing up and walking around is easy, even for the tallest campers, thanks to a 78-inch ceiling. The floor of the tent has a shock-absorbent system that helps it withstand the roughest weather. As a nice bonus, there is an electrical outlet and O-rings. Because of its size, the tent is quite heavy, but this weight is reduced by the frame of the tent, which is made of strong-yet-light aluminum poles. There are 140 sq. ft. of floor space, allowing you to fit 22 people inside the tent, with up to 8 sleeping mats fitting inside with plenty of room left over for all your gear. The Whiteduck 10 x 15 Prota Canvas Tent is available for $670 online.
These are a few of the greatest large tent options on the market right now, and certainly, some of the highest quality thanks to the strong, durable canvas material in each of these options. This is the latest and greatest that tent technology has to offer, so it may be worth the investment to get something new that will last you a lifetime! Find the right large tent for you, get your family or group together, and get out there to enjoy the great outdoors!
https://www.globosurfer.com/best-canvas-tents/
Sources: