Best Small Canvas Tents in 2023
There are all kinds of great tent materials, each with its pros and cons. The reason many people choose to go with canvas over lighter materials is that it lasts much longer, is more durable, and can withstand rougher weather. If you are looking for a tent that you can use for years into the future without worrying about buying another one soon, canvas is your best bet. It is a bit more expensive than other materials, but the long-term investment makes it worth it.
While a lot of canvas tents are large enough to fit 6-10 or even more people inside, there are just as many great options for smaller canvas tents. Any of the tents on this list are worth considering if you don't want to spend a lot of money on space that you won't use and don't plan on taking a large group with you on your camping adventure.
Elk Mountain Tents' Canvas Wall Tent
If your camping trips often consist of small groups of 3-4 people, you should take a look at the 13 x 13 Canvas Wall Tent from Elk Mountain Tents. This is the smallest option that Elk Mountain has to offer, but it has all of the great qualities of its larger options. One thing to note is the canvas material this tent is made of, which is a unique handcrafted polyester-based canvas, rather than cotton-based as you will find in most other tents. This fabric offers all kinds of great advantages, including a higher break and tear strength, meaning that this tent can withstand much more use and wear and tear than cotton tents, making it last even longer. This material also has better water resistance, not absorbing it the way cotton does, and better resistance to ultraviolet rays. Because it doesn't absorb water and the fact that it's a synthetic fabric, you won't have problems with mold and mildew growing inside the fibers as you might have with cotton. Polyester is also lighter than cotton, making it much less of a pain if you need to go for a walk to reach your campsite. This tent is great for use during any season of the year, with strength and durability enough to withstand heavy wind and snowfall. The material has excellent insulation, keeping you cool during the summer and warm during the winter, and it is breathable as well.
There are 4 mesh windows and 2 air vents in the roof that can Velcro closed and be opened by a pull string, offering great ventilation. The tent also includes a stove jack, which allows you to bring a wood stove along for the trip, making winter and cold weather camping a much more comfortable experience. The jack can be cut to be 4, 5, or 6 inches in diameter, allowing you to use whatever wood stove you want; Simply cut the hole to fit your stovepipe. The base model of the tent costs $845, with additional options including a front screen door and/or an awning available for an additional cost. The tent can fit 3-4 people with a stove jack inside, or 5-6 people without.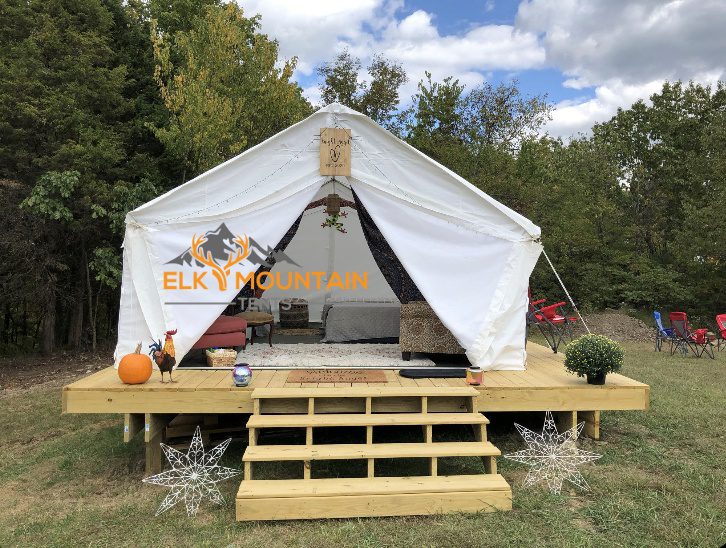 Kodiak Canvas Tent
Maybe you are more of a solo camper. If you are looking for a durable, long-lasting, single-person canvas tent, one of the highest quality options on the market is the Kodiak Canvas Tent. It is 8.8 ft. long and 3 ft. wide, offering enough room to lay down and stretch out with space for your gear as well. It is designed with versatility and convenience in mind, so it is light, packs down small, and is easy to set up, making it an excellent backpacking tent (and one of the most durable ones you will ever find). This design also makes it great for car camping. The fabric used is 100% Hydra Shield cotton duck canvas, so it is excellent at holding up against rain and snow while still maintaining breathability. A nice bonus to the Kodiak is that inside is a 2-inch foam sleeping pad with a flannel cover built-in, allowing you to get comfortable as soon as the tent is pitched and giving you one less thing to have to carry around. Windows at both ends of the tent can unzip to allow for some nice airflow, and the top of the tent can roll back to make it into a screened shelter. Arguably the best thing about it is that it only weighs 1.75 lbs., quite impressive for any canvas tent, no matter how small!
Kodiak Truck Bed Canvas Tent
Another great option from Kodiak is the Kodiak Truck Bed Canvas Tent. It is made of the same 100% Hydra Shield cotton duck material as the Kodiak Canvas, so you can sleep soundly inside knowing that you will be safe and dry. With a ¾-inch steel frame, the tent itself can fit on the back of most pickup truck models, including the GMC Sierra, Ford F Series, Nissan Titan, Chevy Silverado, Toyota Tundra, and Dodge Ram, and it can comfortably fit two people inside with room to move around, thanks to a tunnel design and 5 ft. ceiling. This design, including 5 built-in windows, also provides great airflow and circulation. It utilizes extra space extending from the bed by having the tailgate of the truck down. It is easy to get in and out of the tent thanks to the large D-shaped zippered door. Above the door is an awning that provides great protection from the sun and the rain. Other amenities of the tent include a cab-access window and gear pockets to keep your things organized.
Oztent 30 Second Expedition 4 Person Tent
The Oztent 30 Second Expedition 4 Person Tent is one of the sturdiest instant tents out there. If your least favorite part of camping is the complicated setup procedure, you will be amazed at how quickly this tent can unfold and pitch. The whole process takes less than a minute. In addition to being fast and easy to pitch, it is made of high-quality materials and is 100% waterproof, keeping you dry as a bone inside during a rainstorm or heavy snowfall. It is roomy enough for a small group to sleep inside comfortably. It includes a sizeable awning as well that makes for a great shaded place to relax during the warmer seasons or protect you from light rain any time of year. The only negatives to the Expedition are that it only has 1 door, and its unique design makes it pretty large when packed down, so you should make sure you have a car large enough to fit it inside along with the rest of your gear.
Kodiak Flex-Bow Deluxe Canvas Tent
One of the most popular canvas tents out there is the Kodiak Flex-Bow Deluxe Canvas Tent. Like other Kodiak tents, it is made of strong Hydra Shield 100% cotton duck canvas which makes it breathable, watertight, and durable. There is a large D-shaped zippered door on both sides of the tent, making it easy and comfortable for everyone inside to get in and out. The doors have mesh as well, allowing you to keep the tent well-ventilated while keeping bugs out. There is room to stand up and walk around as well, with a 73-inch ceiling height. It is a great tent to use throughout the year, whether the sun is beating down or snow is piling up. There is a lifetime warranty included, so you can enjoy this tent for years and years. The 4-Person Flex-Bow can be purchased online for $700, with a 6-Person option available as well.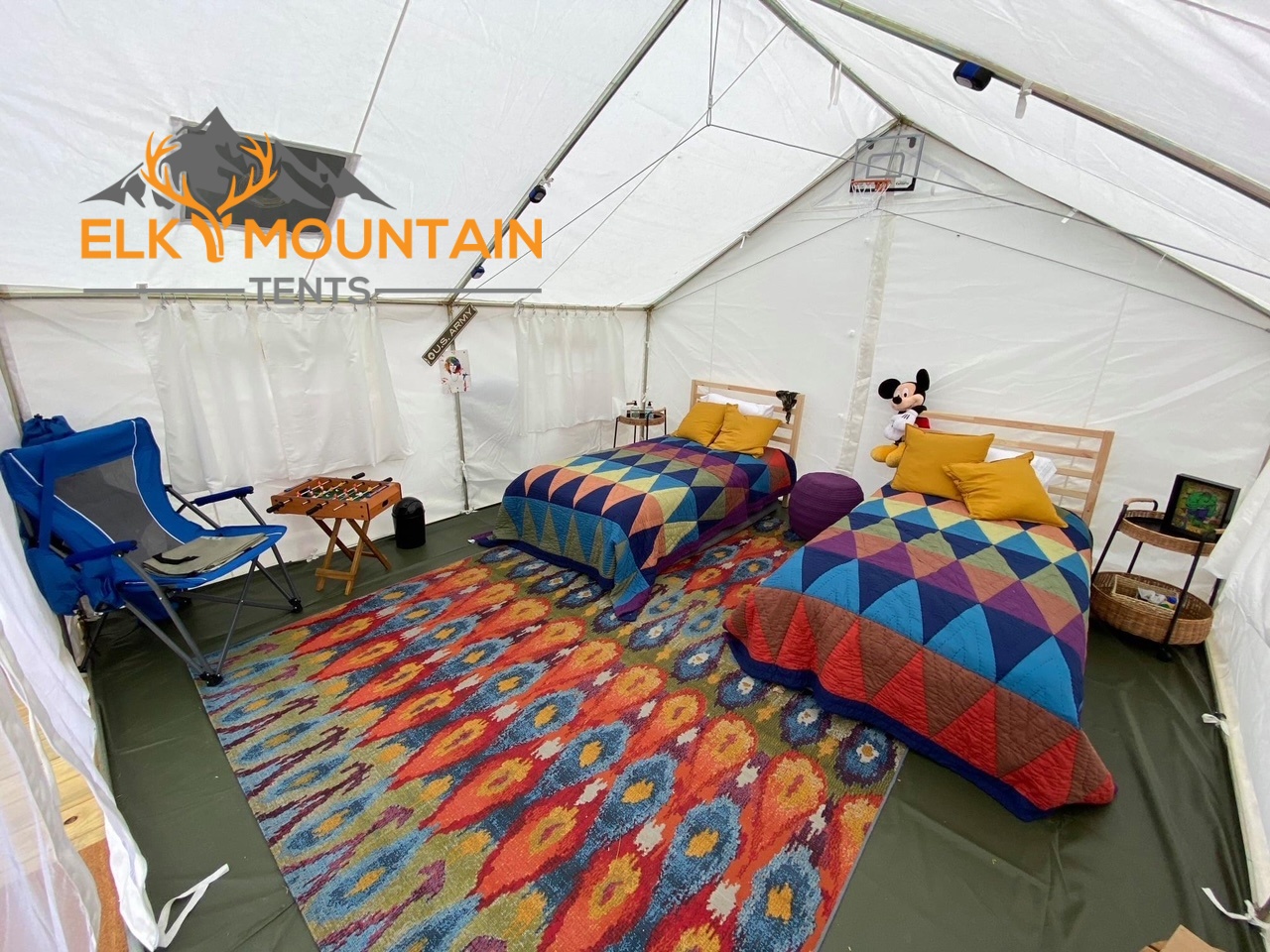 Elk Mountain Tents' Yukon Bell Tent
If you enjoy glamping (or want to get into it) and are looking for a smaller option to use, look no further than the Yukon Bell Tent from Elk Mountain Tents. The 13 ft. diameter option is perfect for sleeping 3-5 people inside comfortably, or 2-3 if you choose to bring a wood stove. Like Elk Mountain's Canvas Wall Tent, the Yukon includes a stove jack that can be cut to be 4, 5, or 6 inches in diameter, allowing you to fit whatever wood stove you choose to bring. This shelter is made of the same unique, high-quality, breathable polyester canvas as the wall tent, making this stronger, lighter, more waterproof, and less likely to tear than other canvas bell tents. With an 8 ft. center height in the ceiling provided by the tall center pole, there is plenty of room to walk around comfortably. There are 4 air vents in the peak of the tent, as well as 4 mesh windows, offering plenty of ventilation, and the groundsheet can zip in and out of the tent, allowing you to roll up the walls and turn it into a relaxing canopy if you so choose. The Yukon Bell Tent is available on Elk Mountain's website for $745, with larger options available as well.
These are just several of the best small canvas tent options in 2023. Tent technology is better now than it ever has been, and no matter what kind of canvas tent you are looking for, whether it be for hunting, backpacking, or glamping, you are sure to find a high-quality option that can last you a lifetime!
Sources:
https://www.globosurfer.com/best-canvas-tents/