Most Durable Tents in 2023
If you are in the market for a new tent, why not buy one that will last for years? Investing in a durable tent that you can use any time of year without risk can be a bit costly, but it is worth it when you consider that you may never need to buy a tent again! With each year comes new and more advanced tent technology, so listed here are some of the newest, best, and strongest tents that you can buy in 2023. There are a variety of different sizes and options to choose from, so keep on reading to find the perfect reliable shelter for you to enjoy far into the future!
Elk Mountain Tents' Canvas Wall Tent
In looking for a durable tent, you might want something that will make for great hunting trips as well as comfortable family and group camping getaways. If this is the case, you should consider the Canvas Wall Tent from Elk Mountain Tents. These shelters are made of a unique high-quality fabric that is sure to last a lifetime. The polyester canvas material is even more durable than typical cotton canvas (known for its strength), with a significantly higher break and tear strength. This means that Elk Mountain's wall tents can withstand years of wear without suffering much damage from the elements. The fabric is also made to be resistant to ultraviolet rays and water. Unlike cotton, it doesn't absorb water, so you don't need to worry about mold and mildew growing inside the fibers and eating away at your tent. It is lighter than most canvas tents as well. Like cotton, this polyester canvas is quite breathable and well-insulated.
Other features of this tent include reinforced fabric at the corners where the material meets the poles, making them even less likely to tear, sealed seams to keep water from leaking in as well, and 4-6 mesh windows (depending on the size of the tent) providing great airflow. Additional ventilation is provided by vents in the roof that can Velcro shut and be opened and closed with a pull string. Best of all, the tent includes a stove jack that can be cut to be 4, 5, or 6 inches in diameter. This enables you to bring a wood stove into your tent to keep you warm during winter campouts (or even during chilly summer nights). You can also use it to heat water for morning coffee or hot chocolate, or even use it to cook food if the weather outside is unexpectedly crummy. Elk Mountain's Canvas Wall Tents are available in 3 sizes: 13 x 13 ft., 13 x 16 ft., and 13 x 20 ft., ranging in price from $795-1295, depending on whether or not you want to add an awning or front screen door.
Elk Mountain Tents Yukon Bell Tent
If you are looking for the perfect glamping shelter, Elk Mountain Tents has you covered there too! Their Yukon Bell Tent is made of the same high-quality polyester canvas that makes up the wall tents, so it is every bit as durable and long-lasting. There is also a stove jack included so you can cozy up nice and warm in a queen-sized bed during your outdoor glamping vacation. The Yukon comes in 3 different sizes: 13 ft. diameter, 16 ft. diameter, and 20 ft. diameter. Whether you and your significant other or your whole family want to get together for a relaxing getaway, there is a Yukon for you!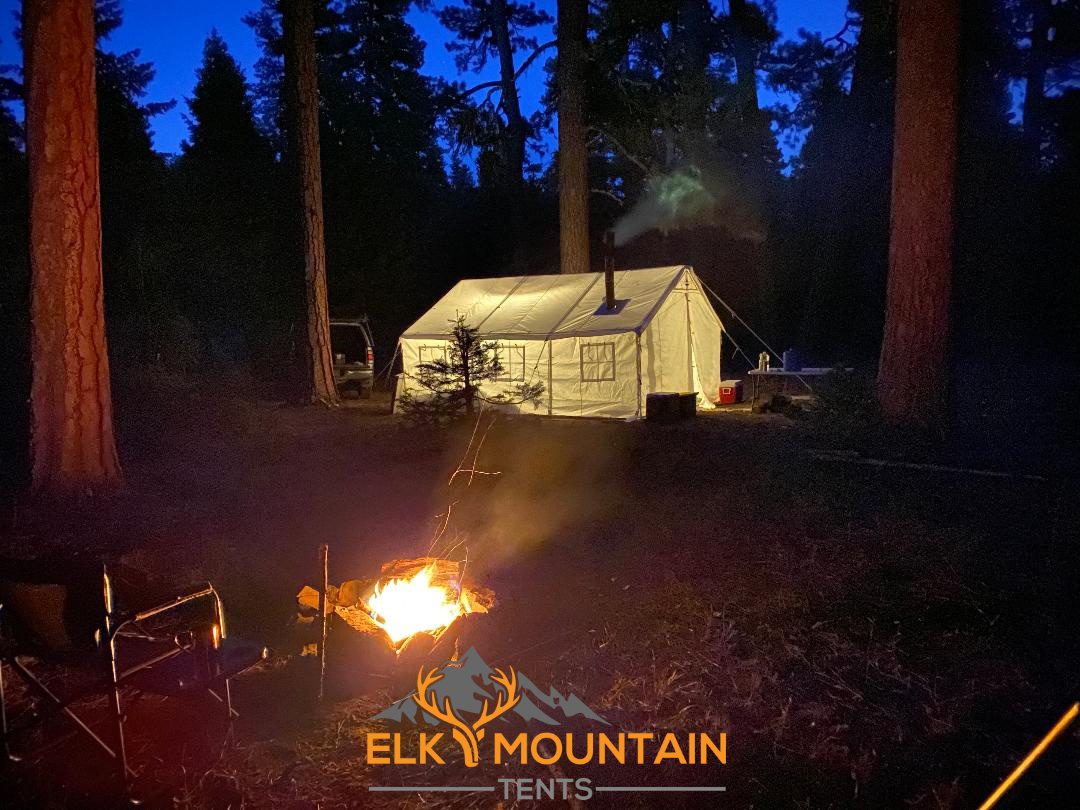 REI Co-Op Base Camp 6
Another recent model with enhanced durability is the REI Co-Op Base Camp 6. This 6-person tent is perfect for family or group outings, and it can withstand heavy winds. This is thanks in large part to the sturdy overlapping design of the 5 poles as well as the high-quality fabric materials. The tent is extremely reliable during fall, summer, and spring, and it can hold up to most winter weather as well. It has enough space for several people to sleep comfortably with all their stuff inside as well, with a floor area of 84 sq. ft. There is plenty of room to sit or stand up comfortably, thanks to a center height of 74 inches. There are also vents in the roof that provide excellent airflow and reflective materials to help you find your tent in the dark. The tent weighs around 20 lbs., which is relatively light for how strong it is. It is hard to get a better bang for your buck in terms of durability, as it costs just $469.
REI Co-Op Kingdom 6
Another strong tent from REI is the Co-Op Kingdom 6. The pole structure can withstand heavy winds, and the fabric holds up against rain and rough weather. There are guy lines included to help keep the tent from blowing over. This model has a floor area of just under 84 sq. ft. and a center height of 75 inches. There is plenty of storage space thanks to nearly vertical walls. There is a lot of mesh in the design which allows for fantastic ventilation as well as great stargazing opportunities. There are pockets inside that allow the whole family to keep their things organized. This is a great option for anyone wanting privacy as well since there is a room divider inside. The tent is available for $500, though you can expand it with the Kingdom Mud Room ($100) which adds 50 sq. ft. of storage space, or the Kingdom Porch ($200) that will give you an outdoor sitting area.
Caddis Rapid 6
The Caddis Rapid 6 is excellent for anyone wanting a sturdy instant tent. While most instant-setup tents can't hold up against strong winds and heavy rain, the high-quality materials and sturdy steel poles, and structure of this option offer great weather protection. The poles of the tent are built-in, allowing you to set the tent up with ease by yourself. It has 100 sq. ft. of floor space and near-vertical walls, so there is plenty of room for you and your crew to store your gear inside. There are a few drawbacks to the Rapid, one of which is that it is quite bulky when packed down (50 in. long), so you probably want to make sure you will have enough room in your car before buying. Another downside is the rainfly, which doesn't provide the best coverage, only fully protecting two sides of the tent. It costs $300 and is probably the most durable instant tent on the market right now, which might make it well worth putting up with the cons.
Cabela's Alaskan Guide Model 4-Person Tent
Cabela's Alaskan Guide Model 4-Person Tent was built to hold up during difficult weather. It isn't as roomy as other tents, with about 75 sq. ft. of floor space and a ceiling peak height of 56 in., but if you do a lot of winter camping this is absolutely a shelter you should look into. The 6-pole hexagon structure of the tent prevents it from buckling under heavy winds (up to 50 mph), and the full-coverage rainfly will keep any water from finding its way inside, whether it's from snowfall or a downpour of rain. There are mesh vents and windows that will give you airflow when it starts to heat up outside as well. You will have a lot of storage space thanks to the large vestibule and gear pockets inside. The biggest drawback of the tent is that the poles are made of fiberglass, which isn't as durable as aluminum. Still, though, this is one of the cheapest 4-season tents for you and a partner to enjoy, costing only $350.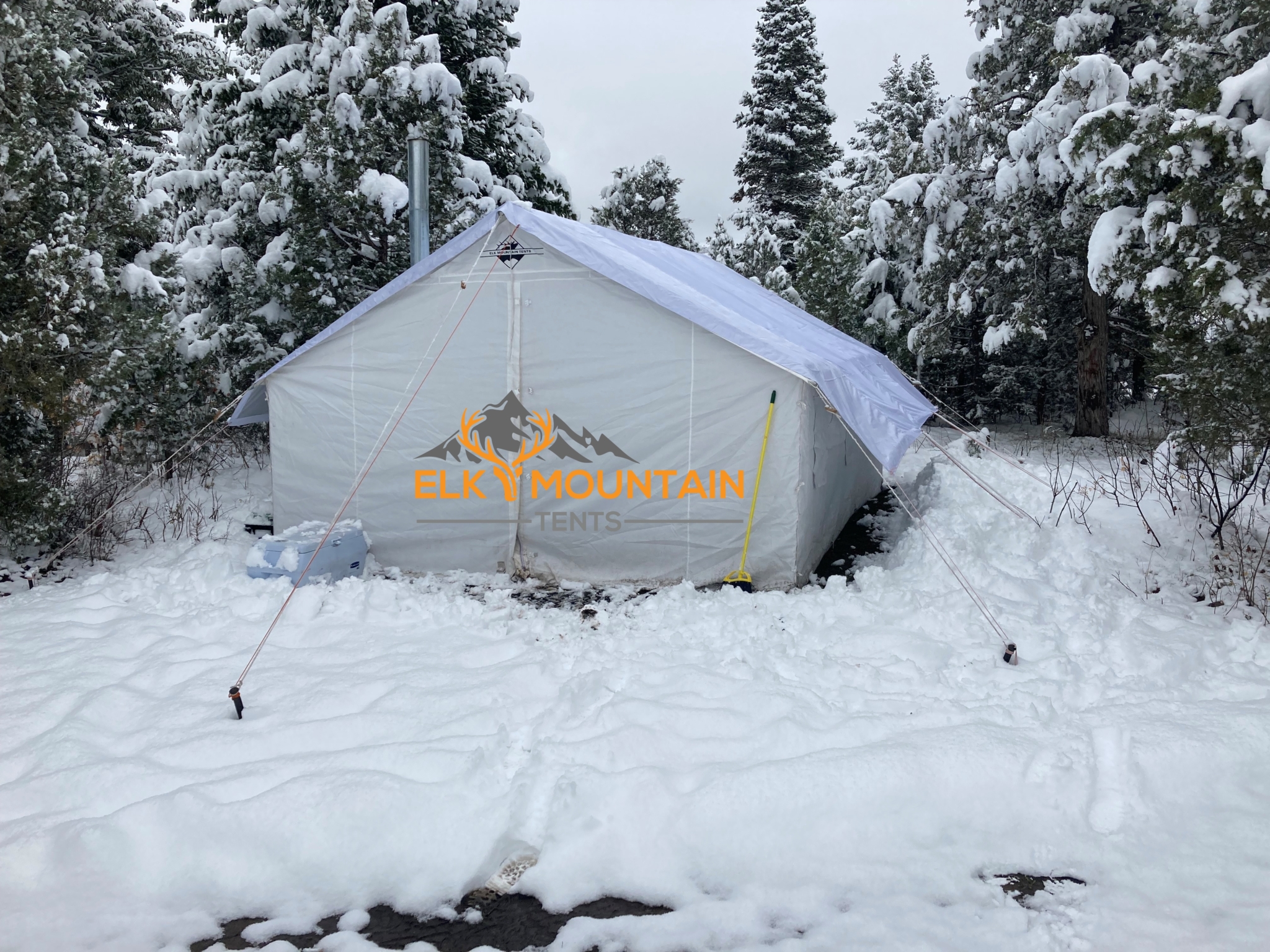 Kodiak Canvas Flex-Bow Deluxe 8
If you want canvas material in your new tent, you may want to consider buying the Kodiak Canvas Flex-Bow Deluxe 8. The cotton canvas in this tent is built to withstand rough weather during any season of the year and keep insulated while maintaining breathability. It is quite roomy thanks to the 78-inch ceiling and floor area of 140 sq. ft. There are large doors on the front and back of the tent, making it easy to get in and out of. The tent fabric and steel frame combine to make this shelter a fortress against heavy winds and other bad weather conditions. This makes it one of the most popular tents for hunting and one of the most reliable for family and group outings. One of the only downsides to the Flex-Bow is that it is quite heavy, weighing 82 lbs. This certainly isn't ideal for lugging into the backcountry. It will also take up a lot of space when packed down, so you may only want to consider it if you have a pickup truck with enough room in the bed. It can be purchased for $670 online.
These are some of the most durable tents that you can find on the market in 2023. They all have their advantages and disadvantages, and they are all great options to consider in their own way when looking to invest in a tent that you can use for years into the future. The choice is yours, so find your new second home in the great outdoors!
Sources:
https://www.switchbacktravel.com/best-camping-tents