Best Tents for Winter Camping in 2023
Every year, new tents are added to the market, providing all kinds of great new advantages. Summer is winding down and before you know it, winter will be upon us. If you enjoy roughing it during the winter and are looking for a new reliable tent to buy, you are in the right place! Now is the time to make plans and get everything you'll need to have a comfortable camping trip during the colder part of the year.
There are several things to look for in purchasing a reliable winter tent. It needs to be made of high-quality, durable materials that can withstand bad weather. It should have strong poles (often made of aluminum), and its structure should be sturdy. It should offer plenty of room to sleep and sit up comfortably inside since you will likely spend more time inside the tent during the winter than you will during the summer months. You also need to make sure it has enough room to keep all your winter gear inside. Additionally, it is nice if a winter tent has steep walls so that snow can just fall off rather than pile up on top. Listed here are some of the latest and greatest winter shelters that tent technology has to offer in 2023.
Canvas wall tents are some of the most popular tents to use during winter for several reasons; For starters, they can withstand water and snowfall, they have excellent insulation, so they'll keep you warm no matter what the weather is like outside, and they are roomy enough to spend hours inside without feeling cramped. One of the best canvas wall tents on the market right now is the model available from Elk Mountain Tents. There are plenty of things that make this tent stand out from the competition, and one of the most notable is the unique canvas material they are made of. Instead of traditional cotton canvas, Elk Mountain uses a handcrafted polyester fabric that takes many of the advantages of cotton and adds the advantages of polyester. This makes the material stronger and more durable, with a much higher break and tear strength than cotton. Instead of absorbing water as cotton does, it resists it, meaning you won't have to worry about mold and mildew growing inside. It is also more resistant to ultraviolet rays, making this tent last much longer than a typical cotton tent. One of the worst things about winter camping can be lugging around a heavy canvas tent, but polyester is lighter than cotton, so the tent only weighs 50-70 lbs. depending on the size. In comparison, cotton canvas tents can weigh 80-100 lbs.
Another thing that makes these tents excellent for winter use is their inclusion of a stove jack. This allows you to keep a wood stove inside the tent, keeping it warm and toasty inside, so you can stay comfortable in the cold weather, especially during the freezing nights. You can also use the stove to heat water for hot chocolate or coffee, or even to cook hot food. The jack can be cut to be 4, 5, or 6 inches in diameter, so no matter what pipe you have for your wood stove, you can make it fit.
The tent is great for use during the summer as well, thanks to the 4-6 mesh windows and air vents in the tent peak on both sides. The canvas wall tent from Elk Mountain Tents is available in 3 sizes: 13 x 13 ft., 13 x 16 ft., and 13 x 20 ft., with additional options to include an awning and/or a screen door in the front. The price ranges from $845-1345.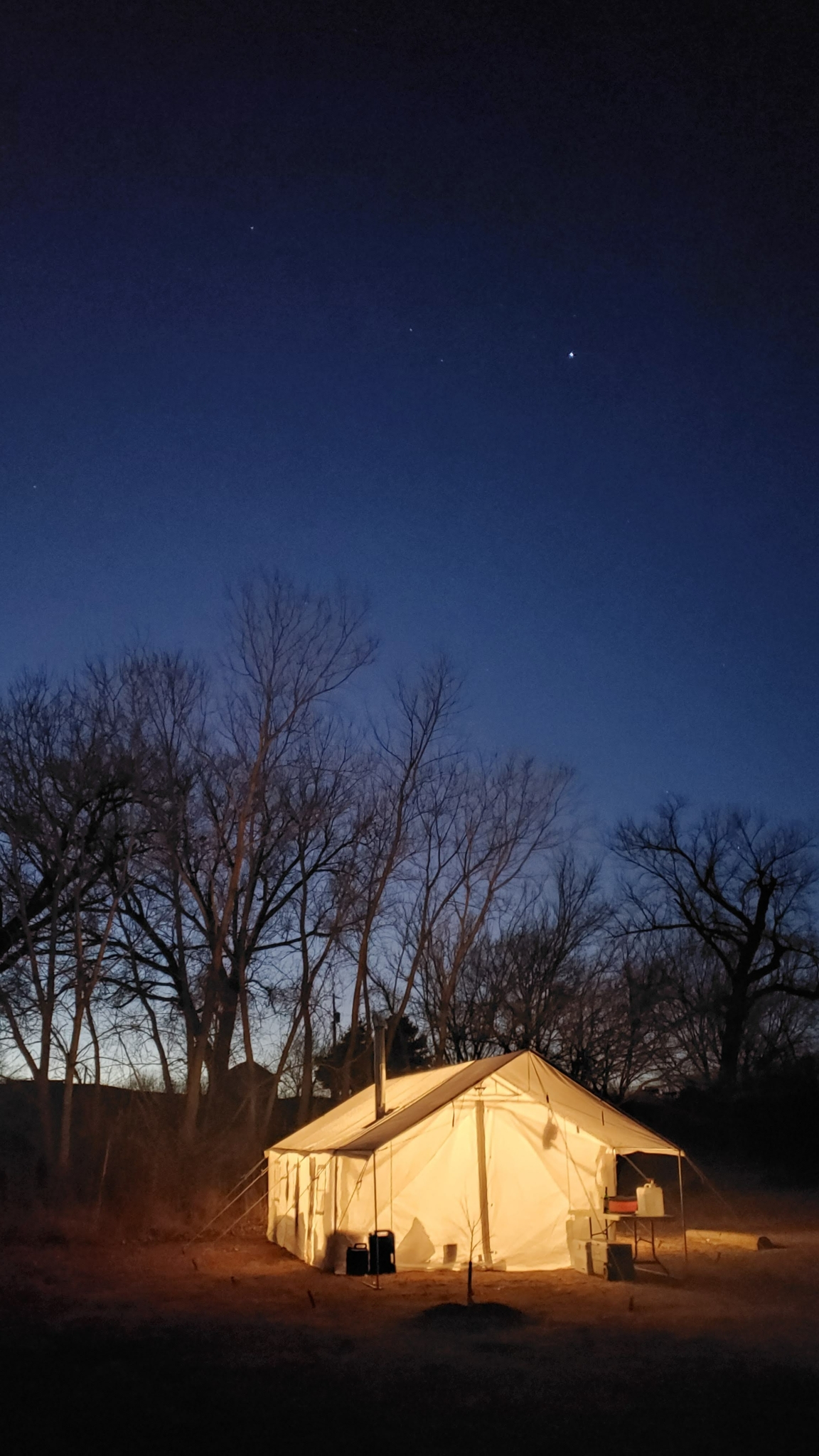 Elk Mountain Tents' Yukon Bell Tent
Another great winter shelter from Elk Mountain Tents, especially if you enjoy glamping, is the Yukon Bell Tent. Bell tents are becoming more and more popular among glampers, and the Yukon is one of the best out there. It is made from the same high-quality breathable polyester canvas that makes up their canvas wall tents, so you are getting the same level of durability, strength, and resistance to water and ultraviolet rays. Like the wall tent, it has a stove jack so you can bring a wood stove along, making for a warm, cozy, and relaxing vacation even in the dead of winter. The Yukon is available in 3 sizes: 13 ft., 16 ft., and 20 ft. diameter.
Nemo Tenshi Tent
If you are looking for a smaller tent option that you can take hiking, you should check out the Nemo Tenshi. For a 2-person trekking tent, this shelter is surprisingly versatile. It has a detachable vestibule with a window that can be attached when you need extra cover for your gear or removed if you are trying to cut down on weight for your backpacking expedition. Packaged, with the vestibule, it weighs 5 lbs. 14 oz., but without the vestibule it only weighs 3 lbs. 14 oz., making it an excellent lightweight shelter for winter backpacking. There is an internal anchor system built into the tent that helps it maintain stability during rough weather. The large, zippered door on one side provides enough room for two people to crawl inside and, combined with the zippered window on the other side, offers great ventilation as well. The tent is designed with an external pole structure that makes setup quick and easy when backpacking, while staying strong in wind and snow.
REI Co-Op Base Camp 6
A reliable family-sized tent to use in the winter is the REI Co-Op Base Camp 6. This simple yet sturdy dome tent has a center height of 74 inches, enough room to stand or sit up comfortably inside. Getting in and out of the tent is a breeze thanks to roll-away doors in the front and back. There are windows on both sides of the tent as well as in the roof, and there is mesh on both doors, providing fantastic ventilation. You will be able to keep all your gear and small items organized thanks to the mesh pockets on the walls inside. Additional gear storage is offered by two vestibules, one supported by a pole and one that can be staked down. During the parts of winter with heavy snowfall and strong winds, the Co-Op might not hold up very well, but during milder winter weather this tent works excellently. Setting up a tent in the cold can be a real pain, so luckily this shelter can be set up quickly without much effort. The REI Co-Op Base Camp 6 can be purchased online for just $470, one of the lowest prices for a group-sized 4-season tent that you can find, making this an excellent option for anyone on a budget.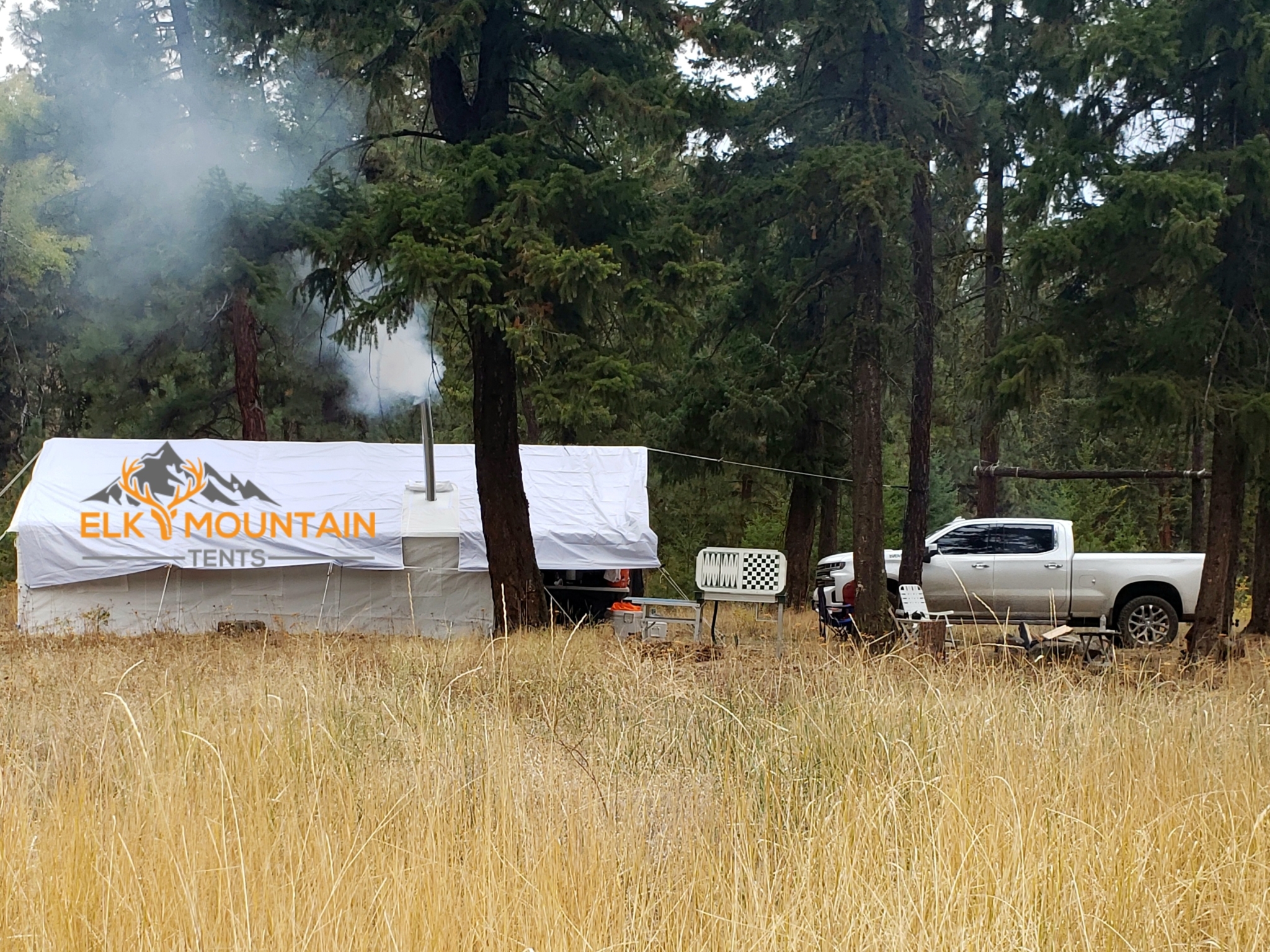 Mountain Hardwear Trango 4 Tent
The Mountain Hardwear Trango 4 Tent is great for anyone looking for a small group or couple-sized winter tent. It has a strong 4-pole design using DAC Featherlite aluminum poles. This shelter is quite durable, enough to withstand harsh winter storms without blowing over. There is enough room for 4 people to sleep inside snugly (or 2 people with plenty of space for gear), with headroom enough to sit up straight. You can keep your gear and tools organized with the included mesh gear pockets, and you can keep your shoes and other wet gear stored under one of the 2 vestibules. Pitching the tent has pros and cons. It has a color-coded system which helps make tent setup relatively quick, and it is freestanding, so you don't need to stake it down (unless the weather is crummy), but the inner-pitch first design isn't the easiest to pitch. It is also pretty heavy for a tent of its size, so you wouldn't want to use this tent for backpacking. It is a bit pricey at $920, but it could be worth it for its supreme durability and comfort.
ALPS Mountaineering Tasmanian 2
A great budget tent option is the ALPS Mountaineering Tasmanian 2. This option stands strong in heavy winds during the winter, and it has quite a bit of room for 2 people to sleep inside comfortably. It has two doors, which provide excellent ventilation and an easy entrance and exit for both campers. It has two vestibules as well which offer great gear storage without taking up space in the tent itself. It has a unique pole design that gives you a good amount of headroom when sitting up as well as stability when the wind starts blowing. It has a durable 75D polyester fly, protecting you from rain and snow and keeping you safe and dry inside. The biggest con to this model is that it is quite a bit heavier than other hiking tents, leaving it up to you and your preferences whether or not you should use this tent for backpacking. You can find the ALPS Mountaineering Tasmanian 2 online for just $390.
There are all kinds and sizes of great tents to use in the winter and cold weather. Just because it's winter doesn't mean you should have to stay cooped up inside all the time. You can still get out and enjoy the great outdoors, as long as you've got the right tent!
Sources: