Keeping Cool While Camping
Camping can be one of the best ways to enjoy the great outdoors during the summer. There is so much to do, whether you enjoy fishing, playing sports, or going on scenic nature walks and hikes. Summer camping does have its drawbacks, however. One of the biggest is how hot this time of year is! Your fun summer adventure can become miserable fast if you don't make plans on how to keep cool. There are a lot of different things you can do, and you'll be happy you put in the time to do it before making your trek!
One of the most important things to keep in mind is the tent you use. Many tents, especially those made fromnylon, can get quite hot inside. Your best bet is to get a breathable tent that has plenty of ventilation options. This makes canvas tents the best to have during this time of year, as the breathability, as well as their insulation, helps them keep cool even during the hottest outside temperatures.
Some of the best canvas tent options available come from Elk Mountain Tents. Their canvas wall tents are made from a breathable polyester canvas material that has the insulation and breathability of traditional cotton canvas as well as many of the advantages that you can only find in polyester. It is both lighter than cotton and more resistant to water (no mold or mildew growth in the fibers because it is fully synthetic) and ultraviolet rays, helping the tent last for years.
It is well-ventilated, thanks to the 4-6 (depending on the size) screen windows included. Additionally, there are ridge openings on both sides of the tent to offer extra ventilation. These can be Velcroed shut and can be opened or closed with a pull string. When you are out and about during the day, it might be a good idea to keep the ridge openings and windows open to allow airflow. Otherwise, when you return to your tent at the end of the day you might find a sauna instead.
Elk Mountain's canvas wall tents are available on their website for $795-1295, depending on the size and whether you choose to include an awning and screen door (which can both also help you in your quest to keep cool!). Their website also includes their Yukon Bell Tent if you want to glamp for your summer getaway. This is made from the same polyester canvas as the wall tents, and it comes in 3 sizes ranging in price from $745-995.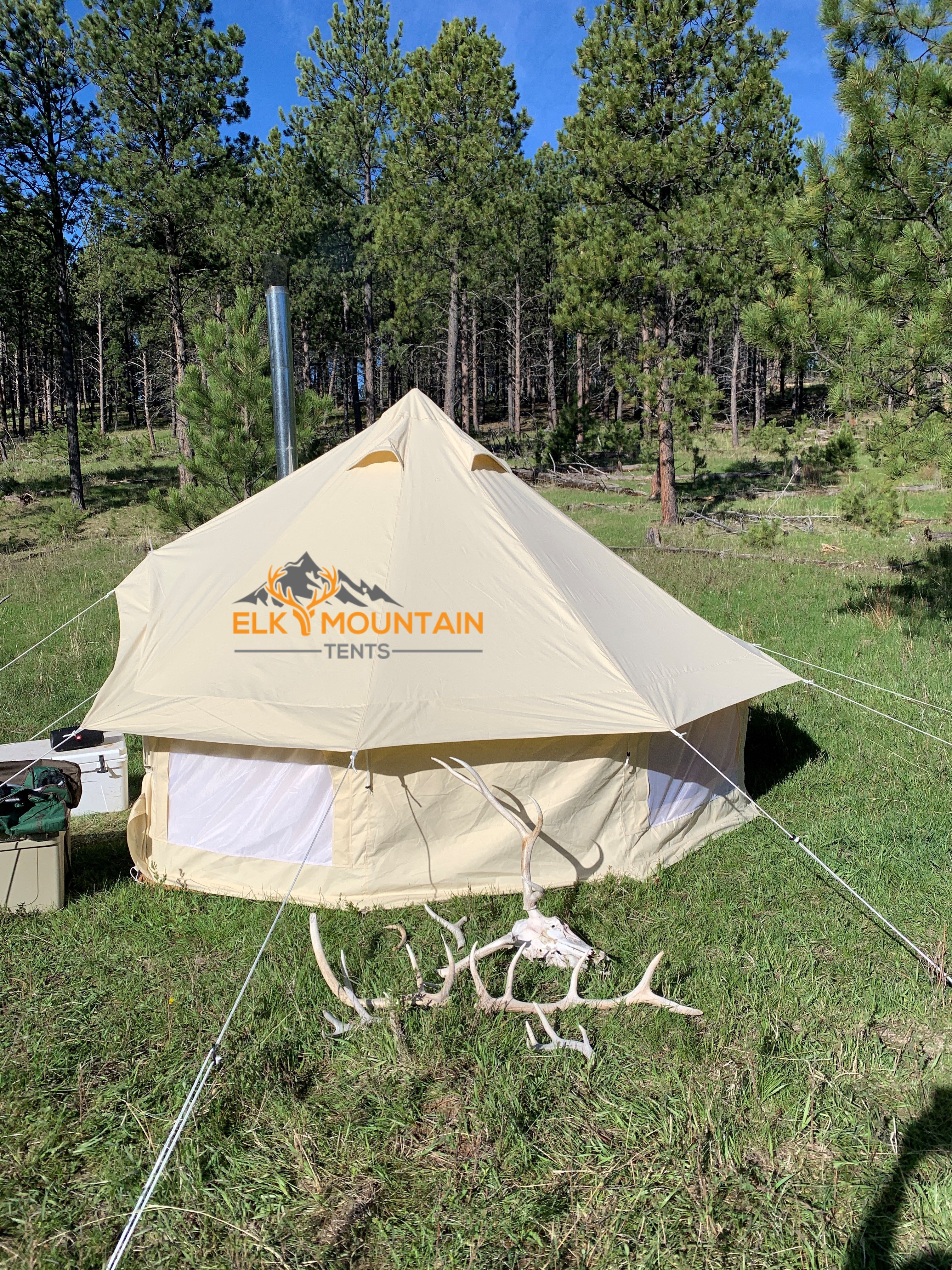 Another important thing to keep in mind about your tent is where you decide to set it up. If at all possible, avoid pitching your shelter in an open area where nothing will protect it from the sun. It is worth the extra effort to find a spot close to some trees that will provide you with shade. Setting up in the shade makes a huge difference in how hot your tent will get. If you are away for hours with your tent baking in the sun, you might find it to be even hotter inside the tent than it is outside. In addition, you may want to try and keep your camp chairs and tables in the shade as well, to make meals and relaxation time much more soothing and comfortable. If by chance you can't find a shaded area to pitch your tent, you may want to take it down during the daylight hours, especially for nylon options. This will keep your shelter from trapping heat inside while you are out and about. An alternative (or additional) way to shade your tent is to set up a reflective sunshade. This will provide shade to the tent and reflect sunlight away from your campsite. Set it up so that there is breathing room between it and the tent itself (otherwise it will just trap heat inside), and you will find that you can sleep in longer, as the heat won't attack your tent first thing in the morning. If you don't have a sunshade, you can achieve a similar effect by setting up a tarp above your shelter.
A portable fan is a simple and effective way to keep yourself from getting too hot, especially by keeping it in your tent during the night. There are plenty of options for lightweight battery-powered fans that will give you a nice cool breeze as you are trying to go to sleep. Many are built to attach to the walls, ceiling, or floor of the tent. It might be a good idea to get one with foam blades since you will be keeping it pretty close to you.
If you don't like the heat getting trapped around you in a tent, you might consider sleeping in a hammock instead. This allows you to relax and stargaze and enjoy the night breeze. If you prefer cooler temperatures while you sleep, this might be the right option for you. No matter how well-ventilated your tent is, it will still be hotter than the great outdoors. There are a few drawbacks to hammock camping, however. One of the biggest is that you still have to deal with insects, so make sure you put on bug spray before going to sleep. If the area has a high concentration of mosquitos or other insects, it might not be worth it. If insects aren't much of an issue, you are in luck! Just check the weather first to make sure you won't get rained on, or you may want to put up a tarp or rainfly over your head so you don't soak during the night.
An obvious but important way to keep cool is to drink plenty of water. Make sure you bring enough water for everyone in your party and then bring a lot of extra! You can't have too much water on your campout and depending on where you decide to set up camp, you could be quite far from a clean water source. Running out of water is a quick way to ruin your outdoor adventure, and it can be dangerous, so stay hydrated and keep yourself healthy and cool! You might want to fill a cooler (or two) with frozen water jugs, allowing them to stay nice and cold for the duration of your campout. This can also be a more efficient alternative to filling your coolers with ice since that will only last so long before melting and needing to be poured out. Lastly, a frozen water jug can be an ice pack to keep in your sleeping bag during the night.
One reason you should bring plenty of extra water is that there are plenty of other ways to keep cool with it. You can soak a towel in cold water and keep it on your forehead or neck. You can do this while you sleep and during the day, and you will be amazed at how much cooler you will manage to stay. Every few hours you can give your towel another soak and feel refreshed! You can even purchase special cooling towels that are made to retain cold water for hours and hours after soaking. If you plan on going on long hikes or other adventures, these are an absolute must! If you tend to sleep hot, one of these on your forehead will help you relax and get some well-needed rest. Soaking your t-shirt or hat before putting it on can work too if the weather is particularly scorching and you want to stay comfortable. It is a great idea to bring a container to fill with water that you can soak things in.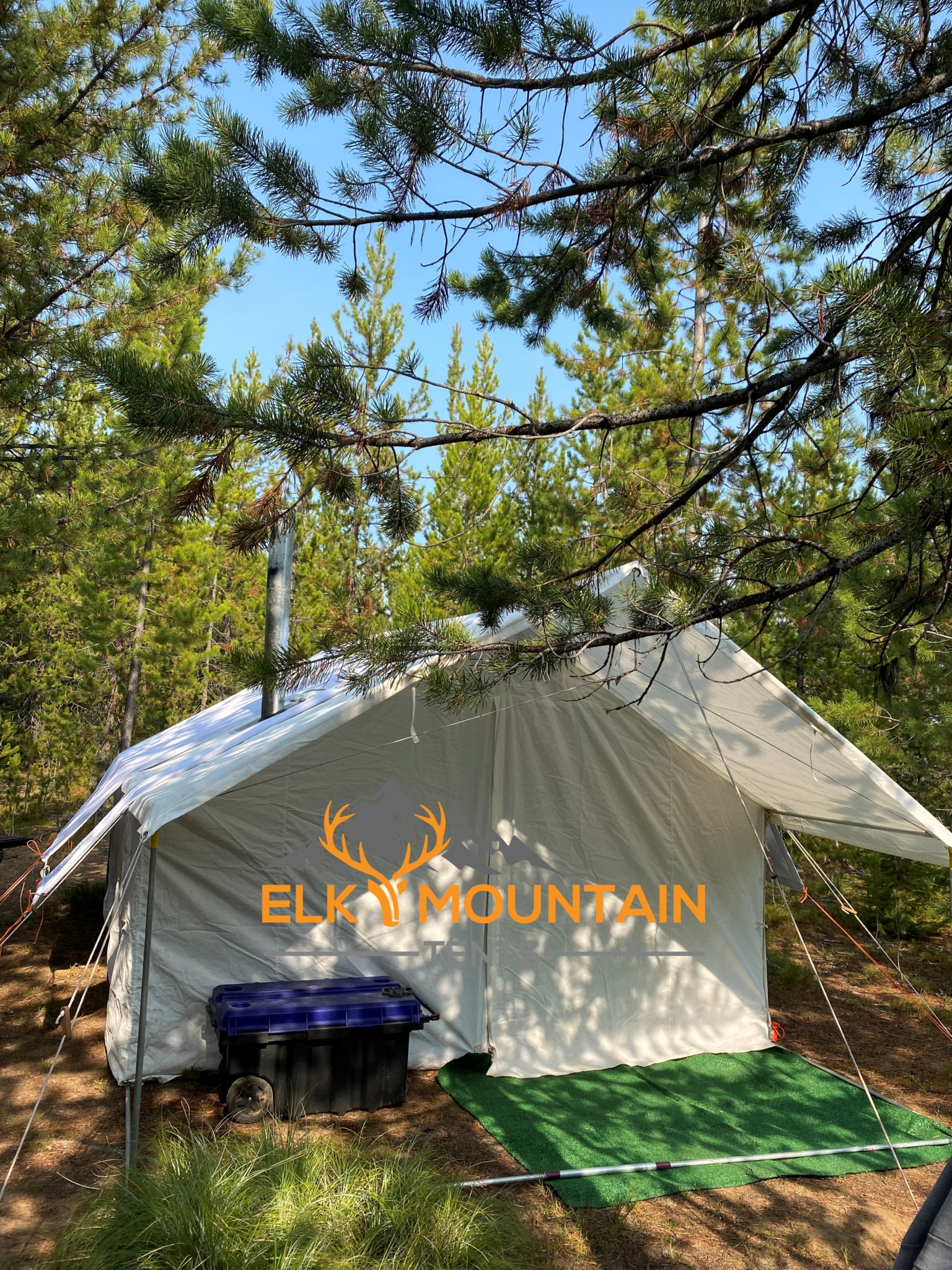 If there is a shower facility near your campsite, taking a cold shower before going to bed can also be a major help in trying to sleep comfortably, especially if you sleep hot. If there is no shower nearby, you might want to take a dip in a nearby lake or pond before climbing into your sleeping bag. Another thing you can do to aid in your sleep is by covering yourself with a sheet rather than a sleeping bag. A cot and a sheet might be all you need to stay comfortable on an especially warm night.
These are some of the most important things to keep in mind while going on a summer camping getaway. It can't be overstated how important proper preparation is in keeping cool in the great outdoors, so make sure you have plenty of water, both for drinking and for soaking towels in, bring the right tent, and set it up in the right spot to help you stay comfortable.
Sources:
https://koa.com/blog/tips-for-staying-cool-on-summer-camping-trips/