Best Canvas Tents
There are so many different tent materials on the market, all of which have their own set of advantages and disadvantages. One of the longest-lasting and most popular is canvas. Canvas is a favorite material of hunters and campers for many different reasons, including its durability, insulation, breathability, and waterproofing. Because of this fabric's versatility and popularity, there are all kinds of tents of varying shapes, sizes, and purposes, all made of canvas. If you are looking to buy a canvas tent and want to find the best one to suit your needs, this can be a great guide to help you on your way to having the best camping experiences of your life.
Canvas Tents Available From Elk Mountain Tents
---
If you are looking for a comfortable way to enjoy a mid-sized group gathering during any season of the year or a great hunting tent, take a look at the canvas wall tent from Elk Mountain Tents. This high-quality 4-season tent comes in 3 sizes, 13 x 13 ft, 13 x 16 ft, and 13 x 20 ft. These wall tents are a perfect option for anyone wanting to have a bit more space for a cot, table, or other comforts. In addition to having a lot of space, these wall tents are made to be versatile. The 4-6 screened windows can be rolled up and tied or Velcroed down and sealed, helping the tent have a nice airflow during the summer or great insulation for winter campouts. One of the best things about Elk Mountain's tents is their compatibility with wood stoves, which make camping so much more enjoyable during the colder months of the year or even during the chilly summer nights. There's nothing like waking up in the morning and being able to warm up and heat a hot cup of cocoa or coffee, all in the comfort of your tent. The included stove jack can be cut to be 4, 5, or 6 inches, so it should be able to fit whatever wood stove you happen to have. The canvas material in Elk Mountain tents is unique in that it is made from polyester rather than the typical cotton that most canvas tents are made of.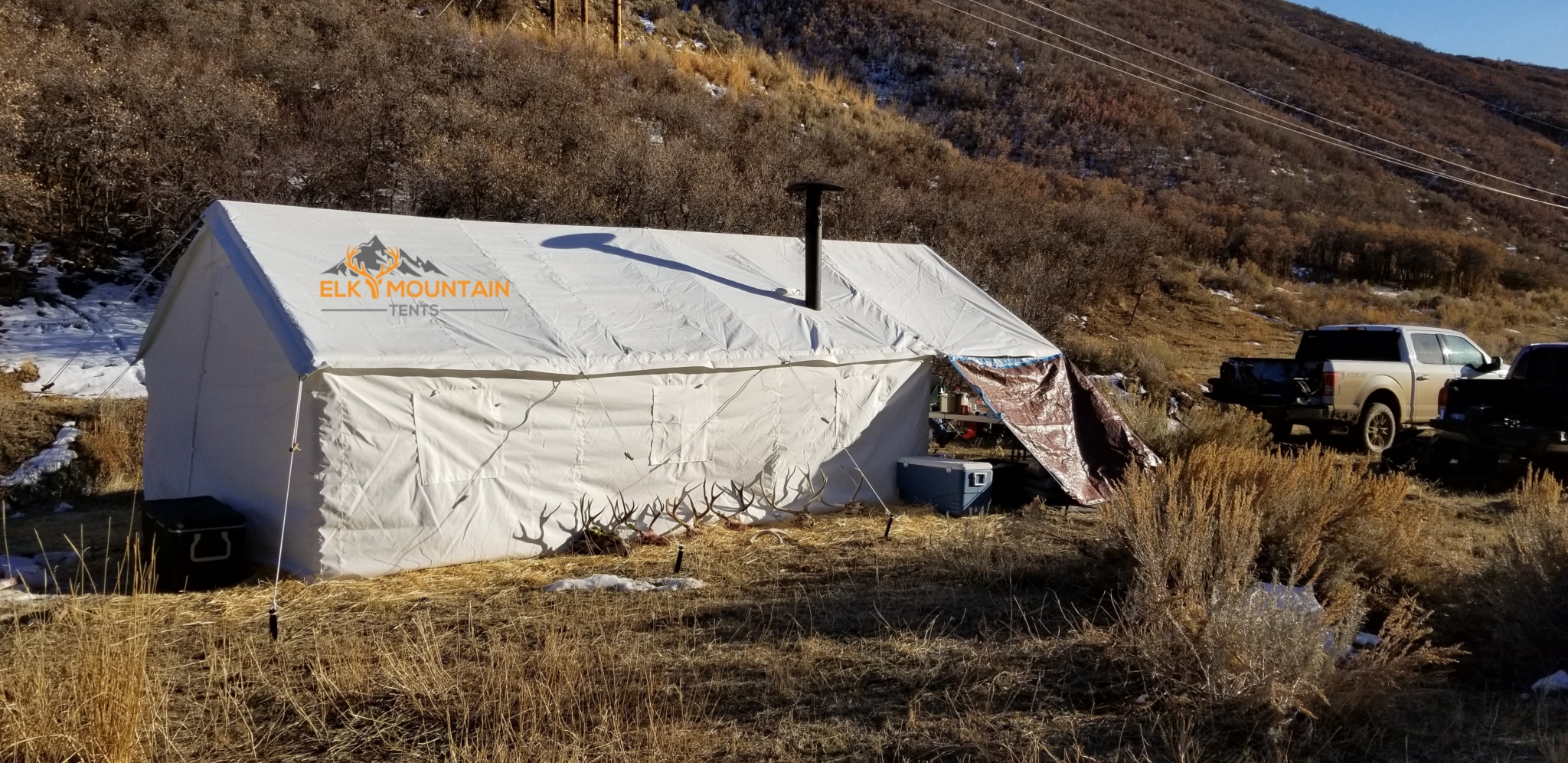 This polyester canvas seeks improve many of the problems that often come from cotton canvas. One of the biggest complaints about cotton is that it is far heavier than other fabrics, but you will find that this polyester canvas is much lighter than comparable cotton canvas when considering the strength you get for it. With a breaking strength of 449 lbs. (warp direction) and 382 lbs. (fill direction), compared to cotton's breaking strength of 382 lbs. (warp) and 241 lbs. (fill). The tear strength of Elk Mountain's canvas is also double that of most cotton canvas, at 67 lbs. (warp) and 40 lbs. (fill).
The material is also made to last much longer than cotton, as over time cotton tents can start to grow mold and mildew, something that isn't a problem with Elk Mountain Tents. One of the biggest pros of cotton canvas is that it will not rot. Quite simply, it cannot rot since it is a synthetic material.
While a benefit of any canvas material is its durability against water and ultraviolet rays, polyester canvas manages to be even more resistant in these areas, without absorbing water or shrinking. The material is built to last in even more ways as well, with naturally waterproof fabric, sealed seams, and a reinforced layer of fabric anywhere that the poles make contact with the canvas, avoiding a lot of potential problems with ripping and tearing.
These tents can typically fit about 6-10 people (depending on the size and whether or not you include a wood stove), making them great options for relaxing group gatherings. Elk Mountain's canvas wall tents are available on prices much lower than the competition. It's hard to find better prices than that for wall tents of this quality!
Elk Mountain Tents is also home to the Yukon Bell Tent, a great option to look into if you are interested in going glamping. Bell tents are essentially portable yurts, and they seek to make you comfortable in many different ways. The Yukon comes in 2 sizes, 13 ft. diameter and 16 ft. diameter. The tent is designed in such a way as to have a high enough center for anyone to stand up comfortably, with the 13 ft. using an 8 ft.-high center pole and the 16 ft. using a 10 ft. pole. The sidewalls are 3 ft. high, offering a lot of room for a decent-sized group (or just a couple people on a relaxing glamping adventure) to sleep comfortably. Each tent comes with 4-screened windows as well as 4-screened air vents at the peak. The floor can zip in and out and the sidewalls can unzip and tie up, allowing you to convert your bell tent into a relaxing shelter on a hot summer day. It also comes with a stove jack that can be 4, 5, or 6 inches to fit your wood stove (a must-have for glamping!). The Yukon is made from the same unique polyester canvas material as Elk Mountain's canvas wall tent, so you can be sure that this tent will be more durable, longer-lasting, and lighter than other canvas bell tents. The Yukon is available on Elk Mountain's website starting at just $650.
The Kodiak Flex-Bow Canvas Tent
---
A great option for those planning on camping in smaller groups of 3-4 is the Kodiak Flex-Bow Canvas Tent. The material it is made from is 100% cotton Hydra-Shield duck canvas, which is built to be extremely water-resistant yet breathable. Though it is just big enough for a few people to sleep inside comfortably, there is a considerable amount of room to stand up, with a ceiling height of 6 ft 1 in. It is easy to get in and out of with 2 large D-shaped doors. You will find that the tent is exceptionally well-ventilated, with 2 air vents and 4 large screened windows. The tent is extremely durable, with 1-inch steel poles that can hold up against heavy winds, as well as a polyester-reinforced puncture-resistant floor and reinforced seams that help keep water out of the tent. There is also an awning built onto the entrance of the tent, a nice addition when there is heavy rain outside. You can purchase the Kodiak Flex-Bow online for about $500. There are times when one needs to get out into the great outdoors on their own, just to spend some time away from society. The perfect canvas tent for that is the Kodiak 1-Person Canvas Tent. Like the Flex-Bow, it is made from 100% cotton Hydra-Shield duck canvas, which excellently protects against the elements. The tent has plenty of space for one person to rest in comfort, at 6 ft 8 in. long and 3 ft. wide. 2 large windows on either end of the tent help greatly with airflow. For added comfort, it includes a 2-inch mattress with a flannel cover. The tent's size makes it quite versatile, and it can be used with a compatible cot, a truck bed, or on the ground. The tent is made to be easy to roll up and transport from place to place, ideal since it can often be difficult for just one person to set up a tent.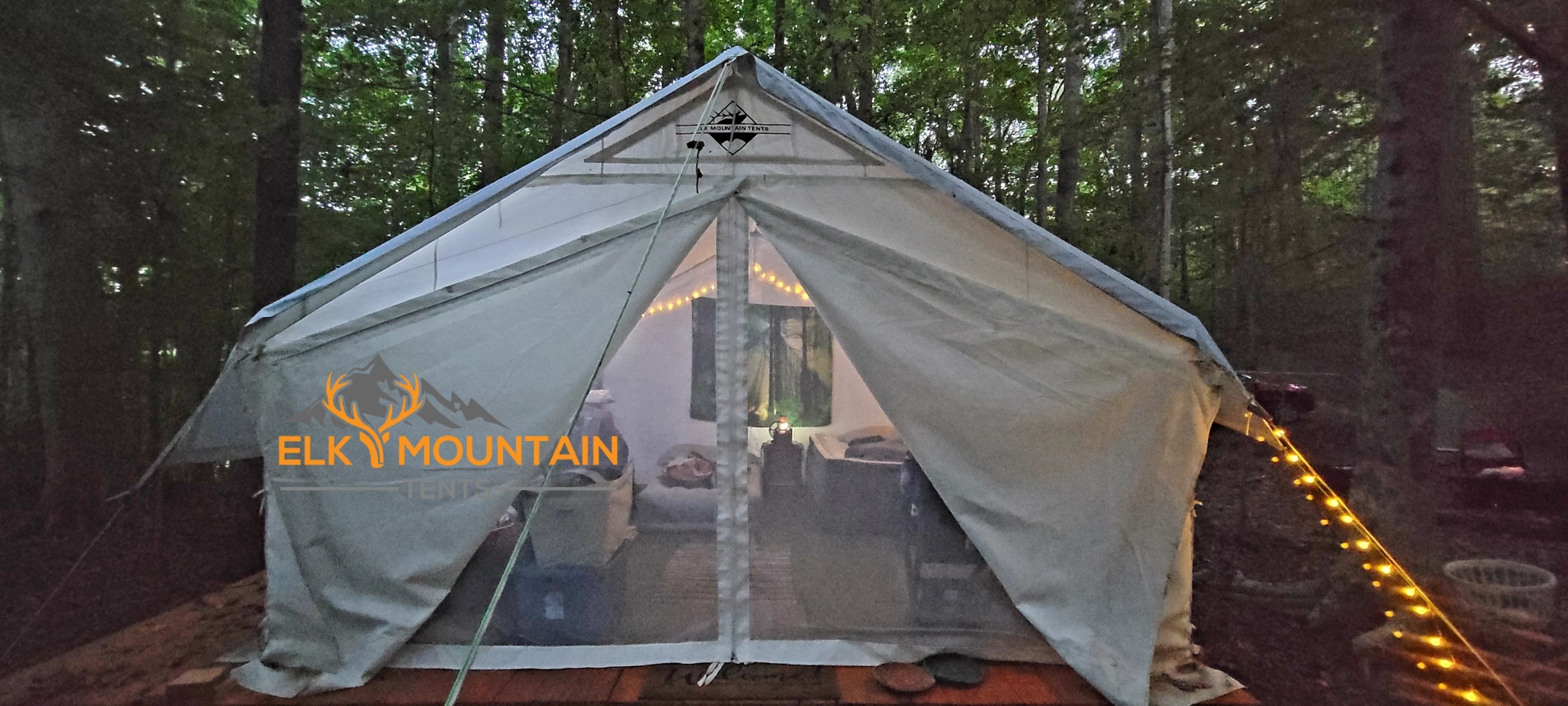 The Kodiak Truck Bed Canvas Tent
---
If you are looking for something that you can easily and conveniently move around from place to place, consider the Kodiak Truck Bed Canvas Tent. Because it rests completely on the bed of your pickup, there is no need to worry about the hassle of finding the perfect spot to pitch your tent. You also get to avoid hauling the heavy material around by hand, which is often one of the biggest disadvantages to canvas. The unique design of the tent is made to expand upon the room in your truck bed, such as stretching to create an entryway when you lower your tailgate, which along with the D-shaped door makes it easier to get in and out and gives you a bit more space to comfortably move around.  It has a tunnel design that creates a 5-ft. high ceiling, high enough to keep you from feeling cramped. The tent is made of high-quality Hydra-Shield cotton duck canvas, some of the most durable, watertight, and breathable materials that you can find. The tent includes a covered extension on the entrance, adding shade from the sun and protection from the rain. There are also two pockets inside to conveniently store gear, allowing you to have more floor space. The Kodiak attaches to your truck bed quite easily, with the frame connecting to clamp-on rails, which in turn securely attach to the truck bed. Advantages to the Truck Bed Tent include 5 windows that offer plenty of ventilation and compatibility with many different truck models, including the Chevy Silverado, Dodge Ram, GMC Sierra, Toyota Tundra, Ford F series, and Nissan Titan. For a price of just $350, you might find that the comfort and convenience this tent offers are worth every penny. These are a few great canvas options that are all sure to give you enjoyment and last you a long time. Whether you are looking for something to camp in on your own in the wilderness or a tent for a whole group to enjoy, you are sure to find a canvas tent to suit your needs!
Sources: https://www.globosurfer.com/best-canvas-tents/