Best Glamping Bell Tents for 2023
Camping in a tent can be great for all kinds of situations, such as hunting, backpacking, hiking, and even just enjoying nature. However, there is no "one-size-fits-all" option when it comes to camping. Different tents suit different needs. You aren't going to want to carry a canvas wall tent with you on a backpacking trip, and you probably don't want to use a backpacking tent during a hunting trip where you need somewhere to keep all of your gear. When it comes to luxury camping, or "glamping," it is essential that you have the perfect tent for the job. With the proper tent, you'll be able to have a true glamping experience, where you can relax, enjoy the outdoors, and keep warm during the night, no matter what the weather looks like outside. All of the best glamping options come in the form of bell tents, which get their name from a tall pole in the center and vertical walls making up the frame, giving them a "bell" shape. These are popular among glampers because of their high quality, spacious interior, and ease of setup. Read on to learn about the greatest and highest quality bell tents on the market!
The Yukon Bell Tent by Elk Mountain Tents
Elk Mountain Tents' Yukon Bell Tent is a recent addition to their shop, and it is one of their best products! The canvas in this tent is made of a breathable polyester canvas. This fabric has many advantages over traditional cotton canvas, all to help you have a more relaxing experience. First off, it is lighter than cotton, making it easier to carry around. It is stronger as well, with a much higher break and tear strength, meaning you can use this tent for many years to come. The material is more durable in rough weather, and more resistant to water (not absorbing it the way cotton does, and with sealed seams to keep moisture from leaking in) as well as more resistant to ultraviolet rays. It also doesn't grow mold or mildew as cotton canvas does, so it doesn't require as much upkeep. While mold can grow on any surface the polyester fibers are synthetic so they don't offer anything to microorganisms, so your tent will never rot away no matter how wet it gets.
Other features of the Yukon Bell Tent include 4 screened windows and 4 screened air vents, offering plenty of ventilation, 3 ft. sidewalls, a 5 ft. zippered door, and even a zippered floor and sidewalls. This makes it so you can detach the floor from the tent itself and then roll up the sides, turning the tent into a nice outdoor shelter to enjoy the nature around you.
If you want to go glamping during any time of the year, you should take advantage of the stove jack, which allows you to safely keep a wood stove inside. This stove can be used for keeping the tent warm in the winter or at night, heating water, and even cooking food. Are you really glamping if you don't have a source of heat inside the tent? The stove jack can be cut to fit stovepipes that are 4, 5, or 6 inches in diameter, so you can make it fit whatever size pipe your stove might have.
The Yukon can be purchased from Elk Mountain's website, in three different sizes: 13 ft. diameter ($745, center height of 8 ft.), 16 ft. diameter ($845, center height of 10 ft.), and 20 ft. diameter ($995, center height of 11.5 ft.).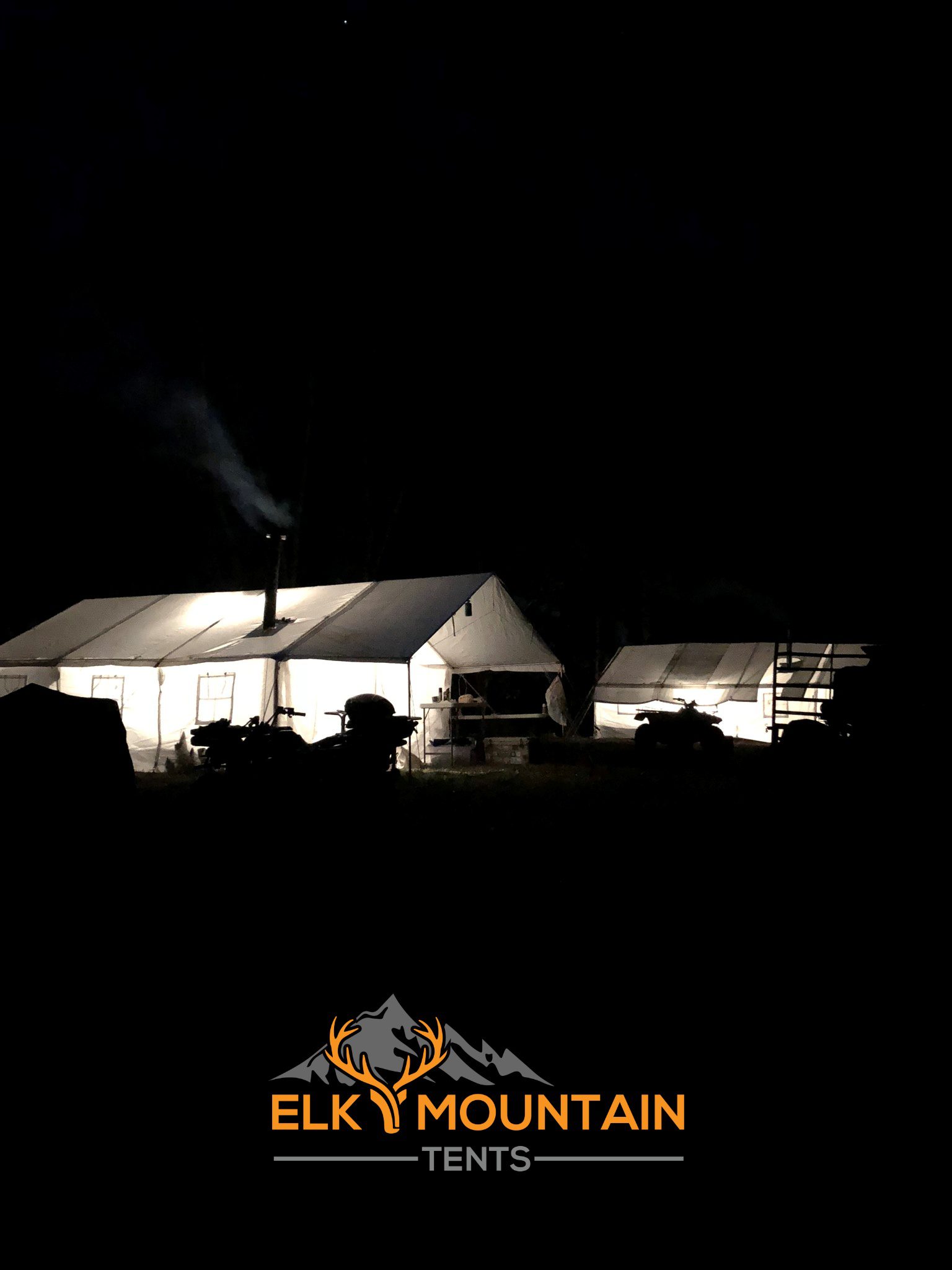 Teton Sports Sierra Canvas Tent
The Teton Sports Sierra 12 Canvas Tent is another sturdy bell option. One thing that makes this tent a standout is that it can be set up by just one person in under 30 minutes. The material is durable yet breathable, ensuring that it will last you a long time and keep you comfortable and dry in any weather. It includes built-in windows to allow light and air to come into the tent, as well as a jack for a wood stove. If you want to go glamping with the whole family or with a large group, it is roomy enough to comfortably fit 6-10 people inside. Keep in mind, however, that you shouldn't use the woodstove if the tent is at its full capacity. It has a diameter of 12 ft., allowing you and your party to move around comfortably inside. The floor can unzip from the tent itself, allowing you to turn it into a canopy. If you want to have your electronic devices with you on your getaway, you are in luck, as the Sierra has an access port so you can have them plugged in inside. It has a larger door than many other bell tents, which makes getting in and out easier, especially for taller campers, as well as provide additional airflow. It can be purchased for $590, with larger options available for $700 (16 ft. diameter, 12-person) and $930 (20 ft. diameter, 16-person).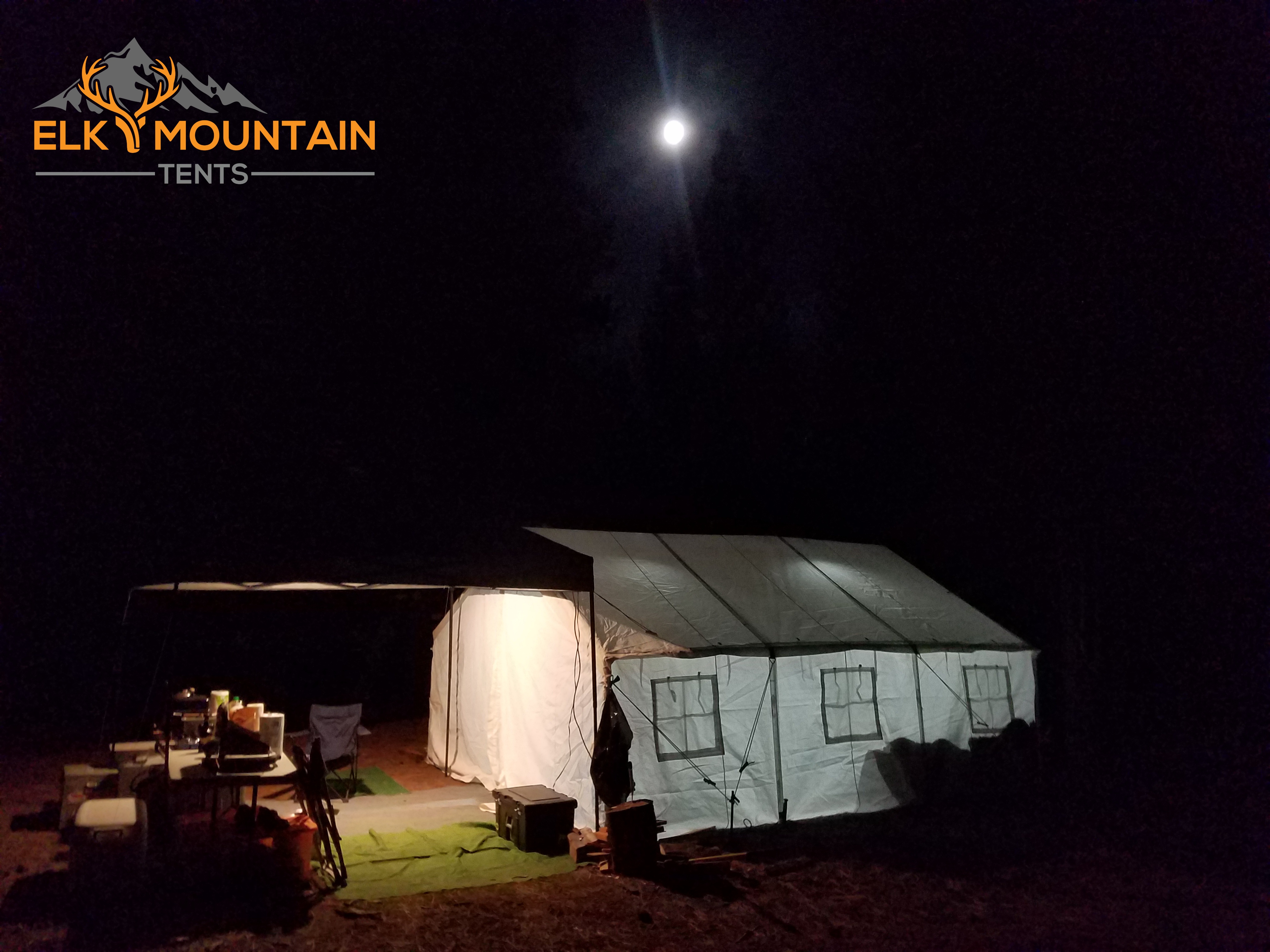 Danchel Outdoors Cotton Canvas Bell Tent
The Danchel Outdoors Cotton Canvas Bell Tent is another popular option for those who enjoy cotton canvas. The 8.4 oz cotton material is treated to be waterproof and resistant to mold and mildew. This helps the tent avoid many of the issues that can often occur in cotton canvas tents. The floor is made of durable 19 oz PVC that is sure to keep any water from leaking in at the bottom. The 4 mesh windows and large mesh door allow for ample ventilation, and both the canvas and mesh walls can roll up individually to turn the tent into a shaded area in which to enjoy the great outdoors while keeping out insects if needed. The versatility of this model makes it great for all seasons. You can stay inside with just the mesh walls in the summer, or you can buckle down and put up all the walls during the colder parts of the year, especially if you make good use of the stove jack. The tent is designed to be easy to set up, and it is available in several different sizes and options. There are 13 ft., 16 ft., and 20 ft. diameter models that each include one stove jack and 10 ft., 16 ft., and 20 ft. diameter models that include a second stove jack in the roof, allowing for some versatility in where you keep your stove.
Dream House Cotton Canvas
A unique bell tent that is ideal for anyone looking for a large glamping option is the Dream House Cotton Canvas 13 ft. x 9 ft. Twin Emperor Bell Tent. This option is just as regal and impressive as its name implies, with plenty of room inside to spread out and put all your things. It really does look like a house, so if you want to go all out on something spacious, look no further! It includes 6 windows and 3 doors, all with mesh screens. The 10 oz. cotton canvas is waterproof enough to endure light to medium rain, but it might not be the best idea to use this tent during a blizzard. The 19 oz PVC groundsheet, however, definitely has the durability to keep water from leaking in at the bottom. The sidewall can be rolled up to allow the breeze inside on a hot summer day, and the tent should be able to withstand light winds. If you are looking for something to use during the summer, fall, or spring, this tent should suit you well!
There are so many fantastic bell tents out there, all great for glamping and enjoying the great outdoors in the most relaxing and comfortable way. If you want to camp in luxury, find the right bell tent for you today!
Sources: