Living in a Tent: What You Will Need
Have you thought about taking an adventurous chance and moving to the Great Outdoors? If you look in the right places, you will find plenty of people who have chosen this as a lifestyle, many of whom would recommend it to others, even just for a month, to get away from the worldly things and gain a greater appreciation for nature. You may find that living in a tent for a season or two can be a very cathartic and even enjoyable experience. There are a lot of things you should take into consideration before taking the plunge, however. If you don't properly prepare, instead of one of the best experiences of your life, you may come out of it pretty miserable. If you do make sure you have all the things you need, you may find the sacrifice to be well worth it.
The first thing you need to consider before making your move is where you will be living. You need to make sure that wherever you decide to set up, you have convenient access to food and water. Ideally, you would camp relatively close to a stream, and it could be a huge help to have a place to go hunting or fishing, especially if you are trying to save money. But in case of an emergency, you may not want to live too far away from a store, so you will be able to purchase food if you need to. When you are packing all the things you will be taking with you, it is a good idea to pack plenty of non-perishable foods and food that doesn't require refrigerating.
Once you figure out your water source, you need to make sure you have a reliable way to heat your water. For cleaning dishes, it will be sufficient boiling water over a campfire or on a stove. Heating water for a shower can be a bit more difficult, however. Your campsite may have a shower close by, but it might not be that hot. There are several solutions to this problem. There are solar-powered hot water heaters that you can purchase if you are wanting to really stay off the grid, and there are battery-powered propane water heaters (some of which do require access to a hose tap), which provide a convenient and reliable source of hot water for a comfortable (and more hygienic) shower.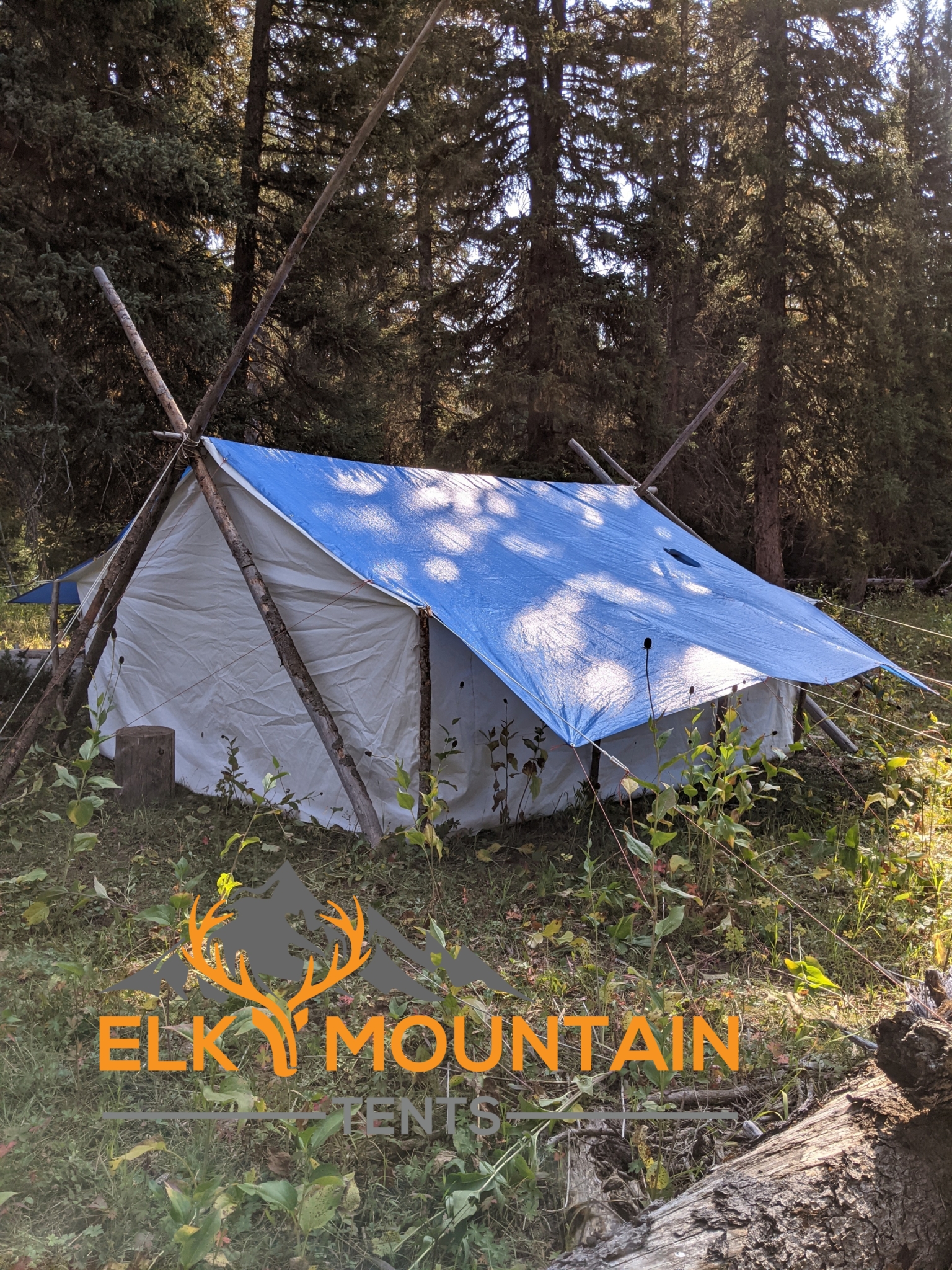 Make sure when you do choose a location that you do the proper research, as every place has its own rules that you will need to follow. Some places may require you to obtain a permit before you set up camp. If you are living in a campground this will likely be a lot easier to figure out. However, if you plan on living in a more secluded area, you need to make sure you have the proper permit and that it will allow for year-round living. Check out a lot of different options, as you can usually find a free camping site. These aren't quite as private, but you can count on having flat ground, cooking facilities, and a communal restroom. Just make sure you find out if you need to make a reservation and how long you will be allowed to camp in that area.
Other Considerations When Living in a Tent
---
Other things you should look into when choosing a location to live include whether or not you'll be able to set up a campfire and/or have convenient access to cooking facilities as well as proper shade and overall safety of the campsite. Ideally, you should set up camp on a plain ground area with minimal brush, and you need to make sure that you have the proper provisions for when you need to go to the bathroom (You might try to find a place that is close to a public restroom). In case of emergency, you should be relatively close to somewhere where you will have telephone and internet access.
The tent you live inside of can make or break your outdoor experience. You need to make sure you get a 4-season tent that is sturdy and strong enough to withstand anything that the weather might throw your way. You never know what might happen when you are out there for a long time, so make sure you prepare for the worst. Your tent should also be large enough for you to stay inside comfortably without feeling cramped. Ideally, you should be able to move around enough to allow you to get dressed and eat inside, as well as keep comfortable inside when the weather is bad. You certainly aren't going to have a good experience trying to live in a 1-person backpacking tent.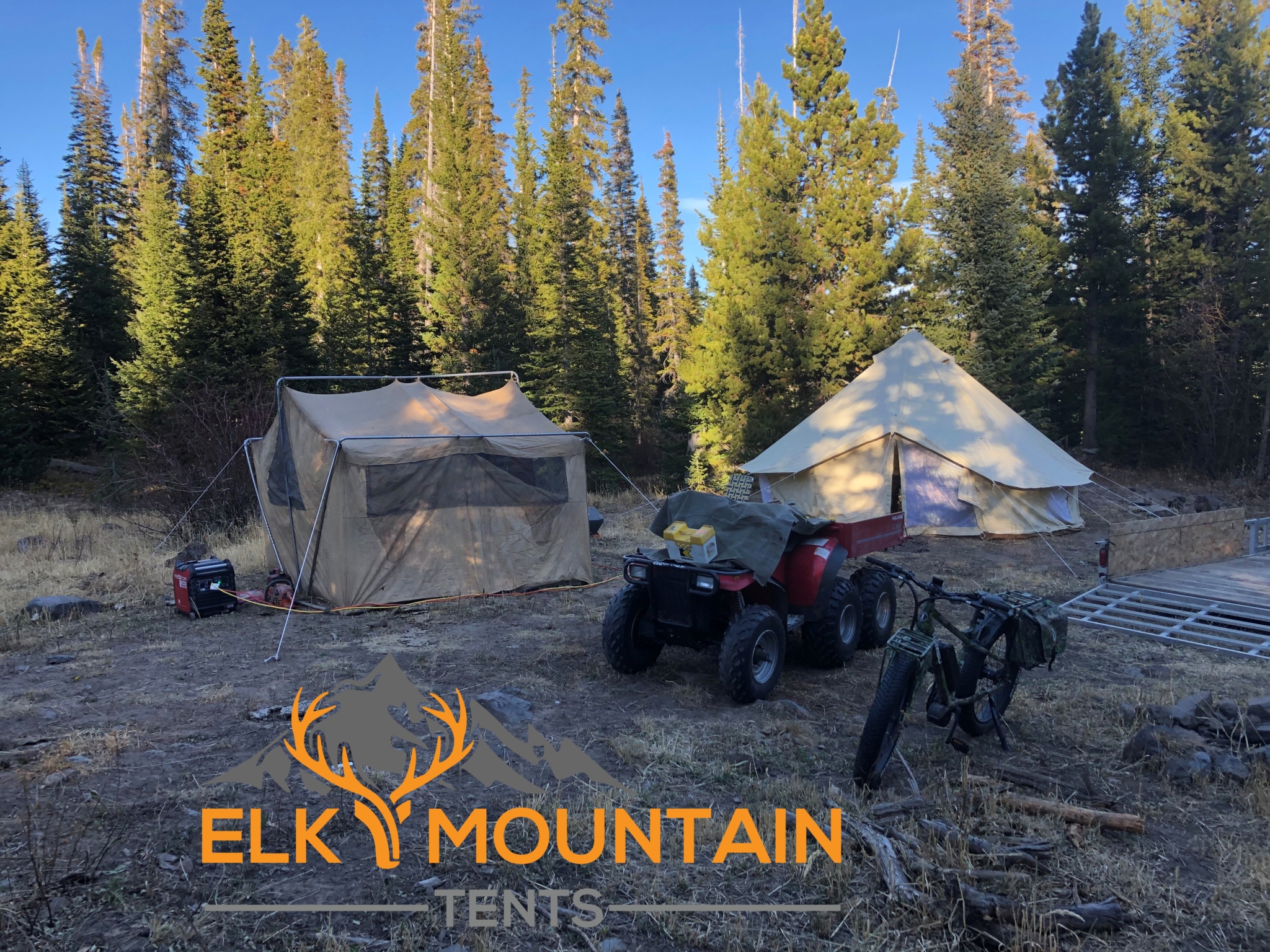 One great tent for living in any time of year is the Elk Mountain Canvas Wall Tent. One of the best things about wall tents is their indoor space, allowing you to move around easily and even stand up straight. Elk Mountain's wall tents are built to last for many years, so they are a great investment for anyone who wants a tent that will work for the rest of their lives. They are sturdy enough that they don't tear or break easily, and they even hold up nicely against the snow.
The canvas in these tents is a unique 100% polyester fabric that is much stronger and less likely to tear or break than typical cotton canvas. Other advantages over cotton include that it doesn't shrink, it lasts longer, it doesn't absorb water, and it won't rot. Polyester is a synthetic material so there's nothing for the bugs and bacteria to eat. The tent material is even more durable with an extra layer of fabric wherever the material touches the poles and Velcro corners to prevent tearing against the frame. It is naturally waterproof, so there is no need to worry about putting up a rainfly when it is stormy outside, and it holds up well against ultraviolet rays. The breathability of the material, ridge openings (which can Velcro shut and be opened with a pull string), as well as the mesh windows (4 or 6, depending on the size) that can roll up and Velcro shut provide much-needed ventilation on those hot summer days.
Another great thing about Elk Mountain's tents is the included stove jack, which allows you to use a wood stove inside the tent. This is almost essential for anyone wanting to live comfortably in a tent, especially during the colder months of the year. The jack can be cut to be 4, 5, or 6 inches in diameter, so you can adjust it according to the size of your stove pipe. A wood stove is great not only for keeping you warm but also for cooking or heating up water if there is bad weather outside.
Elk Mountain Tents has gone the extra mile when it comes to weatherproofing, which is crucial for making a tent livable for a long period. One feature is a 6-inch sod cloth on the bottom of the tent, sealing the floor and keeping water from leaking in. It also includes pole ties on the inside that secure the material to the poles, keeping it from flapping in the wind and keeping the frame in place. The roof of the tent extends past the walls, providing eaves when it rains, so the water won't run down the walls. The Canvas wall tent can be purchased online from Elk Mountain's website, and it comes in 3 sizes, starting as low as $795.
Another great living option from Elk Mountain Tents is their Yukon Bell Tent, which is excellent for anyone wanting to live in luxury on their outdoor adventure. It is made from the same durable material as the Canvas Wall Tent, and it also features a stove jack and plenty of room to walk around comfortably. If you desire, you could even fit a bed inside of this tent! It comes in 2 sizes: The 13 ft. diameter costs $650 and the 16 ft. diameter costs $750.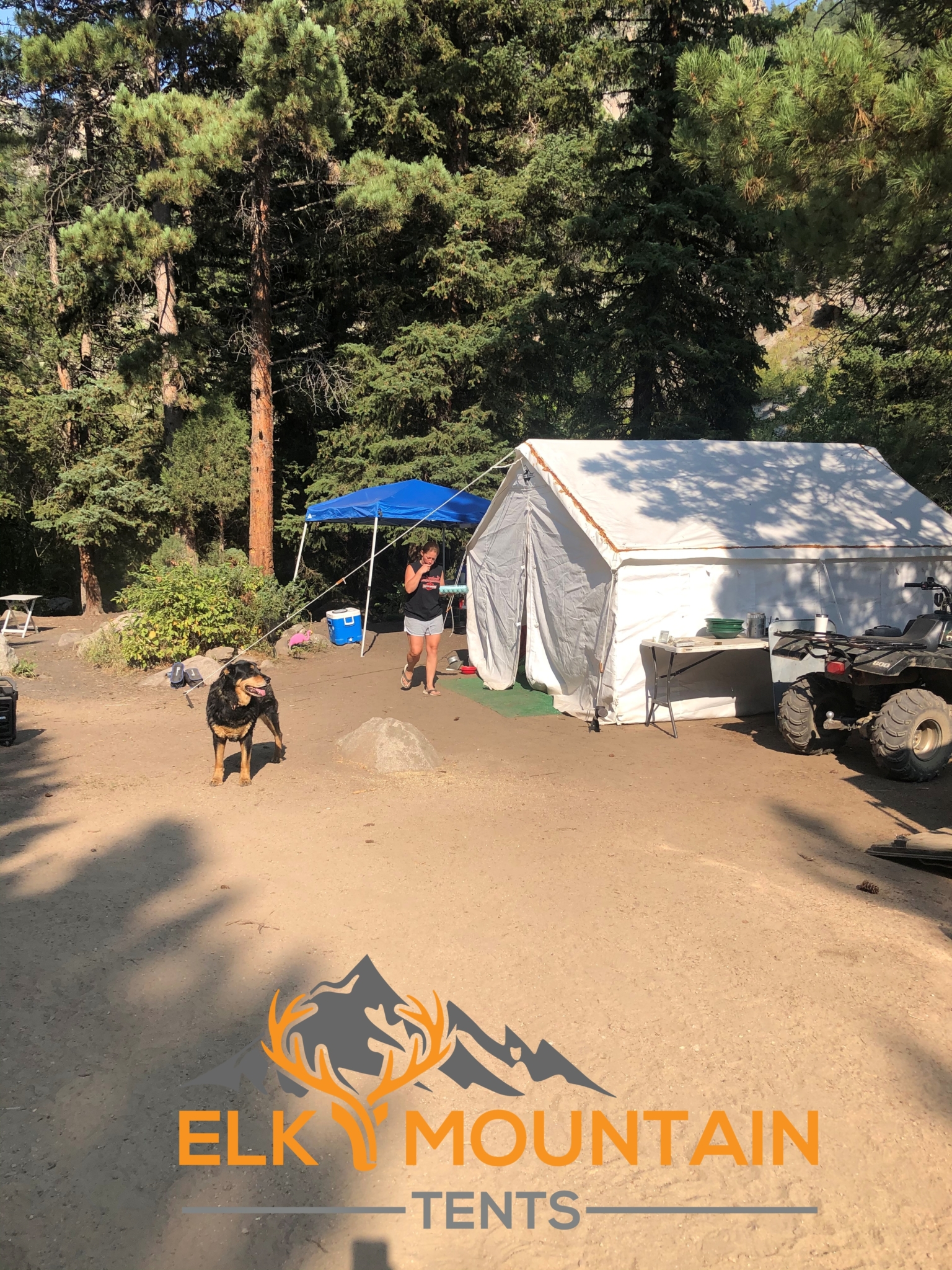 Make sure you have comfortable sleeping arrangements when you make your list of things you need. A simple inflatable pad can be nice and convenient for a weekend campout, but you might want to invest in something a little more comfortable for long-term living. You may want to try to purchase a cot or an air mattress so you can relax and rest comfortably in the great outdoors (a sleeping pad on top of a cot can provide you with a proper cushion while keeping you comfortably off the ground).
Living in a tent can be an amazing experience if you know what you are getting into and if you prepare properly. In summary, make sure you have all the commodities you will need, including bathroom provisions, access to food and hot water, internet and phone access, and cooking facilities, and make sure you have plenty of comfort and room with your tent and sleeping arrangements. Make a checklist to make sure you will have everything you need at your chosen campsite, and you are ready for the adventure of a lifetime!
Sources:
https://sleepingwithair.com/full-time-tent-camping-tips-that-make-living-outdoors-a-breeze/