Pros and Cons of Polyester Tent Material
There are plenty of different types of material that tents are made of, and each has its advantages and disadvantages. Some of the most common high-quality fabrics are made from cotton and nylon, but the material you likely see the most is polyester. Just what is it about polyester that makes it so much more popular than other tent materials? Is it so good that it deserves the title of most popular tent material? That is for you to decide, but hopefully, this article will help you get a good idea of the pros and cons of polyester, what advantages it has over other materials, and whether or not it is the right material for you.
As a synthetic fabric, polyester is much more similar to nylon than it is to cotton, but it does have a significant edge over nylon when it comes to durability. Polyester will not only do much better than nylon will against rain and wind, but it is also much more resistant to ultraviolet rays. In that regard, polyester will last you much longer than nylon. So, if you want to invest in a tent that can withstand tough weather and that you can use for many years, you should go with polyester over nylon. However, there are a couple of advantages that nylon has over polyester, specifically that is much lighter and usually less expensive, so if you are more of a casual camper and don't want to break the bank, nylon isn't a bad option.
While not as light as nylon, polyester is still probably the lightest material you can get without sacrificing durability. This makes polyester great for activities such as hiking and backpacking, where you may have to travel across rough terrain carrying your tent. Many polyester tents are designed to pack up small and compact for further convenience in backpacking. This also makes storage much easier.
However, at this point we should probably mention that nylon fabric can vary drastically. It can be paper thin like you might expect from a nylon dome tent or thicker and more sturdy than any cotton canvas, so when you do your research it's best to ask the tent company for the exact break and tear strengthe of the fabric.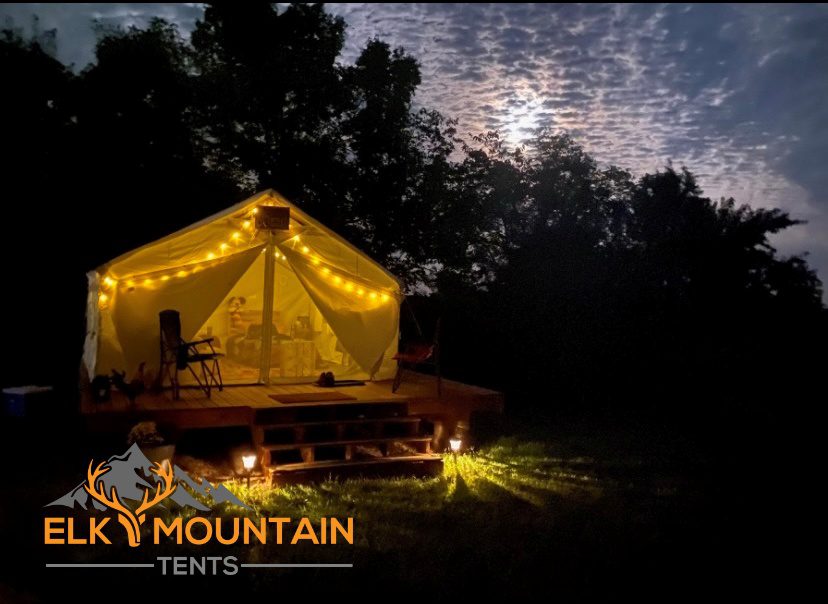 Polyester has some big advantages over cotton as well. Cotton is much heavier and more expensive than polyester, making polyester the best option out there when you are on a budget but still want something durable. Cotton is the heaviest material out there. Aside from its bulk, one of the biggest cons of cotton is that it can grow mold and mildew after you have had it a while. You won't come across this problem with polyester, again making it one of the more long-lasting options on the market.
Polyester is usually a great option to go with if you need something resistant to water. Many polyester tents also have waterproof coatings to make them perform even better against bad weather. Breathability varies drastically with polyester. Some polyester tents are thin and feel like plastic while the polyester canvas used by Elk Mountain Tents has the same breathability as a cotton-poly blend tent.
Polyester tents are quite sturdy, with remarkably high tensile and tear strength, helping the material's reputation with being long-lasting. Polyester is quite easy to maintain as well, especially compared to cotton. It is a good idea to wash and rinse off oils, dirt, and grease, but as long as you do that your tent should stay in good shape.
There are very few cons to polyester if it's been manufactured well. Some people will always prefer the softer touch of cotton canvas and its natural ruster appearance. Polyester, on the other hand, is fully synthetic and may look unnatural at your campsite. Although polyester breathability can vary based on manufacturing, an easy remedy to this is to make sure that any tent you get has screened ridge openings and or windows. Also, ask the tent manufacturer if it is a breathable or non-breathable canvas.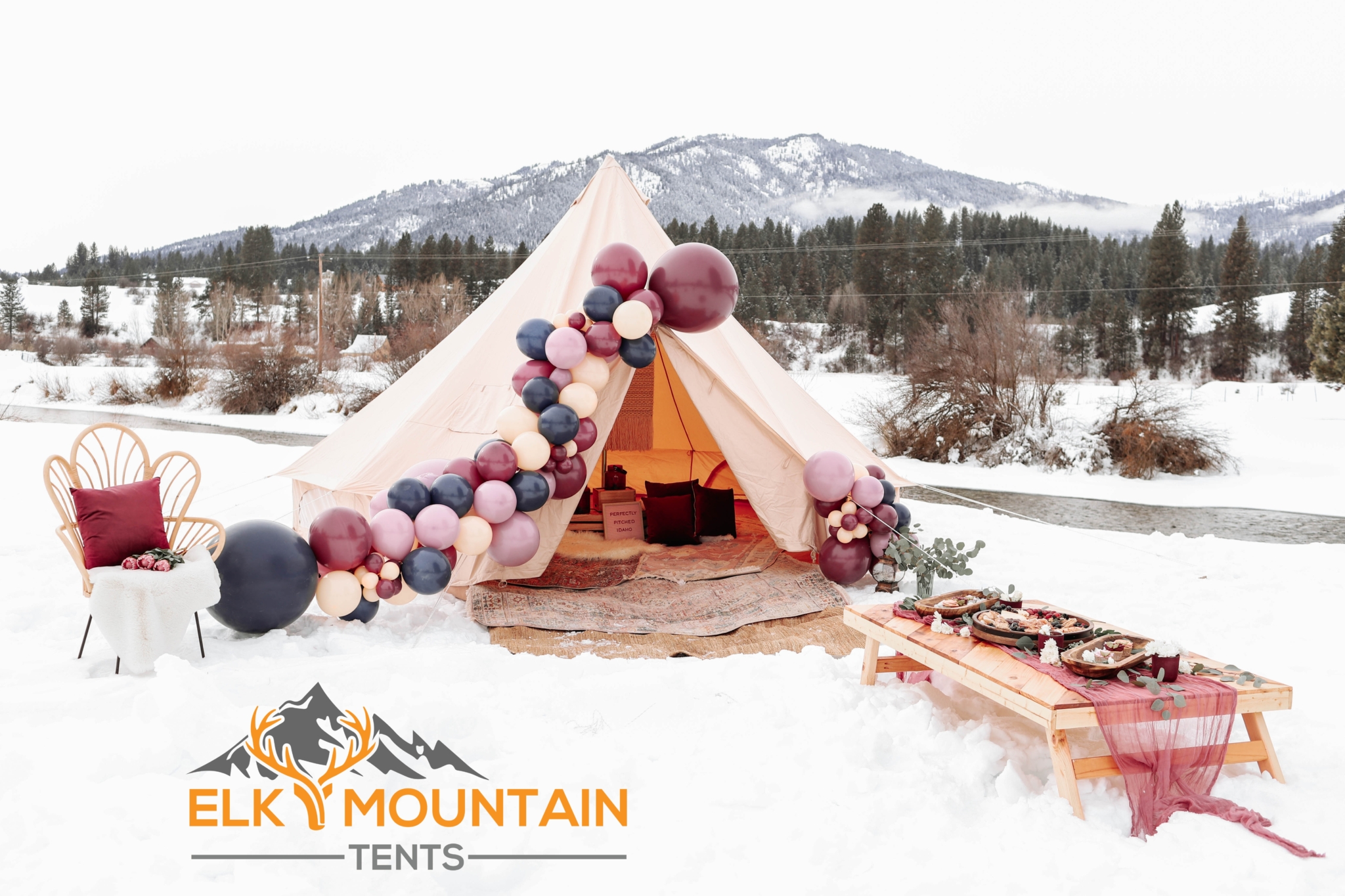 Overall, polyester is the best material to have when you need something conveniently low-maintenance. It is also a great option to consider if you are on a budget but still want something strong, durable, and reliable.
Elk Mountain Canvas Wall Tent
Since it is the most common tent material, there are plenty of excellent options on the market when it comes to polyester canvas tents. One of the best out there is the Elk Mountain Canvas Wall Tent. You'll be pleased to find that these wall tents have all the advantages of a strong, sturdy, cotton material as well as polyester while managing to avoid many of the drawbacks of both!
Unlike most other polyester fabrics, with this material, you don't need to worry about condensation issues or about it getting too hot, as it has superb breathable polyester canvas. It is also much more resistant to ultraviolet rays and water than typical cotton or polyester, without even needing a rainfly.
The fabric in Elk Mountain's tents has a much higher break and tear strength than cotton canvas, and it also won't grow mold, rot, and mildew like cotton will, making this material much longer-lasting. Though it isn't as lightweight as typical polyester material, it is much lighter than cotton canvas, making it much easier to pack and carry into the backcountry.
These tents have plenty of other features that make them great for camping or even living. There are 4-6 mesh windows included (depending on the size of the tent you purchase), helping immensely with ventilation. The windows can be easily rolled up and Velcroed down. Another great thing about these tents is that they have a stove jack included. This allows you to use a wood stove with the tent, which is especially great for winter camping. The jack can be cut to be 4, 5, or 6 inches in diameter, depending on the size of your wood stove. The inside of the tent has pole ties to secure the fabric to the poles, avoiding the annoying noise of the tent flapping in the wind. There is also an extra layer of material wherever the canvas meets the frame of the tent as well as Velcro and ties on each of the main corners, preventing ripping and tearing which can sometimes happen when you are taking down the tent. Both sides of the tent have ridge openings at the top, offering additional ventilation. These can Velcro shut and can open easily with a pull string. The roof of the tent extends past the walls, forming eaves that keep water from running down the walls, something that can be annoying when it starts pouring rain outside.
Elk Mountain's Canvas Wall Tents come in three sizes: 13 x 13 ft., 13 x 16 ft., and 13 x 20 ft. The standard models start at just $795, and you can pay a little extra if you want additional conveniences such as a front screen door or an awning.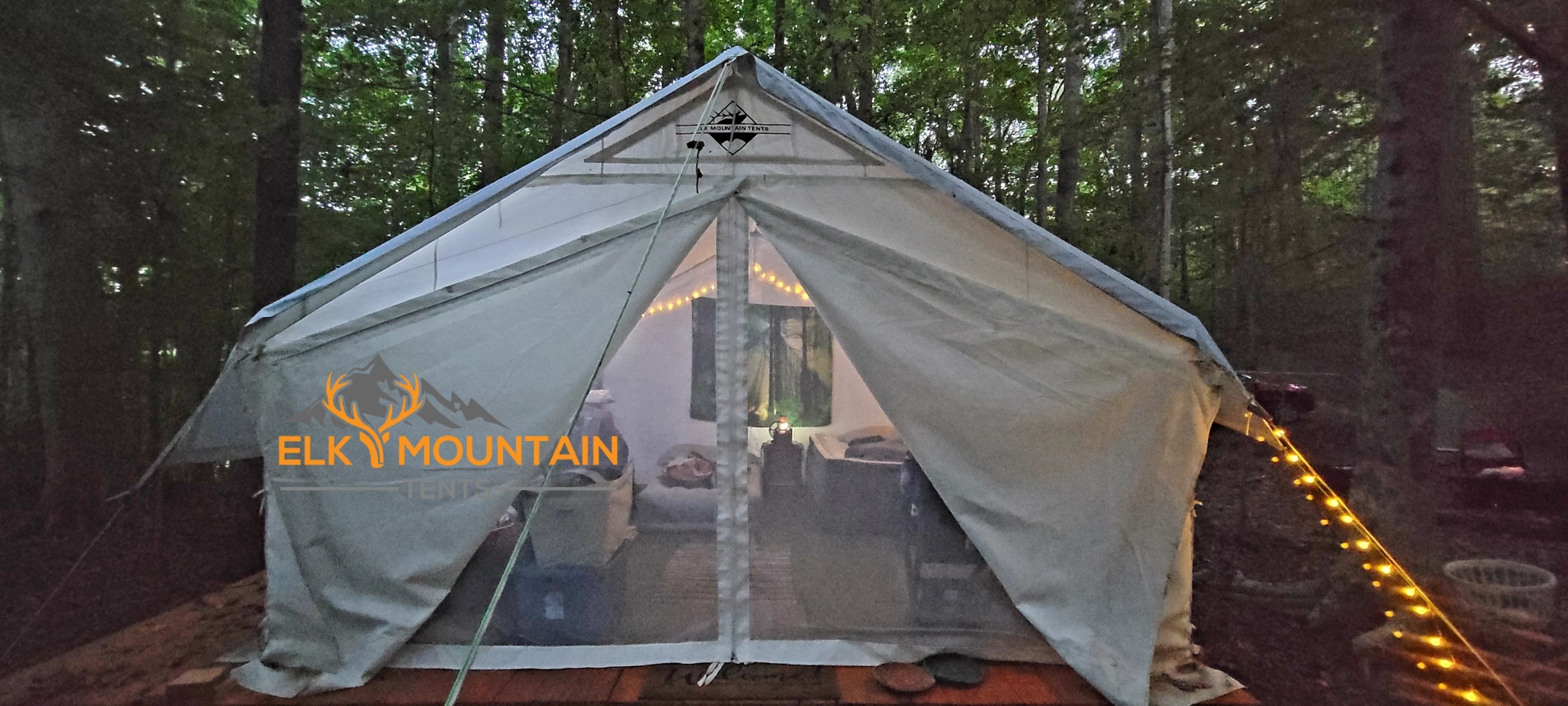 Yukon Bell Tent
Another great option from Elk Mountain Tents is the Yukon Bell Tent. This tent has all the conveniences of the wall tent, as it is made from the same high-quality polyester material. This bell tent is especially great if you want to go glamping or are just looking for some relaxation in your camping adventure. It is available in two sizes, 13 ft. diameter and 16 ft. diameter, and it is available from Elk Mountain's website starting at $650.
You should now have a better idea of whether polyester is the best material for you when you are looking for a tent, or whether you should opt for something else. Polyester is the most popular material out there, so now you know what you are getting into when you make your purchase. Find the polyester tent that is best suited for you and have an amazing camping getaway!
Sources:
https://canopytentreviews.com/blog/tent-materials
https://www.campingintheforest.co.uk/blog/camping-information/polyester-tents—should-you-buy-one