Introduction:
Camping in a canvas tent is a unique experience that can provide you with a comfortable and cozy shelter in the great outdoors. However, to ensure the longevity and effectiveness of your canvas tent, you need to properly season or weather it. Seasoning or weathering a tent can refer to two different processes and this article will touch on both of them.
If you own a canvas tent from Elk Mountain Tents, you're in luck. They offer some of the best quality canvas tents for sale on the market, and more relevant to this article – their unique canvas material requires no weathering or additional treatments, so your tent can last for many years to come… and you really don't need to read most of this article since it's primarily about what to do with cotton canvas. Anyway, in this guide, you'll learn the best tips and tricks for seasoning or weathering a *cotton* canvas tent, but if there's something relevent to an Elk Mountain Tent, I'll point those out along the way.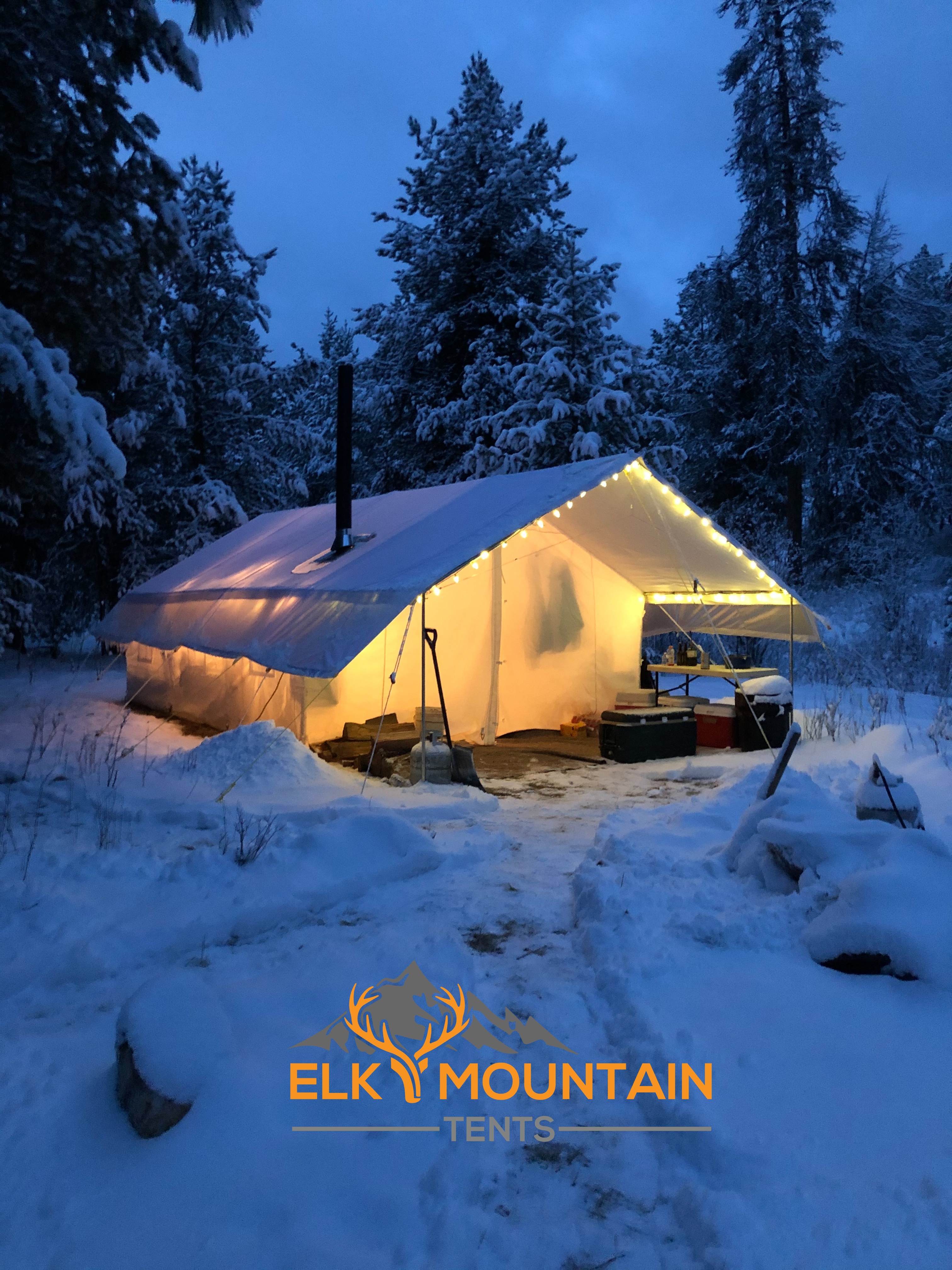 I. Understanding the importance of seasoning or weathering your canvas tent
When you first receive your cotton canvas tent, it's essential to season or weather it before using it for camping. Cotton canvas used in most canvas tents is not naturally waterproof, and without seasoning, water can seep through the canvas, causing leaks and damaging the fabric.
Cotton is a thick fabric of little strings bound together, and there are holes between these strings. The cotton will also shrink a little after the first few instances of getting wet. So, seasoning a tent essentially involves two steps: 1) getting the tent wet so you can speed up the shrinking process. This sounds like a bad thing but the shrinking means that those little holes are getting tighter. This alone is enough for many people to feel their canvas is water resistant enough. However, most people got the extra step, and 2) Apply different treatments, in particular a waterproofing treatment, to the canvas to fill in the remaining little holes.
Seasoning your tent is also essential for improving its durability. The seasoning process involves shrinking the canvas and impregnating the canvas fibers with a waterproofing solution, making them more resistant to rot, mold, and mildew. This also helps to reduce the risk of your tent fabric becoming damaged by UV rays, which can cause the material to break down over time.
The material used in Elk Mountain Tents' tents is naturally waterproof and cannot rot because it is a synthetic material. The holes do not need to be shrunken and then filled in like cotton canavs. That said, it can still be treated for fire protection (see our FAQ section), and it's generally recommended to get a rainfly to protect the material from all elements to ensure that it lasts for decades.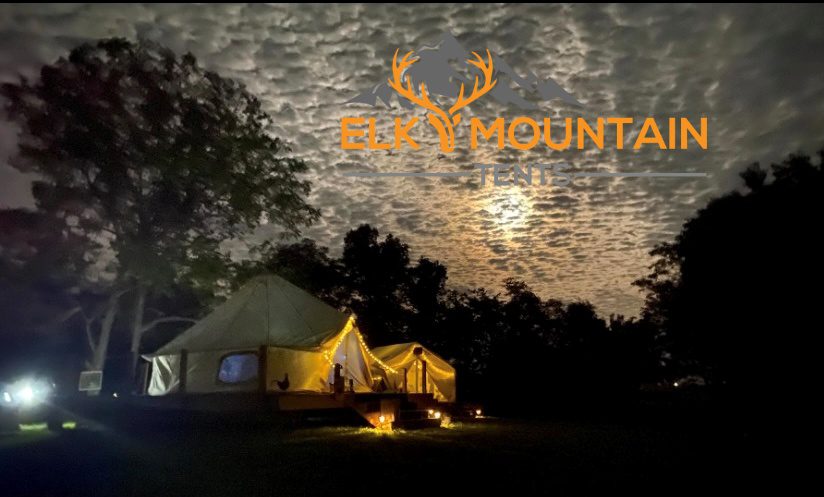 II. How to season or weather your canvas tent
Here are the steps to follow when seasoning or weathering your canvas tent:
Set up your tent: First, set up your canvas tent in a dry and shaded area. Ensure the tent is properly pitched and taut to avoid wrinkles and air pockets, which can affect the application of the waterproofing solution.
Clean the tent: If your tent is brand new, you can skip this step. Use a soft brush or sponge and cold water to clean the tent. Avoid using soap, detergent, or hot water, as these can damage the canvas material. Allow the tent to air dry completely before moving on to the next step.
Wet down the tent: Spray the tent gently with a hose or sprinkler. Every part that has cotton canvas needs to get wet.
Dry the tent: Leave your tent set up until it has dried fully. The tent may shrink by up to 5% but this is natural and will happen eventually, so you're just shrinking it ahead of time so your additional treatments can be more effective. Avoid exposure to direct sunlight if possible to avoid UV damage.
(optional) Repeat: Repeat steps 3 and 4 one more time if you would like to ensure maximum weathering.
Apply the waterproofing solution: We recommends using a water-based waterproofing solution such as Canvak, Aqua-Tite Green, or Nikwax. These solutions are environmentally friendly and won't harm the canvas fibers. Apply the waterproofing solution to the canvas fabric using a soft-bristled brush, roller, or spray bottle. Be sure to cover all areas of the tent, including the seams and zippers.
Allow the tent to dry again: Once the waterproofing solution has been applied, allow the tent to dry completely in a dry and shaded area. Avoid exposure to direct sunlight if possible to avoid UV damage.
Notes: Waterproofing is supposed to be reapplied each year but you can probably get away with doing it every other year. And, again, the tents from Elk Mountain Tents require no weathering or seasoning or added treatments; You can optionally apply a protective layer of Nikwax but you will get more protection from just having an added rainfly (also not required).
Honestly, it's a huge pain. There's a lot of time and effort required. And the alternative isn't that much better – pay someone to do it. If you buy cotton canvas tent, the shop will inevitably offer you a variety of treatments… for a price. That said, though, this isn't just an upsell; yes, it's super expensive for each one, but the tent itself is expensive, and you don't want it to get ruined, so it's a very expensive but worthwhile investment. Again, if you are buying cotton canvas, you will want to pay for the rain, sun, and mold treatments.
III. Tips for maintaining your seasoned canvas tent
Here are some additional tips for maintaining your seasoned canvas tent:
Avoid storing your tent when it's damp or wet. Always allow it to dry completely before packing it away.
Store your tent in a dry and cool place, away from direct sunlight and heat sources.
Avoid using harsh chemicals or detergents to clean your tent, as these can damage the canvas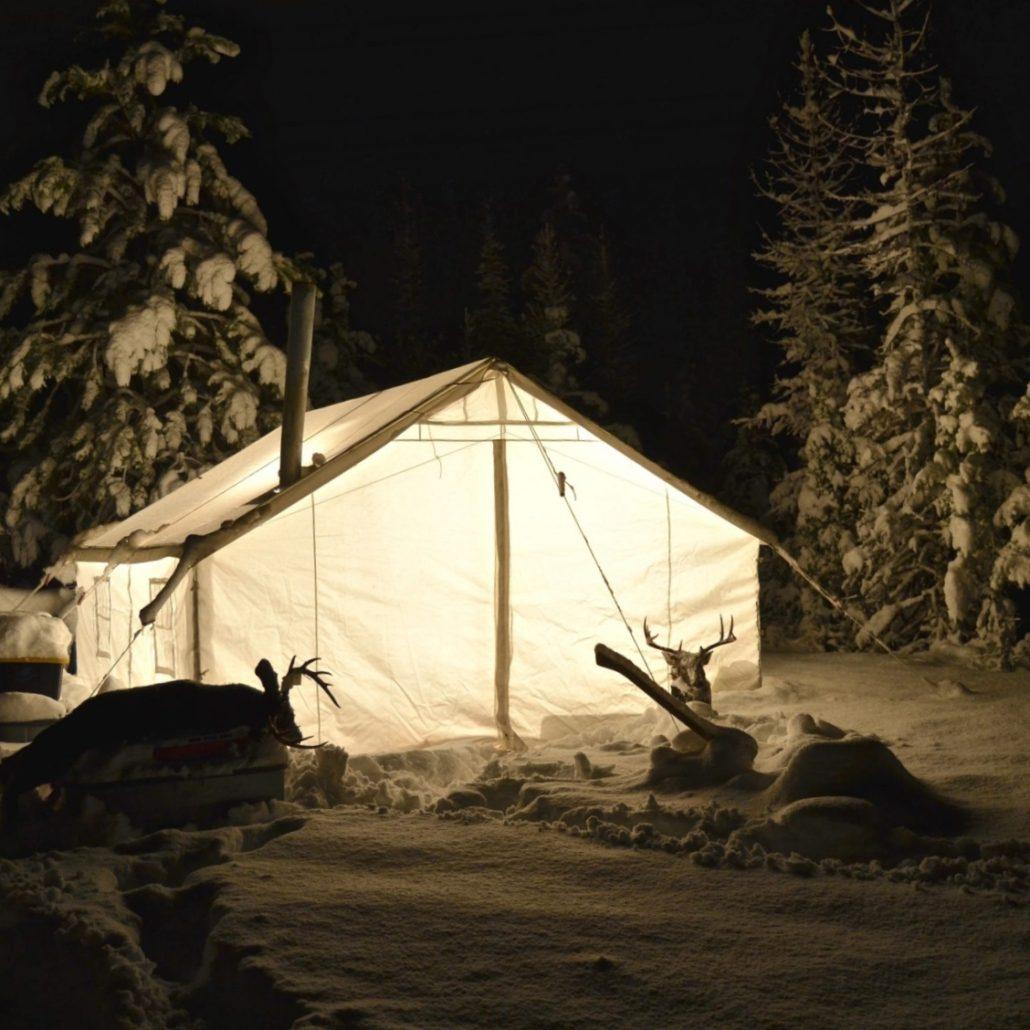 IV. Frequently asked questions (FAQs)
Q: What is the best time to season or weather your canvas tent?
A: It's best to season or weather your canvas tent before its first use. This will ensure that it's properly protected and will last longer. Pick a sunny and dry day.
Q: How often should I season or weather my canvas tent?
A: It's recommended to season your canvas tent every few years or as needed. This will help to maintain its water resistance and durability. But it may season itself just by getting some rain. It's the waterproofing that will need to be applied regularly.
Q: Can I use any waterproofing solution on my canvas tent?
A: It's important to use a waterproofing solution that is compatible with the canvas material used in your tent. We recommend using water-based solutions for cotton canvas such as Canvak, Aqua-Tite Green, or Nikwax. However, if your tent has synthetic fibers, you'll want a solution specific to your material. Elk Mountain Tents's tents are all naturally waterproof but can still be treated with some kinds of solutions.
Q: Can I use my canvas tent without seasoning it?
A: Yes, you can use your canvas tent without seasoning it. However, without seasoning, the tent may be less water-resistant and less durable, which can affect its lifespan. It can also be impacted by UV light more.
Q: Can I machine wash my canvas tent?
A: What would that even look like?? What kind of machine is this?? I'm gonna just go ahead and say it's not recommended to machine wash your canvas tent. Instead, use a soft brush or sponge and cold water to clean the tent.
Conclusion:
Seasoning or weathering your canvas tent is an essential step to ensure that it's properly protected and will last longer. By following the steps and tips provided in this guide, you can properly season your canvas tent and maintain its water resistance and durability. Elk Mountain Tents offers high-quality canvas tents that don't need any of these expensive treatments 🙂
https://elkmountaintents.com/wp-content/uploads/2023/02/79826830_2947612851924651_8494899867821277184_n.jpg
1512
2016
Jason Little
https://elkmountaintents.com/wp-content/uploads/2019/09/ELK-new-300x128.png
Jason Little
2023-03-10 09:48:00
2023-08-01 09:10:03
Guide to Seasoning or Weathering Your Canvas Tent: Tips from Elk Mountain Tents