When it comes to hunting, having the right gear and equipment can make all the difference. One essential piece of equipment for any hunting trip is a good quality tent. A canvas wall tent is an excellent choice for hunting because it provides shelter and warmth in even the most challenging weather conditions.
Choosing the Right Canvas Wall Tent
There are a lot of great canvas wall tents for hunting trips, and choosing one is the first step. There are several factors to consider when selecting a tent, including size, materials, and features. Here are some key things to keep in mind:
Size: The size of your tent will depend on how many people will be using it and how much gear you need to store. Elk Mountain Tents offers a range of sizes, from tones that can accommodate 3 well-geared adults to 8-10 people depending on whether you're using a wood stove or not.
Materials: Canvas is a popular material for wall tents because it is durable, breathable, and provides excellent insulation. However, the term "canvas" refers to any thick, woven material, so you'll want to consider the base material (cotton, polyester, blend of the two) and the weight or thickness. Cotton is considered traditional but polyester requires fewer treatments and is slightly lighter for the same strength
Features: Some canvas wall tents come with additional features, such as stove jacks for heating, mesh windows for ventilation, and reinforced corners for added durability. Consider which features are most important to you when selecting your tent.
Making the Most of Your Time in the Tent
Once your canvas wall tent is set up, it's time to start enjoying your hunting trip. Here are some tips for making the most of your time in the tent:
Stay organized: Keep your gear and supplies organized inside the tent to make it easier to find what you need. Use storage containers to keep everything in its place.
Stay Warm: If you plan on hunting in colder weather, it's important to keep the tent warm. The wood-burning stove can be an excellent source of heat, but be sure to follow all safety precautions when using it. All models of tent sold by Elk Mountain Tents include a stove jack. Additionally, make sure you have warm sleeping bags and plenty of extra blankets to stay warm at night.
Stay Dry: In addition to staying warm, it's also important to stay dry. The 100% synthetic canvas used by Elk Mountain Tents requiers no waterproofing treatment, but if you're using a cotton canvas you'll want to make sure the tent is properly sealed to prevent rain and snow from getting inside. Consider bringing a waterproof tarp or rainfly to cover the tent for added protection.
Stay Comfortable: Hunting trips can be physically demanding, so it's important to take care of yourself while in the tent. Bring some of your creature comforts with you! Bring a cot, backup power storage for your phone, chemical handwarmers, etc. Especially if this is your base camp for a multi-day trip. You don't have to be roughing it the entire time you're out.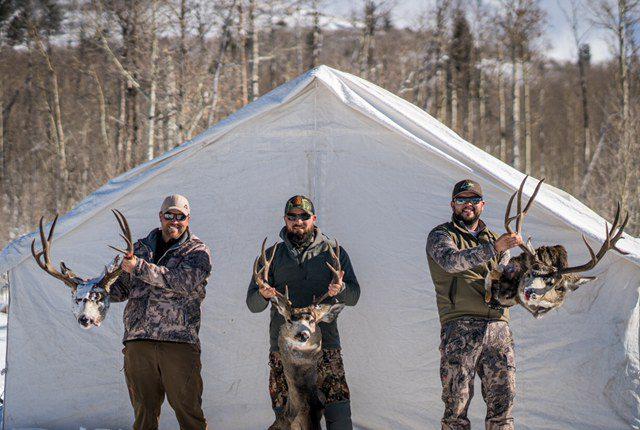 Conclusion
A canvas wall tent can be an excellent choice for hunting, providing shelter, warmth, and comfort in even the most challenging weather conditions. When choosing a tent, be sure to consider size, materials, and features. Setting up the tent can be a bit challenging, but with practice, it will become second nature. Once the tent is set up, be sure to stay organized, warm, dry, and comfortable to make the most of your hunting trip. With the right gear and preparation, you'll be ready to tackle any hunting adventure from the comfort of your canvas wall tent.
https://elkmountaintents.com/wp-content/uploads/2023/03/5-1.jpg
1080
1920
Jason Little
https://elkmountaintents.com/wp-content/uploads/2019/09/ELK-new-300x128.png
Jason Little
2023-08-25 05:16:16
2023-08-01 10:06:34
Hunting from a Canvas Wall Tent