Elk Mountain Tents is a company that specializes in high-quality canvas wall tents with windows. These tents are perfect for outdoor enthusiasts who want to experience camping in a more traditional and comfortable way. The canvas material used in these tents provides better insulation and is more durable than cheap, thin materials, like nylon, commonly used in modern tents. In this article, we will explore the top 10 canvas wall tent ideas.
Family Camping Tent
The first is the most obvious – the family camping tent. Canvas tents are perfect for families who love camping and want to experience the great outdoors together. Canvas tents are spacious, with enough room for the whole family to sleep comfortably and store their camping gear. In fact, you'll probably have a lot less gear than hunters and be a lot more comfortable sleeping close together, so even the smallest 13 ft diamer bell tent or 13×13 wall tent will be plenty of room for your family. Now, if you are a big family, maybe the next size up may be the best choice. Either way, it makes for the perfect home away from home.
Glamping Tent
Your exact same tent is perfect for glamping. With a little more work you can create a more luxurious camping experience, you can turn your canvas tent into a glamping tent. These tents are designed to provide all the comforts of home while still allowing you to enjoy the beauty of nature. The tents sold by Elk Mountain Tents all offer many features you'd expect in a glamping tent such as a stove jack for including wood-burning stoves and screened windows. The smallest wall tent available still comes with four screened windows. The larger models come with six. And the Yukon bell tent has the ability to completely drop the side walls for a truly unique experience.
Hunting Tent
This one may be a bit obvious too, but for the avid hunter, a canvas wall tent can be a perfect option for a hunting tent. These tents provide a warm and comfortable place to stay during long hunting trips, and the durable canvas material can withstand harsh weather conditions. They make for the perfect base camp because they are sturdy and can handle all four seasons. Additionally, the larger sizes means there is room for plenty of cots AND gear And a wood stove.
Winter Camping Tent
Ok, this idea is cheating a bit because this is true of either family camping or hunting, but camping in the winter with a canvas tent can be a magical experience. The canvas material provides excellent insulation and can keep you warm even in the coldest temperatures. Every tent model sold by Elk Mountain Tents comes complete with a stove jack so you can bring in a wood stove, do a little cooking, boil some water for coffee, all while keeping your toes toasty warm. You can't go wrong with a canvas tent if you're looking for a winter experience.
Event Tent
If you're planning an outdoor event like a wedding or a festival, a canvas wall tent can be a beautiful and practical option for a gathering space. Perhaps it will be a cool room with a little AC where people can take a little break. Maybe you'll use it to house a buffet of food. Maybe you want to use it as an information booth. Maybe you will use it to sell goods or merch at street fair. Any tent sold at Elk Mountain Tents can serve this purpose.
Backyard Tent / Tiny House
These tents are build to last. Maybe you've got a teenager who needs a little bit more space and is sick of sharing their room with siblings. These tents can be set up in your backyard to become an entire extra room. Go ahead and make it as legit as you want. Many people build a deck for their tent, many people will build a wooden awning complete with shingles and set the tent up underneath it. You can run electricity out to it and set up a heater and AC unit along with a TV if you want. The extra room can be used for a guest room, for sleepovers, or even just a place place for kids. I have one set up in my backyard that is essentially the kids' toy room that freed up so much space inside our house.
Music Festival Tent
Ok, this one is cheating a little too since you could view it as a subcategory of "event tent," but let's talk about it anyway! If you're planning on attending a music festival, a canvas wall tent can be a great option for your lodging. These tents are more durable than traditional festival tents and can provide a comfortable place to sleep and store all your stuff. The generally principle here is that they make for a great home base.
Yoga Retreat Tent
For a peaceful and relaxing yoga retreat, a canvas wall tent can be a beautiful and serene option. These tents can provide a comfortable place to sleep and practice yoga in the great outdoors. I mentioned that I have a tent set up in my backyard where we keep all the kids toys, but that's not what it started out as! My house is only 950 sq feet, and I have five kids, so it gets pretty noisy and there wasn't really an easy place to escape to, so I created a quiet space outside. Anyone could use it, kid or adult, but the stated purpose was to have a quiet space away from the house. But, back to the yoga aspect, these tents have tall ceilings, so you can do more than just yoga, you can do any kind of stretching or exercise and they are big enough you don't have to do it alone.
Art Studio Tent / Music Room
My wife loves music. She has a piano, an electric piano, an organ, a guitar, a bass, and a few other smaller instruments. Oh, and an entire PA system and mixing equiptment… in our bedroom. Having only 950 sq ft requires you to be a little creative! So, one project we are planning but haven't done yet is create a music room that's just for her. If you're an artist looking for a quiet and inspiring space to work, a canvas wall tent can be a perfect option for an art or music studio. These tents can provide a private and peaceful place to create, with plenty of natural light and fresh air.
Farm-to-Table Tent
For a unique and memorable dining experience,consider a canvas wall tent for your farm-to-table event. These tents can provide a beautiful and rustic backdrop for your guests to enjoy a locally-sourced meal. But it doesn't have to be that fancy or special of a dining occassion. It could just be your dining room. In our house, the kitchen is also the laundry room and the dining room and we use a table that folds up into the wall, but for people in a similar situation to us, it might be nice to just have a dedicated dining space outdoors.
Why Elk Mountain Tents
You don't need some BS about how "here at Elk Mountain Tents we treat our customers like family" because the facts speak for themselves and you don't need flowerly language. I'll keep it simple: 1) Our unique canvas is slightly lighter than cotton canvas while actually being stronger than tradition canvas and requires no rain, sun, or mold treatments; it literally cannot rot. 2) We include more features and at a lower price by not maintaining a brick and mortar storefront and by avoiding custom orders to just focus on a few models. And 3) we can ship your tent out tomorrow, and it'll get to you in a matter of days!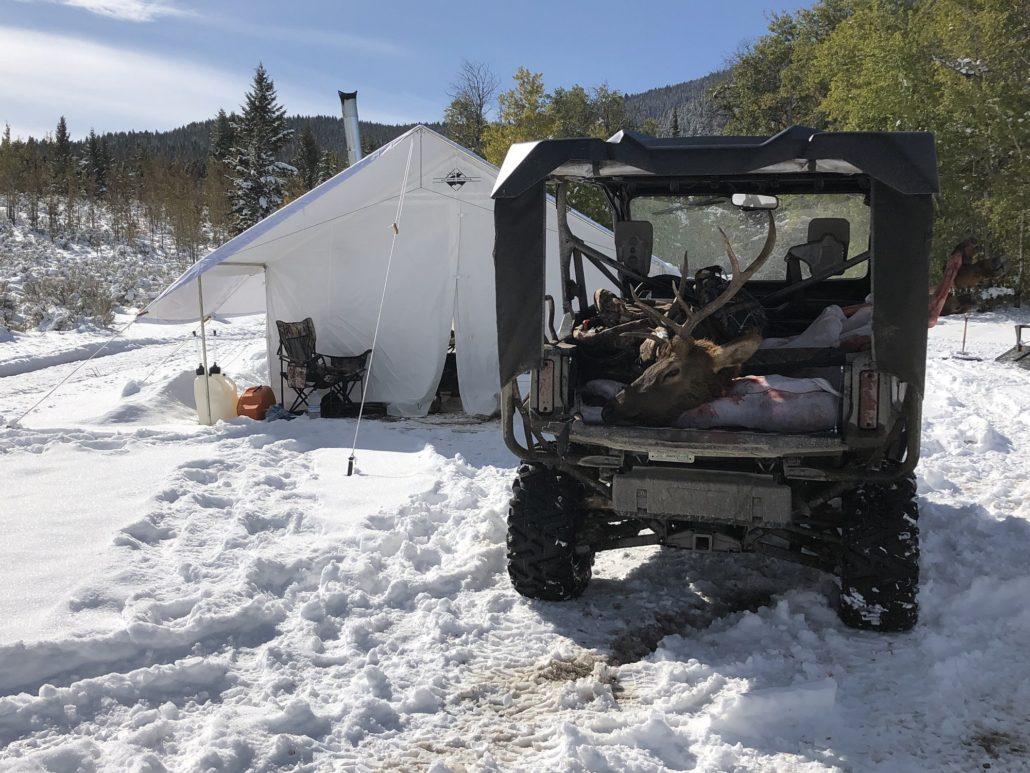 FAQs:
Q: What makes canvas wall tents better than nylon dome tents?
A: Canvas wall tents are made from sturdy materials that provide better insulation and durability compared to the thin materials commonly used in modern tents. They are also more breathable, allowing for better airflow and reducing the buildup of condensation inside the tent.
Q: Can canvas wall tents be used in all weather conditions?
A: Yes, canvas wall tents are designed to withstand a range of weather conditions. They are more durable and better insulated than modern tents, making them suitable for use in cold and wet weather. They can also be used in hot weather with proper ventilation.
Q: How long do canvas wall tents last?
A: With proper care and maintenance, canvas wall tents can last for many years, and with proper care more than a decade.
Q: Are canvas wall tents difficult to set up?
A: While canvas wall tents may require a bit more effort to set up than smaller modern tents, they are not difficult to set up. Most tents come with detailed instructions and can be set up by a single person with some practice.
Conclusion:
Canvas wall tents from Elk Mountain Tents offer a versatile and durable option for outdoor enthusiasts. Whether you're looking for a family camping tent, a glamping tent, a hunting tent, or any other type of canvas wall tent, Elk Mountain Tents has a variety of options to choose from. With their high-quality materials and attention to detail, these tents are sure to provide a comfortable and enjoyable camping experience for years to come.
https://elkmountaintents.com/wp-content/uploads/2023/03/7-3.jpg
1080
1920
Jason Little
https://elkmountaintents.com/wp-content/uploads/2019/09/ELK-new-300x128.png
Jason Little
2023-09-03 01:34:00
2023-08-01 13:01:45
10 Creative Uses of a Canvas Wall Tent