Bell tents have become increasingly popular over the years due to their versatility and durability. They have become a go-to option for camping enthusiasts, festival goers, glampers, and outdoor adventurers. Bell tents are spacious, sturdy, and can withstand extreme weather conditions, making them the perfect choice for all kinds of outdoor activities. If you are looking to purchase a bell tent, this guide will provide you with everything you need to know.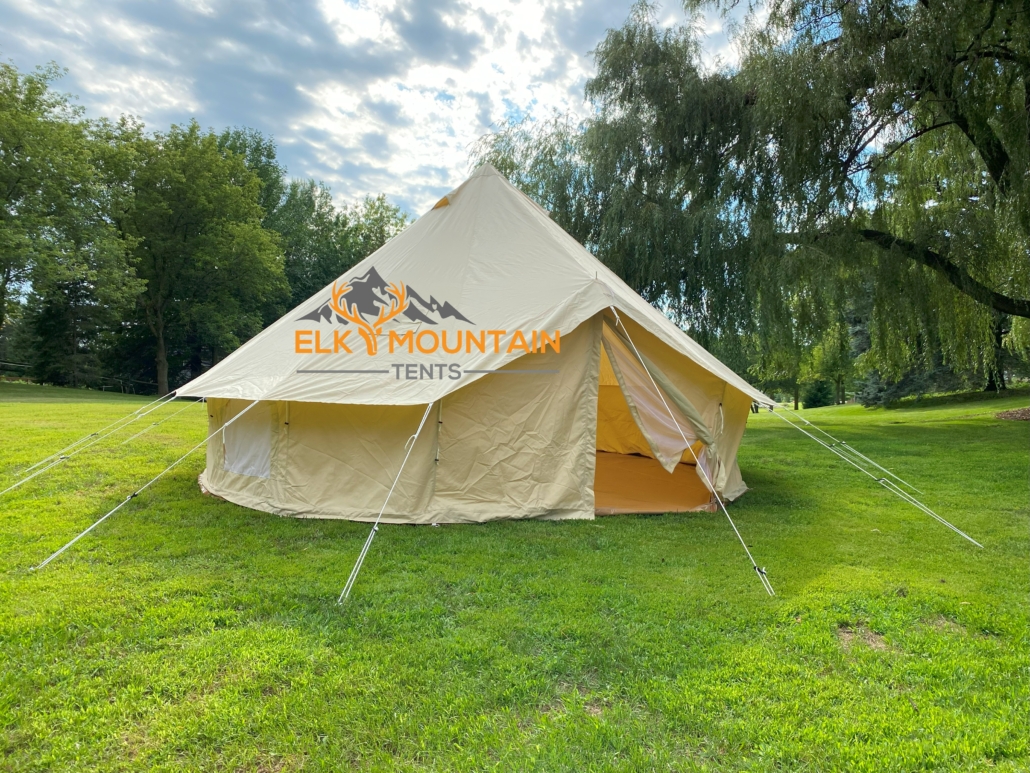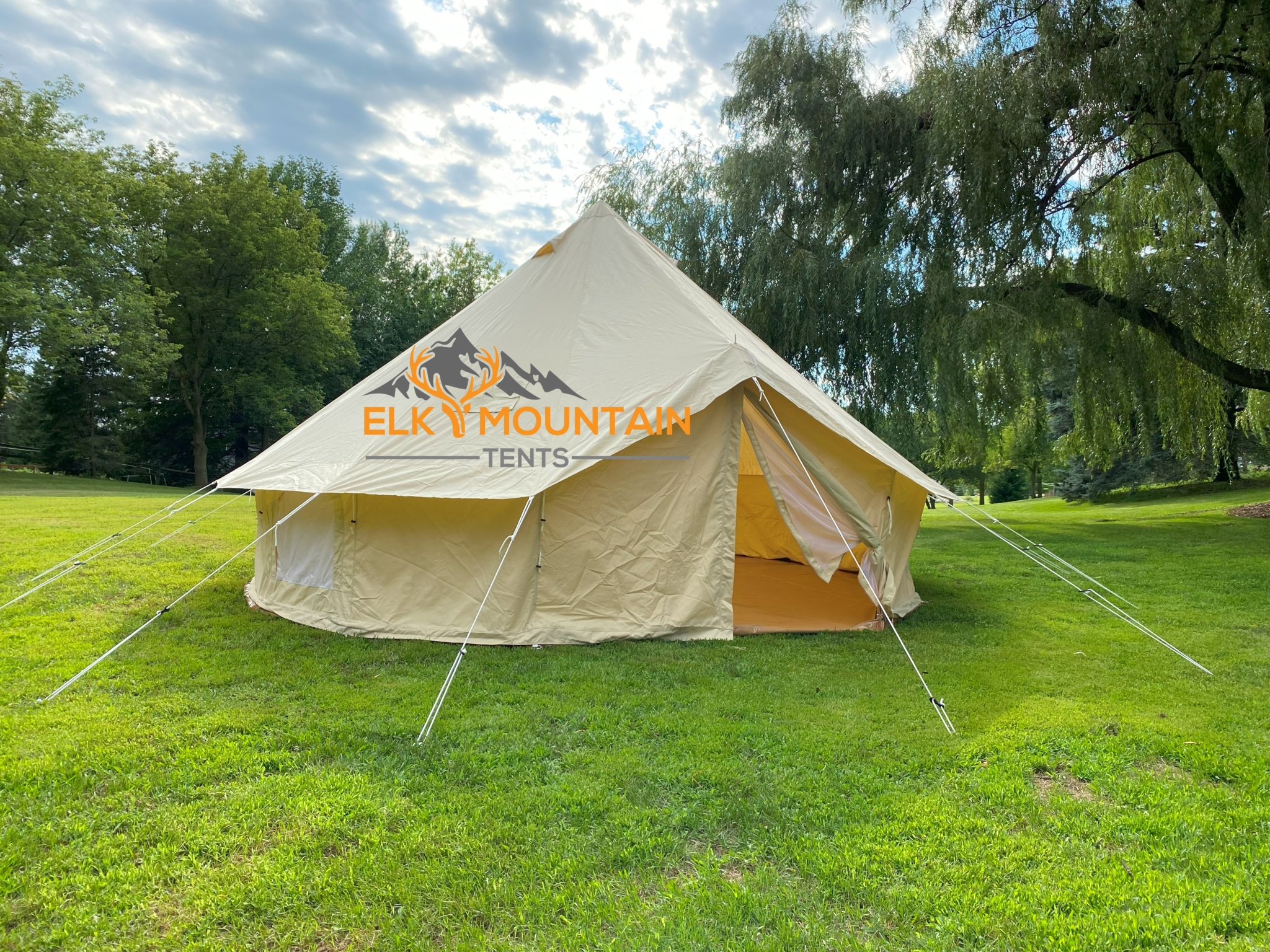 What are Canvas Bell Tents?
Canvas bell tents can be be made of cotton, polyester, or a blend of these two materials. As a general rule, the more synthetic fiber the lighter and stronger the tent. In any case, all canvas is generally thicker than the material of traditional camping tents, making them more resistant to wear and tear. Canvas bell tents are popular among campers and outdoor enthusiasts because they provide a comfortable, spacious shelter that can withstand harsh weather conditions.
Canvas bell tents are easier to set up and take down than other canvas tents such as wall tents, and they come with a range of features such as mesh windows, doors, and vents to keep insects out and allow for proper ventilation. They also have a center pole that provides stability and support, and the design allows for plenty of headroom and standing space. Additionally, depending on your model, you may be able to completely drop the walls – a feature available at Elk Mountain Tents.
Why a Canvas Bell Tent?
Canvas bell tents are a popular choice for outdoor enthusiasts for several reasons:
Durability: all the durability of a wall tent but with a flashier design.
Breathability: Canvas allows for proper ventilation, preventing moisture buildup and keeping the tent cool in hot weather.
Ease of Setup: Bell tents are easy to set up and take down, making them ideal for camping trips and outdoor events.
Spaciousness: Bell tents are spacious and provide plenty of room for sleeping, storage, and other activities. Their circular shape ensures maximum floor space per canvas.
Versatility: Bell tents can be used for a wide range of outdoor activities, including camping, glamping, festivals, and more.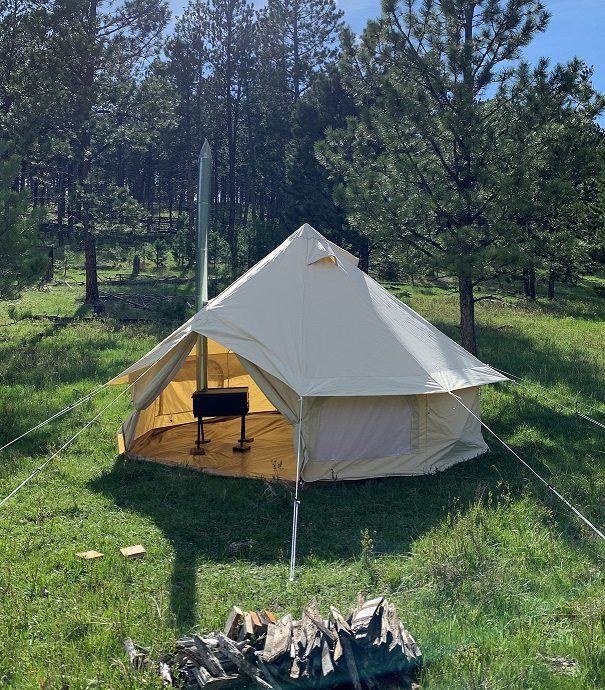 The Elk Mountain Tents' Yukon Bell Tent
Elk Mountain Tents offers three models of bell tent, which they call their Yukon model: 13 ft diameter, 16 ft, and 20 ft. Each model comes with everything you need for an excellent outdoor experience using the same unique material used in their wall tents that boasts a break and tear strength comparable to a 14 oz cotton canvas but at an 11 oz weight.
https://elkmountaintents.com/wp-content/uploads/2023/03/9.jpg
1080
1920
Jason Little
https://elkmountaintents.com/wp-content/uploads/2019/09/ELK-new-300x128.png
Jason Little
2023-07-14 13:06:02
2023-08-01 09:33:52
The Quick Guide to Canvas Bell Tents