When it comes to outdoor canvas tents, one of the most essential pieces of equipment is a tent. And if you're looking for a tent that is durable, versatile, and easy to set up, a canvas tent is an excellent choice. Canvas tents have been around for centuries and continue to be popular among camping enthusiasts today. In this article, we'll provide tips on buying a canvas tent for camping.
1۔ Consider the Size and Shape of the Tent
One of the first things to consider when buying a canvas tent is its size and shape. You'll want to make sure the tent is big enough to comfortably fit all the people who will be sleeping in it, as well as any gear you plan to store inside. If you're camping with a large group or family, you may want to consider a cabin-style canvas wall tent, which is designed to provide more space and headroom. Bell tents also provide ample space and are easier to set up but their circular nature means they will fit fewer cots despite their increased total square footage.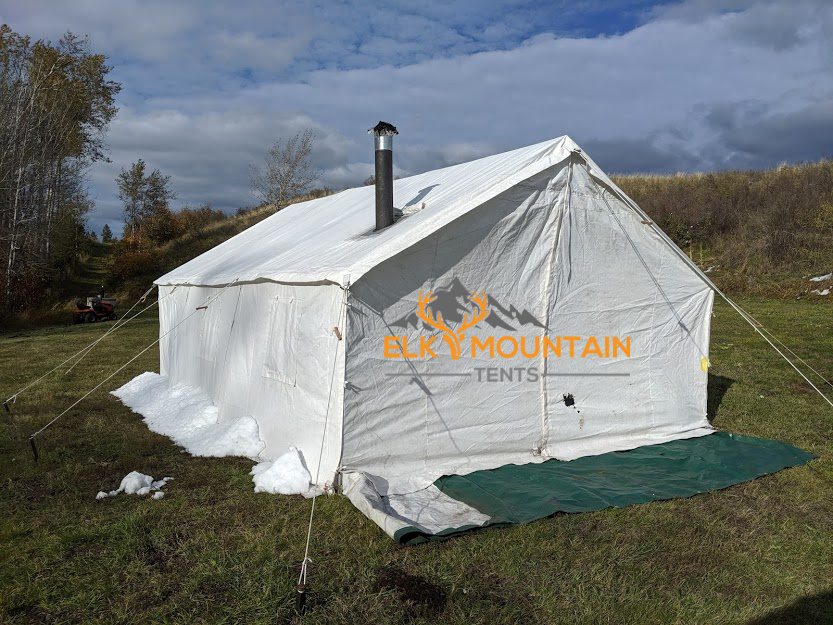 2۔ Look for Durable Materials
Canvas tents are known for their durability, but not all canvas tents are created equal. Look for tents made from high-quality materials. For canvas, there are basically three types: cotton canvas, polyester canvas, and cotton-poly blend canvas. 100% cotton canvas requires the most amount of treatments and is the most susceptible to rot. From there, the more synthetic the material the fewer treatments are required. However, not all polyester is equal. Polyester can be as thin as the material used in a nylon dome tent or as thick and strong as any 14 oz cotton canvas. Additionally, how the material is manufactured can increase or decrease the break, tear, and rip strength. Elk Mountain Tents only uses 100% polyester cotton canvas because it boasts a break and tear strength comparable to 14 oz canvas but at a modest 11 oz weight; it's also naturally waterproof.
3۔ Pay Attention to the Tent's Weight
Another important factor to consider when buying a canvas tent is its weight. Canvas tents are typically heavier than other types of tents, which can make them more difficult to transport and set up. If you plan to backpack or hike with your tent, canvas is not for you. Even the lightest canvas is heavy to hike with. So, if you have to truck it in anyway, then thicker / heavier is generally better. If you're getting cotton canvas, 8 oz is too weak, 10 oz is on the low end of industry standard, 12 oz is excellent, and 14 oz and higher is consider truly heavy duty even for canvas.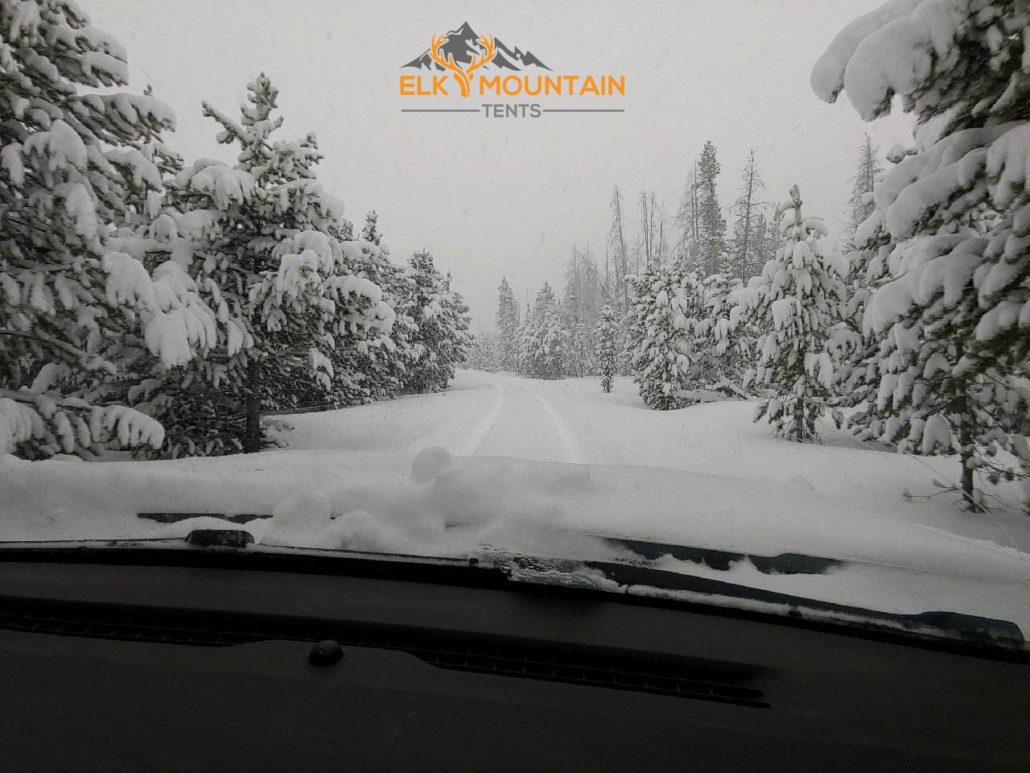 4۔ Look for Features That Suit Your Needs
Canvas tents come in a variety of styles and designs, each with its own set of features. Look for a tent that has features that suit your specific camping needs. For example, some canvas tents have built-in ventilation systems to prevent condensation, while others have multiple doors and windows for easy access and airflow. Elkmountaintents offers a range of canvas tents with different features, so you're sure to find one that meets your needs.
5۔ Consider the Tent's Setup
Finally, consider how easy or difficult the tent is to set up. Some canvas tents require multiple people and a lot of time to set up, while others are much easier. That said, no canvas tent is truly easy to set up since they are pretty big. The best advice is to avoid ones that have a sewn-in floor as these are the most obnoxious to set up.
FAQs:
Q: Are canvas tents suitable for all seasons?
A: Yes, canvas tents are suitable for all seasons. They are breathable, which helps prevent condensation and keep you cool in the summer, while also providing insulation and warmth in the winter.
Q: How do I clean my canvas tent?
A: To clean your canvas tent, use a soft-bristled brush or sponge and mild soap to gently scrub away dirt and grime. Rinse the tent with water and let it air dry completely before packing it away.
Q: Are canvas tents waterproof?
A: It depends on the material. Polyester canvas tents are waterproof (depending on the manufacturing). Cotton canvas is water-resistant but require waterproof treatments.
Conclusion
A canvas tent is an excellent choice for outdoor camping, offering durability, versatility, and comfort. When buying a canvas tent, consider its size and shape, materials, weight, features, and setup. Elk Mountain Tents is a reputable company that offers a range of high-quality canvas tents to suit various camping needs. Their biggest selling points are their unique canvas material and the fact that they can have your tent shipped the next day. Their tents also come with plenty of bonus features at no added cost, such as screened windows and an angle kit.
https://elkmountaintents.com/wp-content/uploads/2023/03/13.jpg
1080
1920
Jason Little
https://elkmountaintents.com/wp-content/uploads/2019/09/ELK-new-300x128.png
Jason Little
2023-07-20 13:27:18
2023-07-31 08:47:43
Canvas Camping Tents: Tips for Choosing the Best