Your Guide to Selling a Camping Tent: Tips and Information with Elk Mountain Tents
Camping is an excellent way to disconnect from the world and enjoy the great outdoors. And having a good quality camping tent is essential to ensuring a comfortable and safe camping experience.
But sometimes you just want to upgrade to something bigger and better. There's nothing wrong with that. But what do you do with that perfectly good tent? You could keep it is a backup or a secondary but sometimes it's just nice having the extra money and space.
Selling a tent can be a bit tricky. This article will provide some helpful tips and guidelines for selling a camping tent, including some information about Elk Mountain Tents, a company that produces high-quality camping tents.
About Elk Mountain Tents:
Elk Mountain Tents has a range of canvas tents on sale, from smaller 13 ft diameter bell tents to whopper 13×20 ft canvas wall tents with an awning. Their tents are known for their durability and quality, with many customers returning to buy additional tents from them. The company has been in business for several years and has a strong reputation for providing high-quality products at reasonable prices.
Selling a Camping Tent – Step by Step Guide:
Step 1: Determine the Tent's Condition
The first step in selling a camping tent is to determine its condition. Is it in excellent condition, or has it been used and worn? Does it have any damages or repairs? Is all the equipment included, such as poles, stakes, and guylines? It's important to be honest about the tent's condition to provide potential buyers with accurate information. Buyers will also who made it, how old it is, and what material it is made out of.
Step 2: Set a Reasonable Price
The next step is to set a reasonable price for the tent. Take into consideration the tent's age, condition, and brand. Check out online marketplaces like eBay and Facebook Marketplace to see what similar tents are selling for. Don't set a price too high as it may deter potential buyers, and don't set it too low as it may undervalue the tent's worth. As a general rule for canvas tents, you can expect to get 40-80% back depending on the condition of the tent. If you got a good deal the first go around, you may even be able to ask the original selling price. This is much better than nylon or dome tents which shoppers prefer to get new. If you're selling a nylon dome tent, you can expect 20-50% of your money back, possibly more if you have a high-end and popular tent model.
Step 3: Clean and Prepare the Tent
Before putting the tent up for sale, be sure to clean and prepare it. Wipe it down with a damp cloth and mild soap, remove any dirt or debris, and make sure it's fully dry. Check for any damages, such as holes or tears, and make necessary repairs if possible. Reassemble the tent to ensure all pieces are present and functional.
Step 4: Take Quality Photos
Taking quality photos can help a ton. Potential buyers want to see what they are purchasing, and pictures help provide a clear view of the tent's condition. Take photos of the tent from different angles, inside and out, with and without the rainfly, and any additional features. Ensure the pictures are well-lit and display the tent's size, shape, and color accurately.
Step 5: List the Tent for Sale
Now it's time to list the tent for sale. There are several online marketplaces, including Craigslist, Facebook Marketplace, and eBay, that allow individuals to sell their used items. List the tent's details, including brand, model, size, and condition, and include quality photos.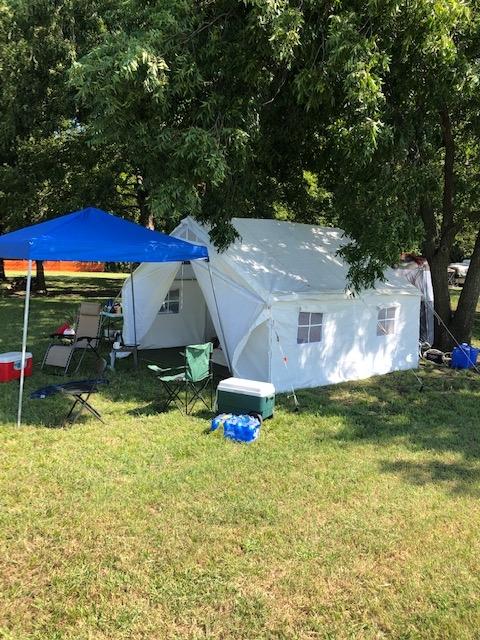 FAQs:
Q
Q: Can I sell a camping tent that has been repaired?
A: Yes, you sell a camping tent that has been repaired. Be honest about any repairs and provide details on what was fixed and how. For a canvas tent, this won't be much of a deal breaker for people since the material repairs nicely.
Conclusion:
Selling a camping tent can be a straightforward process if done correctly. Follow these simple steps to ensure a successful sale: determine the tent's condition, set a reasonable price, clean and prepare the tent, take quality photos, and list the tent for sale. Remember to be honest about the tent's condition and provide accurate details to potential buyers.
If you're looking for a high-quality camping tent, consider checking out Elk Mountain Tents for wall tents, bell tents, and everything else you need for a positive canvas tent experience.
https://elkmountaintents.com/wp-content/uploads/2023/03/3-2.jpg
1080
1920
Jason Little
https://elkmountaintents.com/wp-content/uploads/2019/09/ELK-new-300x128.png
Jason Little
2023-08-09 06:56:00
2023-08-01 10:13:42
Your Guide to Selling a Camping Tent: Tips and Information with Elk Mountain Tents