Baker Tents
There are so many great tents out there that are made to help camping and being outdoors a more enjoyable and relaxing experience. No matter how big or small of a group you decide to take with you, you are sure to find plenty of great tent options to help you meet your needs. One of the more unique tents out there is the baker (sometimes called campfire, Adirondack, or half-wall) tent. Even though you don't see these as often as you see many other tent designs, it is an extremely comfortable and versatile option that is worth considering.
If you have never heard of a baker tent, think of it as a shelter that provides the functionality of a tarp while maintaining the coziness of a tent, excellently making use of many of the attributes of each. The tent's structure looks much like a large canvas wall tent cut in half, offering an open view of the great outdoors while keeping you safe and protected from wind and rain. One of the key features of this open design is that it allows you to safely build a campfire or set up a wood stove inside, making your shelter a comfortable place to stay warm and cook food while on your adventure in the great outdoors (The tent's name likely comes from similar models originally being used by cooks to bake food)! If you enjoy fishing on your campouts, this tent offers a convenient way to cook your fresh fish shortly after you catch it, no matter what the weather looks like outside. Not many tents allow you to be as in touch with nature while you camp like the baker does, and you'd be hard-pressed to find one nearly as cozy, comfortable, or protective.
The design of most baker tents includes a PVC floor for the tent bottom, a sleeping compartment, and a slanted roof that slopes down the tent's back. The roof of the tent extends past the floor to make a spacious porch where you can set up your campfire. The sidewalls of the tent are referred to as wings, as they can be opened up to create walls for the porch area or be closed to cover the sleeping compartment (a great thing to have during windy or rainy campouts). When it is nice outside and you want to take in a little bit more of the outdoors, you can also roll up the wings and keep them secured to the roof and out of the way.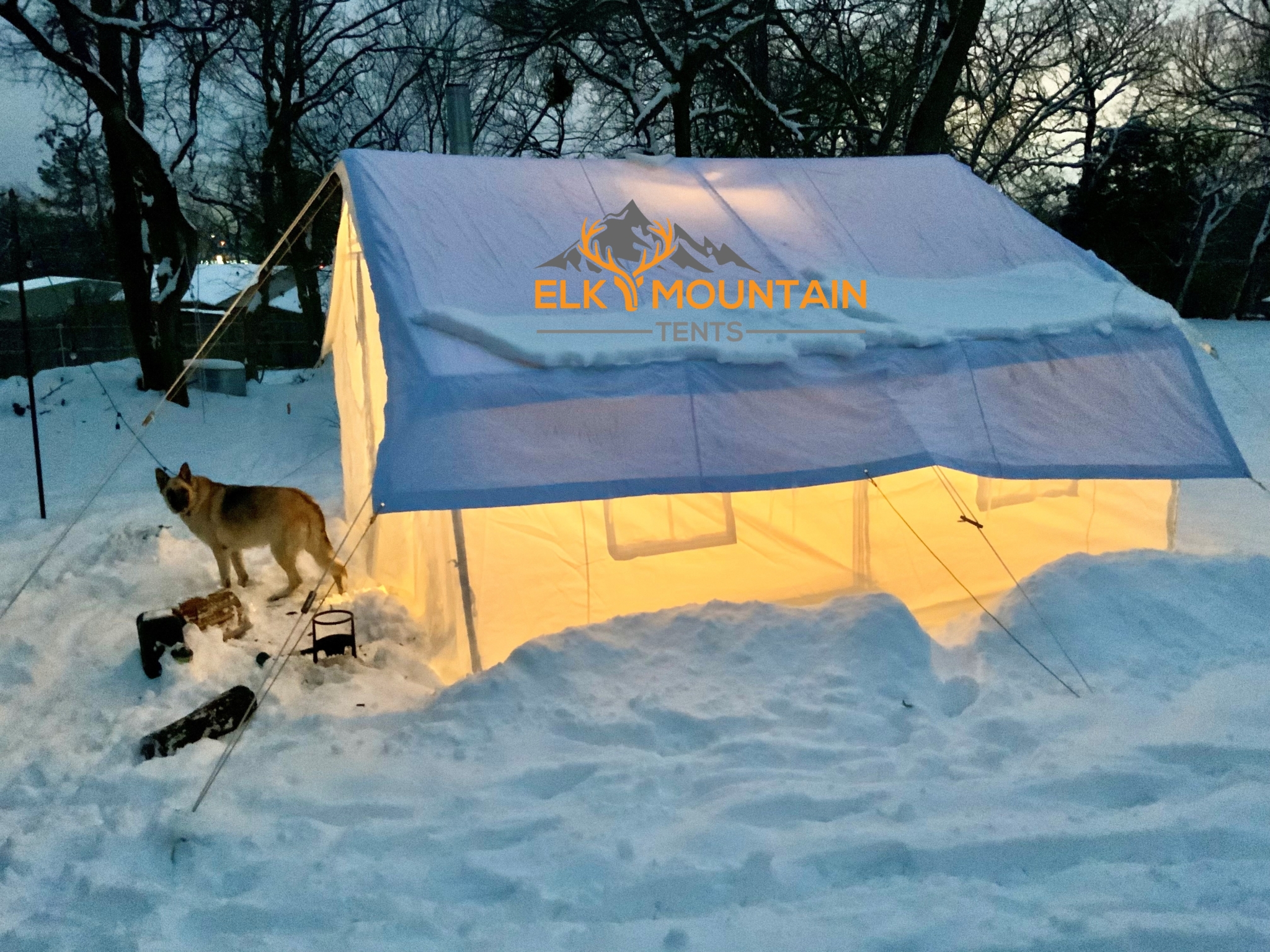 These tents are usually quite large and made of polyester, cotton, or a combination of the two. You probably won't find one made of lighter material like nylon, so baker tents certainly shouldn't be considered lightweight tent options. This isn't the tent you want to take on a minimalist camping or hiking trip. On the bright side of this, however, you can count on the strength, durability, and resistance to fire and water that you will usually find in cotton/polyester tents. As a general rule, the more polyester in the canvas fibers the better since polyester is stronger, lighter, waterproof, won't rot, and yet can now be manufactured with a breathability the same as cotton.
Something really important to help any tent last a long time is knowing how to care for and maintain it, and a baker tent is no exception. Since most of these tents are made of canvas, you need to take care of it like you would any other canvas tent. This includes preventing mold and mildew from forming inside, which can often happen when the canvas is exposed to moisture for a prolonged period. Mold and mildew can cause the material to weaken over time, so make sure after your camping trip you allow your baker tent to dry out completely in the sun before putting it into storage.
Another thing that can damage the fabric over time is dirt, so make sure you keep your tent clean. The most important thing to keep in mind with this is to make sure you don't walk on the tent while it is on the ground during setup or takedown. It also won't hurt to bring a soft bristle brush with you on your campouts, just to keep as much dirt off as you can and extend the lifetime of the tent.
Though many baker tents are fire-resistant, they aren't immune to burning. Take precautions when you start your fire such as not letting it get too high and keeping a water bucket close by just in case. Keep an eye out for embers that may stray from the fire. Consider how heavy the wind is and what direction it will be blowing. Just be smart and cautious and you should keep your tent safe from burning.
These tents are usually durable enough to take on winter campouts, but you should always make sure the roof and guy ropes are taut. This will help prevent strain on the fabric and rope loops that can come from rain and snow or even strong winds. Just make sure everyone knows where the guy ropes are, as stress could occur in the tent if someone trips on one.
Most tents have a finish on them that increases their quality and helps them stay resistant to fire and water. Because of this, chemicals like insect repellant shouldn't be used close to the tent, as it can damage the finish. Check out manufacturer recommendations as to what you should clean your tent with and whether cleaning chemicals can harm the finish as well.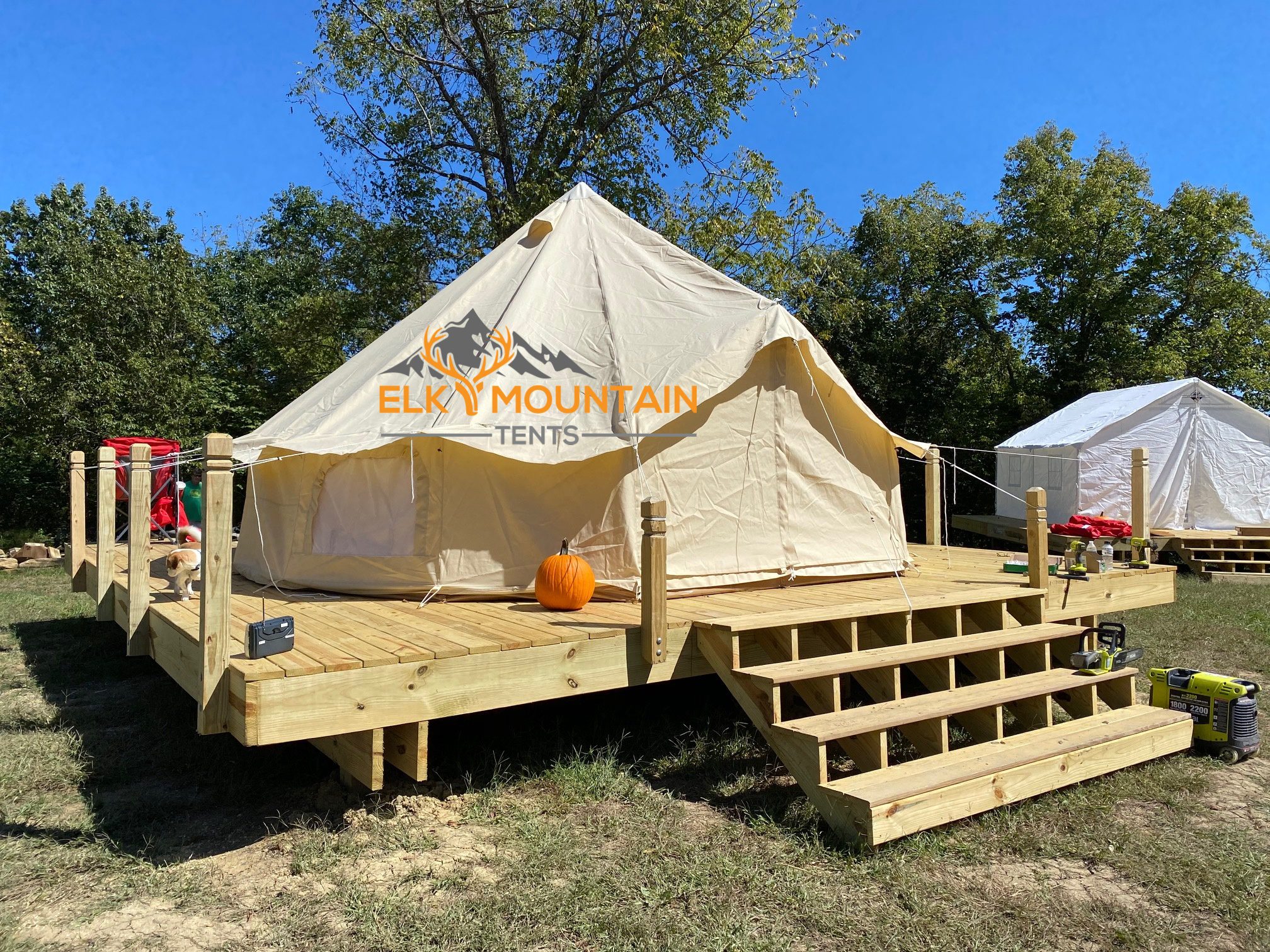 The main thing that prevents canvas tents from lasting a long time is improper storage. So, in addition to proper maintenance, you need to make sure you are taking every step to store your tent correctly. The first step to this is allowing the tent to become completely dry. The best way to do this after a wet camping trip is to set it up in the backyard or somewhere it can get enough sun to dry all the way through. Then you need to make sure it is clean, using a brush or even hosing it off before drying it. When you are sure that the tent is dry and clean, fold it up to be stored on its own. You don't want to store the stakes with it as they can poke holes, and you shouldn't store the ropes with it because they might not only still be damp but also have chemicals that could damage the material. Ensure that the place you are keeping the tent stored is cool and dry. It should be in a place where it won't have a risk of getting moisture on it, and it should be out of sunlight since the fabric can only hold up against UV rays for so long. Lastly, it is a good idea to keep the tent somewhere that mice don't have a chance of getting to it and gnawing holes in it.
There are many advantages and disadvantages to consider before buying a baker tent. Some of the pros include its roominess and open feel, the warmth it can provide while you relax, and great ventilation throughout. A baker tent is an ideal and versatile choice for anyone wanting to camp in one spot for a long period, and its openness makes it easy to fit whatever you need inside. Because of this, these tents are great to use a cot or larger bed with that you might not normally fit in a less open tent.
Some of the notable cons of baker tents include their heavy weight, making them not the greatest for hiking long distances. Setup for these tents can also be difficult, especially because of the long, awkward poles and abundance of guy ropes. While the open feel of these tents is one of the things that makes them excellent, it is important to remember that as a result that, the tent won't always be successful at keeping out insects. Because these tents are usually quite tall, you should consider how bad the winds will be before taking a baker tent out camping.
Since it has waned in popularity over the many years, not every major tent company makes a baker tent. Companies you can purchase one from include Tentsmiths and the Red Tent Company. Tentsmiths has been making quality tents for decades for many high-profile events, so you know that if you buy from them you are getting a quality product. These Sunforger Duck Canvas tents are particularly strong and durable, with reinforced seams and extra material anywhere canvas tents usually experience wear and tear, including peaks, eves, and door overlaps, 10-inch sod cloths, and sturdy structure.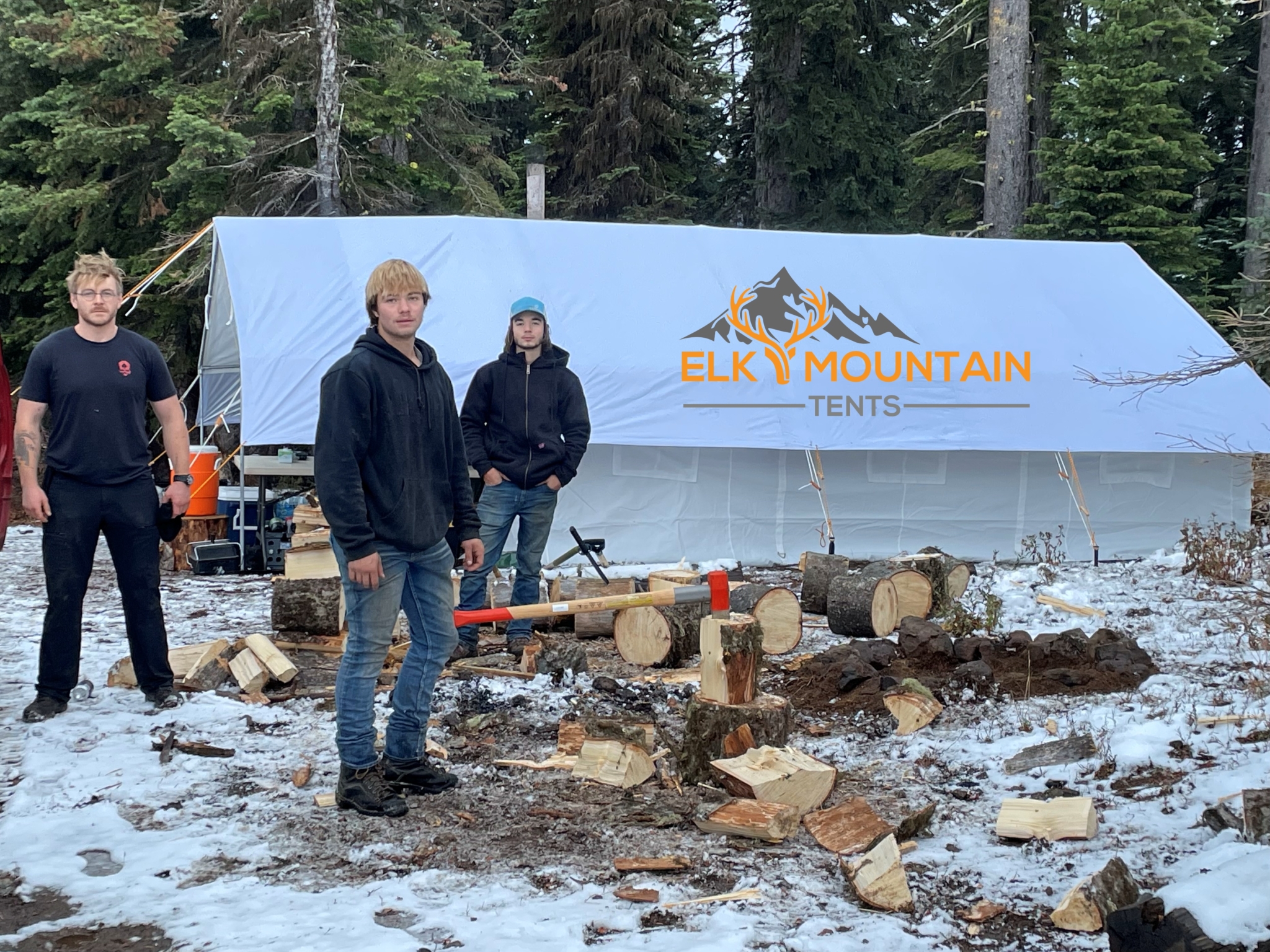 The Red Tent Company's baker tents are praised for their ability to hold up in heavy conditions (thanks in large part to its tear-resistance) and being exceptionally fire-resistant, to the point where you shouldn't have to worry about the sparks that come off of the campfire. The cotton/poly material that these tents are made of is quite breathable, which diminishes problems that could occur due to condensation. This blended material is also lighter than traditional canvas, so it is quite a bit easier to pack into the backcountry than other brands.
Sources: