Best Polyester Tents
No matter what kind of tent you are looking to buy, you will have no shortage of great options to choose from. There are many different materials they can be made of as well, each with its advantages and disadvantages. Nowadays, the most common tent fabric is polyester.
There are plenty of reasons why polyester is so popular, one of the biggest is that it has a great balance of being durable and weatherproof while also being lighter in weight. Polyester lasts a much longer time than other synthetic fabrics like nylon, so it makes for a great long-term investment if you are looking for a tent you can rely on for many years to come. While not as cheap as nylon, it is a great budget option, especially when compared to cotton, making it possibly the most economical tent fabric since it doesn't cost much but should last you quite a while. Polyester also won't accumulate mold and mildew like cotton will because it is fully synthetic.
However, polyester is extremely versatile and diverse. It can be incredibly thin or incredibly thick. And by extention it can be weak or strong. Depending on how it is manufactured it can have zero breathability or a breathability equal to cotton canvas.
If you are looking for a 1-2-person tent, one of the best quality polyester options currently on the market is the Backcountry X NEMO Nachi. It is quite roomy for a 2-person tent, with plenty of space for you to keep gear and other things inside. It includes several commodities that make it great to use even in rough weather, such as a removable rainfly and a mesh canopy to help with ventilation. The tent has a convenient two-door vestibule layout as well as plenty of gear pockets, which help a lot with storage. Available for just $214, the Nachi is a fantastic and inexpensive 3-season tent. It weighs less than 5 lbs. as well, so if you are looking for something small you can conveniently take hiking, this is certainly a great way to go.
Sierra Designs Meteor
If you need something a little larger, you might want to take a look at the Sierra Designs Meteor, which comfortably sleeps 3 people. The Meteor capitalizes on interior space, with very steep wall angles, offering much more room for storage. This tent is meant to make life easier, as the two-door setup makes getting in and out of the tent a breeze and the two-pole design of the tent allows it to be set up and taken down easily. The material is a blend of 68D polyester taffeta and 15D nylon mesh, which allows it to withstand a lot of difficult weather and terrain. It is surprisingly light for a 3-person tent, weighing just 5 lbs. 6 oz. The material, while high-quality, is also quite affordable, so the tent can be purchased for just $225.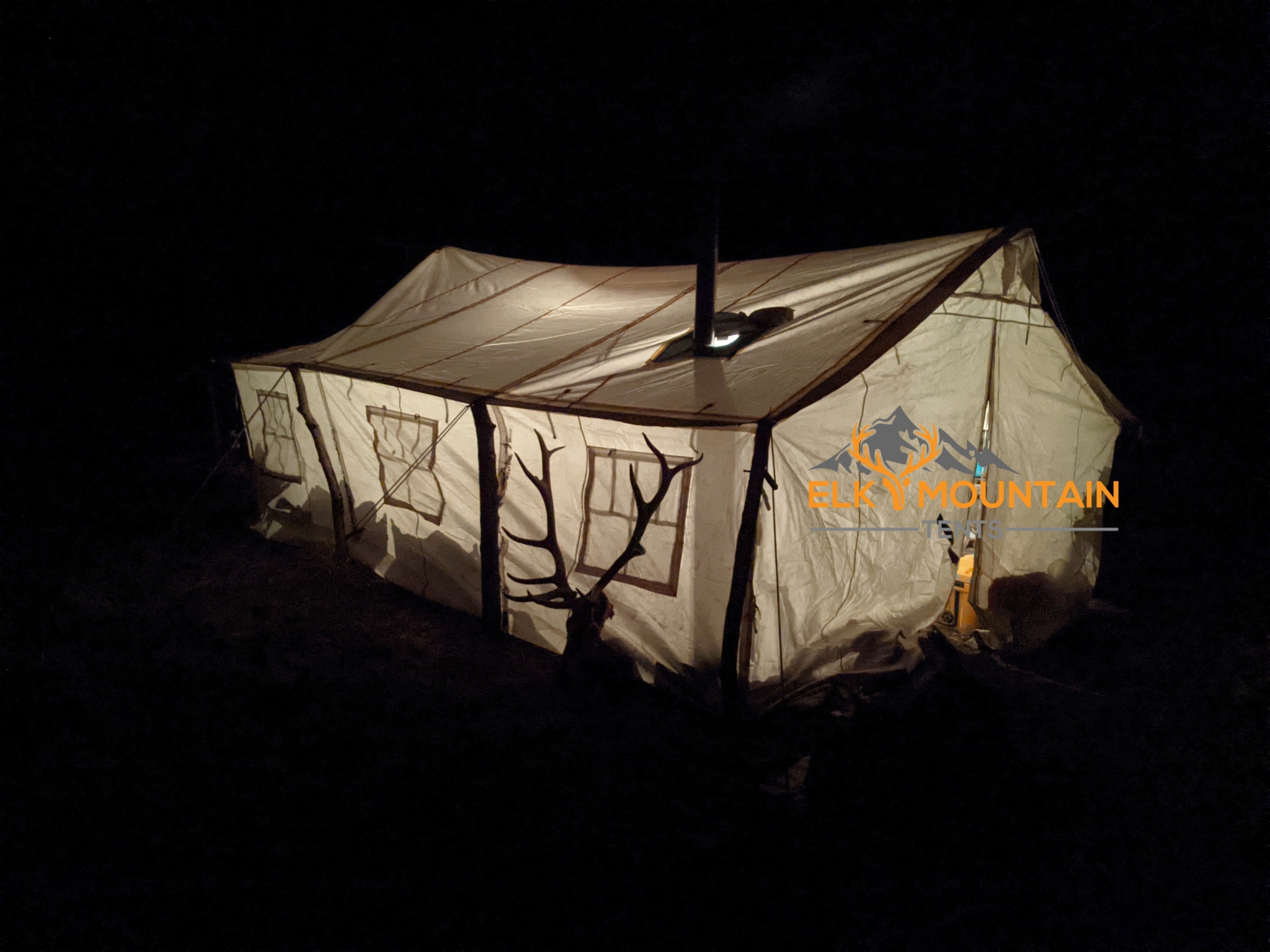 Alps Mountaineering Tasmanian 3
Another great 3-person polyester tent is the Alps Mountaineering Tasmanian 3. This uniquely designed tent is made to be durable and comfortable, with 75D polyester taffeta walls, a sturdy polyester floor, no-see-um mesh windows, and a shock cord and coating to make it weatherproof. The aluminum poles help it stay lightweight and strong, making it great for any adventure, no matter what the weather looks like. The treatments and sturdy design make this tent great to use as a 4-season tent, so you can count on it to protect you even during the coldest months of the year. It is very spacious for a 3-person tent, so you should easily be able to store your things inside, and you can even sit up straight thanks to a design that offers more than 4 ft. of headspace. It is remarkably light (thanks to the aluminum poles), weighing less than 10 lbs., making it the perfect tent if you know you need to hike across rough terrain to your campsite. The best thing about the tent is its low price of just $260. If you want a 4-season tent and you are on a budget, this might just be the way to go!
Marmot Tungsten
In the 4-person polyester tent category is the Marmot Tungsten. This is a tough 3-season tent, with a waterproof fly and floor, keeping all the unwanted moisture outside of the tent and keeping you warm and comfortable inside. The tent design also uses no-see-um mesh to allow for ventilation while protecting you from insects. The tent has plenty of interior space, with "zones" in the tent that essentially provides rooms for individuals to sleep in. It includes a convenient light pocket which is nice to have during the night, and the setup for the tent is relatively simple. While there is no vestibule included, there is more than enough room in the tent to make up for it. Weighing in at just under 8 lbs. and available for $255, you'd be hard-pressed to find a more affordable and convenient high-quality 4-person tent.
Snow Peak Amenity
The Snow Peak Amenity is different than the other tents on this list in that it is made to work as a car camping tent. It can accommodate small and mid-sized groups, usually being able to sleep 3-6 people depending on how much space you need and on what size you purchase. It is an excellent 3-season tent, with great resistance to water and rough weather (thanks to the high-quality 68D polyester material). The vestibule side door is great for storage during the night and it can be turned into an awning during the day. There is plenty of interior pockets in the tent that also provide plenty of convenient storage. It weighs 10-23 lbs. (depending on the size) and it can be purchased online starting from about $330. It's certainly a great option for anyone who enjoys car camping or simply doesn't want to sleep on the ground.
Canvas Wall Tent from Elk Mountain Tents
The Canvas Wall Tent from Elk Mountain Tents is unique and is a great option for mid-to-large-sized groups. While most canvas tents are made of cotton, Elk Mountain uses a unique breathable polyester canvas that takes in many of the advantages of both cotton and polyester. This tent is very breathable like cotton is, meaning you won't have any problems with condensation, but it is also thoroughly resistant to rot and mildew like polyester. It is also much lighter than cotton canvas (making it much easier to lug around), in addition to being waterproof and resistant to ultraviolet rays. The fabric also has a much higher break and tear strength than traditional cotton canvas, as well as not shrinking over time, making it even more long-lasting than cotton.
There are plenty of other great things about Elk Mountain's polyester canvas wall tent as well that make it perfect for camping any time of year. Many of these help your tent to be more comfortable and last you a lot longer, including a sod cloth at the bottom, further preventing water from leaking in through the floor, and an extra layer of canvas material wherever the material touches the poles, keeping it from ripping and tearing. This is further supported by Velcro at each of the main corners. Another thing that makes the tent great especially for winter camping is its inclusion of a stove jack. This allows for a wood stove to safely be used inside of your tent for warmth, heating water, and cooking. The stove jack can be cut to be 4, 5, or 6 inches, so you can cut it according to the size of your stove.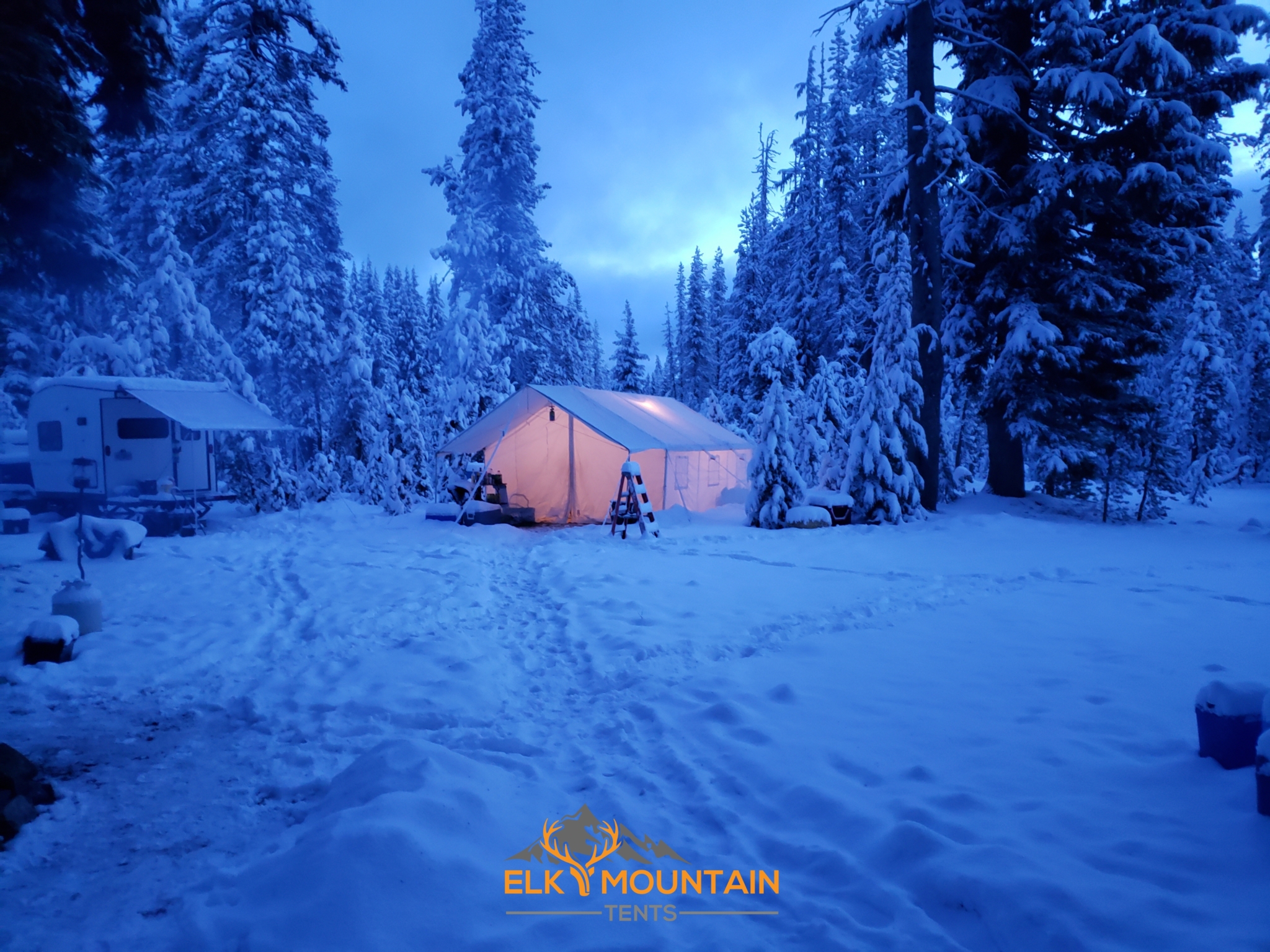 The tent is very well-ventilated, with 4-6 windows (depending on the tent's size) and openings at each of the ridges that can be Velcroed shut and opened with a pull string. The roof of the tent has eaves that extend beyond the tent's walls, keeping rain from running down the walls.
The tent is available in three sizes, with options for an awning and screened front door, starting at $795. The 13 x 13 ft. option can sleep 3-4 people with a wood stove and 5-6 without a stove. The 13 x 16 ft. sleeps 5-6 with a stove and 7-8 without. The 13 x 20 ft. sleeps 7-8 with a stove and 9-10 without. Elk Mountain Tents also has the Yukon Bell Tent made of the same excellent material. It has 13 ft. and 16 ft. diameter options, starting from $650. These tents are perfect for groups of around 3-5, depending on how much room you need.
There is no shortage of great polyester tents on the market, and the ones listed here are just a few of the best. These tents are all great for their high quality and low price, which is really what makes polyester so popular. Browse around for yourself and you are sure to find the perfect polyester tent for you!