Best Tents for Hot Weather
Summertime is undoubtedly the most popular time of the year to go camping, for a lot of different reasons. There are so many fun outdoor activities to do during this time of year, whether it be hiking, biking, fishing, or swimming. It's the perfect time of year to spend with loved ones in the great outdoors. The one drawback to this time of year is the extreme heat. This can make sleeping in a tent uncomfortable, but luckily some great tents are built to stay cool and maintain breathability when it gets hot outside, making your adventure more relaxing and enjoyable.
There are several things you want to look for when deciding on a tent to use when the weather is hot outside. One of the most important is ventilation. Many of the tents on this list (as well as others out there) are almost completely made out of mesh, other than the rainfly, essentially making the whole tent a window and allowing the hot air out and the cool breeze to come through. The no-see-um mesh that many tents use also ensures that no insects will be able to get in. Other tents opt for ground vents to allow cool air to come in through the bottom and push the hot air out through the top. Many of these options also have large (often mesh) windows to increase airflow. Since 4-season tents are meant to keep cold air out, you should generally try to avoid using those during hot summer camping trips. Another thing to look at is the material it is made from and whether or not it is breathable. Again, the most breathable material you will find is mesh, but you typically want to make sure you also have a waterproof rainfly, so you don't get soaking wet in unexpected weather. Another good tip is in choosing your campsites. When you are camping under the hot sun, you should look for a shaded area to set up your tent to help keep it cool throughout the day so it isn't a sauna by the time you finally go to bed.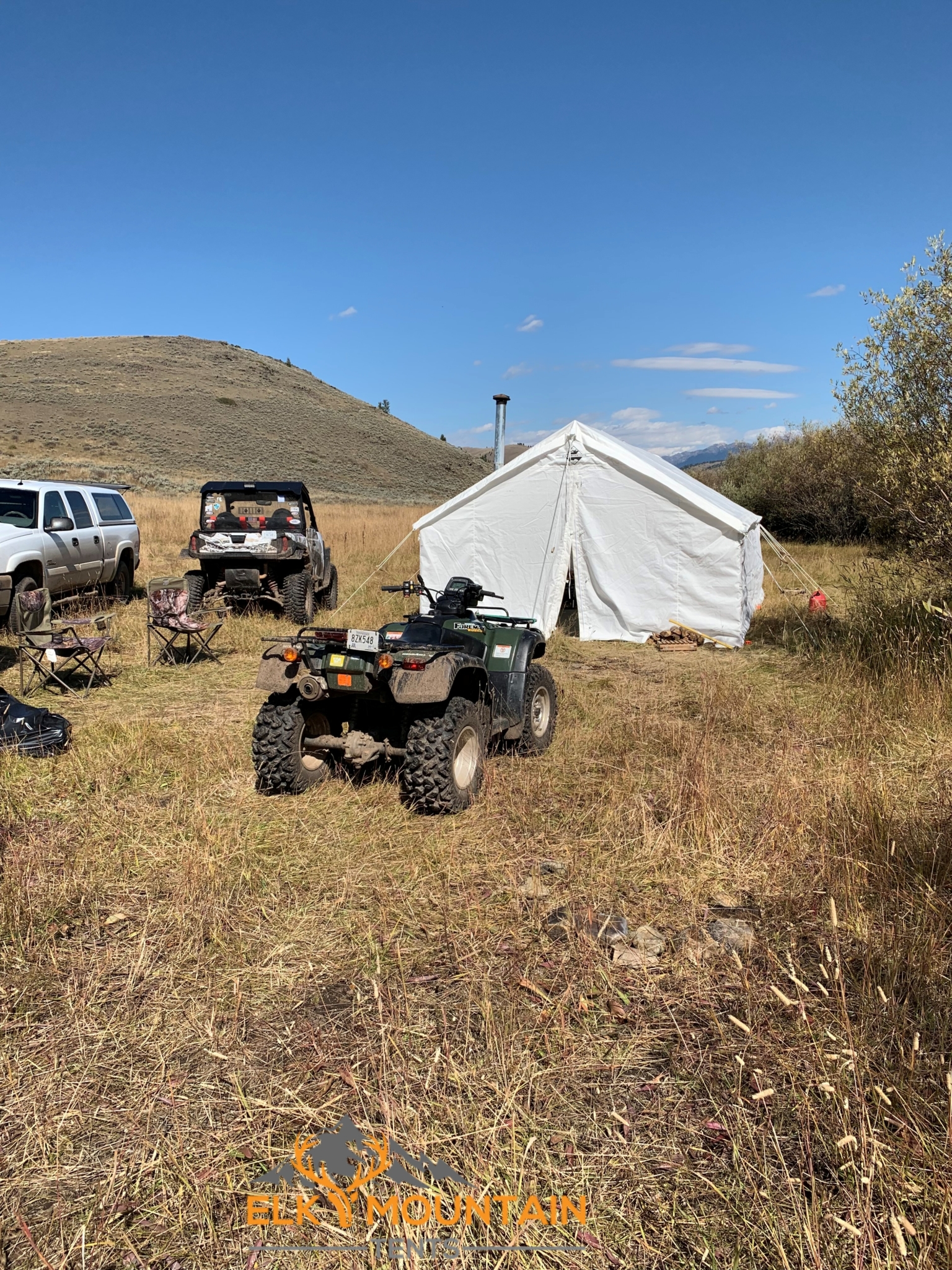 Best Hot Weather Tents
---
CORE 12-Person Cabin Tent
If you are looking for a family-sized option that can fit a large group of people, you may want to check out the CORE 12-Person Cabin Tent. It has a ceiling height of 7.1 ft., enough for even the tallest campers to be able to stand up straight inside. It has a floor area of 16 x 11 ft. and has vertical walls, allowing you to use as much space inside as possible (enough to fit 4 air mattresses or 12 sleeping bags). The strong, durable fly is made of 68D polyester and works excellently to keep out the rain. The tent includes a room divider that can be attached or removed and doors on either side of the tent, giving you some privacy. One of the things that makes this a great summer option is the mesh ceiling, which offers ventilation all through the tent (and a nice view of the outdoors) when you remove the fly. There are also several mesh windows as well as two doors to allow the air to flow through even when you have the rainfly attached. The mesh vents on the floor of the tent draw air in through the bottom, pushing the heat out through the top, and they can be opened or closed to accommodate warmer or cooler weather. The CORE Cabin can be purchased online for around $330.
Paria Breeze Mesh Tent
If you are looking for an ultralight tent to take with you on a summer backpacking trip, you may want to look at the Paria Breeze Mesh Tent. It has a 7 x 4.3 ft. area and a height of 3 ft., and it weighs just 1.5 lbs. While it doesn't come with a rainfly, the tent works excellently when it's hot outside thanks to the 20D no-see-um mesh that makes up the tent and is built to keep out insects while maximizing breathability. The floor is built to withstand wear and tear, with 30D ripstop nylon material coated with silicone. This also makes it quite waterproof, though if you are anticipating rain you should bring a fly with you since the tent doesn't come with one included. One drawback to this model is that setup is a bit complicated, but you should be able to handle it if you practice a few times before trekking. If you are looking for the lightest and most breathable option for backpacking, this is it! It is also pretty inexpensive, costing around $70 online.
Hyke & Byke Zion Tent
Another great backpacking tent is the Hyke & Byke Zion Tent, which is a 2-person option that has an area of 7.5 x 8.5 ft. and a height of 3.5 ft. Without the included footprint, the Hyke & Byke weighs just 5.5 lbs. and packs down small, making it a durable and convenient option for hiking and trekking. It includes lightweight aluminum alloy stakes that help reduce weight even more while maintaining stability. The 63D polyester material that makes up the footprint should hold up well for years into the future and keep water from leaking in at the bottom. The rainfly is high-quality as well, also made of 63D polyester and coated with polyurethane. The lightweight no-see-um mesh that makes up the walls helps the tent stay breathable and cool even on the hottest summer days. Even the smallest insects won't be able to get inside and bother you while you are resting in the coolness of your tent. One advantage this tent has over the Paria Breeze is how simple and easy it is to set up. It has a freestanding design, so if the weather is good enough you don't even need to stake it down, and all the materials are pre-assembled, simply requiring you to click it all into place. This is a nice feature to have while backpacking since you'll be setting up and taking down your tent a lot. For a tent of its size, there is a remarkable amount of storage space as well, with a gear loft in the center, pockets in the corners, and a vestibule on either side. Included with your purchase is a carrying sack that makes it easy and simple to transport. You can find the tent online for just $130, an excellent price for the quality you are getting, and it is available in a variety of colors.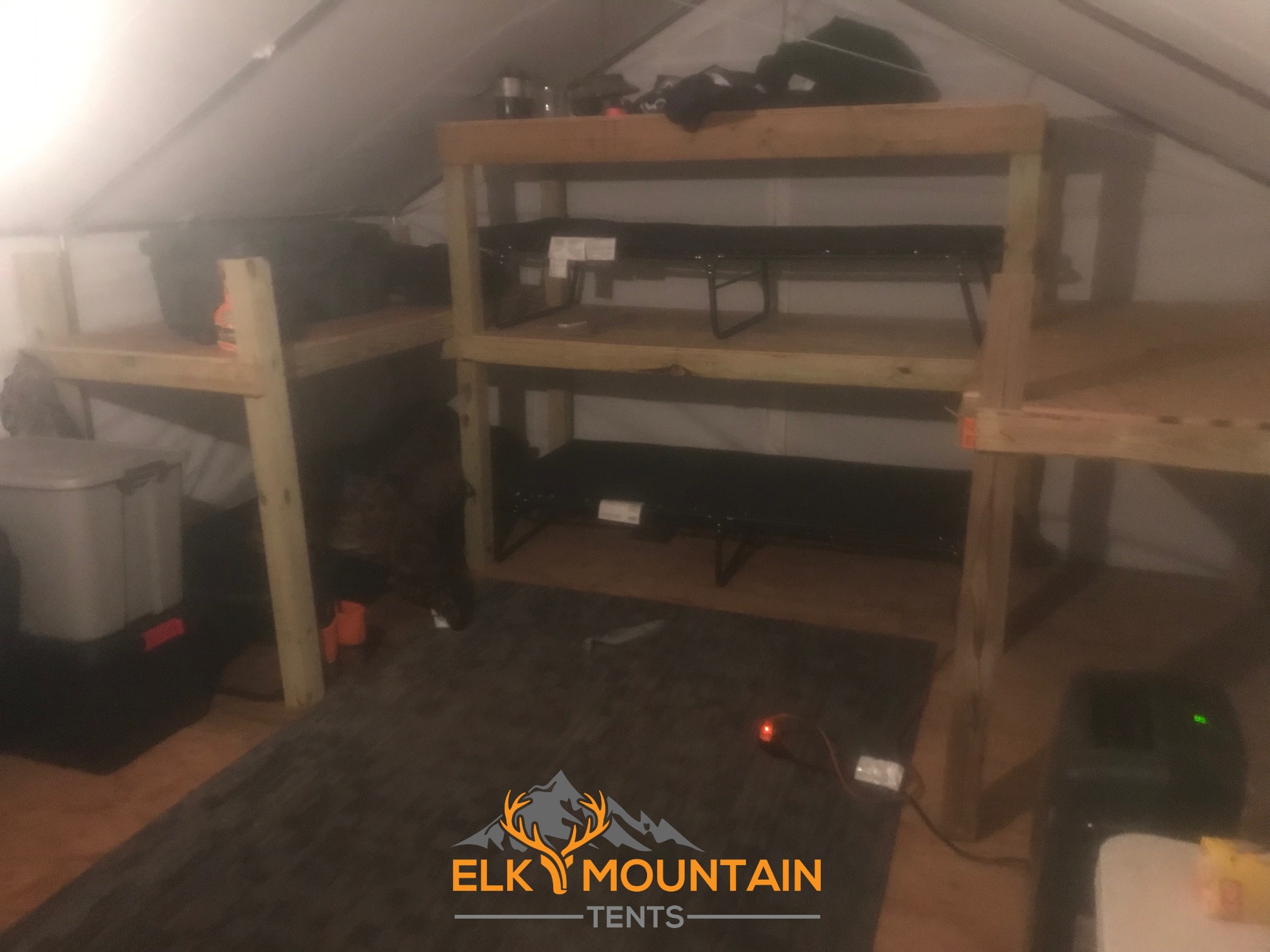 Clostnature
A sturdier 2-person tent is the Clostnature, which is 7.3 x 4.11 ft. with a height of 3.1 ft. It is a lighter option than some, at 5.8 lbs., so it can be used for backpacking but if you are a minimalist you might want to opt for an ultralight option. It has durable yet light aluminum poles that help the structure remain stable. The Clostnature has walls made of no-see-um mesh, so you can feel the cool airflow without insects getting inside. The floor and rainfly are both treated with polyurethane and the seams of the tent are reinforced and sealed, so you won't have to worry about unexpected rain getting through. It packs down small for easy transport and the freestanding design makes it easy to set up and take down and the vestibules on either side offer storage for your gear. The 2 doors make it easy to get in and out of (even though it is a small tent), and they can also help with airflow even when the rainfly is on. This option is also quite inexpensive, costing just $80 online.
Kelty Grand Mesa
If you are looking for a mid-sized option, you may want to take a look at the Kelty Grand Mesa, which sleeps 4 people. It has an area of 8.1 x 6.6 ft. and a height of 4.6 ft., offering quite a bit of room to move around and change clothes. While it isn't quite light enough to make it ideal for backpacking, at just over 6 lbs. (7.7 with all the gear), it is still easy to transport it from place to place without any hassle. It has a freestanding design as well as color-coded components, making it quick and easy to set up as well. The rainfly is also simple to secure over the tent itself thanks to a buckle system, which also allows the fly to be tightened when the weather gets really bad. Part of what makes the tent great during hot weather is the no-see-um mesh material which offers plenty of breathability (and keeps condensation from building up), as well as the ultraviolet-resistant material in the rainfly. There are also a few mesh pockets inside that allow you to store your gear.
Canvas Tents
This may seem counterintuitive since cotton canvas and polyester canvas are so thick, but these materials are breathable and thick. The thickness creates an insulating layer to protect the inside from the outside sun, and the breathability allows for some natural airflow to help moderature the temperature. But what about polyester? Modern polyester now has the same breathability as traditional cotton canvas (along with its other benefits such as being incapable of rotting and not requiring UV or rain treeatments), so either option is great!
With new tent technology being invented and improved all the time, there are more breathable and well-ventilated tent options than ever before. All the models on this list are some of the highest-quality ones you can find that are remarkably breathable and well-ventilated. Find the tent that best suits your needs and avoid the discomfort that can come from sleeping in a hot tent. Keep cool and enjoy the great outdoors!
Sources: