Benefits of a Canvas Wall Tent
Have you ever found yourself wandering through the aisles of a big box store and wondered about their camping products? Many big name retailers have access to various options when it comes to enjoying the great outdoors, however most of them tend to stock tents that come with a few bells and whistles and it can be hard to differentiate what type of tent is best to purchase in the long term. Fortunately, there is a type of tent that is really fantastic for many scenarios: canvas wall tents.
To understand why a canvas wall tent can be an amazing tool, it is important to know the differences between canvas and nylon tent materials. A few things that can be compared between nylon and canvas tents include how waterproofing works, weight of the tent components, and overall durability.
Canvas Material
Historically, canvas tents have been made with cotton. As time has pushed forward, science has allowed for manufacturers to upgrade their materials by using blends that include other types of fabric. Polyester is a common blend and it provides a really effective marriage of some of the positives of nylon with the great things cotton canvas can offer while minimizing the negative effects of both.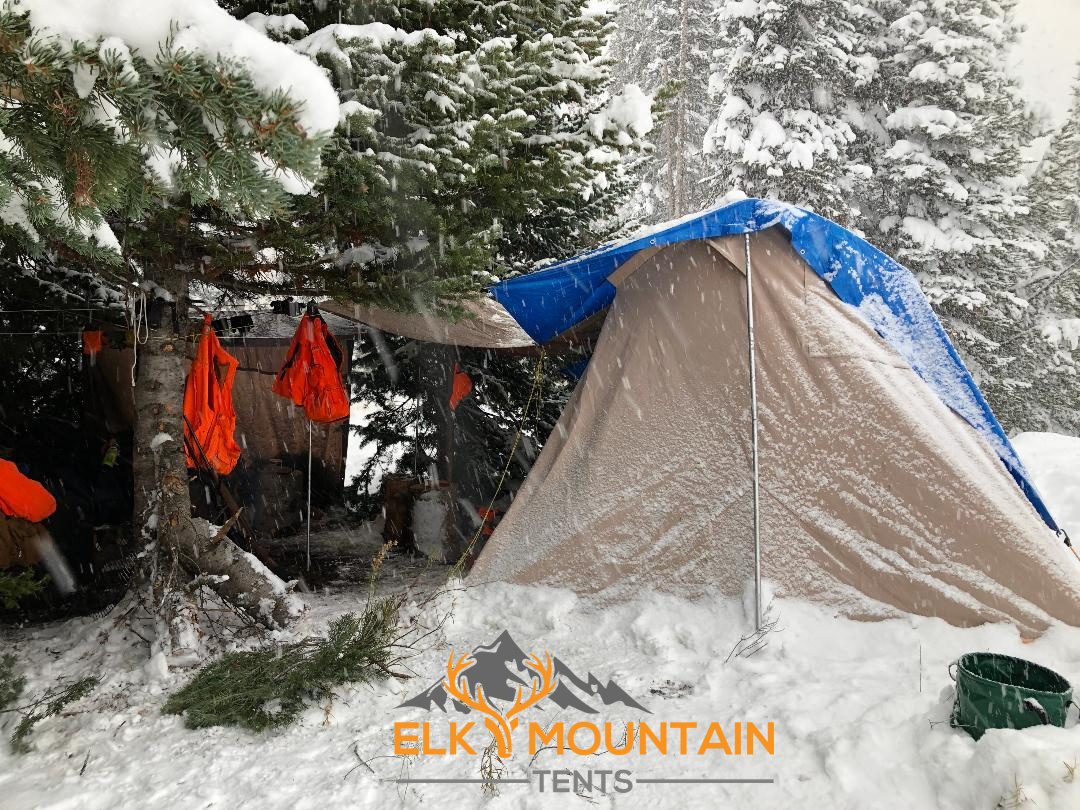 Canvas Tent Pluses
Canvas wall tents, no matter the material, offer quite a few strengthening benefits that can't be afforded in other styles of tent due to standard construction style and flimsiness of the materials used. Purchasing a canvas tent is the perfect choice for avid campers who are planning on finding a cozy spot and staying for a while. It is also provides a lot of space and stability for campers who are planning on driving their camping location. For individuals or groups who are looking for a tent that is useful for other activities as well, a canvas wall tent is the perfect setting for many occasions- from weddings to scouting events to outdoor meal times.
Weight
As a general rule, hikers gravitate toward nylon tents because they are lighter and the poles that support the tents are easy to break down and store. However, with recent developments in manufacturing, canvas wall tents are becoming lighter which can offer durability and portability to a demographic that previously leaned on nylon tents for all their needs. As technology progresses, it's possible that the world may see a further shift in favor of canvas tents as a more all-purpose solution to camping needs.
Indoor Temperature and Breathability
Since canvas tents aren't going to be used in backpacking but rather longer term trips or locations, they are built with heartiness in mind. The heavier fabrics used in canvas tent building can create a better sense of indoor temperature control. For example, a polyester or cotton canvas tent is more likely to maintain its temperature than a nylon tent, and the breathability of these fabrics can mean less chance of condensation collection when compared to nylon tents as well.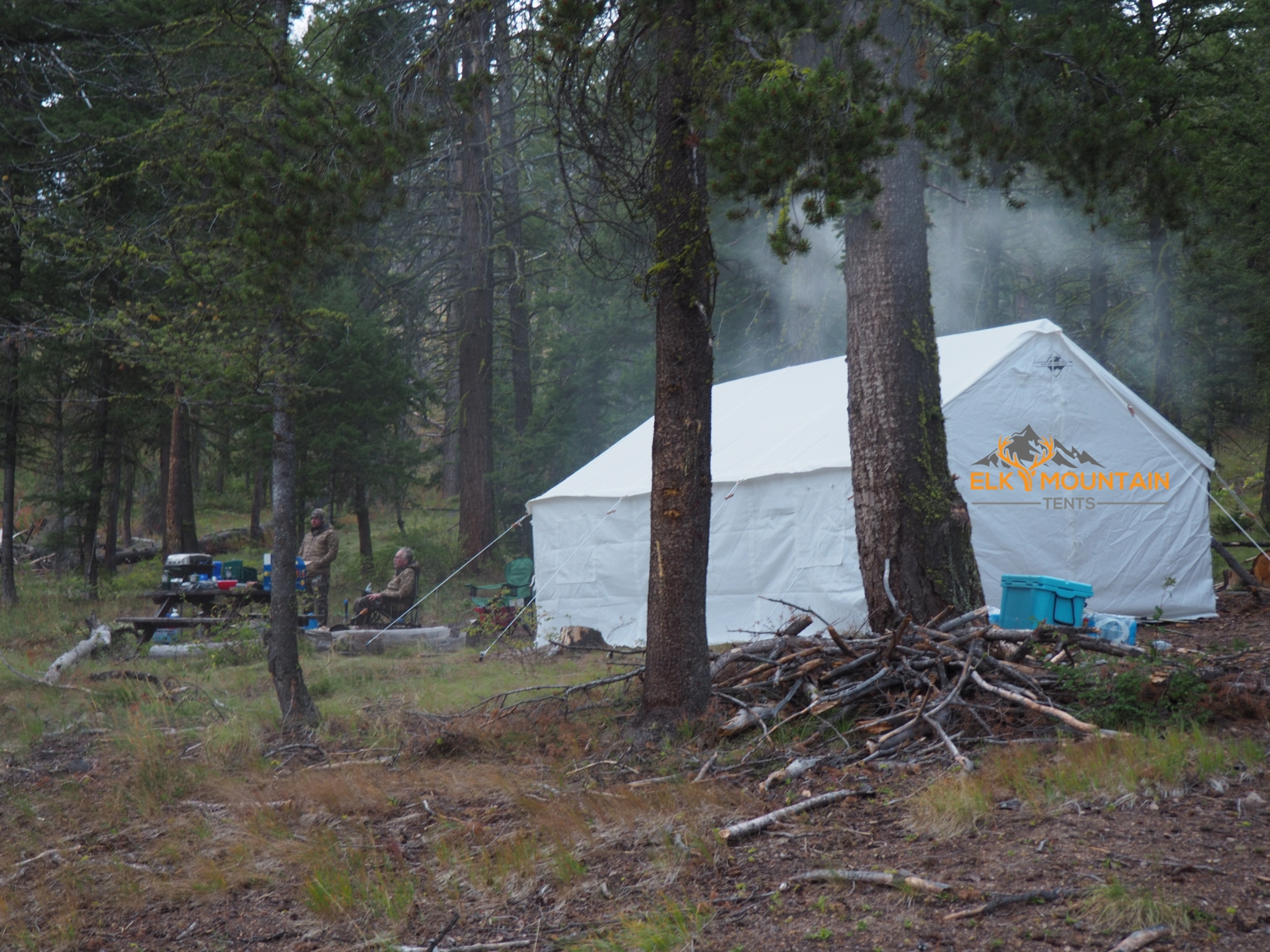 Condensation
In the case of condensation, both nylon and canvas require a bit of care. Nylon can mildew on the outside layers closest to the wetness, therefore care must be taken to ensure that the nylon is dry prior to storage. On the other hand, mold can grow on a canvas tent that hasn't been properly dried or treated. It used to be that poly-cotton blends offered a nice middle ground between the two types of fabric used in that they are more naturally waterproofed like nylon, yet they still are a bit more breathable like cotton, but modern manufacturing has made this point irrelevant since polyester can now be just as breathable as cotton. The biggest issue becomes ventilation shafts. You will want, at a minimum, a ridge opening or two but screened windows gives the best experience.
Durability
Materials used in canvas wall tents tend to be more long lasting as well in that they do not tear as quickly or easily. Reinforced corners help many canvas tents to be useful even after regular use, and if the material pulls or tears at any point, this style of tent is much more easily repaired. A few simple runs with a sewing machine can often patch problems that may arise, unlike many nylon tents. Since it is a more slippery and lighter fabric, it can take a bit of working with a nylon tent to achieve a thorough repair and may require professional assistance or even replacement of the tent entirely. Furthermore, the durabilty of canvas is extended further by adding in the strength of polyester. The more polyester in the fabric the greater the durability.
Tent Poles
The poles used in typical canvas tents provide a sturdy structure that can easily withstand the elements. It's less common to break a tent pole when it is for the structure of a canvas wall tent than when compared to a nylon tent because canvas wall tents tend toward securing the structure first, then attaching the outer material after the main structure is built whereas nylon tents are often and all-in-one type concept that relies on tension of bendy materials to hold itself aloft. Since it is such a sturdy tent, a canvas wall tent can be reinforced even more and, if well cared for, can even become a semi-permanent addition of a backyard, restaurant, or other location.
Conclusion
It is widely acknowledged that canvas wall tents serve a very distinct purpose in the lives of many. From food connoisseurs to football fans, researchers to recreational explorers, these tents can open many opportunities and provide a level of flexibility that is only limited by the innovations of those who use them.