5 Healthy and Easy-to-Prepare Camping Meals
When it's dinner time on your next camping trip, you don't want to have to figure out what you're going to eat if the fish don't bite while out in the wild— it's best to be prepared! With these five, prepare-ahead meals, you'll have dinner ready to go before you have to hear the first chorus of "I'm hungry!" or even have to consider the worst-case scenario of driving to civilization to eat out. And as a bonus, these meals are healthier and more fun than tired s'mores and hot dogs, and some include adjustments for picky campers.
Campfire French Toast
Breakfast is the most important meal of the day, so get your best start with a serving of fruit by adding strawberries and some protein via pecans. The bread will give you the carbs needed to get through a busy day of adventuring. The full recipe is here.
Adjustment for low-fat: Pecans have quite a bit of fat, skip them or swap out for almonds.
Hobo Hamburgers
Standard beef hamburgers get an upgrade (and a serving of vegetables) with chopped green pepper, red potatoes, and sliced carrots. You can easily prepare the patties ahead of time and wrap them in foil. Cook directly over the campfire within the foil, and then you just need buns and condiments! Full recipe here.
Adjustment for low-fat: Substitute beef with turkey.
Adjustment for picky eaters: Grate the carrots and green peppers instead of slicing and dicing and add directly to the meat.
Lemon Chicken With Potatoes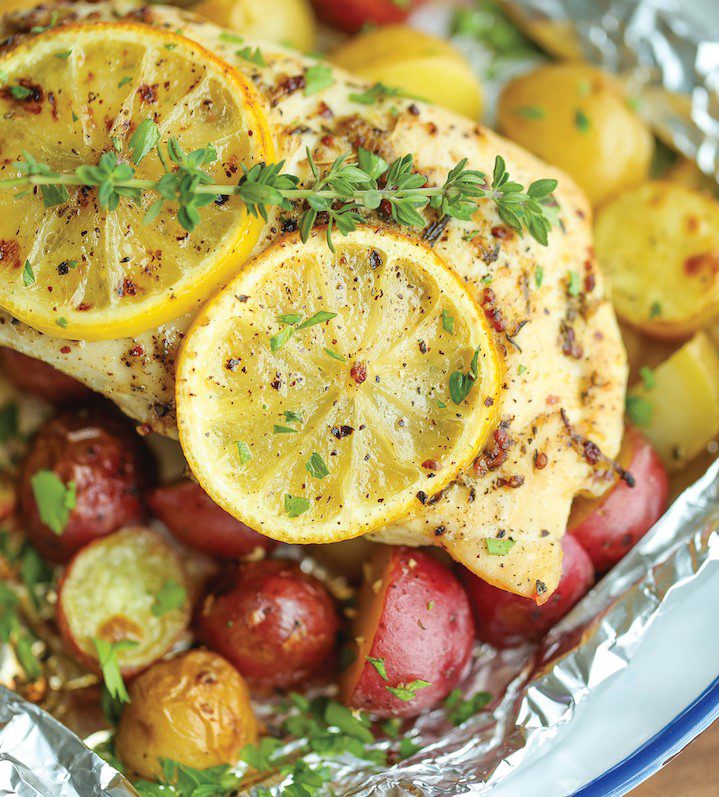 Delicious seasonings take this recipe from blah to bliss— chicken and potatoes are pretty standard, but add thyme, rosemary, and fresh lemon and you have a gourmet camp meal! Though you can easily keep raw chicken in a cooler and store it in your canvas tent, make sure to keep the foil packets inside tightly-sealed baggies to avoid leakage. You will want to cook this meal on the first or second night, as raw chicken should always be cooked within a few days, even when refrigerated. Here's the recipe!
Adjustment for picky eaters: Baby potatoes can be mashed after cooking, then add a little butter and cheese to melt on top. Go easy on the spices for young people too!
Sweet Potato Tacos
These delicious tacos include ground turkey or beef, spinach, jalapenos for a kick, and, of course, sweet potatoes! Make sure to bring some garnishes for after they're cooked, like avocado and cheese!
Adjustments for vegans and vegetarians: Replace meat with rice. Skip the sour cream and cheese garnishes!
Adjustment for picky eaters: Let your camper prep their own tacos before leaving home and then roast it over the campfire themselves. It's more appealing when they made it!
Foil Pocket Kielbasa
With just four main ingredients— kielbasa sausage, zucchini, yellow squash, and mushrooms— it doesn't get any easier to prep a meal than this! Check out the recipe.
Adjustments for vegans and vegetarians: Swap out with Tofurky Kielbasa!
BONUS: Iron Skillet Campfire Peach Cobbler
Hope you saved some room in your appetite (and in your Elk Mountain Tent). This cobbler makes a delectable dessert, but can also be put over oatmeal the next morning— yum! Just don't forget your cast-iron skillet— or the ice cream.