How a Bell Tent differs from a Wall Tent
Canvas bell tents are not a type of tent that many people are very familiar with. Yet with more people becoming involved in glamping, canvas tents are increasingly becoming more popular. But what is a bell tent exactly and what are their advantages over a canvas wall tent? Are they worth investing in or simply a glamping fad? Let's first explore the history of the canvas bell tent to understand all the many advantages this style of tent has over other tents like the canvas wall tent.
Canvas tents have been used as far back as the 9th century AD, and possibly even in the 7th century by the Byzantine army under the reign of Emperor Maurice. These tents were conical in shape and likely something similar to a canvas bell tent. But the records are not completely clear on what the tents look like. However, what is known as the first patent for a bell tent did not appear in history until the 19th century. When Europeans began settling into North America during the 17th and 18th centuries the fur traders needed temporary shelters while trapping especially if there were no trading posts nearby. As European fur trappers became introduced to the native population many started to use the tipi. They were so popular because they were relatively easy to set up and kept the wind and water out due to their unique shape.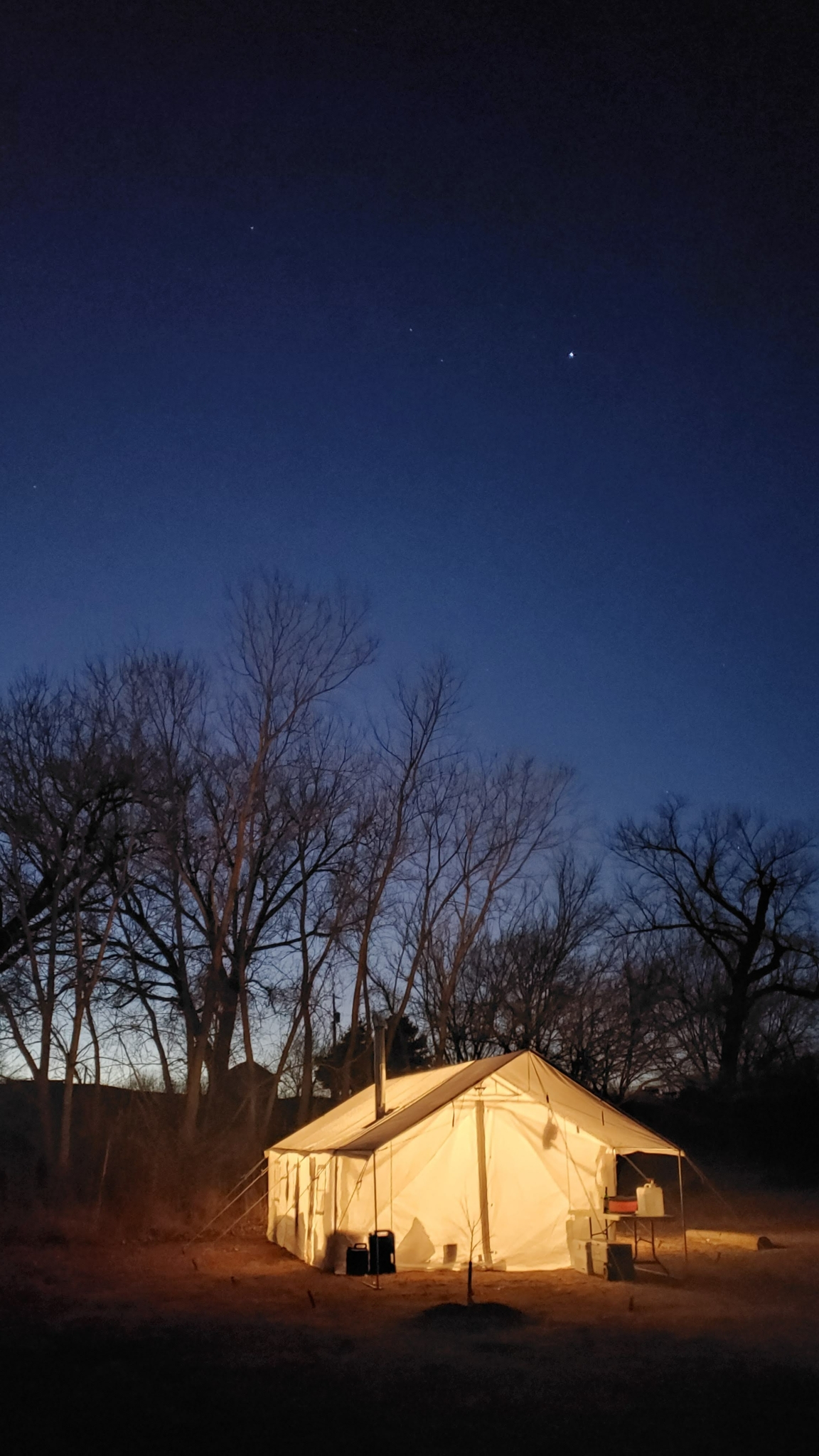 A man in the United States named Henry Hopkins Sibley was stationed in Texas and saw the Native American tipis. He decided he wanted to improve upon their design. He eventually invented what is known as the Sibley tent which looks a lot like the tipi, except his design claimed to be easier to put up and take down, and have better portability and ventilation for a fire pit or stove. His design was so popular that he patented it in 1856. Later, he made a contract with the United States Department of War to buy his tents for the army. For every tent the military made, they would pay him five dollars. Ironically, he never got paid since he chose to join the Confederate Army during the U.S. Civil War. But that didn't stop the army from using 44,000 of these tents during the U.S. Civil War. A year before Sibley patented his design the British cavalry was using a very similarly shaped bell tent during the Crimean War. The only difference between the two was the British version had sidewalls and Sibley had a single center pole. It is not clear if Sibley was aware of this British design. Eventually, someone took the Sibley tent design and the British tent design and combined their unique features. This became the modern-day version of the bell tent as we know it today.
The modern-day bell tent has a circular shape base with the tent being supported by a tall single pole in the middle. It also has short side walls which are supported by several guylines. Top-of-the-line bell tents are usually made out of canvas. Both the wall tent and bell tent are tents that are traditionally made out of canvas, usually cotton. The advantages of canvas are that the material is breathable which allows cool air into the tent during the summer. During the winter the canvas insulates well enough that heat does not easily escape from within the tent. This breathability is usually enhanced by the number of screened windows and other ventilation openings that a tent will have. Since canvas does breathe so well it keeps the dreaded condensation to a minimum in any tent made of this material. The other thing to note is that canvas is also extremely strong. It can handle high winds that would blow a normal tent right over. Canvas is also good against rain and snow since it is treated to be waterproof and it can handle the weight of the snowpack. It also won't deteriorate like other materials under UV rays from the sun.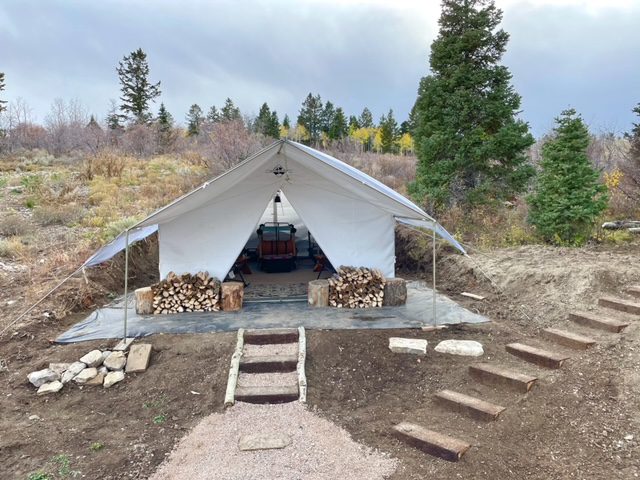 Since the bell tent is not the only tent on the market made out of canvas, let's focus on why the design of the bell tent is better than the canvas wall tent. First, the design of low sidewalls and high ceilings allows the bell tent to be extremely roomy both in floor space and headspace. This makes the tent not just a place people want to sleep but a place they can comfortably spend an evening with friends in. As a result of the bell shape design that makes the tent feel open and roomy, it is extremely popular for those who wish to go glamping – because the whole point of glamping is to be able to camp comfortably.
The design of the bell tent is ideal if you plan to go somewhere where there will be high winds. This is in large part due to the conical shape of the tent. The round edges of this tent are able to deflect much of the winds from blowing through the tent. This will not only keep the cold and moisture out but any dust being blown in the wind as well. What wind cannot be deflected by its shape alone is withstood by the strong center pole, the door frame, and the many guylines. This will help anyone rest easy in this tent even when a storm is raging outside.
The final unique feature of the bell tent is how easy it can be set up and taken down. This is due to the tent mostly being supported by a single central pole and several guylines. Once the central pole is collapsed all that needs to be done is to remove the guylines from the ground. As a result, the bell tent can easily be put up or down by just one or two people in a very short amount of time (around 15 minutes). Once taken down this tent can be easily packed into a tent bag, making this tent easy to be packed up for a camping trip.
The canvas bell tent is different from the canvas wall tent in its unique shape by using one central pole and guylines to support the tent structure. This will ensure the tent will be compact and easy to move around. Not only that, it will be possible for one person to set up and take down this tent with ease. The canvas wall tent is much larger so it will not be as compact and it will require at least two people to set up and take down. A canvas wall tent has a metal frame that supports its tent structure. This will allow more headspace to increase comfort no matter where you are standing in the tent. The bell tent has low side walls (around three feet), while the wall tent has much higher sidewalls (usually around six feet). The low side walls allow it to better withstand winds and a greater snow load. The wall tent will still be able to handle high winds and snow, but not as effectively as the bell tent. Each canvas tent has its pros and cons but both are excellent choices when considering buying a canvas tent.
One of the best canvas bell tents on the market is the Elk Mountain Yukon Bell Tent. This tent is made out of a 100% polyester canvas. This breathable material is lighter, folds up more easily than cotton canvas, and is stronger. It is an eleven-ounce canvas with a breaking strength of 449 pounds (warp direction) and 382 pounds (fill direction). It is also waterproof and resistant to mold and mildew. Despite it being made out of polyester it still breathes like a traditional cotton canvas, but the fact that it's made of synthetic fibers means your tent won't rot out from under you.
It also has four screened windows and four screened peak air vents. This will allow airflow to help avoid condensation. It also has an uncut stove pipe jack to allow a wood-burning stove inside the tent. This will ensure the tent is warm and comfortable even in the most frigid of temperatures. It comes in three different sizes: 13-foot diameter, 16-foot diameter, and 20-foot diameter. On the Elk Mountain website, the price for this tent will cost $745 to $1095 (depending on size).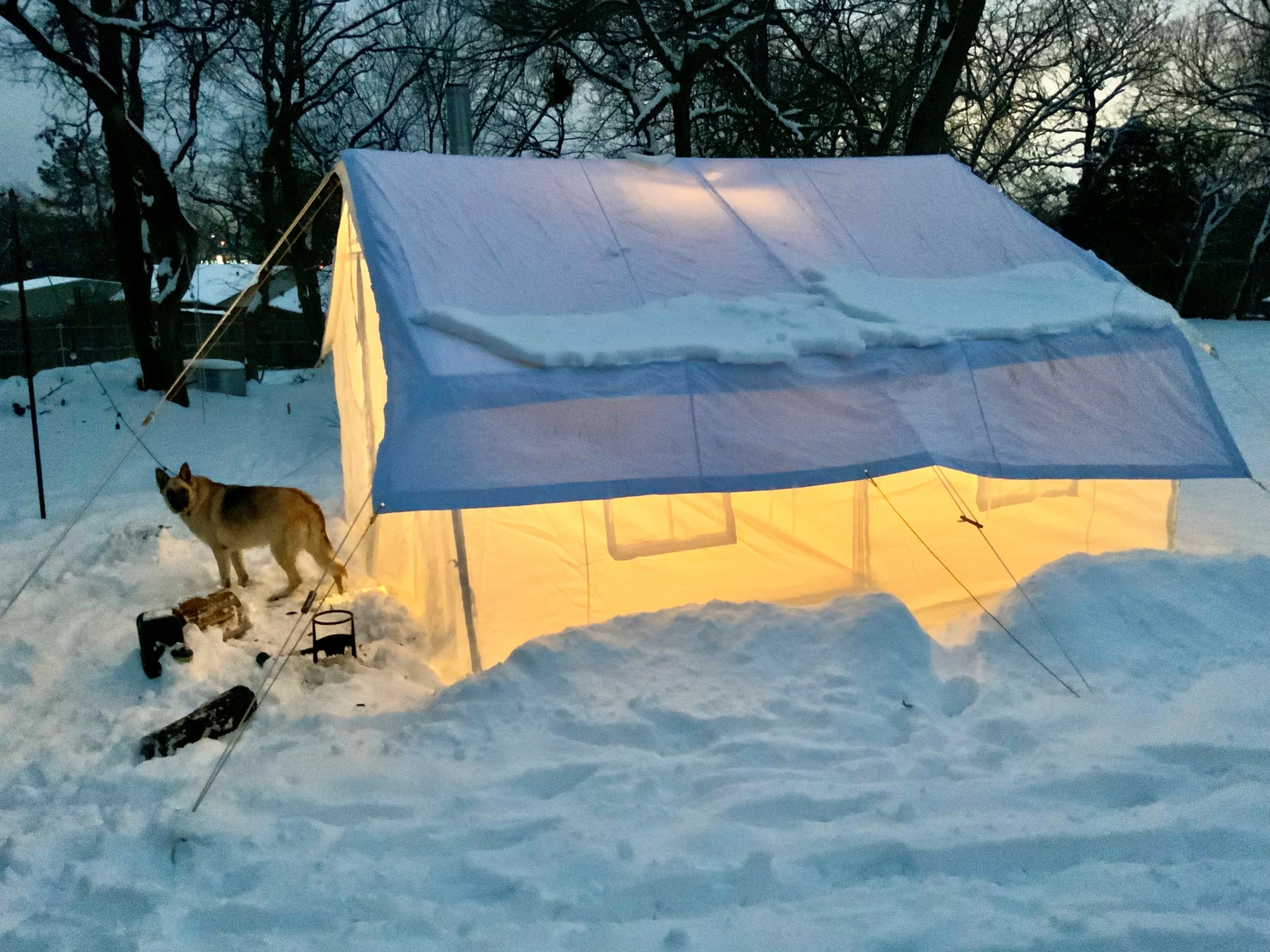 Elk Mountain Tents has a highly rated canvas wall tent as well. It is made from the same breathable polyester as the Yukon Bell Tent, so it has many of the same benefits due to the material it is made out of. Their wall tent has six mesh windows and two ridge openings to allow plenty of ventilation within the tent to keep condensation to a minimum. This tent also has an uncut stove pipe jack to allow a wood-burning stove. It comes in three different sizes: 13X13, 13X16, and 13X20. On the Elk Mountain website, this tent will cost $845 to $1095 (depending upon size).
The Bell Tent design has endured for over a hundred years because it is compact, portable for a canvas tent, and well-designed to handle high winds and the weight of significant snowfall. It is truly unique from other canvas tents that are on the market. It is not a fad that will simply go the way of the dodo, but it is a tent that is worth investing in.
Sources: